1963 Dutch Grand Prix race report: Clark at the double
Jim Clark takes his second career win and dominates for Lotus, lapping the entire field; Brabham's Dan Gurney produces an incredible drive to twice come from the back to finish 2nd
It was at Zandvoort last year that Colin Chapman produced his bombshell into Grand Prix racing in the form of the Lotus 25 or "monocoque" as it became known. This model made all other Grand Prix car designs appear obsolete and outmoded; the multi-tube space frame, providing greater rigidity, lighter weight and simplicity of engine mounting. This year the Lotus team have retained the Type 25 with little or no change, and so far it has proved most successful, providing it is screwed together properly and driven by Team Lotus number one driver Jim Clark, and the design has been retained for the exclusive use of the works team, apart from a brief loan of an old car to Brabham at Monte Carlo.
With two Grande Epreuves already run, the Dutch Grand Prix saw all the teams settled in their plans and two entries were accepted from each of the manufacturers, and single entries from most of the private teams. The Scuderia Ferrari were lacking Willy Mairesse as he was still in hospital following his Le Mans accident, so he was replaced by Ludovico Scarfiotti, making his first appearance in a single-seater racing car, all his previous experience being on sports and GT cars. He was supporting Surtees and they had the V6 Ferraris, with Bosch direct-injection, said to have more power at maximum revs, which were now at 10,600rpm.
Team Lotus had three Type 25 cars, all with Coventry-Climax V8 engines, one being Clark's winning car from Spa, still with 5-speed ZF gearbox, and having the "air-deflector" windscreen, modified slightly to give a stronger updraught. This car naturally had a fuel-injection engine as had the second car, driven by Taylor, but the number two car had a Colotti gearbox fitted, a new 6-speed Type 34 Mark II. The spare car was fitted with an old type Climax V8 engine on Weber carburetters, being the car Taylor had raced at Spa, after crashing his later model.
The BRM team also had three cars, the usual two 1962/63 cars and a brand new one. The earlier cars were unchanged, except that Ginther's was once more fitted with a new 6-speed gearbox of BRM design, as had been tried out at Spa, the slight imperfection experienced there having been rectified. The new car was of completely new design, the only similarity to the 1962 cars being the engine and the geometry of the rear suspension. This interesting design was built around Graham Hill, the number one driver, and is described in detail elsewhere in this issue.
The Brabham team of Brabham and Gurney had two cars, the leader's car being brand new and identical to Gurney's, with Brabham-VW gearbox/axle layout, fuel tanks forming the body sides and the latest injection Coventry-Climax V8 engine. Gurney's car was the one used at Spa and was fitted with new drive-shafts of Australian design, incorporating a sliding pot-type outer universal, thus doing away with sliding splines on the shaft itself.
McLaren and Maggs were entered on the two 1963 works Coopers, both cars now having the sleeker nose cowlings and high cockpit sides, otherwise being unchanged. The ATS team had tidied up the bodywork of their cars since Spa, but were still not very elegant, and the tubular structure over the engines had been cut and jointed with threaded muff-joints that would have done credit to a plumber! Similar joints had been incorporated in one of the cross-members above the gearbox/axle assembly. Phil Hill's car had the four exhaust pipes on each bank fed into single tail pipes and Baghetti's car had separate pipes from each cylinder, ending in small megaphones.
The non-works entries were Chris Amon with Parnell's Lola-Climax V8, they having a Lotus 24 with Climax engine as a reserve car, both engines being on Weber carburetters; Bonnier with Rob Walker's brand new Cooper that appeared briefly at Spa, the 1962 ex-works Cooper being used as a training car; Ireland with the "monocoque" BRP car modified since Spa by having a 6-speed Colotti gearbox fitted, with left-hand gear-change of very neat layout, incorporating only one universal joint, and he had a Lotus 24 with injection BRM V8 engine as a training car.
The Swiss driver Joseph Siffert and his mechanics had done a tremendous amount of work on his car since Spa, it now having a Lucas fuel-injection system on its BRM V8 engine, and new aluminium fuel tanks forming the body-sides in the style of Cooper and Brabham. Fortunately his crash at Spa had not damaged the chassis frame, but it had required a rebuild of the front suspension. As all this work is done by his mechanics the car is gradually becoming something of a "Siffert Special" and is a very creditable private-owner entry.
To complete the entry there were the two old Porsches of de Beaufort, his second car being driven by the German driver Gerhard Mitter. Before practice began negotiations were under way for BRP to have a second entry for Jim Hall, he not having been accepted in the original list.
Qualifying
First practice took place on Friday morning, after a night of storm and wind that threatened to return most of Holland back to the North Sea, from whence the Dutch had reclaimed it. A delayed Channel crossing put the Team Lotus transporter behind schedule, so that Clark and Taylor were spectators for the morning. They were not alone, however, for Gurney's Brabham-Climax was being warmed up when it suddenly went quiet and refused to restart. Having been thoroughly tested at Silverstone before being shipped to Holland this was one of those peculiar things about racing machinery that cannot be anticipated. The rear bearing of the tubular shaft that runs along the V of the crankcase, from the timing gears to the distributor, had seized and the shaft had twisted through 180 degrees. Having no spare shaft, or spare engine, Gurney had to join the spectators, and the delivery of another engine from Coventry was organised.
Meanwhile Brabham's new car was being adjusted and set up for the circuit, not having been run before arriving at Zandvoort. Innes Ireland was well under way with the BRP car, using all the power and all the track in some really spirited driving, much to the satisfaction of his mechanics and to the chagrin of other teams. After a spectacular spin, just in front of Graham Hill, as they both braked for the long hairpin at the end of the main straight, Ireland returned to the pits to suggest that perhaps the brakes were not working evenly!
Graham Hill had started off in the new car wearing the number T12 but had not gone far before he came to a peculiar grinding halt with the brakes locked on solid due to a slight mis-adjustment in the master-cylinder mechanism, so he did most of his practice on the earlier car. Ireland was charging around again, now in the BRP Lotus 24 and lapping fractionally faster than in the "monocoque" car, but this may have been due to having a better engine in the Lotus.
The Ferrari team were not at all happy, Scarfiotti had broken the engine of his car and the more tuning that was done to Surtees' car the slower it seemed to go, and he was not convinced about the handling. The ATS team were also having their troubles for Baghetti's car broke a distributor and developed a fault in the brake master-cylinder and Phil Hill was not in the running, even though no one was making very fast times, in spite of having a following wind down the main straight.
"Ferrari were not happy, Scarfiotti had broken the engine of his car and the more tuning that was done to Surtees' car the slower it seemed to go"
Being a permanent closed track the Zandvoort circuit remains the same each year, though there are variations in the percentage of sand blowing about the place from the surrounding sand dunes, and damp patches through the woods on the far side of the circuit can slow lap times. Last year the fastest practice lap was set up by Surtees with a Lola-Climax V8 in 1min 32.5sec so that it was understandable that he was not too impressed with 1min 33.7sec in the Ferrari at the end of the first practice session.
Graham Hill and Ireland were equal fastest with 1min 33.3sec which was satisfying to BRP with their Lotus-BRM V8, but not to BRM for this was exactly the time that Hill set in the first practice in 1962.
In the afternoon the Team Lotus cars arrived, but only two of them were ready to run, these being the cars used at Spa, the one with the Colotti gearbox requiring finalising. Scarfiotti's Ferrari was unserviceable and for a moment it looked as though Gurney's car had been repaired, but it was Brabham circulating wearing Gurney's black crash-hat, as he had left his own in town. The new Brabham car was beginning to go extremely well, and when Jack got his own helmet he started to try really hard and got down to 1min 33.0sec, the car handling pretty well perfectly on the more difficult corners.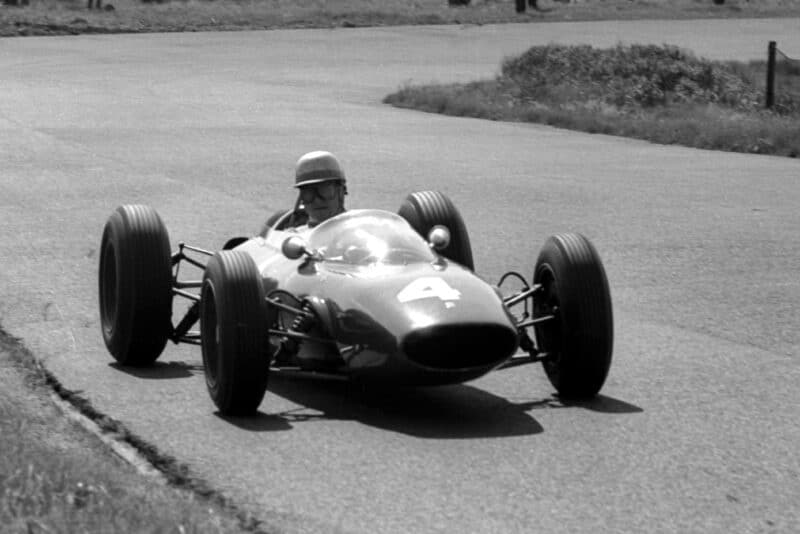 This could not be said of the new BRM which obviously needed some development work on its suspension, and Graham Hill was returning his best times with the old car, and the pace was beginning to show improvement over 1962, he finally getting down to 1min 32.2sec. Both of the Team Lotus drivers seemed to be suffering from a complaint that might be termed "gearboxitis," so that it was some little while before they were convinced about the "feel" of the gear-change on their ZF boxes, but meanwhile Ireland was in real trouble with the Colotti box on the BRP car and he stopped at the pits with a veritable heat-haze rising from a gearbox that had suddenly lost all its oil circulation, to the detriment of the internals, so once again he returned to the Lotus-BRM V8 training car.
McLaren's Cooper was having trouble with its transistor ignition, but this was soon fixed and Maggs was making excellent progress with his training. In order to record an official lap time and qualify for a start Dan Gurney borrowed Brabham's car for a few laps, and did not find it as cramped in the cockpit as might have been expected. Surtees was in the running with a time of 1min 33.6sec, but some idea of what was to come was shown by Clark doing 1min 33.0sec just as practice came to a close, this being his first serious attempt at a fast lap having been in and out of the pits for most of the afternoon.
On Saturday afternoon it was still windy but the sun was shining and conditions were reasonable and Lotus produced their Type 25 with new Colotti 6-speed gearbox, the car bearing Taylor's number. Ireland had another gearbox fitted to the BRP car and was ready to have a go, but Gurney was still without a car, a new engine being on its way.
Scarfiotti was out once more, Graham Hill was still testing the new BRM, and Bonnier had the same number on both the Walker-Coopers, which rather indicated a reluctance to decide on which car was the best. Brabham was getting faster all the time, his car appearing to handle extremely well, and he was really in the old Brabham form we used to know. He got down to 1min 32.4sec but was just beaten by McLaren, with 1min 32.3sec, although the Cooper driver did not look as though he was going that fast, so smooth was his driving.
While Ireland was doing a little running-in on the new gearbox the BRM engine broke so yet again he transferred to the pale green Lotus-BRM and after making his best time of all three practice periods the numbers were changed and Jim Hall did some practice with the car as an entry had now been arranged for him.
Both Team Lotus drivers tried the car with the Colotti gearbox, but Clark preferred his normal car and began to show his real form. After some very rapid laps he put in a real scorcher at 1min 31.6sec, which not only beat everyone comfortably but demoralised a lot of people as well. Chris Amon tried a few laps in Parnell's Lotus-Climax V8, but was not as fast as in the Lola and Bonnier had his decision made for him when the engine of the new Cooper had bearing trouble. The new BRM was making slow improvement but was not as quick as the old cars and Surtees was slowly adapting the Ferrari to the circuit, but no one was in the Clark category.
Just as practice drew to a close Ginther was trying hard and missed a gear-change when at peak revs, which did the engine no good at all and meant a lot of work for the B.R.M. mechanics, while the Brabham mechanics were also preparing for a lot of work as a new Coventry-Climax V8 engine had arrived for Gurney's car.
Race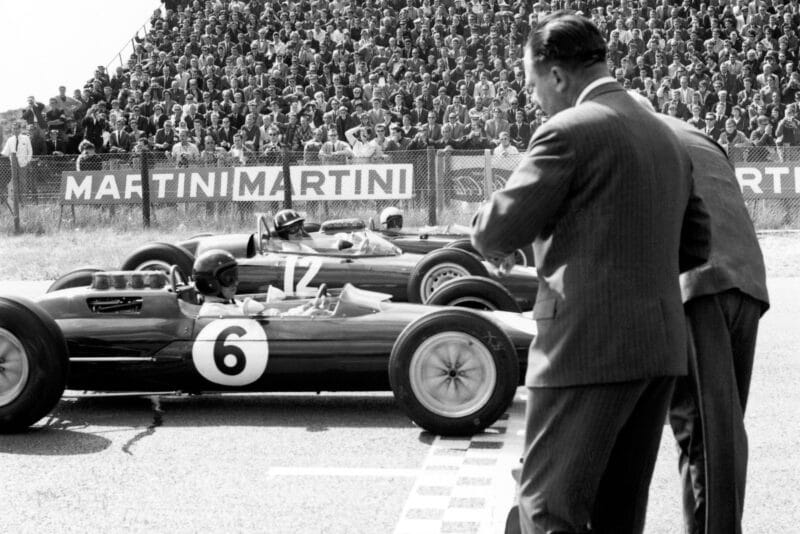 With bright sunshine and the inevitable sandy wind blowing down the straight the Zandvoort circuit was as good as it had been at any time, on Sunday, when the cars were assembled for the race, over 80 laps of the circuit. The start was scheduled for 3:15pm and while mechanics got the cars ready at the pits the drivers were paraded round the track in open sports cars, for the huge crowd to see before they disappeared under the cover of crash-hats and high cockpit sides.
From the pits the drivers went round on a warming-up lap in their racing cars and then assembled on the grid in order of practice times, Clark being on the right of the front row, in the Lotus 25 he had used at Spa, with ZF gearbox and "air-deflector" windscreen. Graham Hill was alongside in the old BRM and on the left was McLaren in the works Cooper, but he was in trouble with his gear-selector control plate in the gearbox, for on the warming-up lap it had joggled out of position and fixed the gearbox in 5th and 6th gears. The Cooper mechanics had the gearbox cover off and sorted things out while actually on the starting line, but they could not see the cause of the trouble.
"Surtees was filling his pockets with slices of orange in preparation for a dry and thirsty drive"
Surtees was filling his pockets with slices of orange in preparation for a dry and thirsty drive and the Walker mechanics were making last-minute adjustments to Bonnier's 1962 Cooper engine. Ginther's car was still using the new 6-speed BRM gearbox, whereas Graham Hill was still on the old heavy 5-speed box. Taylor had the Lotus with the Colotti 6-speed gearbox, and a fuel-injection Climax engine, and Gurney's car had some hasty modification made to the fuel lines and exhaust pipe mountings as the only engine available from Coventry-Climax was one of the new single-plane crankshaft models, with separate bunches of exhaust pipes and low-level tail pipes, one on each side of the gearbox. The Brabham/Australian pot-type half-shafts had been fitted to Brabham's car and Gurney was using normal Hardy-Spicer splined shafts. The BRP "monocoque" car was once more in order and Jim Hall was driving the pale green Lotus-BRM V8.
Everyone behaved themselves as the last seconds ticked away and in a perfect start all 19 cars shot off the line in clouds of rubber smoke. The "drag-race" from the front row was one of the best seen for a long time, with Lotus-Climax V8, BRM V8 and Cooper-Climax V8 absolutely dead level as they accelerated down to the first corner. No one gave way and all three arrived at the braking point wheel-to-wheel, and Clark refused to be "shut-off" on the inside and held the Lotus tight to the inside of the long right-hand hairpin. There was nothing the others could do except take an outside, and longer, line and Clark was then away and leading along the back leg.
Poor Dan Gurney, not having driven his Brabham at all during practice, changed smartly from 1st gear into 4th gear and from a bad grid position dropped to last place as everyone accelerated away.
The opening lap ended with Clark leading Graham Hill and McLaren, but the Cooper driver was waving Brabham by into third place, as his gearbox had gone wrong again and he had only 5th and 6th gears available. Sure enough he pulled into the pits at the end of the second lap and his mechanics took the gearbox selector mechanism apart.
On lap 3 there was a semblance of order, Clark always in front, hotly pursued by Graham Hill and Brabham, but the BRM engine was running a high water temperature. In fourth place was Maggs in the second Cooper and after a short pause came a truly impressive crowd of cars getting involved in some pretty serious motor racing in the best tradition. This included Ginther (BRM), Surtees (Ferrari), Bonnier (Cooper), Amon (Lola), Phil Hill (ATS), Ireland (BRP), Taylor (Lotus), Scarfiotti (Ferrari), and Gurney (Brabham), the rest of the runners being spaced out behind.
Gurney had the air of a very determined driver and was obviously out to win. One by one he picked off the cars in the tight bunch, wasting no time about getting by anyone, nor missing any opportunities. His progress was terrific and the Brabham pit were over-joyed for Jack had got past Graham Hill and was sitting in a sure second place behind Clark, who was holding a 5sec lead.
Gurney disposed of the lesser members of the middle group of runners and then got to grips with Ginther, Ireland and Bonnier and the four of them indulged in some real Grand Prix racing, with young Chris Amon sitting just behind them watching it all. Not only were they side-by-side, or nose-to-tail, but at times all four cars were abreast into some of the corners.
For a few laps Ireland got a hairs-breadth lead, but Gurney was going racing in a big way and he finally got free from Ginther and Bonnier and got past Ireland, and set after Surtees. This terrific bit of racing overshadowed everything else, even Jim Clark way out in front driving in a most immaculate style and completely unchallenged. Graham Hill was not content to sit behind Jack Brabham and attacked all the time, but the Brabham cars were showing excellent form.
"Clark was driving a masterly race as smooth and fast as one could wish to see"
On lap 14 Maggs dropped out with an internal water leak causing overheating and with McLaren's gearbox still receiving attention it was a sad day for John Cooper who was back with the team for the first time since his Twin-Min accident. On the same lap Taylor stopped at the pits with a misfiring engine that was traced to a faulty electric petrol pump for the Lucas injection system. Meanwhile Baghetti had retired with ignition trouble on his ATS car and on lap 16 the second ATS went out in a cloud of sand as Phil Hill spun off the road due to the left-hand rear axle stub breaking off.
On lap 19 Graham Hill battled his way past Brabham, but he was not happy about the BRM water temperature as it was still too high. Clark was leading these two by an easy 12sec and was driving a masterly race as smooth and fast as one could wish to see. These three were out on their own, with Surtees in fourth place, but he was about to be gobbled up by the hurrying Gurney who was driving one of his best races ever. Having swept through the field from last place to fourth place he had left a lot of breathless runners behind him, but Bonnier and Ginther were still wheel-to-wheel, the Swede driving better than he normally does and the American driving below his normal standard, so that the result was a good dice.
Amon's car broke its water pump and he was forced to give up and Gurney's pit could see something trailing underneath the Brabham, so they signalled him to come in, which surprised the big American and he looked at the signal with a "who, me?" expression on his face, for the car was going superbly. What had happened was that a strip-steel bracing strut that is tensioned diagonally across the chassis, under the engine, had broken its anchorage. This in itself was not serious, but due to fitting the different type of Climax exhaust the fuel lines had been re-arranged and one of the pipes had been taped to this cross-bracing strut. It was the work of a moment to wire the trailing strut and pipe up out of harm's way and send Dan back into the race, but even so this stop allowed Surtees (Ferrari), Ireland (BRP), Ginther (BRM) and Bonnier (Cooper) to go by, and Gurney set about catching them all once more.
At the back of the field Jim Hall and Siffert were involved in a hand-to-hand battle with their Lotus-BRM V8 cars, seemingly very evenly matched and it went on for lap after lap. Scarfiotti had been lapped by Clark, who was now fifteen seconds ahead of Graham Hill and going as smoothly as ever, lining himself up to lap the middle of the field. Bonnier suddenly stopped with a broken gearbox, but got going again in 3rd gear and crept slowly round to the pits where the Walker mechanics set to and dismantled the gearbox, extracted a broken 2nd gear and fitted a new one.
At 40 laps, which was half distance Clark had lapped Gurney and Ginther, so that though the Brabham-Climax was going well, it was nothing compared to the Lotus-Climax of the fantastic Clark. The BRM of Graham Hill was now 18sec behind, in second place and still going well in spite of the temperature rising slowly but surely as time went by. Jack Brabham had been having some exciting moments due to the throttle slides not shutting promptly when he lifted his foot off the accelerator pedal, and he had dropped back to 25sec behind Graham Hill, but was still securely in third place, ahead of Surtees and Ireland. On the very next lap the BRP did a sudden spin in the middle of a corner and while Ireland sorted it out Gurney nipped by into fifth place.
For ten laps the scene settled down but then as Clark was preparing to lap the Ferrari of Surtees and Graham Hill had just lapped Gurney, Jack Brabham went by the pits leaving long black marks from locked wheels, in a panic effort to stop before the Tarzan hairpin got too near, as his throttles had stuck open, due to the stickiness he had been experiencing and now one of the return springs breaking. He completed the lap on the ignition switch and stopped to have another spring fitted, but this dropped him from a certain third place, right down to eighth place, behind Scarfiotti and two laps behind Clark, who had now lapped Surtees, so that only the second place BRM was on the same lap as the speeding Lotus out in the lead.
On lap 58 Graham Hill went by the pits indicating he was coming in next time round, for the water temperature had now been in the danger area for far too long. When he stopped steam was already blowing out under the car, indicating that the overheating was more than serious and was probably caused by an internal water leak into one of the cylinders. This stop left Clark completely on his own, a lap ahead of everyone else, but more important, it let Surtees and Gurney by into second and third places, respectively. Water was poured into the BRM and Graham Hill rejoined the race in fourth place, but with little hope of the engine lasting for another 20 laps. Surtees was now second, but Gurney was closing on him remorselessly and in a vain effort to keep the Brabham car at bay Surtees drove the Ferrari as hard as it would go.
"Gurney was closing remorselessly and in a vain effort to keep the Brabham car at bay Surtees drove the Ferrari as hard as it would go"
After only three laps in second position, Surtees opened up a bit too soon out of the freak hairpin behind the pits and spun. This let Gurney and Graham Hill go by, and Ireland and Ginther were fast approaching as the Ferrari set off again, which gives some idea of how close this lot were, all one lap behind the leader.
As Brabham went by the pits in eighth place, and right out of the running, after an excellent showing, his pit staff encouraged him with a signal telling him Gurney was in second place, which must have cheered him up enormously. However, Graham Hill was not impressed with the situation, and was trying to get back into second place, in spite of a temperature gauge that indicated danger all the time, but before he could do this the BRM engine broke and the World Champion had to pull on to the sand and walk back to the pits, watching Jimmy Clark lapping smoothly and leisurely more than a lap ahead of Gurney, Surtees, Ireland and Ginther.
The dice between Siffert and Hall had been resolved some time before, as the BRP Lotus was getting so hot in the cockpit that the Texan driver could no longer keep his foot on the brake pedal for more than an instant, so Siffert had gone ahead. With only ten laps to go Scarfiotti had a sudden and unaccountable spin coming out of the Tarzan curve, but no damage was done and no places lost.
Clark reeled off the remaining laps with his usual precision and a jubilant Colin Chapman and his team of mechanics acclaimed their number one driver as he received the chequered flag. A lap behind came Gurney, Surtees, Ireland and Ginther, all very close to one another, and the rest trailed in, with Taylor and Bonnier many laps in arrears due to their long pit stops, but running as well as ever.
While Clark did a slowing-down lap the Caltex petrol people produced a portable podium with folding ramps, which they assembled in front of the grandstand and when the Lotus arrived it was wheeled up to this stand so that all could see the car and the driver receive their laurels, and everyone could take photographs unhindered. This excellent idea was slightly marred by the ridiculous Dutch police who insisted on riding their horses into the throng that milled around the foot of this portable podium, for reasons only apparent to the mentality that hides behind a uniform.
As at Spa, Clark had led from the first corner to the chequered flag, the Lotus-Climax V8 performing perfectly in the sort of race that must soon label Jimmy Clark as a second Stirling Moss. Not as fast, but equally praiseworthy was the performance of Dan Gurney, who started last, had a pit-stop and yet finished second.