1994 British Grand Prix race report - A family affair
Damon Hill did what father Graham never achieved when he won the British Grand Prix, and he did it in style.
Phil Hill's Ferrari was just ahead. A little further in front of the American was team-mate Wolfgang von Trips' similar car. In his mirrors, Graham Hill could feel Jack Brabham hovering like a Nemesis. His own brakes were fading. Did he try to pass Hill before Copse, or dare he risk leaving the move until they were through the corner, when Brabham might have even greater momentum?
History, of course, relates that Graham Hill chose the first option. And when he got on the brakes his BRM's middle pedal went further to the floor than he'd expected and he spun into ignominy. With that one, small error, went his hopes of winning the 1960 British GP, a race he had come to dominate. And try as he might in subsequent years, when more often than not he shared the front row with Jimmy Clark, it was the one race he never did win.
Thirty three years later his son Damon came within 18 laps of exorcising that family ghost, and was leading team-mate Alain Prost when his Renault engine exploded.
Without question, Hill came back to Silverstone in 1994 with something to prove.
On Thursday there was an uncharacteristic outburst from him as he railed against negative press speculation about the likelihood of his retaining his Williams seat for 1995. And on Friday there was another unpleasant surprise when the front suspension literally fell apart on his first lap of free practice. 'Finger trouble' was the root of that little drama.
For all that, there is an increasing air of solidity about D. Hill these days. Yes, he spun on Friday afternoon when he pushed a little too hard at Club, but now when you watch him on a qualifying lap you feel comfortable that he is going to produce the goods. Of late, starting with his qualifying performance in Magny-Cours, we have begun to see the sort of maturation that we witnessed in Nigel Mansell in 1985. For all that Damon was obviously feeling the heat at Williams, first with the arrival of the Speedy David Coulthard, then with the 'guest' appearance of Mansell in France, he was relaxed enough all through practice, and his pole-winning lap was a masterpiece of determination and commitment. Those who say he lucked into his wins last year, that he isn't really on a par with the likes of Schumacher, Berger and Alesi, weren't watching last weekend.
In France Schumacher had used Benetton's fancy clutch to the maximum to beat both Williamses off the line, and he did it again in Britain. The only trouble is that he did it on the formation laps…
That blatant breach of the regulations would have far-reaching consequences for Schumacher and Benetton, but once the first start had been aborted after Coulthard surrendered his seventh place on the grid by stalling his engine, all Hill cared about was avoiding a repeat of Magny-Cours.
"After last weekend l looked in my mirrors and I was actually craning my neck to see where Michael was in the first corner, because I presumed he must have been in my blind spot. Then I turned into Copse and he wasn't there."
In the opening laps Damon was mighty. His lead was almost a second after the first lap, and as Berger slotted in behind the Benetton, followed by Barrichello, Alesi, Verstappen, Hakkinen, Katayama, Frentzen, Morbidelli, Panis, de Cesaris, Martini, Herbert, Blundell, Alboreto, Fittipaldi, Comas, Brabham, Bernard, Beretta, Coulthard, Gounon and Zanardi. Hill piled on the pressure to try and open a gap. After five laps it was 1.5s, after 10, 1.2s. A lap later, 1.67. Whatever Schumacher did to narrow it, Hill seemed able to cover in order to stretch it again. The pair of them were at this stage lapping nearly two seconds quicker than anyone else, and Hill's pace was all the more remarkable since Williams, like Ferrari, had relied on Saturday on qualifying engines which were not available for the race. Just as Magny-Cours had gone against expectations at the start, so had Silverstone.
The rot for Benetton began to manifest itself on lap 14, when officialdom finally got round to communicating to the team that its driver was to be penalised five seconds for his indiscretions. There was immediate uproar, as Tom Walkinshaw and Joan Villadelprat began arguing with FIA official Roland Bruynseraede and Flavio Briatore went as high as he could trying to get the decision overturned. Quite rightly, it was to no avail, but while they argued the officials prepared the black flag, which was finally shown to Schumacher on lap 22. It would be lap 27 before he finally came in to take his stop-and-go penalty.
By this time both he and Hill had made their first pit stops, Damon at the end of lap 15 as Williams opted for a short first stint, Michael on lap 17 as Benetton followed suit. That put Berger into the lead, but Schumacher's pit entry had been quicker than Hill's and Damon now found himself sitting behind his great rival. Indeed, the three of them were literally nose-to-tail by lap 21, with Berger relentlessly refusing to give an inch in the rapidly improving Ferrari. Schumacher finally found a gap the next time round, but just as Hill's frustration must have been mounting, Gerhard swept into the pits for his own fuel stop. It was now back to Schumacher v Hill.
The German had the gap open to 2.8s by lap 25, and then 3.7s two laps later when he finally boiled into the pits to take his punishment, and by the time he was back on the track Hill was way down the road, 20.7s to the good. All he had to do now was keep his head and match the Benetton's times, and he was home and dry. But there was still a long way to go.
Further back, Berger rose again to third place when Alesi came in from a temporary second on lap 28, great rival Barrichello having stopped already on lap 20. Hakkinen, too, came in on lap 28, and it began to dawn horribly on Jordan that its two great rivals for third place were planning to run with only one stop, whereas it planned two for the Brazilian.
By half distance (the race was docked a lap because of the restart), Hill was in complete control from Schumacher and Berger, Barrichello was back to fourth, Alesi fifth, while Coulthard had hauled himself right through the field and was pressing Hakkinen very hard for sixth. The Scot had made one of his usual blinding starts, only to spin at Copse on the opening lap, but again he was driving with the sort of panache that starts whispering Jackie Stewart in your ears.
Further back, Katayama was eighth, well clear of Verstappen, who was already beginning to experience the cramp that would blight his first GP finish, Frentzen was pushing along in 10th, and Alboreto was temporarily ahead of Fittipaldi (on his usual one-stop strategy) and the battling pair of Martini and Herbert. Panis was recovering after an unscheduled stop for a new nose on his Ligier after the original had developed a serious vibration, and team-mate Bernard was locked in what would be an almost race-long fight with Beretta's Larrousse. At the back, the two underpowered Simteks were fighting each other.
Well gone by now were the unfortunate Irvine, whose Jordan had suffered a Hart engine failure on the second formation lap that was as rare as a Yeti sighting. Less so was Brundle's spectacular departure on the grid. His Peugeot engine had been puffing smoke on the formation lap, and when he dropped the clutch it emitted a ball of flame and chugged into retirement on the lefthand side of the track. Once again the much-vaunted Peugeot V10 was un canard mort. That was bad luck for Blundell, who had to swerve to avoid him, and whose Tyrrell then developed a truly automatic gearbox as it headed to Stowe. The Briton, desperate to end his recent run of misfortune, was seventh when he reached the corner, but then his throttle stuck at the very moment that his gearbox malfunctioned. He was 19th by the time he resumed after the ensuing off-track excursion, and later the transmission committed suicide.
Zanardi had started with a Lotus whose Mugen-Honda was known to have ingested debris, and predictably it blew up after only four laps, while Morbidelli lasted only five before his Footwork quit with a broken fuel line. De Cesaris went after 11 with loss of power, Comas blew up on lap 13, and Alboreto's Minardi would break its engine on lap 50. The most serious retirement, however, was Berger. The Austrian was in no position to push Hill or Schumacher in the race, the way he had in qualifying, but there was no question that the B specification revisions introduced at Magny-Cours had taken the Prancing Horse a major step forward. This weekend the red cars had their new titanium transmissions, which are lighter than the equally expensive stainless steel casing used on the 412T1 and therefore help to balance the handling. Berger had come within an ace of pole position, using the new E5 A 94 75-degree V12 last seen briefly at Imola, but was baulked by Hakkinen on a very quick lap, and later ruined his chances by clipping the barrier on the exit to the pits on his final run.
Gerhard had planned an attacking race with two stops, like the leaders. However, he had suspected something was awry with the car in the morning warm-up but stayed with it as he didn't like the engine in the spare. It didn't feel right from the start, and on lap 32 he cruised home to report unpleasant noises from the engine.
Barrichello was thus promoted to an excellent third – a position he had predicted for himself the previous day but he still had that second stop to make. Alesi, who felt that overtaking would be difficult at Silverstone, had opted for his one-stop policy and was tanking along behind, happier with the balance of his 412T1B after it had oversteered all through qualifying. For him, a rostrum place was simply a matter of being patient at this stage.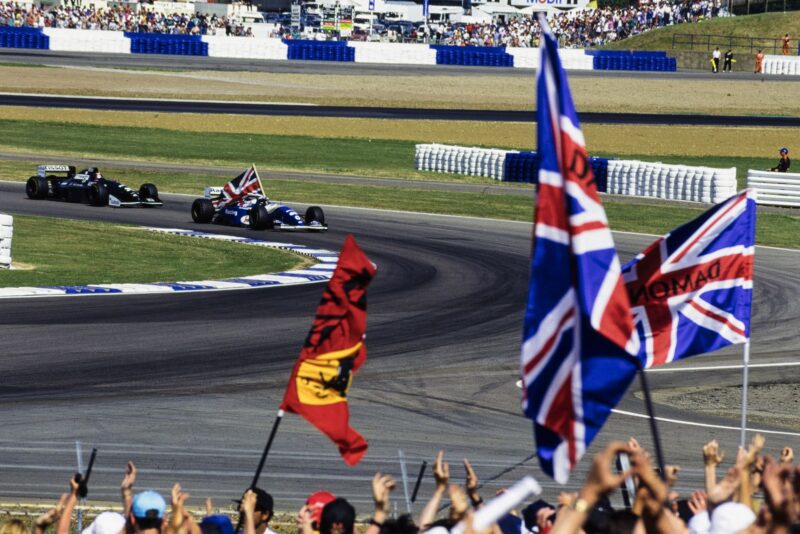 Coulthard, however, had other ideas, and by lap 34 the Scot had hauled himself on to the Ferrari's tail and was pushing Alesi very hard. On lap 37 he tried at Stowe, only to be repulsed, and then again at Abbey. Two laps later he and Alesi were side by side going into Stowe, only for the Frenchman to stay ahead by being more aggressive in traffic. At the end of the lap Coulthard used his head and got out of the stalemate by pitting for fuel, resuming eighth behind Frentzen and ahead of Katayama. Another recovery was in prospect.
Barrichello duly made his fateful second stop on lap 41, but his margin over Alesi and Hakkinen was insufficient to allow him to resume in third place, and he dropped to fifth ahead of Frentzen, the closing Coulthard and Katayama, with the pained Verstappen ninth. Coulthard pounced past the Sauber on lap 43, and steadily began closing on the McLaren and the Jordan ahead of it, but there would not quite be sufficient time left, and other factors would also come into play.
Hill was still flying round at the head of the field, and by lap 50 he was 16s ahead of Schumacher. Shortly after his stop-and-go penalty he had started to experience problems with his downshifts, which were jerky and tended to lock up the rear wheels, and he had begun to play with the brake balance to try and resolve the situation. Instead that simply led to the fronts locking. On one occasion he flat-spotted his Goodyears, which set up a serious vibration. The real race was over.
Hill came up to lap his team-mate on the 51st tour, and for a while they circulated together until David unlapped himself on lap 57. At that stage Hakkinen and Barrichello were still fighting as hard as ever, and Coulthard had been closing fast, but then his Williams jammed in sixth gear and Hill relapped him on the 59th tour. That would have serious repercussions that could have cost him fourth place, for as they went into Luffield 2 on the final lap Hakkinen ran wide and Barrichello pounced down the inside, only to find the Finn slamming the door. They touched and spun, and as Barrichello limped towards the pits with his left front suspension destroyed, Hakkinen was push started by the marshals and they raced for the line, the Brazilian on the pit side of the pit wall, the Finn the track side. In the end they kept their respective positions, but where Rubens was aggrieved, Mika shrugged and spoke of 'Racing'. Had Coulthard not been lapped, and therefore finished the race as Hill swept over the line, he could have caught both of them while they were sorting themselves out because the previous lap he had been only 10s adrift.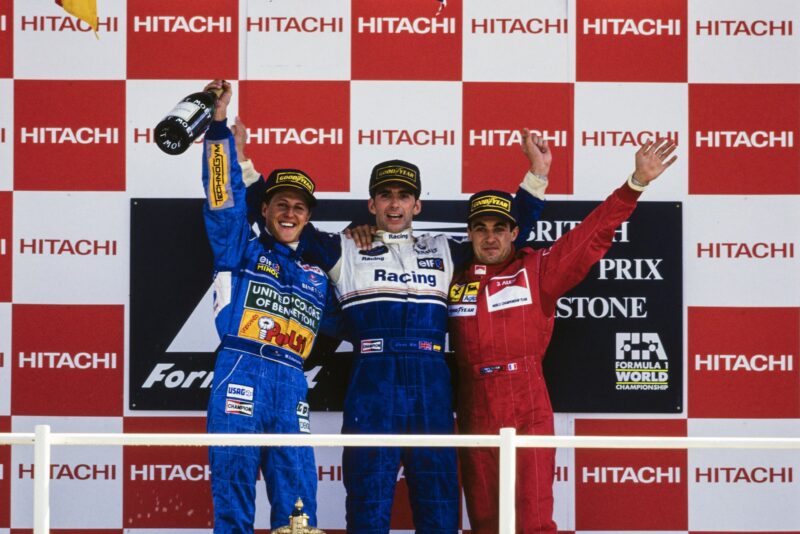 Seventh was ultimately a disappointment for Tyrrell after the suspension change in testing two weeks earlier had boosted its hopes by improving the handling. Katayama drove well all weekend and had no problems in the race, but this time out the 022 just wasn't quite quick enough. Likewise Frentzen had little to complain about, apart from his own mistake on lap 59 when he spun and let the Japanese driver by. Verstappen made it home despite cramp which spread right up his back, Fittipaldi was a reliable if unspectacular 10th, and Martini finally got away from Herbert in the closing stages when the Mugen-Honda cracked an exhaust. Had the pair of them been fighting for points Minardi would have removed Lotus from the FOCA benefits package, but though it lost out in the battle the British team was relieved to have won the war and kept its placing in the FOCA top 10 teams for another six months.
The delayed Panis was 13th after yet another good drive, while Bernard finally found a way by Beretta and soon drew away to finish 14th, while Brabham eventually beat Simtek team-mate Gounon. The Australian had gone for two stops, Jean-Marc one, but the gap was a scant seven-tenths after the Frenchman spun near the end.
Predictably, Schumacher was not delighted afterwards, but in some ways he was lucky. The rules clearly state that you must keep formation during the warm-up lap, and in each of them he passed pole position man Hill. What should have happened is that the stewards should have spotted that far earlier and relegated him to the back of the grid. Instead, they let him race on and made a hash of giving Benetton notification of its stop-and-go penalty. For its refusal to obey the black flag immediately, and lack of knowledge of the rules, the team was fined $25,000, but the stewards might just as readily have fined themselves for the latter shortcoming. Moreover, Schumacher was lucky to escape disqualification for his refusal to obey the black flag; remember how Mansell was kicked out of Estoril in 1989 and banned from the Spanish GP that followed? Just imagine telling German spectators that their hero wasn't allowed to race at Hockenheim… "This is a dream come true," said the emotional Hill when it was all over. "I feel that this has completed the hole that my father left in his record. This has been a very, very emotional day." Would Hill have won without Schumacher's problems? Who knows? But Damon was very hooked up in his home race, the last race of the totally flat-bottom era that began in 1983. And he drove beautifully all weekend. Even if Schumacher hadn't transgressed, and even if he hadn't had that problem with his downshift, I wouldn't have put money on Michael to beat him to the first British GP to fall to the Hill family. D.J.T.