(No) Lunch with... Keke Rosberg
The 1982 Word Champion puts his success down to hard work rather than talent, but there's been plenty of that in evidence too
According to Keke Rosberg, getting to the top in Formula 1 requires one of two things: "A lot of talent, or a lot of hard work. Nelson Piquet, for example, never wanted to work very hard, but he did have a great talent. Ayrton Senna was special, because for him it was both: he had the talent, but he also did the work. With me it wasn't talent. It was just a lot of hard work."
But anyone who watched Keke take pole position for the 1985 British GP as spots of rain were falling – grabbing the 1000bhp Williams-Honda turbo by the scruff of the neck, throwing it through Woodcote with fistfuls of lock, stabbing at the throttle – knows he had great talent, too. That lap still stands as Silverstone's fastest: less than 66 seconds for the 2.9 miles, an average speed a whisker under 161mph. They also remember his victory at Monaco in 1983, when he opted for slicks on a wet track, and obliterated the turbocharged opposition. Maybe they saw his second-ever F1 race, the Silverstone International Trophy in 1978. Who was this almost unknown Finnish refugee from Formula SuperVee, who'd grabbed a ride in the no-hoper Theodore? It rained that day, too. The great names crashed and, unbelievably, the Finn won.
"That day I thought I'd made it. I saw them all in the mud, the Petersons, the Laudas, the Hunts. I had Emerson Fittipaldi behind me for 20 laps and I beat him to the flag. Big time, here we come. I was young and naïve. I didn't know that's not how it works in F1. Nobody's memory lasts more than a fortnight, beyond the next race. It took me four more years to get out of shitboxes and into a decent car."
We're talking by the pool beneath the skyscraper apartment building where Keke and his wife Sina have their Monte Carlo home, with an uninterrupted view of the Mediterranean's most costly piece of coastline. But, apart from a double espresso and a glass of water, Keke doesn't take lunch: in his driving days he was a famous smoker, but since he gave that up he watches his weight. The trademark moustache is less luxuriant now, but he is the same small, chunky, urgent figure, sharp as a tack, talking fast with rueful, downbeat humour. He is a polyglot, taking phone calls during our chat in Italian and German, speaking fluent, idiomatic English in rapid, stabbing sentences, his vocabulary peppered with mechanics' slang.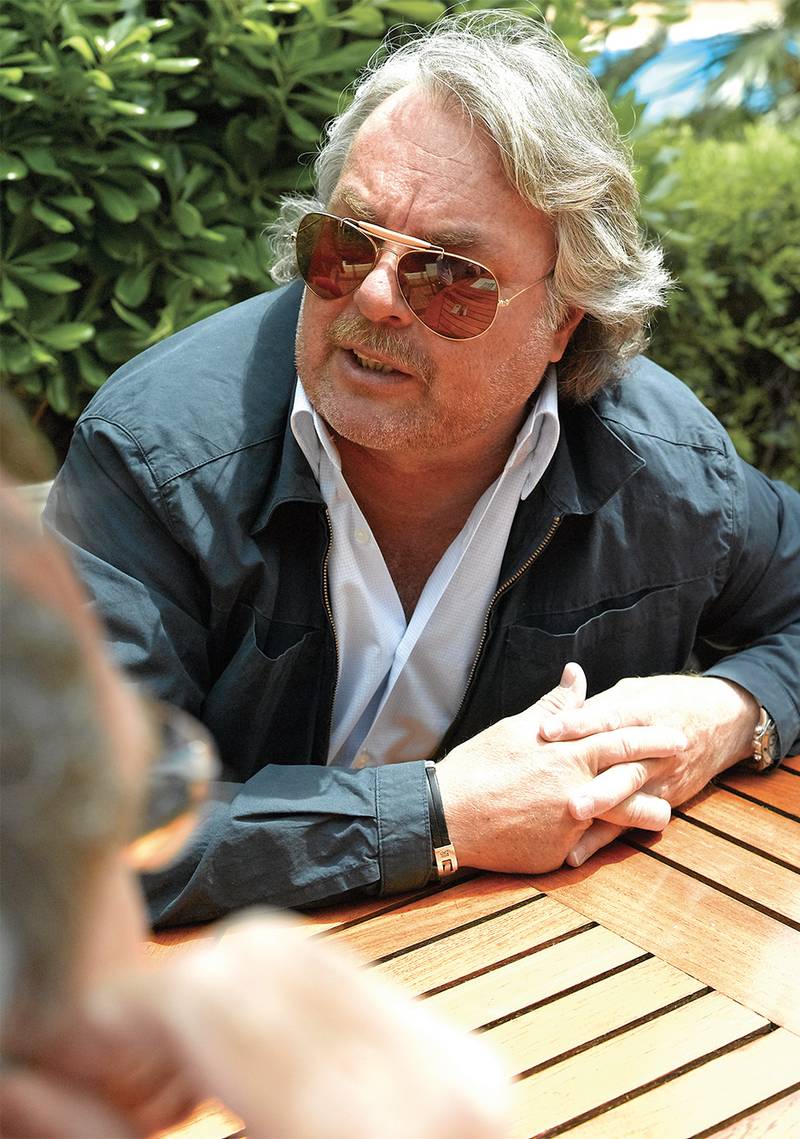 His Monaco office is a walk away, and he goes there every day. His plane is at Nice Airport, ready to whisk him to his rural home in Austria, his development in Lapland, or his estate in the mountains above Marseille. Keke started with nothing, in a small distant country that had never produced an F1 driver. He was 33 before he got a good F1 drive, and at once he became World Champion. Before that, years of wheeling and dealing, hustling – and hard work.
"Both my parents did rallying, but gave it up because they couldn't afford it. I started karting at 16, and I had to finance it from the beginning. Even then I was selling stuff and importing engines from Italy. I was Finnish karting champion several times, but the big thing was coming fifth in the World Championship in Paris in 1970. I went to France with my dad, with one chassis and one engine, and we slept in a tent. Next to me was Hans Heyer with his mechanics, three chassis and 28 engines. I was leading the first final from pole, and the bastard engine broke.
"I wanted to go to university to do medicine, but I overslept on the morning of the big exam. I'd been studying until 5am. My one ambition was to be able to afford racing as a hobby. It never occurred to me that I could be a professional racing driver, like I never thought I could be an astronaut. I was working in computer software – I was married by then – and a colleague who was into Formula Vee persuaded me to try it. I found an old Veemax, but I only had a third of the money it cost. I borrowed a third from the bank. Then I persuaded my father to lend me the rest. He was not extremely thrilled. He gave me some sound advice: if you go racing you'll ruin yourself. He told me not to speak to him again until I paid him back. I did that at the end of the season.
"The second year, 1973, I bought a newer Formula Vee and pretty much won everything in Northern Europe. By this time my wife had left me. She thought I was crazy spending all my time and money on racing. I didn't even have a car. I drove the racing transporter to work every day, wearing my suit and tie. I worked nights as well at the computer company, not for extra money but for time off to go racing. I won the European FV Championship, and reckoned I had to go F3 for 1974. March invited me to England with talk of a works drive, and I thought, great, Rosberg is on his way.When I got there they asked me how much money I had. I said none. The conversation stopped there, and I drove home to Finland. I was just starting to learn how the motor racing world worked.
"So I drove down to Vienna and talked my way into a Formula SuperVee drive for Kaimann. I won five races for them, and we were third in the European SV Championship. Then I ran into a guy in the fashion business who wanted a racing team. I managed to convince him I knew how to make his team look good, he paid me some money, and for the first time I was earning my living from racing. The first pay cheque I got, I went to England and bought a new Jaguar XJ6. And some driving gloves from Les Leston. The team was based in Hamburg, so I moved to Germany. That was probably the hardest time of my life. I didn't speak a word of German, and it was a very lonely existence. But I won the German championship, and a big cheque."
That year Keke made a contact that was to prove vital. "An American race car dealer called Fred Opert wangled a Shadow F1 drive in the Swedish GP for Bertil Roos, who'd been driving for him in the US. I didn't know Fred from the man in the moon, but I thought, this guy might be useful. So I wrote him a letter. That led to me driving for him in a SuperVee race at Watkins Glen, and we stayed in touch after that.
"For 1976 I got a ride with Jörg Obermoser's Toj outfit. It wasn't March, it wasn't Chevron, but hey, I was in F2. But the car wasn't much good. [Autosport called the Toj "cumbersome" and noted that Rosberg got his few results "through sheer bravery and bravado".] Then Fred set me up with a drive in the New Zealand series, and I won it. So in 1977 Fred and I got busy. As well as New Zealand we did European F2, the Argentine Temporada, Formula Atlantic in North America, F2 in Japan, Macau – 42 races in a year, in five continents. Fred didn't pay me. His job was to bring me a car, and my job was to find sponsors and get patches on my overalls. At the end of that long year it was back to New Zealand, and we won the series again."
The first sniff of Formula 1 came when sports car entrant Willi Kauhsen cooked up a scheme to buy a pair of Kojima F1 cars from Japan. "I tested the Kojima at Fuji. My first drive in an F1 car. But the Kauhsen thing never happened. Then in 1978 Teddy Yip came into Formula 1 with the Theodore. Eddie Cheever did the first two GPs for them, but he couldn't qualify. He told them the car was a shitbox. So I told them it was the most wonderful Formula 1 car I'd ever seen. Suddenly I had the drive and I was flying out to South Africa. At Kyalami I had my first meeting with Teddy and his Irish team manager Sid Taylor. Bejasus, what a character. I remember at Hockenheim Bernie Ecclestone raised hell because Sid washed out his underpants and hung them up on a line in the paddock to dry.
"So Kyalami was my first F1 race, and in first practice I had the biggest shunt of my entire career. A brake pad fell out going into Sunset and I rolled it up in the chicken wire. The poles came into the cockpit, I was lucky it didn't catch fire. They stripped the wreck in the paddock, and there was a huge hole in the monocoque. So they shoved it onto a truck and drove it to the local blacksmith's shop. A new bit of aluminium was riveted over the hole, then back onto the truck, back to the paddock, reassembled, and I qualified it. In the race the fuel tanks leaked, but otherwise it was fine. Two weeks later we were at Silverstone in the rain, and we won."
But even Keke's commitment and courage failed to get the Theodore through qualifying again, so it was put away and Keke found a berth at Günther Schmid's ATS team. In his first drive for them, in the British GP at Brands Hatch, he went from 22nd on the grid to an astonishing fourth place before the rear suspension broke. "The bloody shock absorbers fell out of the chassis. I'd probably been going too hard over the kerbs." Meanwhile Teddy Yip bought a year-old Wolf and painted it red and white to do the rest of the European season. "Then he lost interest, and I was back with ATS again."
Most newcomers would want to concentrate on the Grands Prix in their maiden F1 season, but while all this was going on Keke's relationship with Fred Opert continued. Alongside F1 he did F2 in Europe, Formula Atlantic in the USA, plus the F2 series in Argentina and Japan. He spent 420 hours in aeroplanes that year, plus an incalculable amount in airports. If it was a weekend, Keke would be racing somewhere.
"I'd hoped for a proper ATS deal for F1 in 1979, but Schmid said I was too expensive – I think I was asking $1000 a race. That was the level in those days at that end of the grid. I talked to every F1 team, but I got nothing. So I flew to America and signed to do Can-Am for Carl Haas. A couple of weeks later, when I was in Japan doing an F2 race, Haas called and said the deal was off. He'd decided to take Jacky Ickx instead, because Jackie Stewart had advised him that I was too wild. Fred Opert's brother, who was a lawyer in Boston, said. 'You've got a contract. Sue the hell out of him.' Which I did. But I still had to go racing, so I got another Can-Am ride with Paul Newman, who was running separately from Carl Haas in those days.
"Just when the Haas Can-Am deal had fallen out of bed I was offered two races in the ICI F2 March that Ron Dennis was running. Guy Edwards, who looked after ICI and was a good friend, offered me $12,000 to do Hockenheim and the Nürburgring. Then Guy comes on the phone and says, 'Sorry, Keke, I can't pay you.' I said to him, 'You bastard, you know I'm out of work, you know I've got to do those races.' So I did them for nothing. Years later I found out ICI had paid for those drives – the money had gone into Guy's operation but somehow never came out. Anyway, I won Hockenheim, both heats, and on the old Nürburgring I put it on pole by 4.5sec. [Autosport again: "Rosberg's staggering qualifying lap poses the question: when will somebody give this man a regular top-class drive?"] But in the race, in the wet, the throttle jammed open, and I hit the wall."
Meanwhile in the centre-seat Can-Am cars Keke showed himself to be blindingly quick.
He took pole for every round except one, but thanks to engine unreliability he only won once. "I had a great time doing Can-Am. I loved the big cars, loved Paul Newman, loved his people. I promised Paul I'd concentrate on Can-Am
and wouldn't go back to F1. Then James Hunt walked away from Wolf after Monaco. Peter Warr [Wolf team manager] flew to the Mid-Ohio Can-Am and offered me the seat. I said to Paul, 'I've got a bit of a problem. This opportunity won't come again, and I'd really like to take it.' And Paul said, 'I understand. You take it.'
"But I honoured my Can-Am commitments, so I was commuting back and forth for the rest of the season. I was a zombie by the end of it." At Laguna Seca he had a huge shunt in practice when a tyre exploded. He was trapped in the car with concussion and two broken ribs, but he raced next day in a borrowed car. "I was in bad shape, but the mechanics had worked all night to get the other car ready, so I wasn't going to say I couldn't drive. I'd hurt my wrists and had trouble holding the wheel, so they wrapped it with double-sided tape to give me some grip." From the back of the grid, he finished sixth.
"It was a tough time. I'd come back from a Can-Am, land at Heathrow and go straight to Silverstone for an F1 test, then on to the next Grand Prix, then back over the Atlantic for the next Can-Am. I travelled alone, going from hotel to hotel: these kids nowadays, they have their entourage with them. The Wolf was not very competitive that year, and I had to work my butt off in the car. But don't cry for me: I was working with Harvey Postlethwaite, Peter Warr, Jo Ramirez, all top people. I was in F1, and there are worse places to be in life.
"Then Walter Wolf sold up, and the team was taken over by Fittipaldi. I was now in a two-car team with Emerson, and I got on the podium in my first race for them, in Argentina. Two weeks later, in Emerson's home race at Interlagos, I got stuck behind him. He was blocking me on the inside, so I passed him round the outside of a fast left. He went ballistic. It was on TV, and all the Brazilian papers wrote how their hero had been overtaken. He said he'd have my balls. Next morning in São Paulo he called a meeting, me, Peter Warr, his brother Wilson, and started ranting at me. Wilson said, 'Sit down, Emerson. I've seen the TV coverage, I think you should shut up.' Pretty good, from his own brother."
For 1981 Fittipaldi stopped driving. "My team-mate was now Chico Serra, who became a good friend. But always there were car problems and money problems. At the end of that season I took a holiday in California, taking flying lessons, to give my brain a rest from motor racing. While I was there I had a phone call from Jeff Hazell at Williams. He said, 'Look, don't get the wrong impression or anything, but Alan Jones has decided to retire, and would you like to come down to Paul Ricard and have a test?' I said, 'I'll swim there if I have to.'
"I called a lawyer in London I'd used for contract work and told him Emerson owed me some money, not a lot, about $2300, and could he get rid of my contract with Fittipaldi? Luckily I'd reminded Emerson in writing that he hadn't paid up, done it all by the book. I landed at Heathrow, called the lawyer again, and he said, 'It's done, you have no contract.' I went to Williams for the seat fitting, and I said to Frank, 'I know this is only a test, but just for your information, I am a free agent.' Next morning we got to Ricard, they slapped on some qualifiers, I went out at 8am and got under the lap record. Went back to England, went to Frank's house, signed a contract, $250,000 for the first season. Plus freedom to keep making my own sponsorship deals, so I was earning well. Things were getting more professional in F1 now, so I started training. I ran for 45 minutes a day, I thought that was enough. I hated it, but my attitude was I was getting paid for it. I was still smoking, though.
"That first 1982 season was unbelievable. Everything happened. Today's F1 generation wouldn't even understand it. At the first race, South Africa in January, we had the drivers' strike, which in my opinion was completely disgusting. We should have found other means to get our due rights, even against Bernie. The whole strike thing was about Niki [Lauda], who'd come out of retirement, wanting to get back in the limelight. Niki was leading it with [Didier] Pironi, who was the GPDA representative. I wasn't a member of the GPDA. I decided I had better things to do with my time than listen to those guys arguing. They could never agree anything, and a lot of them didn't really understand what it was all about. But I did spend the night locked up in the hotel in Johannesburg, we all did, because we were tricked into getting into the bus to go off for a meeting. Certainly we needed a meeting, but we didn't know they were going to lock us in for the night. That was Niki's and Pironi's doing.
"The second race was Rio. It was a bloody hard day, incredibly hot and humid. Everybody was in trouble. Riccardo Patrese blacked out in the cockpit and spun off. Piquet won, and fainted on the podium. I finished second, and I earned those points. Then they disqualified Nelson and me because Brabham and Williams were running water tanks to cool the brakes, and of course to get the cars over the weight limit.
"Carlos Reutemann was my team-mate, a very charismatic guy. He was the Williams star, having his third season there. But I out-qualified him at Kyalami and Rio, and at Rio he ended up in the fences. Carlos was smart, I think he knew I was going to be quicker than him. On the Sunday night after Rio he told Frank he wanted to retire. I was second again at Long Beach, to Lauda, and then the fourth race was Imola, and the FOCA teams boycotted it. It was only April and we'd had the strike, the disqualification, the boycott, and my team-mate had walked out!"
Keke then got his head down and started to gather points: second at Zolder and third at Zandvoort, and at Brands he took pole ahead of the turbo Brabham-BMWs and Ferraris. But his car refused to start for the warm-up lap. He started from the back, passed eight cars on the first lap, and was sixth by lap 13, but then retired with low fuel pressure. By the time the teams arrived at Hockenheim Didier Pironi led the championship, and Keke was only fifth. But that Saturday morning Pironi had the accident that ended his career. The turbos triumphed on this power circuit, but Keke was third.
Then Austria, when Keke and Elio de Angelis crossed the finish line side by side. The Lotus won by the official margin of 0.05sec. "If I had a best mate in F1, it was Elio. I've often wondered if I would have behaved differently going into that last corner in Austria if it had been anyone else but Elio. It was a very fast corner, and Elio did a good job of blocking the inside. I could have tried the outside, but I could have ended in the wall. It was his first win, and I knew mine would come." It came 14 days later, at Dijon, when he beat Alain Prost's Renault turbo by 4sec. Now he led the table, and in the final round at Las Vegas his fifth place clinched it. In 1981 he'd scored not a single championship point, and five times he hadn't even qualified. In 1982 he was World Champion.
"I'd gone from zero to hero, and it all came so fast that my fame, and earning potential, were lagging behind. I was an unknown champion. So I went to work. I worked non-stop on building up my profile: TV talk shows, interviews, appearances all around Europe, working for new sponsors, working for existing sponsors to keep them happy. I was even on A Question of Sport.
"In 1983 I probably had my best season. The turbos ruled, but I took pole for the first round, in Rio. I was really insulted when Ken Tyrrell said to me, 'You must have been using special fuel to put that thing on pole.' I said, 'You obviously don't know Frank Williams if you think that.' This was from the man who was disqualified the following year for putting lead shot in his tanks! Frank would never cheat, it's just not in his vocabulary. Patrick Head neither. I would put my hand on the Bible for those guys. Anyway, in the race at Rio the car caught fire during my refuelling stop. I jumped out – the flames came up into my helmet and burned my moustache off – and I was just wondering whether my arse was on fire and should I roll about on the ground when Patrick grabbed me by the neck and shouted, 'Get back in the f***ing car!' They push-started me and I rejoined ninth, a lap behind. I got back up to second place by the end. Then two hours later – wouldn't you know it – they disqualified me for the push-start. That was Rio: second two years running, disqualified two years running."
Keke's Williams was usually first non-turbo home that year, and at Monaco it all came good. "It was wet as we went out onto the grid, but I told the team, 'I want to race on slicks', and they backed me up. I found a lot of grip, I don't know how, and I was leading by lap two. By the time the rain stopped I was clear." He was second in Detroit, too. "My driving never had a lot of finesse in it, which is probably why I was quick in street races. But I didn't have shunts – until my first McLaren test…"
For 1984 Williams had turbo power at last with the Honda-powered FW09. Keke finished second yet again in Rio, but the car proved difficult and unreliable. "The engine wasn't up to it, the car wasn't up to it. It wasn't an easy year for Patrick. He had the knowledge and experience to get engine and chassis to work as a package, but it was very difficult for him to get heard by Honda. One of the problems was the engine lacked rigidity. Austria was the only motor race in my life when I gave up. I came into the pits and said to Patrick, 'I cannot drive this. I am going to have the biggest shunt of my life in these fast corners with this thing twisting.' Patrick accepted it without discussion, because he knew that I would drive the wheels off anything. Also, with the Honda the power was on or off. You couldn't feed the power in at all, it just came in bang, which didn't help when the handling was so bad." Yet it was in the FW09 that Keke scored another classic victory, in searing heat between the concrete walls and on the bumpy, crumbling surface of the one-off Dallas Grand Prix.
"In 1983 and '84 my team-mate was Jacques Laffite, but for 1985 Frank signed Nigel Mansell. I was hurt that Frank would never discuss with me who was going to join. I didn't care if the guy was fast or slow, that wasn't the point. But we all operated really well together, Williams was a great place to be, and I didn't want anything to destroy that. Elio de Angelis, who'd been Nigel's team-mate at Lotus, said to me, 'This guy Mansell is poison.' I tried to tell Frank, but he wasn't interested. So I said, 'If he comes, I leave.' Frank said, 'No you don't, you're under contract.' And I was, so I had to accept it. But I'd already decided I wanted 1986 to be my last year, so I started talking to Ron Dennis early about going to McLaren.
"And then when Nigel joined, we had no problem at all. We got on fine. We were not great friends, but we worked well together. He did his job, I did mine, and it was a totally harmonious year." Keke took another street race win in Detroit, and he ended his four years with Williams with victory in the first Australian GP in Adelaide, another tough, hot race.
"Having said I was leaving Frank, I stuck to it. Ron was paying well, and all was sweet. But in the first lap of my first test for my new team I crashed. It was at Rio, on the long fast corner at the end of the straight. There was a bump in the middle which I'd always done in the Williams without blinking, but the McLaren got away from me and I was in the fences. At that moment [McLaren technical chief] John Barnard wrote me off. It was like I'd been branded, like burning a mark on a horse's ass. All season I struggled with understeer, and nobody seemed to be able to do anything about it. In 2005, at Patrick's 60th birthday party, I was seated next to Barnard, and I talked to him more that evening than I did in all of 1986. He said, 'I remember you complaining about understeer', and I said, 'Yes, why didn't you deal with it?' He said, 'I was going to Ferrari the next year. My mind was elsewhere. It didn't interest me.'
"But McLaren was a very professional operation, Steve Nichols and Tim Wright as race engineers, and I got on well with Alain [Prost]. I had some good races: at Monaco I qualified ninth because the understeer was so bad, but came up to finish second. But I hated the way F1 was going with the fuel: you just had 195 litres for the race, and the meter in the cockpit was always inaccurate. At Imola I ran out of fuel. Alain did too, but he spluttered over the line to win. Maybe his driving used less fuel than mine. There was no way I wanted to carry on in F1 when you had to drive to save fuel. That had nothing to do with motor racing.
"I was at the Paul Ricard test that May when Elio crashed. I was stunned. I went to the hospital in Marseille with Elio's sister and brother. I drove back to Ricard with Nigel Mansell, to carry on testing. Neither of us spoke, until suddenly Nigel said in the silence, 'How long is a piece of string?' I'll never forget that.
"I'd decided to go public with my retirement at the German GP, in my adopted homeland. After Elio's death it wasn't difficult to stick to the plan. I made the announcement on the Saturday morning, and in the afternoon put the McLaren on pole. I didn't want anyone saying I was retiring in the cockpit. It would've been good to win, too, and in the race I was leading almost to the end, but then the bloody fuel ran out again.
"My last GP was Adelaide. In your last race the most important thing is to come out of it in one piece. Even if you've never been scared before, in your last race you can't avoid it. I led from lap seven to lap 62, had a 28sec lead. Then flat out down the straight, 300kph, there was a huge bang. I thought the crankshaft had fallen off. So I switched off, parked it, looked underneath: no oil, that's strange. Then I walked away. I didn't realise it was a rear tyre until a marshal told me. I could have driven to the pits on the rim, got a new tyre, maybe won my last race. It was a big disappointment. But later they found both my front brake discs were finished. Another lap or two, I would have been in the wall anyway. After that I didn't feel so bad."
Retired at 38, Keke kept on working. Among other projects, he started a driver management business, notably looking after JJ Lehto and then Mika Häkkinen. "In 1989 I had a call from Piero Lardi. Would I consider driving for Ferrari? I thought about it and said, 'Yeah, that's something I'd like to do.' So he said, 'Fine, come and do a test for us.' And I said, 'You want me to drive, I drive. I don't come to show you whether I can drive or not.' They wanted to see whether I still had it. So that came to nothing.
"A year after that I was on my boat in Sardinia when Jean Todt called from Peugeot. He wanted me to race sports cars. I've always said only toilets have doors, but it was a big factory operation, and I decided to do it. In 1990 we developed the car, and we did a full season in 1991. Todt was 100 per cent, but there was too much of a French faction in the team, with Jabouille and Alliot and all. I was paired with Yannick Dalmas, and you couldn't get excited about the bloke, he wasn't going to set the world alight. But we won in Magny-Cours and Mexico.
"Those V10-powered cars were very quick. I was testing at Monza and the car exploded at 300kph on the straight. I thought someone had put a bomb in it, I thought I was dead. The injection had worked loose and sprayed fuel under the engine cover. The explosion tore my seat brackets out of the carbon-fibre chassis. When you're an old guy back from retirement that sort of thing gets your attention. The last round was at Autopolis in Japan: 16 tonnes of freight, 10 cases of best red wine, our own cook, and we were doing it for about 300 spectators. I said to myself, 'Why am I here?' Just to make money, which was no longer a good reason for me to go racing. So I retired again.
"But Mercedes persuaded me into doing DTM [the German touring car series] for a year, and that led to three years driving for Opel in DTM. I really did stop at the end of 1995, but by then I had started a racing team, which still runs two Audis in DTM today. Team Rosberg did seven years of single-seaters, too: my son Nico won the Formula BMW title in 2002, and did two seasons of F3. Out of that we started a suspension development and prototyping company in Germany, serving the road car industry."
Nico Rosberg's burgeoning F1 career is a source of delight to Keke, but he is no longer his son's manager. "I looked after him until late last year, when he signed his new Williams agreement. If a kid has his dad hovering around it's great for the dad, but terrible for the kid. He can't breathe, especially when dad has done it and knows everybody. Nico's grown up and found his own place, and it was time for Dad to go. But I still love going to the races, so I do F1 commentary for German TV."
Keke remains everything he was when he was in F1: uncomplicated, direct, aware of what he achieved, and yet modest and self-deprecating. Fame and money, when he finally got them, didn't change him. And he's still working hard. That, you feel, will never change.