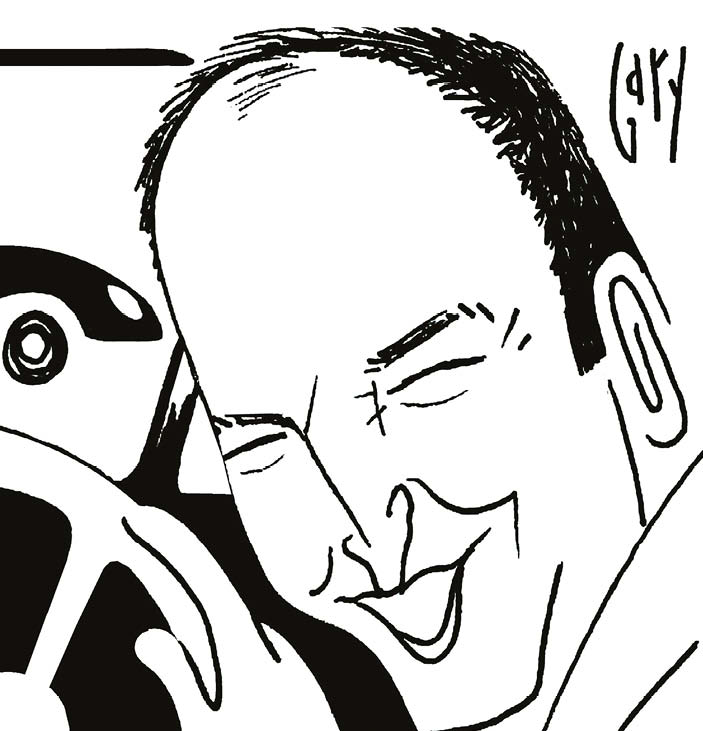 How can we make the world fall in love with lightness? The unveiling of two extraordinary cars in the last month has made me think about this anew.
In one corner sits the Ferrari SF90 Stradale, a car described elsewhere and wholly inaccurately as a replacement for the LaFerrari hypercar. Yes it has a hybrid drive and power close to 1000bhp, but it's a mainstream model costing about one third of the price of the very limited-edition LaFerrari. With four-wheel drive, it will reach 62mph in 2.5sec and 124mph just 4.2sec after that. It laps Fiorano quicker than any other Ferrari road car, LaFerrari included. You can plug it in, drive in electric mode and – because its front axle is driven by electricity alone – I guess it will be the first front-drive Ferrari in history, temporarily at least.
In the other is Gordon Murray Automotive's T.50. I am not saying the T.50 and SF90 are in any way rivals, not least because Gordon's car will cost six times as much and only 100 will be built, but their respective approaches are interesting.
While both have motors of close to four-litre capacity, that's about the extent of their similarities. The Ferrari's engine has eight cylinders and is boosted by two turbos and three electric motors. The engine is connected to a gearbox containing eight gears, all selected by paddle.
The GMA car has 12 cylinders, no turbo, no electric motor and an H-pattern six-speed manual box directing drive to the rear wheels alone. But here's the biggest difference of all: the GMA T.50 will weigh 980kg, while dry weight for the standard SF90 will be about 1600kg. So despite the Ferrari having 986bhp compared to the T.50's 652bhp, it's Murray's car that has the superior power-to-weight ratio.
I'm not going to labour this point because they are very different cars for very different audiences and – had they not both been announced within a week of each other – I'd probably not have made the comparison. But it does concern me that it is only entirely unaffordable and inaccessible machines like the T.50 and Aston Martin Valkyrie that show just how light cars can be.
Lightness is the bullet that few appear willing to bite. There are some exceptions like McLaren and Lotus, but sooner or later it will have to become part of mainstream strategy because, whatever you are able to persuade the figures to show, it is simple physics that a light car will gain and lose speed faster than a heavy car. It will handle better, too. Most importantly it will require fewer natural resources to build, burn less energy and emit lower levels of CO2 and pollutants, whether they come out of an exhaust pipe or a power station chimney.
Can we blame the manufacturers for making the cars their customers want? Absolutely we can: Henry Ford once said that if he made what customers asked for, all they'd have got was faster horses. They say they're forced into making heavy cars in part by demand for additional performance, while omitting to mention it's far cheaper to make a car go faster by adding power than removing weight. Cars were getting lighter, but with the electric/hybrid revolution in full swing, they are now heading the other way once more.
"Not only did we have no money, we had no time either"
What's needed is a rulebook that makes it easier and cheaper to make light cars, rather than one mandating endless weight-increasing safety measures that only function once a car is having an accident. It needs to recognise that lighter cars are less likely to crash in the first place, because they stop more quickly. And we need a taxation system based on whole-life emissions. Bragging rights down the pub should go not to the person with the most powerful car, but the lightest.
It was the passing of Robin Herd that made me recall why his March 701 – built in 12 weeks – failed to capitalise on its stunning early form. While many doubted any 701s would make the grid for the 1970 South African Grand Prix, five turned up, one took pole and Jackie Stewart drove his to third, but he won next time out at the Brands Hatch Race of Champions and did so again at the Spanish GP, lapping the entire field in the process. So I looked back at the track test I wrote for Motor Sport in 2012.
"The 701 was a simple car," Herd told me at the time. "It had to be really: not only did we have no money, we had no time either. It seems unthinkable now but in November '69 we had nothing. A few sketches. Then Max [Mosley] announces to the press that we're going to launch the team at Silverstone in February. We had 10 weeks to design and build an F1 car. All hell broke loose. I lost a stone and half…"
The flaw lay in simplicity that left little scope for development, while rivals got quicker throughout the season.
JYS told me it was the most difficult F1 car he ever drove, but it was Mosley who offered the clearest perspective: "We caught F1 when it was half-asleep. We were, if you like, the most enormous wake-up call and stung a lot of talented people into action. It was always going to be hard after that."
---
A former editor of Motor Sport, Andrew splits his time between testing the latest road cars and racing (mostly) historic machinery
Follow Andrew on Twitter @Andrew_Frankel
---
DIGITAL EXTRA