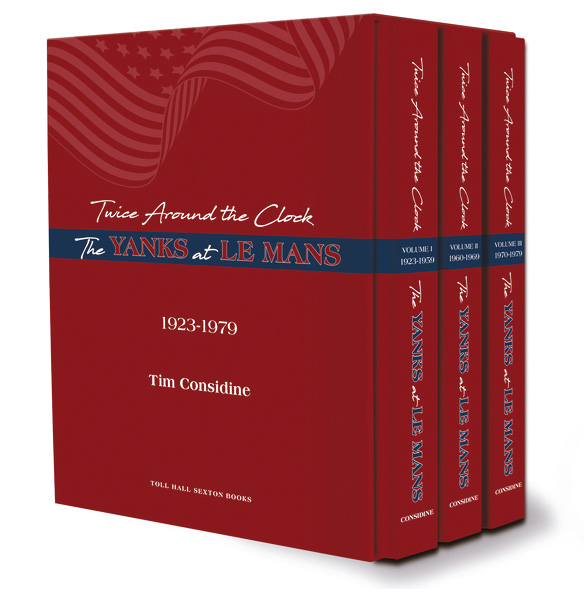 Twice around the clock – Yanks at Le Mans
Tim Considine. Published by Toll Hall Sexton, £325, ISBN 978-0-9993953-0-1
There's a nice symmetry in this story of America's trips to Le Mans: 43 years before Ford's famous 1966 victory, the very first American entry was also a Ford – a modified Model T. That's the sort of small fact that brims from this vast overview – three weighty volumes running from 1923 up to 1979. Why 1979? This lot took author, actor, producer and director Tim Considine 28 years; he's still writing the next ones.
It may seem surprising he finds so much material, but his remit embraces cars, teams or people from the States, as well as Anglo-American hybrid machinery. Thus he rightfully includes that Model T driven by a Frenchman, Lucy Schell's Delahayes, Luigi Chinetti's 1951 victory in his Ferrari 166, Phil Hill in an OSCA and such cars as Nash-Healeys and Allard-Cadillacs – and notes that while the first American citizens to contest the 24 Hours drove in 1929, it was Sir Henry Segrave who in 1925 was the first US-born driver at La Sarthe. As the late Dan Gurney, himself a Le Mans regular, points out in his 2017 foreword, it's a surprise to find more than 300 American names listed here.
Sensibly, the material is served in yearly chunks, each race story wrapped round the American element, dressed with generous photos and topped by complete results with US entries in bold type, and it's a lesson to see, first, how many there are, and secondly how the bold letters steadily work their way upwards towards that 1966 all-American victory. Yet the author attends equally to backmarker entries that are so far down the results list you'd never notice them, such as the Willys Overland in 1926. He interviewed personally everyone he could find – even tracking down one pit signaller to South America – and includes written material from all quarters, such as Masten Gregory writing to his brother about the 1955 disaster, so that, to quote his preface, "The tales are told as far as possible in the words of those who were there."
The result is more than just amazingly thorough – it's also entertainingly written with some great stories – I liked the tale from a NART mechanic of hiding a nine-year-old boy in the boot of their underweight 365GTB/4 Daytona to get it through scrutineering, or how that 1976 Spirit of Le Mans Corvette was a standard car three weeks beforehand, or that in 1939 Miles Collier nipped across the middle of the circuit to set a startling practice time.
Even that terrible 1955 tragedy brings out new slants: John Fitch, due to take over from doomed Levegh, talks movingly of the aftermath, while Cunningham pilot Phil Walters recalls pitting to quit racing there and then. Another drive he mentions that didn't happen was in 1958, when Luigi Chinetti planned for Denise McCluggage to crew a Ferrari, but the ACO said: "This is an invitational race and we do not choose to invite women". Different times…
Considine calls Yanks at Le Mans "an unapologetically chauvinist personal history of the American drivers, cars and teams" that raced at La Sarthe in this period, yet the text is even-handed about the successes of others and the failures of American entries, while justly proud of the successes. Mind you, he must have donned the rose-tinted specs when calling the hideous 'Le Monstre' Cunningham Cadillac "slightly ungainly".
I have my own small connection to the 1929 chapter. After a near-win the previous year, the Stutz company brought three supercharged 5.3-litre Blackhawks, a serious challenge to the Bentleys. It didn't come off, but one of those cars still exists and in 1987 I was able to drive it in America. It was an exciting moment because back in 1930 Motor Sport had tested the exact same car in England. Then we said it felt almost like flying; I'm not sure I agreed, but I was impressed by the stability and hefty brakes. I can imagine it being less tiring than a Speed Six over 24 hours – let alone a Blower. In '28 the Stutz came second having spent much time leading, with Chryslers placed third and fourth; given a little development there could so easily have been an American victory just six years after the race's inception.
"An unapologetically chauvinist personal history of the American drivers, cars and teams"
One tiny personal disappointment: Considine includes something I thought was my own little scoop. Many years ago at the massive Hershey autojumble in Pennsylvania I met Allan Carter, who had for 55 years been the sole employee of the Du Pont Motor Company, a firm that folded in 1932. But with the blessing of the Du Pont family, Carter had continued to act as a sort of life-time service agent for the few surviving cars, and he told me all about Du Pont's Le Mans entry in 1929, because he was the man who prepared the car and went to France as race mechanic. It didn't last, retiring 20 laps in, and the team blamed loose ballast for damaging the prop shaft. In fact, Carter told me, they didn't want to admit that the transmission case had failed. Considine mentions this, so although I'm denied the schadenfreude of offering a correction, it does reinforce faith in the book's veracity. (Wikipedia still relates the cover story.)
Carter, incidentally, said he'd had a great time in Paris, where their top evening sport was stealing door handles from a row of French taxis.
There's so much extra detail here – by way of historical background to US-French sporting connections he illustrates a memorial to Europe's first powered flight, by Wilbur Wright in 1908, which happened by the Mulsanne Straight. Who knew that? And on-track photos taken by the Colliers from their streamlined MG in '39 are a slightly chilling reminder of that French habit of using trees instead of Armco.
All three volumes boast amazingly comprehensive indices, not only for every entry, car and driver but for every quotation, even those made direct to the author. I've never seen that before. At about half-a-million words this sounds a fearsome work to tackle, yet the dramatic pictures, many previously unseen, and honest, sometimes funny, recollections make it a reference work that's also good to read.

---
DIGITAL EXTRA