Road car buying guide: Dodge Viper RT/10
While trying to reinvent the Cobra, Dodge created its own super-snake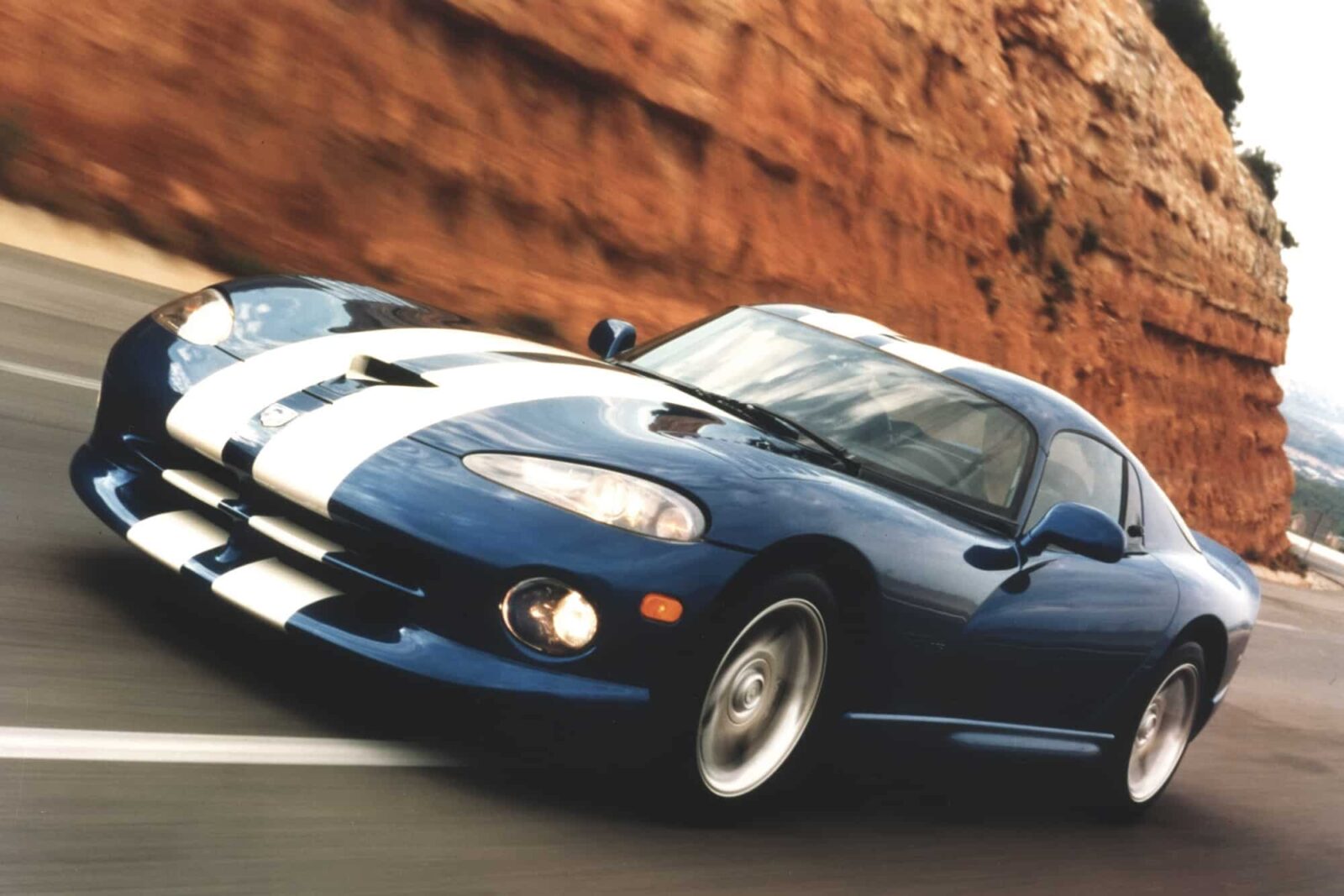 In many ways, the Dodge Viper was a gamble. It was way ahead of its time on the styling front, sacrificing comfort and usability for pure performance, and it took a brave soul to get the best from one without putting it through a hedge.
It's fair to say that the first-generation Viper earned itself a reputation for being rather dangerous. Vipers were tricky to drive for the inexperienced, and many early cars were crashed in some way or another. It sounds like a marketing catastrophe, but it only made the Viper more revered: you had to be a real driver to handle one. Nothing turned heads like a Viper, with its machine-gun V10 and striking lines that drew inspiration from another super snake – the Shelby Cobra.
The Viper and the Cobra are intrinsically linked, and you can see the resemblance: side-mounted exhausts, gorgeous curves and swept-up tail, evoking the Daytona Coupé. The link was Carroll Shelby. Back in the late 1980s, Dodge had managed to shake off much of its sporting image. Remember the iconic 1960s Charger? It was now fatter, and distinctly more European. And that was the sporting choice, alongside hum-drum Colts and Conquests.
Profits were falling, and Dodge was in trouble. It was during the '80s that Chrysler's operations director Bob Lutz decided to recreate a legend. He wanted an all-new, all-American sports car that revived the Cobra spirit. Lightweight, curvaceous, extreme and with a whacking great engine up front.
Chrysler boss Lee Iacocca wasn't keen on gambling development budget on Lutz's vision, so Lutz recruited Shelby to talk Iacocca round. He agreed to let them design a concept to be shown at the 1989 Detroit motor show, and when the media clapped eyes on the stunning wide-stance, open-topped, rocket- red bodywork designed by Tom Gale, it created such a commotion that Iacocca relented and ordered a team to make it a reality.
Two years later the first pre-production Viper RT/10 was shown in public, but not where you may expect. It rumbled out of the pits at Indianapolis Motor Speedway to act as the pace car for the 1991 Indianapolis 500, with none other than Shelby at the wheel.
The first customer cars were delivered in 1992, and proved raw with its lightweight plastic body, questionable shut lines, very plastic interior, a rag-top and wobbly plastic windows. You didn't get luxury for $50,000. But you did get a sledgehammer of an engine.
Dodge wanted to use a naturally aspirated 8-litre V10 from a RAM truck but realised the heavyweight cast-iron block just wouldn't work. So it turned to then-Chrysler brand Lamborghini, sending a development team headed by chief power engineer Dick Winkles to Italy, where a lighter aluminium block was made.
The result was 395bhp sent to the rear wheels through a six-speed manual gearbox. No ABS, stability control or traction control. Just a direct throttle and the driver's wits to control it. Weighing just 1487kg, the Viper could reach 60mph in 4.6sec in the right hands. Chrysler's health and safety chaps also had fun littering it with warning signs.
Perhaps the biggest development came in 1996 when the more usable GTS hard-top coupé arrived, with its double-bubble roof, rear exhaust outlets, 444bhp and, thankfully, airbags.
The more stable GTS proved itself in racing. The GTS-R made its debut at Le Mans in 1998 and finished first and second in the GT2 class. In 1999 the Vipers trounced Porsche, filling the top six in the GTS class.
Viper production spanned 25 years, and five different generations, topping out with the SRT Viper in 2017, its V10 now at 8.4-litres and 640bhp, as one of the best-loved modern American sports cars went out with a bang.
Dodge Viper RT/10
Price new $50,000
Price now £30,000-£40,000
Engine 8-litre V10, naturally aspirated
Power 395bhp
0-62mph 4.6sec
Top speed 165mph
Rivals Ferrari Testarossa, Chevrolet Corvette
Verdict Still one of the most striking and menacing cars on the road
---
Market view
Becoming a classic, but it's a tricky UK market
The centre of the Viper market is unsurprisingly in the US. In 2020, chassis no001, Lee Iacocca's personal RT/10, came to auction with 6500 miles on the clock and achieved a price of £227,610 – a sign that the Viper is well on the way to becoming a modern classic.
In more normal circles, a second-generation GTS, chassis no010, with only 2500 miles on the clock sold for £52,000 in May this year, which would probably be in line with the UK market trends, as well as the provenance, condition and mileage considerations.
In recent years, approximately half of the vehicles that come to auction in the UK have sold.
In 2015, a 2002 GTS sold for just under £38,000, and in 2016 a 1997 GTS sold for £32,000.
A 2001 GTS that came to auction in March with an estimate of £40,000-£50,000 was unable to find a buyer.
For a run of the mill Viper example in the UK, £40,000 seems to be a difficult ceiling to break, based on auction results.
This could be due to the nature of the car – outside America, a Viper has what could be considered a niche audience, and the lack of liquidity is likely priced in, to a degree.
Robert Johnson, Classic and Sports Finance
Target Deal
Dodge Viper RT/10 – £30,000 – £40,000