Doug Nye: FIA & BRDC were blameless but the outcome of the April 2000 British GP was farcical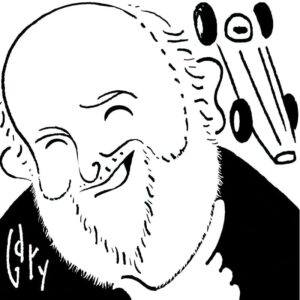 It's twenty years since McLaren last won the Formula 1 World Championship titles with Mika Häkkinen and its V10- engined McLaren-Mercedes MP4/15. Those cars looked very cool in their silver-grey and black livery, with one
tone faded into another to, as Ron Dennis explained, "Get away from outdated stripes". The cars were sponsored by West, a cigarette brand – something for which I'm told addicts actually paid money, only to stick it in their mouths and set fire to it, which I have never understood – and by Mobil, a properly connected automotive fuel and lubricant company producing, in stark contrast to West, something useful.
Of the 11 teams then contesting F1, tobacco brands were funding six: McLaren, Ferrari (Marlboro), Jordan-Mugen-Honda (Benson & Hedges), Benetton (backed by Mild Seven), BAR-Honda (Lucky Strike) and Prost-Peugeot (Gauloises). Jaguar Racing made its debut in Grand Prix competition, which Ford-Jaguar's promotions people, with purblind stupidity, inferred was in fact the legendary marque's 'comeback', whereas William Lyons had considered F1 racing in the early 1950s only to dismiss it in an instant. Not so much 'The Jaguar is Back' as 'The Jaguar is Here For The First Time'.
Sauber was backed by Petronas, the now immensely prominent Malaysian state oil company, the team using the previous year's Ferrari V10 engines. Arrows used the Mecachrome customer Supertec V10, Minardi the Ford Zetec-R V10 which for that year was being maintained by a sub-contractor outside Cosworth and co-badged 'Fondmetal' after the team's Italian industrial sponsor. So 11 teams and 22 cars on the season's starting grids.
But the year 2000 was also that in which F1 supremo Mr Ecclestone and the FIA decided to give the BRDC, the organiser of the British Grand Prix, a kicking for perceived shortcomings and, it was said at the time, for some profoundly dim diplomatic faux pas in preceding negotiation for that millennial season…
When David Coulthard won the Grand Prix in his McLaren-Mercedes, with team-mate Mika Häkkinen second in a memorable 1-2, beating Michael Schumacher's Ferrari into third place – and the twin Williams-BMW F22s of Ralf Schumacher and Jenson Button followed them home fourth and fifth – it compensated for what had in many other respects been a low point in the long history of the British Grand Prix.
"It's terrible for F1, for the teams and partners, the fans, and for the industry"
The easily offended, occasionally toxic and always potentially vengeful mixture of Ecclestone and the scheming FIA had brought the British race far forward from its traditional mid-summer date in that year's calendar. It was run on April 23, Easter Sunday, as only the fourth round of the year's World Championship. But it was preceded by some 15 days of torrential rain, and while both the F1 presiding power and the BRDC were certainly blameless in that element, the outcome was damagingly farcical.
Sir Jackie Stewart was outspoken in condemnation. He declared: "It's terrible for F1. It's terrible for the corporate partners of the teams, terrible
for the fans and bad for all our industry. But this is not Silverstone's fault. The governing body chooses the dates, not Silverstone. All major professional events follow the sun… Would they put the Italian Grand Prix on in April? Of course they wouldn't. Why? Because it would probably be pouring with rain, as it is here".
That blighted weekend meant the BRDC was forced by the torrential rain to turn away spectators hoping to watch Saturday qualifying due to the fast-deteriorating state of Silverstone's near-flooded public car parks.
The move was in hope of keeping the grass parks useable for race day. The result was acrimonious criticism of the BRDC, of Ecclestone, the FIA, the RAC, the MSA, of everyone connected with staging the race.
Race day proved appalling due to the combination of a capacity crowd and badly hampered access to the muddy car parks, which created total gridlock on Silverstone's approach roads. Despite police warnings not to even try to join the 15-mile traffic jams to gain entry, the estimated 60,000-strong crowd demonstrated immense British grit to battle through regardless.
Their reward was to witness a fine winning drive by Coulthard while Häkkinen's sister McLaren, having lost time due to an engine problem in the crucial pre-race warm-up, never quite handled to his satisfaction.
Silverstone came in for some brickbats, as seven years earlier Tom Wheatcroft's 1993 European Grand Prix at Donington Park had also been preceded by persistent heavy rain and he had then reacted with a crash programme to Tarmac his car parks just days before, certainly contributing to his estimated £3m loss on realising his long-held ambition. As I recall, one bright spot, much enjoyed by some BRDC members, was that during wet famously fastidious Ecclestone was striding through the paddock, deep in conversation with one of his staff, when he stepped in the deepest puddle in the area, allegedly writing off his natty footwear there and then.
However high the prominent may fly, some flak can always getcha.