How Lando Norris got even faster & captured a new F1 generation
Now in his third season at McLaren, Lando Norris is bringing more to the table than potential. His sense of fun and social media profile are attracting a swathe of fans to the sport. Ahead of the British Grand Prix Damien Smith meets an F1 high-flyer with a lot to smile about
Lunchtime and a visit to the McLaren Technology Centre. It is a treat that never grows old. The cool sci-fi calm of the long, lakeside boulevard peppered by some of the world's most famous racing cars always triggers a flutter of adrenaline. Imagine working here, every day. In the race departments, fully exposed like fish in an aquarium – still amazing given the sensitive secrecy of F1 team operations – busy staff are fully engrossed, seemingly oblivious to outside distraction. It feels wrong to stare too long. But then suddenly their heads bob up, they look through the glass, smile and wave at the skinny-legged figure who's just entered the building. He stops, returns the smiles and waves back. Here on his home patch, everyone loves Lando Norris. It's impossible not to – especially right now.
"I live a cool life, I can't complain about anything," he admits as we settle beside an MCL35 carrying the smart (sadly one-off) Gulf Oils livery, as featured on his drive to a fine podium third at Monaco a few weeks earlier. "Things are going well."
They sure are. We're catching Norris in the warm glow of ascendance, a few days after the Baku grand prix, on a short break from a day of duties in the simulator and surely now well beyond the moment of transition from newcomer to established contender. Still just 21, the kid – and endearingly he still is, at least on face value – is growing in stature in his third season in F1, and can no longer be patronised as merely 'promising'. The pre-season external chatter, and indeed internal target, was for Lando to raise his game, especially in the face of the 'smiling assassin' threat of incoming team-mate and proven race winner Daniel Ricciardo. He's answered that challenge emphatically so far: six races in, Norris is the only driver on the grid to have scored points every time, and they've generally been decent points too: podium thirds at Imola and Monaco, a fourth in the Bahrain opener – "are those fireworks for me?" he quipped cheekily as he took the flag –a pair of fifths and an eighth on his only slightly lacklustre weekend, in Barcelona.
"Norris can no longer be patronised as merely 'promising'"
Sure, there have been errors in qualifying and the Saturday score to his team-mate after Baku was 3-3 – but noticeably on Sundays Norris has always finished ahead of where he's started, while Ricciardo has toiled more than expected to acclimatise to a newly Mercedespowered B-spec MCL35M that has challenged both drivers to adapt their approach. The score, in our moment with Britain's new F1 rocket-man and not far ahead of what should be a glorious homecoming (hopefully in front of fans) at Silverstone, has carried Lando to fourth in the standings, only three points behind Sergio Pérez in the faster Red Bull, and an impressive 40 ahead of his 'big beast' team-mate.
Nothing about this performance can be put down to chance. Norris openly admits he's stepped up his game as ordered and puts it down to sheer hard graft. "Yes, especially over the winter, that's your big time gap," he says, explaining how studious work put in at the MTC is translating into what we've seen so far in 2021. "I'll be here a lot with my engineers, reviewing everything from the past two years, last year particularly, to learn and improve on my weaknesses and strengths. Everything to understand more who I am as a driver, the things I really need to work on. That's why I've come back this year as a much better driver than I was last year. It's not that I've just rocked up and I'm quicker, I've spent a lot of time on the simulator with my engineers, reviewing my driving from last year against Carlos [Sainz Jr], in preparation for this season and then putting it all together. It's not something that just comes easily, especially when you are going up against 20 of the best drivers in the world. It's not easy to find one or two tenths, it takes time, a lot of understanding and hard work. That's something I did a lot of over the winter and I still am – and it's paying off."
Norris is courteous, considers every question put to him carefully and then offers full, thoughtful answers. "At the end of last season I already stepped it up a bit," he adds on his current momentum. "In Abu Dhabi, I feel like I did my best quallie [of the year] and it was a great race." His finished fifth, just ahead of Sainz to secure McLaren third in the constructors' standings. "The last few weekends of the year were very strong and I just managed to start this year in that form, and even better. I've been the only driver to finish in the points in every race so far, so it's been very good from a consistency point of view. Of course I have made some mistakes: quallie in Imola, last week with the red flag" –a last-minute call not to enter the pitlane earned him a three-place grid penalty, to his continuing chagrin – "some quallie laps in Barcelona. It's not like it's been perfect, but whenever I've made one mistake I've maximised in every other area. Even if I have made that one mistake it hasn't put me to the back of the grid, it's not cost me a whole weekend."
What's really been noticeable are the race performances. "More often than not, [on] Sundays I've been very strong this year," he says. "That's where the points are. Last year I knew my race pace was my weakest area and my quallie was my best. Already in year one I outqualified Carlos for the whole season. That was my strength and I knew I had to work on the races, and now it's almost the opposite. I feel like I have to step it up a little bit in qualifying and make sure I put it all together."
He sounds serious, doesn't he? It's easy to dismiss Norris as a sunny, happy-go-lucky joker – because that's his natural personality. But there's proper old-fashioned racing driver steel behind the smiles, just as there is with Ricciardo. Lando has spoken about showing a more mature approach to the world and he's trying – but that won't blow out the welcome breath of fresh air he's brought to a sport that often takes itself too seriously. "I'm still 100% myself," he insists on his tweaked approach. "In everything I do with my engineers and the team I've not changed one little bit, I'm exactly the same. It's more just the perception you give to people rather than changing who I am or what I do or say. I feel like I'm a hard worker, it's not like I just drive the car. I spend a lot of time here working with my engineers and try to motivate the team. Not many people see that often."
"I'm still 100% myself, it's just the perception of you changes"
Still, the kid inside the man is never far from the surface. Like most 21-year-olds, he's sensitive to what others think about him and appears to genuinely care how he comes across. For our photo shoot, there's a nice moment when he fusses over his 'hat hair' and ever-patient PR Charlotte steps in to help, her efforts repaid with a cheeky, "Thanks mum." You'll likely have noticed on TV, as his team has noted, Lando also has a natural tendency towards self-deprecation – almost to a fault. It's all part of an immensely likeable and remarkably normal, downto-earth character that hopefully won't change too much as his life and career progress. And for all his efforts to appear more 'serious', he's not about to change his social media habits too much – which is a good thing.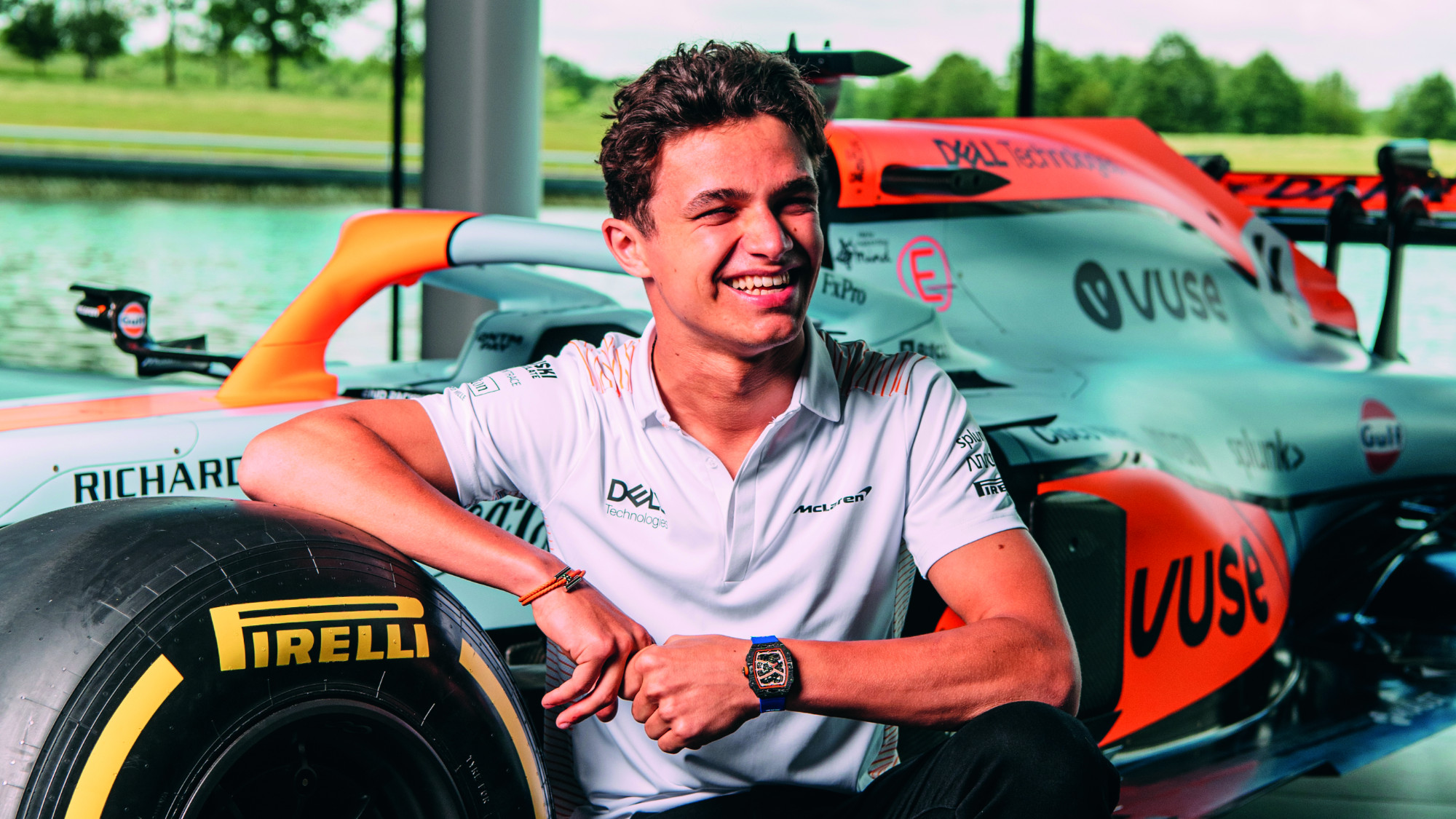 For some, living life glued to screens can appear a little baffling. But newsflash, everyone: young people exist in a different world from the one we grew up in – and their social habits are far from all bad (stop tutting at the back). Most vitally, Norris, George Russell, Charles Leclerc, Max Verstappen and the rest of the new wave are also finally driving a new audience to F1, and a crowd the sport has been desperate to reconnect with for decades. Young people are beginning to tune in again. Netflix and Drive to Survive have helped, but it's more than that, as I know from personal experience.
Since he was little I've take my oldest son to race meetings, from grands prix to clubbies, and while he usually enjoyed it I could tell he didn't really love it like I had. Fair enough. But now, just turned 17, he is properly tuned in to F1 and is extremely well-informed.
Absolutely nothing to do with me: it's all down to Lando and co, and their open presence on social media. Longtime readers of this magazine bemoan how closed modern motor sport has become over the decades compared to the open paddocks of the past. But to new generations, drivers have never been closer or more in touch with the public – for good and ill.
Norris smiles when I tell him about my son (he's heard such examples many times for F1, but at the same time he's all too aware he has to be careful. "It's easy for people to use things as excuses [against me], especially when someone's a bit different [and active on] YouTube, on social media a lot and Twitch [a live computer game streaming platform that kids in particular love. Look it up. I had to] It's easy for fans to shift blame for something on to that. If I've had a bad result or messed up a quallie lap it's easy for people to say, 'Maybe you should concentrate more and not spend time on Twitch.' I can tell you every single driver has plenty of hours to sit on the sofa and watch Netflix – that's all they do! Just because they don't post it on social media people think they are in the gym 24/7, which they are not! Whenever I have a couple of hours off, relax and do what I want to do I chat to my mates and just stream at the same time so people can watch me do it. That gave people the perception that I wasn't spending so much time working and trying as hard as other drivers, which is not true. So I've had to cut that down slightly and allow people to think I am a hard worker and be the best driver I can be."
"On Twitch, that's me talking as before). He knows his natural habits are good a normal guy, not an F1 driver"
We're speaking on the same day England cricketer Ollie Robinson announced he was taking "a step back" from the game, following the storm that followed the disclosure of offensive historical tweets he made as a teenager that then cost him his place in the national side. Sports personalities have never faced such levels of scrutiny. "I sometimes share my opinion too openly and I do get criticised quite a bit for a lot of things I say," he says. "But it's my opinion and people don't have to agree with me. Also, it's not easy when you are in front of the cameras to say everything correctly. With streaming on Twitch, that's me just talking as a normal guy, not as an F1 driver. It's just me chatting to people who are asking questions. You do have to be careful and it can be a cruel world. But there are so many positives and benefits, I wouldn't change it for anything, there are definitely no complaints from my side. I'm a lucky guy to get to drive a McLaren and travel the world."
He'll be doing it for a while longer yet, following his newly minted "multi-year" deal with McLaren. The team put out an amusingly nonchalant video, featuring Norris being called into an office where McLaren Racing chief Zak Brown and team principal Andreas Seidl pushed a piece of paper at Lando and said, "Sign this." Nicely done, but Norris will know this deal is a big career moment – arguably more significant than landing the McLaren race drive in the first place. At this stage, more money is at stake and it's an affirmation that a driver truly belongs in grand prix racing. But why has Norris committed so early? His stock is rising, other options might have been open. It certainly shows a returned faith in McLaren, and also follows a trend set by Verstappen and Leclerc, who made similar early commitments last year to Red Bull and Ferrari.
"One [reason] is just to get it out of the way so I can focus on the rest of the season," answers Norris. "I'm very happy with where I am, I'm enjoying myself which for me is a huge part what I do. We're on a good trajectory of performance and results. We're much better this year than last year and I'm obviously hoping we can continue that over the next few seasons. It's a tricky one going into next year because there are so many rule changes. We've pulled up a lot over the last few seasons, but to be able to start off in a much stronger point with new regulations I think will help the team a lot. It's like a fresh start again next year, with a very good solid foundation of Daniel and myself and everyone with a good and correct mindset compared to a few years ago when we were still building and there were a lot of changes structurally. I'm very happy with how I am. Of course I would love to be winning races  now, but I believe we can as a team in the future."
"I would love to be winning races now, I believe we can in the future"
That's the key point. Norris presumably feels he's in the right place to win grands prix and even a world title one day. But it's been a long time for McLaren, on either front. Does he really believe the team which, lest we forget is a mere customer that buys its Mercedes engines, really has what it takes to step up and join Mercedes and Red Bull in the premier class? "I want to believe so, yeah," says Lando. "We're still a little bit away now, this season we've still got a lot of work to do. But over the next couple of seasons I feel we're in a much better position to start off strong and build from there. Mercedes is doing a great job with power units and the back end of the car, they are still leading the way in a lot of areas with that and [the engines] are all equal, you know? Yes, McLaren is a customer team, but everyone has the same engine within Mercedes. Everyone is treated equally and in the best way possible, and they want the best for us. They want to look good, no matter if it's in their car or someone else's. We're still McLaren, still an independent team that wants to win outright and be the best. Yeah, I believe soon we can bring the fight to the top teams."
Feeling loved counts heavily for racing drivers, and it's clear how at home Norris is at the MTC. He's a good sport as photographer Jayson directs him for our pictures, even when he's asked to stretch out on his back in front of the car, his two podium trophies from this season positioned next to his head. A bit of lyingdown-on-the-job ribbing from passers-by is taken in good spirit and when we're wrapping up a few visitors approach him for (socially distanced) selfies. Norris is modest, patient, respectful and careful to appear wellmannered. He's mature, just as he has to be.
Even at his still-tender age Norris must now be a leader, representing a large group and heavy investment. As Seidl told us pre-season: "You could call him now a McLaren veteran. We clearly expect going into his third year in F1 with us to make another step." This is his team, the MCL35M his car – and that means Ricciardo has stepped into his patch.
He responds to that assertion with a smile. "In a way. Of course, having experience with a team is huge and it feels more and more like home. I've been with McLaren now for five years since joining as a junior driver and learning the ropes to now being in my third season. I live two minutes away so I pop in whenever I want to and just take a walk around and enjoy being part of McLaren. At the same time, it's not just being a part of it, it's also about being a member, wanting to be better and not just participate: raise the team, make it better and not just simply drive the car. A lot of this comes with experience. I didn't feel I was capable of doing this in the last couple of years. But coming in here now in my third season, I feel a lot more comfortable on the track so I'm able to spend more time and focus with the engineers and aerodynamicists on the bigger picture rather than how I can get the best performance on that one weekend. I'm thinking about next year and beyond."
Time's up, our moment with him has passed and Norris heads back to the simulator for more of that graft. He's in a good place, in more ways than one.