1970 Mexican Grand Prix race report
Ferraris finish the season with another one-two
Mexico City, October 25th
For the final race of what has been a fascinating year of Grand Prix racing the action moved southwards down the North American continent to Mexico City. Although the local racing scene is not as active as it is in the more wealthy North American countries, or in places like the Argentine or Brazil, there was certainly no lack of enthusiasm. This culminated in some incredible scenes before the race when the vast 200,000 crowd became totally out of control. But more of that later.
Although there were no fewer than 27 Formula One cars assembled at Watkins Glen, the Mexican organisers had said earlier in the season that their budget was limited and they could only afford 18 cars. This was fair enough; the only problem was that the organisers were somewhat reluctant to inform the teams who were to be the unlucky ones.
When their selection was announced it was much as expected with places for two works cars from Ferrari, BRM, Matra, McLaren, March, Lotus and Brabham. Naturally former World Champions Stewart, Hill and Surtees also had places, and the eighteenth and final slot was given to GPDA President Bonnier. Hardly a Grand Prix regular any more, Bonnier had in fact raced his McLaren M7C briefly at Watkins Glen. Incidentally, the history of the car is not quite as involved as Motor Sport's Watkins Glen correspondent would have us believe, for this machine was built in the early months of 1969 and used by Bruce McLaren throughout that year. Anyway the other entrants thought that the choice of Bonnier was totally unfair and, after a certain amount of invective about boycotting the race, sense prevailed. Stewart's team-mate Francois Cevert, who gave such a sensational performance in Canada with Tyrrell's old March, took the vacated place and no doubt Bonnier was compensated for his disappointment. Even so the field lacked the interest that could have been provided by a third BRM driven by Eaton, a second Surtees for Bell, Peterson's March, Schenken's De Tomaso and De Adamich's McLaren Alfa-Romeo.
The cars arrived in Mexico City without any drama after a long road journey on the giant trucks illustrated last month. Meanwhile the majority of the mechanics had what were probably the easiest couple of weeks since the season started. Most of them went to the famous Mexican seaside resort of Acapulco although Tyrrell's men returned to the cold of England.
BRM were allowed to bring a spare car for Mexican Pedro Rodriguez, so in total there were 19 cars in the extensive pits-cum-garages which, ten years ago, were widely acclaimed but now are showing their age.
Naturally if you have a major modification on hand you are hardly going to show it in Mexico so there was little new of technical interest. However, Matra tried the Marelli ignition system on Beltoise's car, which was affixed in a very temporary manner and was finally discarded, but they successfully experimented with large airducts to the injection.
Otherwise the general preparation included fitting fresh engines in many cases and checking everything over after the ravishes of Watkins Glen. The rarified air due to Mexico City's altitude necessitated the fitting of different fuel cams, this problem being well sorted by people with Cosworth engines although those with 12-cylinder engines had to do some experimenting before they hit the right answer.
It was interesting to note that every car in the paddock was designed and built for the 1970 season, the winning Ferrari actually being the oldest machine present. Last year the race was also won by the oldest car but that had almost three hard seasons behind it.
Qualifying
Practice was scheduled for the afternoons of Friday And Saturday with a four-hour session each day. The weather was warm without being tropical and the track was in good condition. Thus drivers had to aim for a time of 1 min. 42.9 sec., which was Jack Brabham's pole position winning time last year although the official lap record was to the credit of Jacky Ickx's 1 min. 43.05 sec.
The session got under way fairly slowly as drivers altered their cars to suit the circumstances with several people changing gear ratios while others sorted out brake ratios and roll bars to their liking. Competitive times were first posted by Stewart in the Tyrrell, quickly followed by the Ferraris of Ickx and Regazzoni. In fact these three totally dominated both practice days and made the rest look like also-rans. By the end of the session it was lckx fastest at 1 min. 42.41 sec., which demoralised everyone further as his Ferrari had a full load of fuel aboard at the time. His mature Swiss team-mate was a little slower at 1 min. 42.93 sec. As has been the feature of the late 1970 races, Stewart led the chase of the Italian machines with the Tyrrell Special. He finished with a time of 1 min. 43.64 sec.
Working together, Amon and Brabham clocked the next two fastest times of 1 min. 43.71 sec. and 1 min. 43.92 sec., although Wisell, who was in with them, was unlucky not to get a similar time. Unfortunately the Mexicans' time-keeping wasn't much better than their crowd control.
Further down the field the Matras (particularly that of Pescarolo) were going quite well, the BRMs weren't and Lotus were in terrible trouble with engines. Brabham, who was just about to announce his retirement, was very lucky to escape uninjured early in the session when a top pulled off a shock-absorber and the rear suspension collapsed on one side. Fortunately he brought the car to a halt and a repair was effected.
In the McLaren camp Hulme was soon sidelined by a defective fuel pump although Gethin was going quite well on his first visit to the circuit, as was Cevert in the Tyrrell March. Surtees had an engine blow up early in practice, as did Fittipaldi.
Friday night saw a crop of routine engine changes with Brabham, both Marches, Oliver, Stewart, Hill, Cevert and Regazzoni (whose engine had done the US GP) all having freshly rebuilt motors installed. Naturally Surtees and Fittipaldi also had new units fitted.
Saturday saw another episode of chase the Ferrari with the Italian team strong favourites despite Ickx's motor blowing up. At least that was better than a similar thing happening in the race. Meanwhile Stewart had got motoring with a vengeance. The Scot really wound it up to lap in 1 min. 41.88 sec., his latest-type Cosworth engine obviously revving higher than the others. This looked good for pole but Ferrari still had things in control despite Ickx's blow up and Regazzoni was sent out to retrieve the situation. This he did by recording 1 min. 41.86 sec., thus nudging the Scot off pole position.
Brabham, intent on remaining competitive to the end of his career, came out fourth fastest while Amon's previous day's time put him on row three alongside Beltoise whose shrill Matra was now right on form. Rodriguez was seventh fastest although his BRM did have several problems while Graham Hill, with the Walker Lotus 72, was surprised to find himself eighth fastest with a time he certainly never achieved. Saturday was a day of woe for both March and Lotus. Both the freshly serviced engines in the 701s failed to last the session: Siffert's had just been rebuilt with a new cylinder block so the bill must have come to over £2,000 but it only lasted ten laps. Expensive business this Grand Prix racing! Both Marches had to be fitted for race day with engines which had already done a lot of work.
Lotus were equally in trouble. The engine in Fittipaldi's car had fluctuating oil pressure and various remedies were tried but it soon blew up, as did WiseII's. Hill and Stommelen also had fresh engines for the race as did Hulme. McLaren Racing collected an engine from the airport on race morning and as this had all the latest tweaks it was rushed to the circuit and hastily fitted there.
Race
The results of practice indicated a three-car race, for the others were hardly on terms. The event had really caught the imagination of Mexico City and with a population of 8 million close at hand a good crowd was expected. But the organising committee never envisaged that over 200,000 people would pack into the Autodromo on the outskirts of the city close to the airport.
Three club races were run off without incident, the crowd growing all the time. As the start of the Grand Prix drew nearer, excitement grew to fever pitch. Every Mexican wanted to get a better view than his neighbour and that meant watching from the roadside. Thousands disregarded the restrictions of the spectator areas as they smashed down fences and crowded onto the safety banks. Some of the braver ones even took up positions sitting on the Armco barrier.
It could be argued that similar conditions exist at the Targa Florio every year and that there no one gets hurt, but a long-distance sportscar race is somewhat different from a Grand Prix with 18 closely matched cars dicing it out wheel to wheel. So close were the spectators to the track that a spin could have wiped out 20 or more while an accident similar to the fiery incident between Oliver and Ickx at Jarama earlier this year could have meant the death of 200 people. The repercussions of an accident of that nature could be the total ban of motor racing in several countries.
Naturally the start was delayed while various appeals were made to the crowd to see sense. Pedro Rodriguez, Jackie Stewart and the Secretary of the GPDA all made appeals for the crowd to go back behind the safety banks. After an hour and a quarter, including an additional delay to sweep up the broken bottles thrown on to the circuit by the impatient spectators, conditions were a little better but the crowd were now very restless.
If the race were cancelled a full scale riot could have been expected, so after a lap of inspection the drivers agreed to start. In the circumstances it was the only decision but, nevertheless, a brave one. The slightest mistake could spell major disaster and every man knew it.
Once the final decision was made the start was swift and thankfully without incident. Regazzoni powered into the lead from pole position followed by Stewart and Ickx. At the end of the first lap these three were still in front, followed by Beltoise, Rodriguez, Amon, Brabham, Hill, Hulme, Surtees, Gethin, Pescarolo, Cevert, Siffert, Oliver, Fittipaldi, Wisell and finally Stommelen.
But lckx is the Ferrari team leader and his position should be at the front. On lap 2 he stormed by Stewart who latched on behind as lckx then also slipped ahead of Regazzoni. So now the order was Ickx, Stewart, Regazzoni, and soon these three had broken away from the pack. Meanwhile Fittipaldi's unhappy week-end came to an end when a third Cosworth DFV engine took a dislike to Lotus 72C/R5. Graham Hill too was out of the running almost as soon as the race had begun, his engine overheating badly.
By lap 10 the Marches of Siffert and Cevert had also fallen by the wayside as a result of engine failure. It was an unhappy end to Siffert's Formula One season with March, for during the year he has failed to score a single World Championship point. At the front Ickx was piling on the pressure although Stewart was hanging on well and, in turn, dropping Regazzoni. Behind it was Beltoise in fourth spot from Brabham, with Amon sixth ahead of Rodriguez, a hard-charging Hulme, Gethin, Surtees, Pescarolo, Oliver with Stommelen and Wisell already trailing. Wisell was later to make three pit stops, first with gearbox trouble and later with oil pressure problems. Stommelen's race also finished prematurely when his engine blew up.
With 14 of the 65 laps run, Ickx came round alone and six seconds later was followed by Regazzoni. Next up, and tearing into the pits, was Stewart for his Tyrrell's steering column had shaken dangerously loose. A bush had come adrift where it holds the column to the dashboard. It took just a lap for the Tyrrell mechanics to remedy the fault and Stewart re-joined behind the two Ferraris and Brabham, who had overtaken the Matra of Beltoise.
Stewart was in no mood to hang about and quickly he passed and thus unlapped himself from first Brabham and then Regazzoni. However he could not reel in Ickx at the same rate although he appeared to be catching up slowly. Brabham was still third ahead of Beltoise while Hulme and Amon were in contention with the French car. The two BRMs were now running eighth and ninth for Gethin had dropped back, soon to retire with overheating, and Oliver had overtaken Surtees who was struggling with the gears as his clutch operation had disappeared. Pescarolo stopped at his pit on lap 21 with only 3rd gear working. His mechanics finally sorted out the mixture of hot oil and broken split-pins and he returned to the race four laps down.
By half distance Ickx was 15 seconds ahead of Regazzoni whose engine was later said to be misfiring slightly, although we couldn't detect it, while Brabham was a firm third. The Hulme-Beltoise-Amon battle was where most of the excitement lay unless you pretended Stewart was on the same lap as Ickx. In fact he was tenth on the road, a situation that came to an end on lap 33. The Tyrrell was sadly retired to the pits with a right-hand front wishbone mount damaged, a wheel bent, and the monocoque rippled locally in that area. The Scot reported hitting a large dog and despite reports to the contrary the animal was eventually found, very dead and a long way from the track. It was the end to one of Stewart's best drives of the year although it will no doubt go unremembered.
The second half of the race lost much of its interest as Ickx was running unhurried to victory. Nevertheless the crowd crept closer and closer to the track side and some fools even took to running backwards and forwards across the track. Several drivers had near misses but miraculously no one was injured. Ickx had pulled out his lead to almost half-a-minute, while Brabham was 17 sec. behind Regazzoni and Hulme, in fourth spot, was closing on Brabham. Beltoise was still leading Amon and this pair, who might be team-mates next year, were really charging hard.
Finally, after numerous thwarted attempts, Amon passed Beltoise on lap 53. It was a significant lap for Jack Brabham too. His third-placed Brabham threw a rod, bringing his race and a distinguished career to a sudden end, this being his last Grand Prix.
All that was left was for Ickx to reel off the remaining laps with Regazzoni following him into second place. Hulme, now in third spot, was having trouble with the McLaren jumping out of gear and Amon and Beltoise were closing on him at quite a rate. But as the last few laps were run the circuit got progressively narrower as the crowd surged forward. Then, as Ickx took the flag, everyone milled onto the road, completely blocking it, and all the following cars had to screech to a halt as they crossed the line.
Ferrari had repeated his one-two results of Austria and Canada and it was also the Italian firm's fourth win in the last five races. Hulme held on to his third place ahead of Amon and Beltoise. Rodriguez took sixth place well ahead of team-mate Oliver, who had been lapped, while Surtees struggled home in eighth place with his recalcitrant gearbox. Pescarolo and Wisell both completed the distance well in arrears. The result moves Ickx and Regazzonii into second and third places in the 1970 World Championship.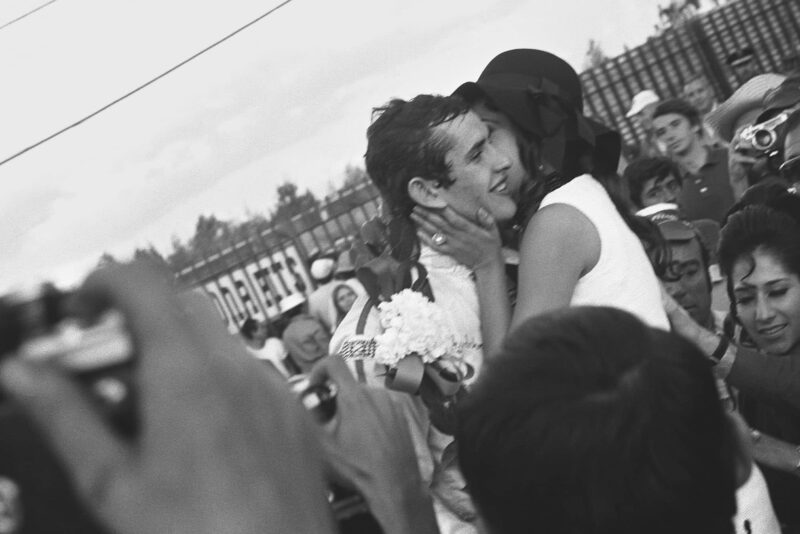 If there is to be another Mexican Grand Prix the blind enthusiasm of the spectators will have to be curbed in one way or another, whether by high fences or the butt of the rifle. Meanwhile most people would rather forget Mexico 1970.—A.R.M.
Results:
9th Mexican Grand Prix – Formula One – 65 laps – Ricardo Rodriguez Autodrome, Mexico City – 325 Km. – Hot and sunny
1st:J. Ickx (Ferrari 312B/001) …………………… 1 hr. 53 min. 28.36 sec. – 171.8 k.p.h.
2nd:G. Regazzoni (Ferrari 312B/004) ………….. 1 hr. 54 min. 13.82 sec.*
3rd:D. Hulme (McLaren M14A/2) ……………….. 1 hr. 54 min.14.33 sec.
4th:C. Amon (March 701/1) ………………………. 1 hr. 54 min. 15.41 sec.
5th:J-P. Beltoise (Matra-Simca MS120/03) …… 1 hr. 54 min. 18.47 sec.
6th:P. Rodriguez (BRM P153/05) ……………….. 1 hr. 54 min. 53.12 sec.
7th:J. Oliver (BRM P153/006) ……………………. 64 laps
8th:J.Surtees (Surtees TS7/001) ………………… 64 laps
9th:H. Pescarolo (Matra-Simca MS120/02) …… 61 laps
10th:R. Wisell (Lotus 72C/R3) …………………… 56 laps
Fastest lap:J. Ickx (Ferrari 312B/001), on lap 46, in 1 min. 43.11 sec. – 174.6 k.p.h.
Retirements:E. Fittipaldi (Lotus 72C/R5), 1 lap, engine; J. Siffert (March 701/5), 3 laps, engine; G. Hill (Lotus 72C/R4), 4 laps, engine and puncture; F. Cevert (Tyrrell March 701/4), 8 laps, oil leak; R. Stommelen (Brabham BT33/3), 15 laps, engine; P. Gethin (McLaren M14A/1), 27 laps, engine; J. Stewart (Tyrrell 001), 33 laps, accident damage; J. Brabham (Brabham BT33/2), 52 laps, engine.
18 starters – 10 finishers
*This is a timekeeper's error, presumably caused by the confusion at the finish. Regazzoni finished approximately 15 sec. ahead of Hulme.