1991 Australian Grand Prix
Still waters run deep
In motor racing, some lessons are never learned. After Roger Williamson's death in 1973, for example, marshalling still continued to be slack in some countries. After Tom Pryce's death four years later, foolish people still ran across tracks.
The 1989 Australian GP should have been sufficient to chill even the least caring into an awareness of the risks presented by racing in the rain on a track with very poor drainage. After all, only sheer good fortune prevented that one being remembered as the race in which two World Champions, Ayrton Senna and Nelson Piquet, had lost their lives in freak accidents.
You would think such lessons could be learned in this enlightened day and age, but the 1991 Australian event simply served to underline how little progress has been made in 24 months. It was a carbon copy, another game of Russian Roulette in which motorsport could count itself lucky nobody was hurt.
Back in 1989 Alain Prost had been pilloried in some circles for refusing to take the restart. At the time Gerhard Berger and Thierry Boutsen had agreed with him, but been persuaded by circumstance to get back into their cars. Gerhard admitted afterwards he had been a moral coward, while Boutsen changed his mind about the dangers after winning. This time, Prost wasn't even in Adelaide, having been sacked unceremoniously by Ferrari in the week leading up to the race. It had been rumoured that he would turn up to host a press conference, but in the end he was advised not to by his lawyers. Thus, in complete acrimony, ended the Ferrari career of the man who has won more Grands Prix than anyone else. It remained to be seen whether his F1 career was over, however.
Prost's dismissal painted a bleak backdrop for the race even before the first drop of rain fell, but Ayrton Senna's 60th pole position provided some moments to savour. The Brazilian was again in devastating form, back on the high wire after running for points finishes in Portugal and Spain, and though Berger tried as hard as he might, the new World Champion would not be denied. Senna was quickest overnight and, when conditions finally improved in the final third of the second qualifying session, after a rain shower, he was there again with an awesome lap that just failed to break into the lm 13s barrier.
That burst of speed, and Berger's, which was nevertheless little slower, put the McLarens firmly ahead as Nigel Mansell pushed hard for third spot, more than half a second adrift, and the speed over the start/finish line told the story we had seen in Suzuka: the Renault/Elf combination had been overtaken again by the Honda/Shell partnership in the power stakes.
The race-day murk threw many practice conclusions into the melting pot, but it was Senna who made the best start as Clerk of the Course Tim Schenken and official starter Roland Bruynseraede decreed conditions safe enough. But where Senna had been keen enough to race come what may back in 1989 when he was still chasing the championship, this time it was a more cautious Brazilian who led the field. "It was a mistake for all of us to start," he admitted when the race was terminated an official 14 laps later. "In fact, I only started because there was a lot at stake and the team has done so much for me over the past four years. The constructors' World Championship was still to be settled, otherwise there was no point to start." Again, Gerhard concurred.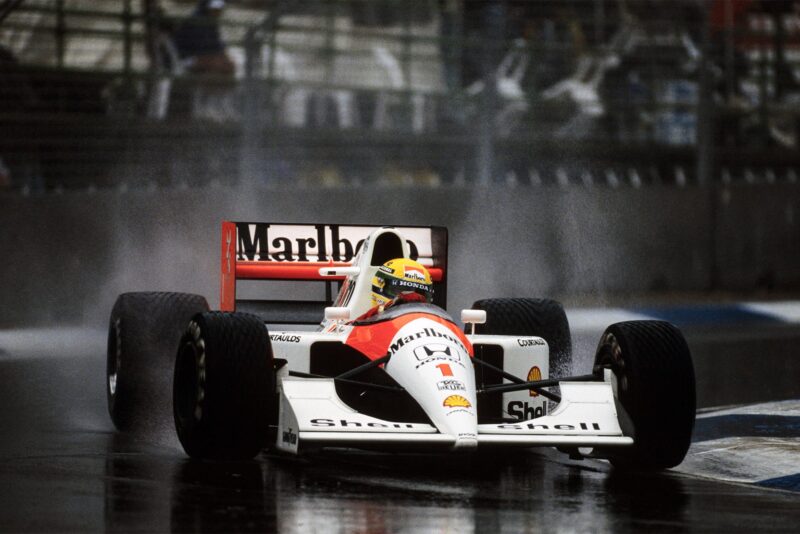 Start they all did, though, and miraculously nobody did anything untoward until Nakajima ran into the back of Boutsen's Ligier on lap three. Two laps later the Japanese spun out of his last GP, unable to repeat his brilliance from the 1989 race, and a lap later Boutsen retired as a result of the nudge. By then, however, the accident everyone had feared had been enacted out on the Brabham Straight.
"There was an unbelievable amount of water there," said Senna. "The car was just floating from left to right." Many drivers were down at least one gear in their efforts to prevent aquaplaning. As Berger chased after Senna and Mansell, who had deposed him on lap three, Nelson Piquet managed to recapture fourth place from his upstart team-mate Schumacher, only to loop into a 360 degree spin. The Brazilian, possibly in his last F1 race, recovered the Benetton without losing a place, but as Schumacher closed and tried to pass Nelson closed the door. Behind the German, and pressured by new Prost-replacement team-mate Gianni Morbidelli, Jean Alesi tried to take advantage. The Ferrari tapped the second Benetton into a spin, and then hit Nicola Larini's Lambo, which was also pushed into a rotation which ended its race. As the three drivers clambered out, Larini on the right of the track, Schumacher and Alesi on the left, the straight resembled a battlefield.
Mansell was vocal in his criticism as the wreckage stayed where it was, the situation compounded when a wrecker truck with flashing yellow light was brought down by the Ferrari. "I just can't believe they let the race go on," he said. "It was irresponsible to leave racing cars and a truck on the straight in those conditions." In his chase of Senna, which got him within 0.8s by lap 12, he was reaching 170mph…
To the surprise of many the race continued, ostensibly because all of the drivers had abandoned their damaged cars, but Berger was angry that course workers should be subjected to danger. "As drivers it is up to us whether to accept danger to ourselves, but it is not acceptable for those who help to be put at risk." It was a valid point.
In the gloom the racing itself was exciting, if tinged with foreboding. Mansell was well fired up, as he slashed Senna's initial 3.9s advantage won in clear air. Lap by lap he stalked the McLaren, surviving a near brush with Alex Caffi as they lapped the Footwork on the 12th tour. Even then, though, it was clear how careful Senna was being to avoid a repeat of his 1989 collision with Brundle's Brabham, which had just presented itself to him out of the murk. Berger had got back into his rhythm by then, too, and was closing on Mansell, as Patrese fended off the impressive Morbidelli and the equally good Pirro for fifth place behind Piquet, Riccardo's task made all the more difficult by debris trapped beneath his Williams. Further back, de Cesaris and Zanardi were sandwiching Modena's Tyrrell as the two Jordan drivers opted for conservative races. The younger Italian in particular was on his best behaviour after a series of practice accidents had accounted for two Jordan chassis and at one time given rise to serious doubt that the team would have enough left to run both cars in the race. Behind them Mauricio Gugelmin was pushing hard in the Leyton House, while Johnny Herbert had made a dazzling start in his Lotus to go from 23rd on the grid to 19th on the first lap, and 12th place by the 12th. It was a timely reminder of the talent that Benetton stopped him showing when they fired him two years ago.
The penultimate incident came on lap nine as Piero Martini struggled with his Minardi. Already he had dropped from 12th on the opening lap to 15th, separated from Herbert by Lehto and the hard-trying Alboreto in a Footwork that had at last qualified respectably. Then, as he came down Brabham Straight, the M191 simply sheered to the right as it hit a puddle, and slammed hard into the wall. As it bounced back into two 360 degree spins, Caffi had a lucky avoidance, and then the Minardi rolled gently across to join Alesi's Ferrari. The main straight now resembled a breaker's yard, but still the race went on.
Mansell was the real interest as he pushed and pushed after Senna, but Ayrton was taking it canny — "at times I was cruising in second gear" — fully aware that his roostertail would make life very difficult for the Briton. Then it began to rain even more, and suddenly Mansell was in the wall, the Williams simply aquaplaning off very hard into the unyielding concrete on its 16th lap.
As he sat momentarily dazed in the cockpit, Senna was already gesticulating wildly to the organisers to stop the farce. As he completed the lap, the red flags finally came out. By then, Berger was also missing, after a brace of spins, and it was Piquet who followed Senna over the line, followed by Morbidelli, but the Italian had passed Patrese under a yellow flag. Behind them, the Jordans and Modena then crossed the line, but that was because the likes of Pirro and Herbert (who had passed Modena on lap 15) had incorrectly been directed into the pits. Confusion was rife.
For a long time there was talk of a restart, once the wrecks had been cleared away, but there was strong resistance from the drivers and after a lot of arguing and indecision it was finally agreed to call the race at the 14-lap mark. Thus Mansell, already off to the airport nursing a badly swollen left ankle, and Berger, changing into his civvies, finished second and third, Piquet dropped to fourth and Patrese and Morbidelli to fifth and sixth, all of them being awarded only half points. In the constructors' title, McLaren cemented its fourth consecutive success after a tough season in which its sheer persistence and effort reaped the big reward. The crowd cared little. There were even jeers as Senna and Berger (overalls hastily thrown over his jeans and jumper) finally appeared on the podium.
It was a day on which nobody really won, and when drives such as those by Pirro, Herbert and the Jordan duo went unrewarded, but there was no question that stopping the event had been the right thing to do. It was simply the timing that had been so execrable. Just as in 1989, a two-hour delay would have allowed the race to be run in sensible conditions, but again the great god of television had to be satisfied, and once again F1 could count itself lucky that nobody was seriously injured.
There should be racing in the wet, most true F1 fans are agreed on that, but as Prost said all that time ago at Silverstone in 1988, what is the point in risking life and limb when you cannot see? The camber of the Adelaide streets simply doesn't allow water to flow away, and to have held a second race in such appalling conditions was little short of folly. — DJT
***
Results (top five), Australian GP, Adelaide, November 3
14 laps of 2.35 miles (3.78 km) circuit (33.88 miles; 52.91 km)
1. Ayrton Senna, BRA, (McLaren MP4/6 – Honda V12) 24m 34.899s
2. Nigel Mansell, GB, (Williams FW14 – Renault V10) 24m 36.158s
3. Gerhard Berger, AUT, (McLaren MP4/6 – Honda V12) 24m 40.019s
4. Nelson Piquet, BRA, (Benetton B191 – Cosworth V8 EXP) 25m 05.002s
5. Riccardo Patrese, I, (Williams FW14 – Renault V10) 25m 25.43s
Conditions: Torrential rain
Winner's Average Speed: 80.262 mph (129.14 kmh)
Fastest lap: Gerhard Berger (McLaren MP4/6 – Honda V12) 1m 41.141s on lap 14; 83.602 mph (134.51 kmh).