Lunch with... Sir John Whitmore
An unlikely aristocrat, he raced for just eight years. But this 'original thinker' squeezed in a lifetime's worth of experience against the very best during racing's golden era
In more ways than one, Sir John Whitmore is different. Since this monthly series began in Motor Sport six years ago I've been lucky enough to take some 80 motor sporting personalities to lunch, and I don't think any of them has had so short a racing career. Probably none has had so strange a life since walking away from the sport, either.
But John makes a worthy and fascinating lunch guest, because of the cars he raced, the people he raced against, and the magical period in which he was racing: the early 1960s. Those years formed a watershed, dividing the devilmay-care days when even top-level motor sport was still mainly for fun from the looming era of professionalism. When John won the 1961 British Saloon Car Championship, the BTCC of its day, his mount was a second-hand 850 Mini he'd bought for £400. Five years later he was part of the massive Ford onslaught on Le Mans, with million-dollar budgets, huge motorhomes, armies of mechanics and engineers, and suited executives on the phone nervously reporting back to head office in Detroit. That change helped him decide, after just eight seasons, to turn his back on a flourishing racing career and move on to the next stage of his life. John was born in the aristocratic splendour of Orsett Hall, a 7000-acre estate surrounding a 17th-century stately home in Essex. It had only been in the family since his grandfather's time: the then incumbent, Digby WingfieldBaker, was playing cards with John's grandfather for high stakes, and lost. Having no money, he handed over the entire estate to pay the debt.
"But it turned out to be mortgaged up to the hilt. And the house was almost falling down, and barely habitable. When my grandfather died in 1907 my father had to turn all that around, make the estate profitable, create a successful working farm, and restore the house. He did it extremely well. He commanded a brigade in World War I, got the DSO and was mentioned in despatches four times. Then he served as Lord Lieutenant of Essex for 22 years, for which he was created a baronet. "But the thing was, he was of a different time. He was born in 1872, so he was already nearly 30 when Queen Victoria died. In 1937, when I was born, he was 65.
"He never drove a car. I was sent to Eton, as he had been, and then to Sandhurst to become a soldier. But I got a poisoned hand from a fish-hook and was invalided out, so I switched to Cirencester to learn how to be a farmer. "Beside my parents, who were both eminent people, I just felt like a little guy. I needed to prove myself somehow, demonstrate that I could make something of myself. I'd heard about Le Mans and I thought, if I make it my goal to be in that 24-hour race just once, I'll be satisfied. I did the RAC Rally in a borrowed A35, and finished, and then somebody said, 'There's a racing driver living up the road in Chelmsford. You ought to talk to him.' That's how I met Alan Stacey, whose speed with his own Lotus sports cars had earned him a seat at Team Lotus. He gave me lots of good advice, and the upshot was I got myself an old 1172cc Lotus Six and did half-a-dozen low-key races to get my signatures. The Lotus Elite was just getting into production then, and the early cars were only being sold to known heroes. But Alan said to Cohn Chapman, 'Why don't you let Whitmore have one?'
"The trouble was, my father had no idea I was motor-racing. He never did find out until my mother finally told him when I won the British Saloon Championship, about six months before he died. She was wonderfully supportive — she didn't like me racing, but she understood that I had to do it. Cohn said he'd sell me an Elite for £1400, and she gave me the money. I got pre-production car No 4." John's impact on British GT racing with the Elite was immediate. He won his first race at Snetterton; turned the car over at Mallory Park two weeks later avoiding a back-marker; and then put it on the front row for the Silverstone May International, alongside Moss (Aston DB4GT), Salvadori (Coombs Jaguar) and Cohn Chapman himself in the works Elite. In the race he finished fifth overall and second in class.
"Back in the paddock Cohn said he wanted to fix me a ride at Le Mans, but I didn't take him seriously. On the Monday there was a phone call at the farm office from a Mr Chapman. I thought he was a seed merchant. When I realised who it was I nearly fell over. The upshot was, I was put in the Border Reivers Elite for Le Mans 1959 with Jimmy Clark. I'd been racing seriously for three months.
"At Le Mans Lotus lodged the cars in a little village garage not far from the track, like people did then. Alan Stacey was driving a 750cc Lotus 17 — Colin reckoned it could beat the French in the Index of Performance — and he and I were sharing a room over the local cafe. Jimmy was there too: he had still never raced a works Lotus, and was new to the Hornsey gang. Few people knew that Alan had lost a leg in a motorbike shunt when he was a teenager, and he walked perfectly well. He just needed a twist-grip on the gearlever, to blip the throttle on down-changes. We were reading a piece in a French newspaper, and it said, 'One of the drivers in the 24 Hours has a false leg.' I wonder who that is?' said Jimmy. Alan said, 'It's me.' Jimmy said, 'No, don't be silly, who is it?' He thought he was joking. Next morning Jimmy came bursting into our room saying, 'Come on you guys, time to get up.' Alan's tin leg was lying there on the floor. Jimmy was so embarrassed. Alan and I had a bloody good laugh about it.
"In the race Jimmy and I were several seconds a lap faster than the other Elite, the Lumsden/Riley car, until the starter failed. You weren't allowed to change the starter motor. So the mechanics hid a new starter in a bucket of water, took off the old one making a pantomime about how hot it was, dunked it in the bucket supposedly to cool it down, and then pulled the new one out of the bucket and fitted it to the car. All that lost us masses of time, so the other Elite won the class. We were second, and 10th overall." Two weeks later Border Reivers entered John at Charterhall in the Lister-Jaguar normally piloted by Clark, the first big car he'd ever handled, and he won two races.
"In September I took the Elite to Italy to do a race at Monza. On the back straight I saw a haze in the mirror, and thought my engine was about to blow. But it was brake fluid leaking onto the exhaust. When I hit the brake for the Parabolica the pedal flopped to the floor. I tried to spin it, but hit the barrier on the inside and took off. When it all stopped the Elite was just a heap of shredded fibreglass. All we brought home was the engine and gearbox." John Ogier, a wealthy local chicken farmer and prolific entrant through his Essex Racing
Team, came up with rides in one of his Aston Martin DB4 Zagatos, a Tojeiro, and a single seater F2 Cooper, and later Whitmore raced a Formula Junior Lola for the Fitzwilliam team. He also ran his own Lotus 20 Junior. Using a BMC engine it lacked the speed of the Ford powered cars, but he raised some eyebrows by qualifying on the front row for his heat at Monaco alongside the works Lotuses of Peter Arundell and Trevor Taylor. meanwhile, the Mini had come into John's life. "It was launched in August 1959, and at the Boxing Day Brands
Hatch four months later somebody entered me in an absolutely standard production car. There were others in the same event, and I think it must have been just about the first time a Mini was ever raced. I found the whole of Brands was flat out, even Druids, because after you'd toiled up the hill you'd lost most of what little speed you had. But it was immense fun passing everybody in the corners, until I got a puncture." For the 1960 Le Mans, Border Reivers entered their Aston Martin DBR1 for Jim Clark and Roy Salvadori, and nominated John as reserve. "I did a few practice laps in it on the Wednesday, but on Thursday, when it became clear I wouldn't be needed for the race, Mike Costin came over from Team Lotus and told me I was wanted to drive with Innes Ireland in a very special experimental Elite, which had a 2-litre twin-cam Climax engine."
This car was backed by the father of Michael Taylor, who was to have driven it with Ireland. But the previous Saturday, in practice for the Belgian Grand Prix at Spa, the steering column on Taylor's Lotus 18 had broken, and in the ensuing crash he had been dreadfully injured: in fact he never raced again. He lay in the wreckage unnoticed for a long time because the marshals were dealing with Stirling Moss' equally serious accident that had happened on the same lap, also because of a Lotus failure. At once Lotus works driver Alan Stacey was nominated to drive the big-engined Elite with Ireland: but next day in the Spa race Stacey was killed in a freak accident when he was hit in the face by a bird. Chris Bristow also died that day.
"It was a dreadful weekend. I was racing my own Elite at Snetterton, and got the news that Alan — my first and my closest racing friend — had been killed. But we all set off for Le Mans as usual. I drove down in my Mini van, which was the cheapest new car you could get: £390 and no purchase tax, because it counted as a commercial vehicle. Jonathan Sieff, who was on the reserve list with a conventional 1216cc Elite, was named as Innes' co-driver in the 2-litre. But in Wednesday practice he scared himself in it, so Costin approached me.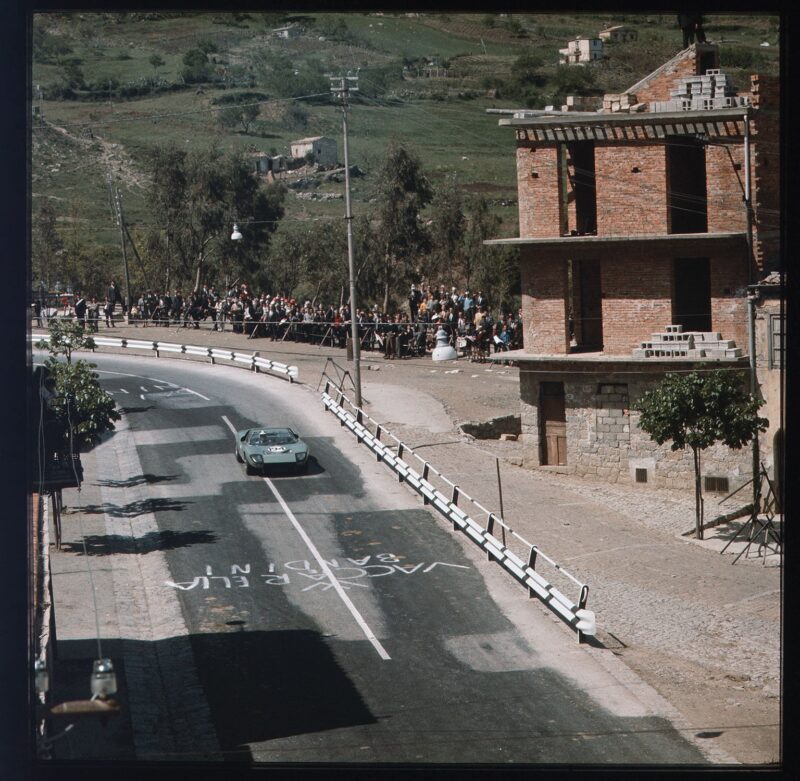 "I practised the 2-litre on Thursday evening. Innes reckoned it was unstable and lacking in brakes, but it felt quite good to me, and it was certainly bloody quick. Meanwhile Jonathan took the 1216cc Elite out for a few practice laps. Flat out on the Mulsanne Straight he went off and hit a building. I think something must have broken. He ended up on the opposite side of the road from the wreckage, and in the dark it was several minutes before they found him. He was in a very bad way.
"Roy Salvadori and Innes and I went to the hospital and Jonathan was just screaming, you could hear him all over the building. He was semi-conscious and in appalling pain. We were sure he was going to die. Alan, who of course was Innes' friend and team-mate as well as my friend, was dead. Bristow was dead. Michael was badly smashed up, Stirling's legs were broken. All within six days. We went back to our little hotel — I was sharing a room with Innes — and Innes wouldn't go to sleep. He kept talking, kept talking, and at about 3am he said, 'We're not going to run this race. I'm going home. I want to leave now, this minute. I need to borrow your car.' There was no arguing with him. I gave him the keys to my Mini van, he loaded up his stuff, and he disappeared into the night." (Innes Ireland recounted the same tale in his famous autobiography All Arms and Elbows: "I was sick to the stomach of the whole thing. It was purely an urge to escape."
But four days later Ireland returned to France for the Grand Prix at Reims: right back on form, he qualified fourth, ahead of the Ferraris of Mairesse and von Trips, and was second when, in another Lotus failure, his front anti-roll bar fell off.) "F or 1961 Marcus Chambers, BMC's comps manager at Abingdon, sold me a rather battered ex-rally recce Mini for £400, and I took it to Don Moore in Cambridge.
Don was a really brilliant guy, and his preparation was key to my winning just about every race I did with the Mini. I won the British Saloon Championship outright. At the end of the season there was a race on the long circuit at Brands, and for that I lent the Mini to my friend Steve McQueen, who was over in Europe filming The Great Escape." Mike Parkes won in a 3.8 Jaguar, but all eyes were on a frantic battle for the class victory between the Minis of Vic Elford, Christabel Carlisle and McQueen. The three of them crossed the finish line as one, with Elford just getting the verdict from Ms Carlisle and McQueen. As newly-crowned champion, John was on the podium to present the prizes.
"I got to know Christabel very well, because Don Moore prepared her car too. She was so young and demure and pretty that nobody took her seriously at first, but she was a brilliant driver. We shared her Mini in a long-distance race at the Nurburgring, and I knew immediately that she was good. In all the British championship races she was usually my closest challenger.
"I took my green Mini to a meeting at Roskilde in Denmark. Stirling [Moss] was running in the F2 race, and in my race I was up against a horde of Saabs. I think I finished second. Stirling was with a Swedish air hostess called Gunilla, introduced to him by Jo Bonnier. She was recovering from an accident on a TWA flight: in very rough weather, the captain had told everybody to put on their seat belts, and one passenger was struggling with her belt so Gunilla got up to help her. At that moment the plane dropped 500 feet, Gunilla went up, hit the roof, came down sprawled over the back of a seat, and broke her back. She was still recovering when I met her again at Le Mans. I was racing that old Healey 3000, DD300, with Bob Olthoff; the Healey was heavy and slow, but we kept going for 19 hours. Gunilla came back to London with me and we started a relationship. Steve McQueen said to me, 'Don't marry her, it won't last more than six years.' He was very savvy at reading people. We did marry — and the marriage lasted exactly six years. "As for Steve, that famous motorcycle jump at the end of The Great Escape was done by another good friend of mine, Bud Ekins, a top American trials rider who also drove the Mustang for some of the stunts in Bullitt. Steve did try the jump himself first, because he didn't want a stand-in doing anything he couldn't do himself. The insurance people didn't like that at all, and when the cameras were rolling it was Bud on the Triumph 650.
In America four of us, Bud, Steve, the actor Charles Bronson and me, used to fool around on our motorcycles on the old Mulholland Drive north of Hollywood, when most of it was a dirt road. We called ourselves the Chicken Shit Racing Team. Bud took some hen droppings to a chemist and got him to analyse it, and he had the formula — H2P034(NHq)2C204 — painted on our helmets by the top Los Angeles hot-rod painter Kenny Howard, aka Von Dutch or Joe Lunch Box." For 1962 John was asked to join the Tyrrell-run works Mini Cooper team alongside John Love. "We did European championship rounds as well, and we had an extraordinary race at Spa. There were three Mini Coopers for me, Bill Blydenstein and Jimmy Blumer, and the other cars were things like DKWs, 12 seconds a lap slower than us. The race was going to be a walkover, so to put on a show Ken Tyrrell said, 'Let's do a dead-heat with all three cars — but you've got to get it absolutely right.' So we're howling round miles in front, swapping the lead between us, and on the last lap Bill's gearbox packs up. Jimmy and I slow down to stay with him, we're going slower and slower, and round La Source towards the flag we're almost down to walking pace so Bill can catch up and we can stage our dead-heat. And some local guy in a DKW [Emile Holvoet] comes round La Source and, before we know what's happening, he's beaten us by a few feet, with the three of us dead-heating for second place. Ken was absolutely livid."
In the summer of 1962 John's father died, and suddenly he was Sir John Whitmore, Bart. "It bemused people, because I'd never given the impression of being much of a gent. I rather rebelled against the English class system, and never mixed with the so-called upper classes. I used to tell Jack Sears, who was an East Anglian farmer too, that he was much better at all that stuff. He should have been the Sir, not me." John did a lot of races in jazz musician Chris Barber's pale green Elite, winning outright at Spa in heavy rain, and leading his class in the Goodwood TT until the engine failed. In the 1963 British Saloon Championship he scored the most points and won the class in the works Mini Cooper S, but under a points-dropping rule the overall title went to Sears. "At Le Mans I was with Olthoff in a Sprite, which was terribly boring and slow. At about lam Bob had a huge shunt at White House, and the car was destroyed. I also managed to do two Monte Carlo Rallies: one in a Vauxhall Cresta instead of a real car, and we finished; one in a Sunbeam Alpine, and we crashed." He also drove a Lotus Elan 26R for Stirling Moss' SMART team. "It looked very different because Frank Costin had modified the bodywork, but it was no better than any other Elan. It had a dreadful habit of shedding wheels, and in all my races with it I either won or finished up in the ditch."
For 1964 an offer from Walter Hayes persuaded John to sign up with Ford. "When I was with the works Cooper-Mini team my expenses were reimbursed, but I don't remember actually getting paid. Ford came up with a retainer of £5000, which was a lot of money in those days. That put me into a serious operation with Lotus Cortinas, AC Cobras, Galaxies, GT40s, usually run by Alan Mann. "Alan was absolutely brilliant. He ED: drove in a few races himself as a youngster, and then decided he'd be better at running a team. He made good decisions about people, got the right guys to do the right jobs, and then let them take the responsibility. He knew a lot about engineering, but his special quality was that he would never panic. He was always totally positive: whatever the problem was, he believed a solution could be found. His calm way of handling people under pressure communicated itself to the mechanics, and to the drivers: everything's OK, Alan's in control. He dealt with me very well, because I tended to flap if things went wrong. He was by instinct an outstanding manager." John's main effort in 1964 centred on the European Touring Car Championship, when his red and gold Lotus Cortina scored maximum
points in eight of the 11 rounds to take the class, but still lost out overall to Warwick Banks' 1300 Mini. In the Spa 24 Hours, sharing with Frank Gardner, Whitmore led overall, having wrested the lead from Eugen Bohringer's Mercedes, until the clutch failed. "Frank was the man I'd choose as my ideal co-driver: quick, straightforward, fair-minded, and very good mechanically. We really respected each other." 1965 Alan Mann ran the European end of the Shelby Cobra attack on the FIA GT Championship. In the Monza 1000Kms Whitmore was paired with Jack Sears, finishing second in the GT category behind team-mates Bob Bondurant/Jerry Grant, and a week later in the TT at Oulton Park John was in a roadster, Jack in a Daytona.
"The race was in two two-hour heats. Jack's coupe was quicker, but in the first heat he had a brake problem, so I led the GT category. Then I had a major drama: the exhaust system broke, poisonous gas was sucked into the cockpit, and I was absolutely asphyxiated. When I stopped for fuel and tyres Peter Sutcliffe's Ferrari GTO went ahead, but I got to the end of that first heat somehow, in second place about 28 seconds down. I had to be lifted out of the car, barely conscious. I was very sick and making no sense. In the medical tent I was given oxygen, but when Alan came in I told him I felt terrible and no way could I do the second two hours. "Alan said, 'You have to do it. You can win it. I've worked out that if we're very careful with the fuel, and if you make your tyres last, you can do it without a stop. We'll give you all your pit signals counting you down to your fuel stop, so the other teams will think you're coming in, and I'm not going to tell the mechanics, because they may wink or smirk at each other and give the game away. When you ignore the signals they'll think you're still suffering from exhaust poisoning." So Whitmore dragged himself into the Cobra cockpit, did the two-hour second leg, duly ignored his pit signals, beat Sutcliffe by more than the required 28sec, just about made his tyres last — and ran out of fuel on the slowing down lap. The front brakes were gone, the front anti-roll bar was broken, and his hands were blistered and bleeding, but he'd won the GT class.
"When I got home that night I was bloody ill. But we'd scored top Championship points that day. I think it was my best race: talking about it again today, I still feel emotional about it." At Spa two weeks later Whitmore was back in a Daytona coupe, leading the category from Bondurant when a slower Cobra moved across on him and he hit it, hard. In the Reims 12 Hours, paired again with Sears, their Daytona went onto seven cylinders. In a long stop the con-rod and pushrods were removed, the piston pushed to the top of the bore, the oil lines closed off, and the car sent out again to chug on for five more hours. "The Cobra had open pipes each side, and when you're on seven cylinders in a V8 the distortion makes it very painful. Most of us didn't wear car-plugs in those days, and I've been deaf in one car ever since." But John and Jack brought the car home second in class, and ninth overall. The season ended with Shelby Cobra taking the GT title, from an admittedly non-works line-up of Ferraris.
At the end of 1964 John had been summoned to Monza by John Wyer, then running Ford Advanced Vehicles, to test a GT40. "I only ever had two really bad accidents, and they were both at Monza: the brake failure in the Elite, and testing that GT40. It wasn't getting full throttle because the linkage was fouling the tray under the carburettors, so they cut a hole in it to clear the linkage. At the end of the long home straight, when I lifted off for the Curva Grande, the linkage snagged on the hole and it just kept going. I had to decide whether to hit the Armco or go behind it into the trees. I decided on the trees, and I'm glad I did, because they were quite young trees, they slowed the car progressively. After about 70 yards I came to a halt with nothing worse than seat belt bruising, but the car was pretty much destroyed. Richard Attwood, who was also testing a GT40, said it looked like the scene of a plane crash. Richard gave me a lift back to the pits, and Wyer said, 'Where's the car?' I said, 'It's in the trees.' He was furious, hissed at me, `Salvadori would never have done that.' Later, after they'd looked at the wreckage and found the throttle linkage still jammed, Wyer apologised to me — unusual for him."
Whitmore shared a GT40 with Attwood in the Nilrburgring 1000Kms, retiring with broken engine mounts, and at Le Mans with Innes Ireland, only for the engine to fail after six hours. He was racing Lotus Cortinas both for Alan Mann and for Team Lotus, with Jim Clark sometimes his team-mate. "Jimmy and I always talked a lot about farming, which was his life; he'd got into racing almost by mistake. He wasn't socially aware at all, he was uncomfortable with the jet-set elements of international racing, and he was very awkward in lots of ways when he wasn't in a car. But as soon as he got behind the wheel he was totally focused. You could ask him detailed questions about a car's behaviour and he'd be clear minded and specific. When he came to London he lived in my flat, which we called the Scottish Embassy because Jackie Stewart used to stay there too. Out of the car, he couldn't make a decision to save his life. In the evening I'd say to him, 'Do you want to go to a movie? Which restaurant do you want to go to?' He could never make up his mind about anything. Sally Stokes wanted to marry him, but he couldn't decide whether to marry her or not.
He got tougher later, tougher with Chapman, tougher with his girlfriends, but it wasn't easy for him." In 1966 John did a single race in an Alan Mann Ford Falcon, setting the first 100mph saloon lap of Silverstone on his way to victory. He was second in the Monza 1000Kms with Masten Gregory in a GT40, and second in the Spa 1000Kms in a 7-litre Mk 2 with Frank Gardner. John and Frank were paired again at Le Mans, and of the eight 7-litre Mk 2s in the line-up John qualified third overall, behind Dan Gurney and Ken Miles and ahead of eventual winner Bruce McLaren. "I'd practised the Le Mans start, I had the seat belts hanging ready and tied up with cotton, and my car was first to move. Then I stalled it. I got going again very quickly: Ford had told us not to race each other, but going down the Mulsanne on that first lap I passed a lot of people on the grass, got back up to where I should be. But we were out by Saturday evening. We'd had a clutch problem in practice and Ford said they'd fixed it — Alan was doing all the chassis set-up, but Ford were doing the engines and running gear themselves — and after six hours the clutch was done for. I was always unlucky at Le Mans: the only time I ever finished was that first year with Jimmy in the Elite." By now John realised that motor racing had changed. It was serious big business: and, of course, it was still very dangerous. The previous September Jack Sears's career had ended in a life-threatening crash testing a Lotus 40 at Silverstone. In April Walt Hansgen was killed at Le Mans, and in August Ken Miles died at Riverside. It was time to take stock.
"I'd proved to myself what I set out to prove, and I wasn't interested in proving it to anyone else. Now I decided to look inside myself for life's answers. I had a manager running the farm for me, and I knew I'd never do it as well as he did. It took a staff of five just to run the house. And I was paying tax at 91p in the pound. So I sold the house and the estate, and moved to Switzerland as a tax exile. "While I was racing a lot of us used to fly. At first I had a little single-engined Musketeer which I could land almost anywhere, I could drop it onto the Brands Hatch car park. Then I traded up to a twin-engined Beech Travel Air. After I'd stopped racing, I got my instrument rating and qualified as a commercial pilot, and kept a turboprop Aero Commander at Geneva Airport." Wanting to alter the way he approached life, John enrolled at the Esalen Institute in California, which focuses on humanistic education; he met his second wife Diana there. Then, for 10 years, he lived in an alternative community in upstate New York. Back in England, he started an executive training firm, Performance Consultants, to exploit what he calls the GROW model: Goals, Reality, Options and Will.
Motor racing has remained a closed chapter, although he has twice been invited to the Goodwood Revival and raced a Cobra and a Mustang. "It was fun meeting people I used to know, but I wasn't comfortable with the racing, I didn't really enjoy it." But in 1990, 24 years after he had stepped out of the cockpit for seemingly the last time, John did return briefly to motor racing. Aged 52, he decided to accept an invitation to drive a monstrous 8.1-litre McLaren M8F Can-Am car in three historic events. "At Montlhery I finished third. At Donington Park I finished second. Then came Silverstone, with a Saturday race and a Sunday race. Charlie Agg, who was the top guy then in a similar M8F, beat me on Saturday by a length. So I simply had to win on Sunday. I stayed in my hotel room as long as I could before the race, because I didn't want to be among all the noise and the tension and the people. I had my son Jason with me, who was six years old at the time. About an hour before the race I'd got my overalls on and I was pacing up and down a bit, and Jason said to me, 'Why are you nervous?' Then he went to the bedside table where there was a pad and pencil by the phone, wrote something on the pad and pushed it into my hand. I looked at it, and he had written: 'Believe in yourself.' Six years old. I was incredibly moved. Fortunately he hadn't been to school at that point, because if he had he would probably just have written, 'Good luck Dad.' I thought, even if I can't believe in myself for me, I can do it for him.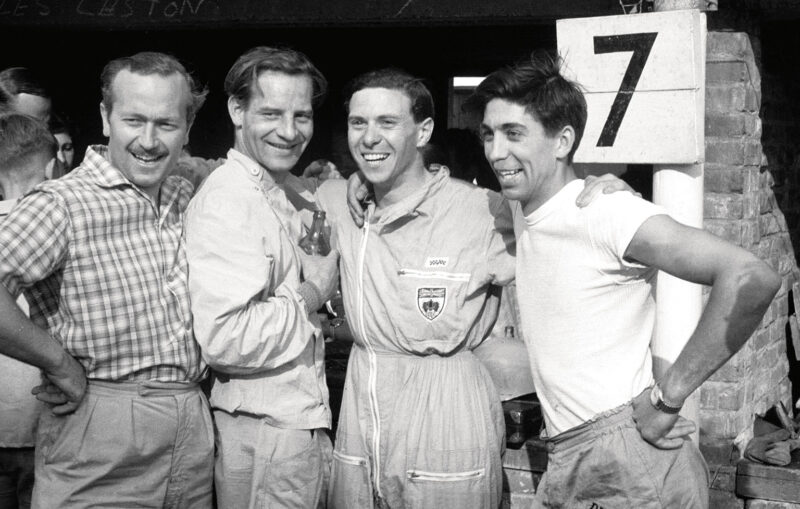 "I'd worked out that I had to get ahead of Charlie on lap 1, braking for Copse. But he had a five-speed gearbox to my four-speed, and at the start he accelerated out of reach. So I had to do it on lap 2. I believed in myself, and I did it, round the outside of Stowe. And I won the race. Jason is a film-maker in Hollywood now, and he doesn't remember writing that. But I use it in my leadership training as an example of how, if you truly believe in yourself, you almost can't lose. Psychologically, self-belief is the hardest thing. Maybe I'd forgotten that I started racing in the first place in order to find self-belief." lunch long finished, John is still talking across empty coffee cups on subjects far removed from racing: being pursued by the Secret Service in Zurich, spending five weeks in an artificially-induced coma after a 60mph skiing accident, and what he calls "channelling" — communicating with intelligence from another dimension. "The important thing is not where it's coming from, but what to do with what you're being told. The whole universe is a sort of intelligent soup, and each of us is a tiny molecule in that soup." I confess to being out of my depth here, and these are subjects outside the context of this magazine.
John now lives alone in a small, unpretentious flat, a far cry from the country mansion in which he grew up, and concerns himself with understanding how lives should be lived responsibly, to the general benefit of humankind. "There is so much stuff in our brains that we don't use and don't explore. We have all this technology now, but we don't have the wisdom to use it responsibly. I don't regret the loss of Orsett Hall, I don't miss my plane, my boat on Lake Geneva, my house in the Bahamas. Getting rid of all the wealth I once had has enriched me enormously. Life is a journey, and I wouldn't want to stay in the same place. "I was very lucky to race when I did. We still had the old Niirburgring, the old Spa, it was before Jackie Stewart came along and shortened all the circuits. Rightly so, of course, because of the hugely high death rate at the time. But because I was racing then, I was living through the greatest experience imaginable. They were vintage days."