Valtteri Bottas: The Nearly Man
How in the hell do you go about beating Lewis Hamilton in the same car?
It depends on who you are, of course. If you're Nico Rosberg during 2016, recognising you're not going to out-drive him, you step up both the psychological warfare and the on-track aggression, even against the interests of the team if need be. But not if you're Valtteri Bottas. He's just not wired up that way, doesn't see the world like that. For Rosberg the objective was success, as measured externally. For Bottas it's all internal. It's about reaching the ultimate level of performance. If he can squeeze every scrap of potential from himself, he genuinely believes it's possible to beat even Lewis Hamilton, on pure performance – something he proved just after our interview took place with a race winning drive at Suzuka.
"It is possible," he insists. "It's all about fine details in this sport and I feel like I've made some really good steps this year on the race pace. Lewis still has the upper hand, but it's really getting closer now and the average between us in qualifying is virtually zero. So it's going in the right direction."
That might sound strange from a driver who at the time of writing was 9-2 down on wins over the season to his team mate. But consider that after five races, he might easily have been 5-0 up and had scored three consecutive poles. Bottas perhaps got ground down this year, though not to the same extent as 2017 and '18 when he was cast as Hamilton's wing man in the last quarter. We caught up with him in Sochi to talk about his evolution.
I wouldn't want it easier. I want the challenge.
He sits awaiting the questions, smiling, relaxed. He radiates determined calm strength, nothing tricksy or sparky. Just even-tempered, resilient, dignified self-possession underlying an intense competitive will, but an internalised one. There's no transmitting with Valtteri; that would be so unnatural as to be contrived. What's going on beneath those still waters is a constant mission to get to the place where he can beat the best in the world at his chosen sport. Measuring himself against that challenge has been made very simple in the last three years, for Hamilton has been the guy on the other side of the garage.
"Yes, he's the toughest team mate there is, I think. Not because of the way he is as a person, just as a driver. But I wouldn't want it easier. I want the challenge. When I'm able to be ahead and beat him – which I can do – that's better than beating someone else."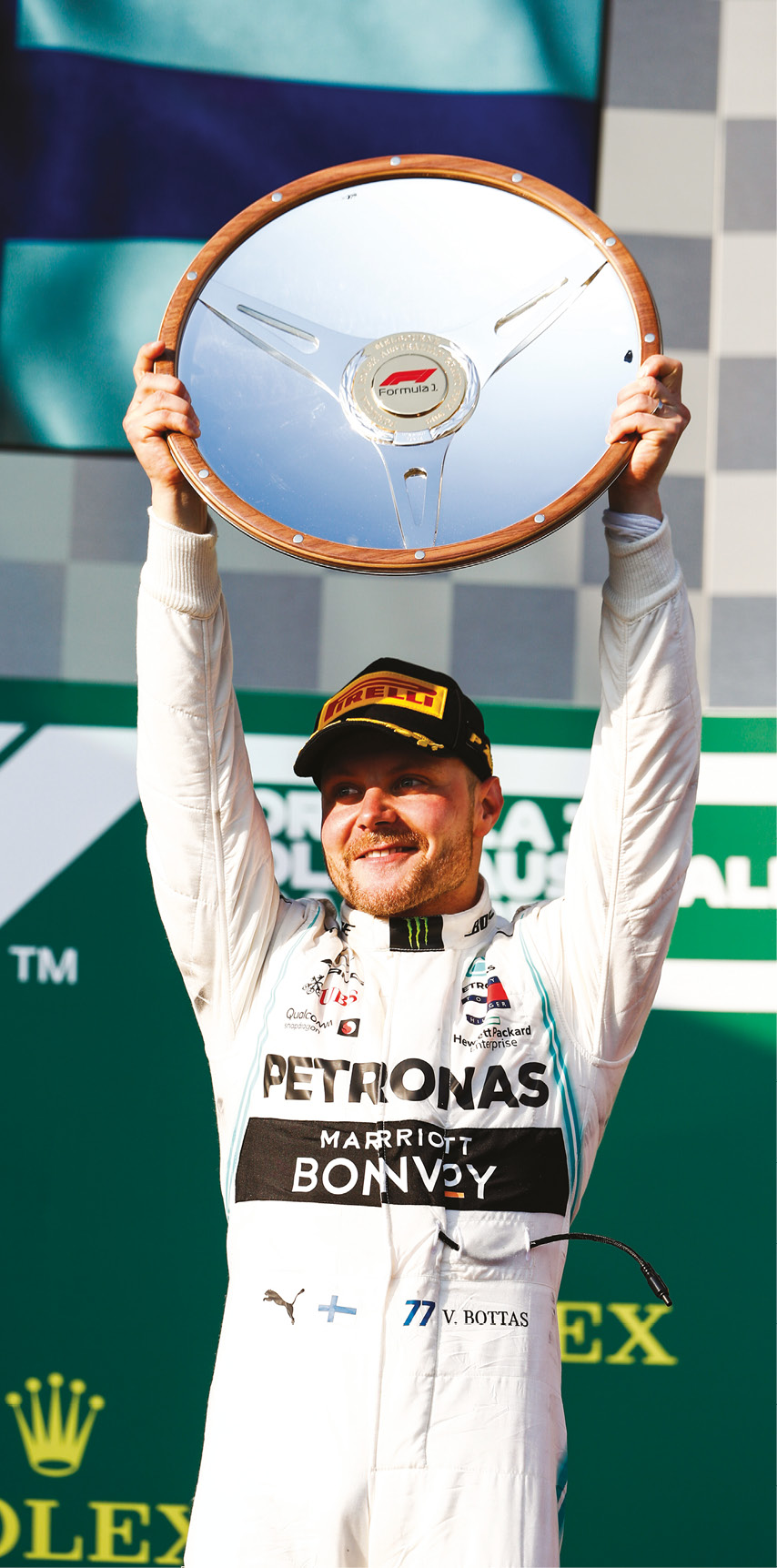 There's nothing controversial about Bottas; in every situation he's the same, an even line. So he's a very different interview to, say, the fire cracker Max Verstappen or Hamilton himself, both of whom will regularly make contentious points, justifying their stance about something, making thinly veiled wind-ups of rivals or critics. But never Bottas. His energy is very different and the parallel there between their respective racing styles is obvious. Bottas isn't remembered for any dramatic, inspired moves on the track where it's all about adrenaline and improvisation. He's all about that search for world-beating performance, which he sometimes finds, other times not. He remains resolute and meticulous, but he isn't the jack-in-a-box that's going to ambush you from nowhere. That's his persona too, a genuinely super-nice guy but a private one.
Bottas admits he got angry at himself at the end of 2018, at the situation he'd put himself in of being in the support role of Hamilton's championship for the second year in succession. So angry he even questioned what the hell he was doing. From that low, he regrouped – and what came out of the starting blocks to win at Albert Park in March was something that came to be labelled 'Bottas II'.
"I'm just trying to optimise everything for this year," he said after that opening race. "Every single thing. It's difficult to explain what's been going on inside my head over the winter. But definitely something changed in terms of the way I feel about things in life in general and in racing. But I felt good in the car. That's all that matters."
It wasn't just in Australia either. With just a slight tilt of circumstances, he could conceivably have won the first five races straight. He was a briefly locked wheel away (on lap two) from being the winning recipient of Charles Leclerc's late-race problems in Bahrain. The painted start line being too close to his pole position slot was all that put him second rather than first in China. He won Baku fair and square and after out-qualifying Hamilton by 0.6sec in Barcelona for his third consecutive pole, lost that win right at the start to a bad release of the clutch.
So yes, he did lock up in Bahrain, he did make a less than great start in Spain. But in terms of raw performance, he began this season flying high. Whatever he'd done during the off-season to get himself off the floor seemed to have worked, and certainly caught Hamilton's attention. Hamilton was scratching the odd win from him, not dominating him. Even with the small but crucial errors, from the first five races Bottas was just 3-2 down on wins, 3-1 up on poles.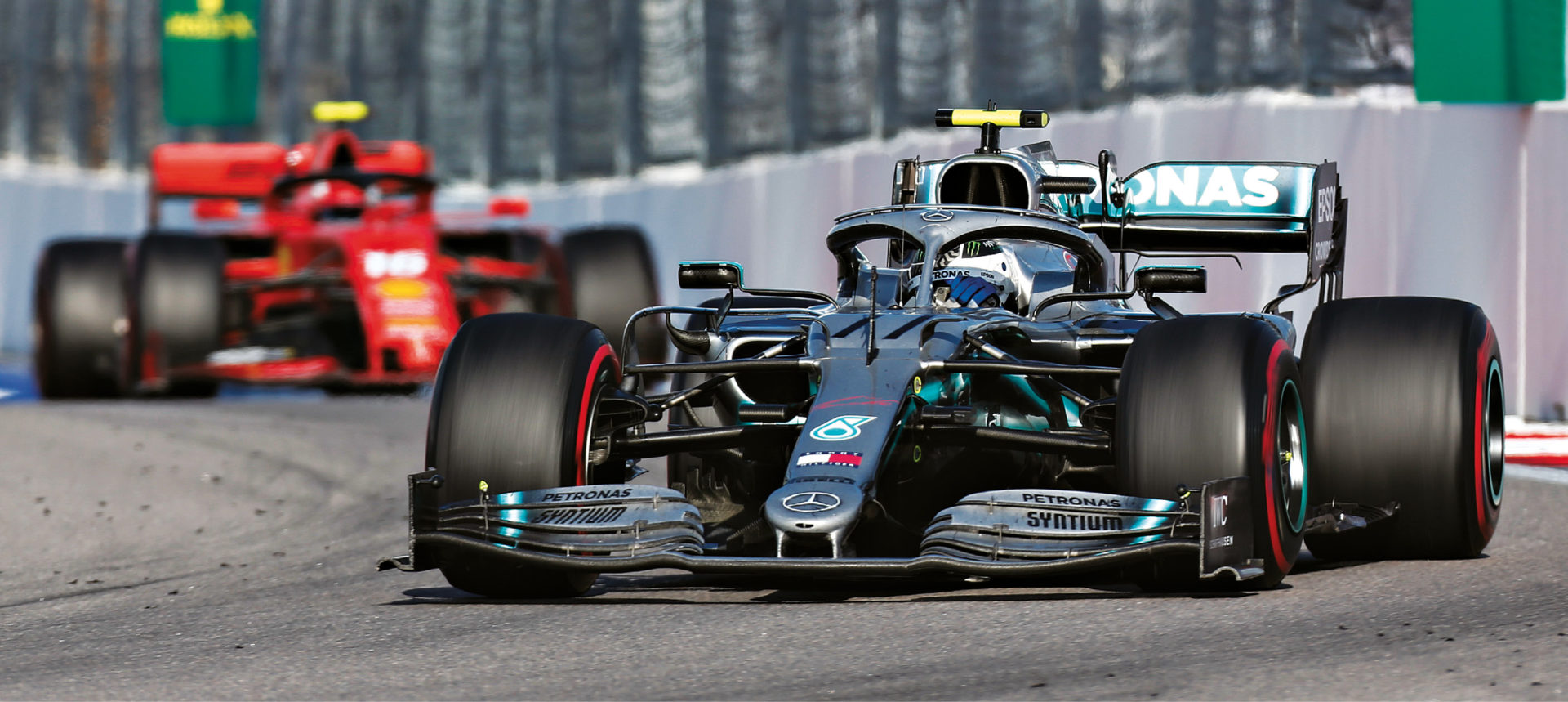 For the first time the steel beneath the nice guy, the intensity beneath the serene shell, was visible, too. "To whom it may concern," he related over the radio on his Melbourne victory lap, addressing his detractors. "F**k you." This was after insisting on the required engine modes to chase after the extra point for fastest lap in a way that wasn't going to be accepting no for an answer. Quietly, politely, but insistent. Then in Baku, post-qualifying there was a bit of a niggle from Hamilton about how Bottas hadn't set a hard enough out-lap pace for the following Hamilton – looking to get Bottas' tow – to get his tyres fully up to temperature. Those calm blue eyes had fire in them as he responded, told him how he wasn't going to compromise his own lap just to help Hamilton's. Not a big deal, certainly not a fall-out. But the point was Bottas' performances were at a level that it was triggering competitive niggle and Valtteri wasn't prepared to be anyone's support.
His opening lap of that race was quite something, too. He exited the final corner onto the pit straight alone, with not another car in sight as he began to stamp his authority on the race, destiny totally in his hands.
In some of those early season weekends – notably Shanghai and Barcelona – he'd arrived and hit the ground running, setting a pace that Hamilton just wasn't able to match. What was it about those weekends that was giving him access to such a level? Valtteri pauses… "I wish I had the answer to that question."
That's the difficult part, the key to his whole mission. "Sometimes when you step in the car you are just on it and feel so comfortable. You can push it to the limit immediately on the first lap. Even though you're guesstimating a bit the braking points and grip. But you just know where to brake and how quickly you can turn in. I think that comes from human performance when you're at your best and so comfortable."
The problem for Bottas, of course, is how often Hamilton feels like that. Given the nature of the competitive animal and the calibre of the driver, Hamilton was always going to be coming back hard at some point. And it duly happened, from around the French Grand Prix time.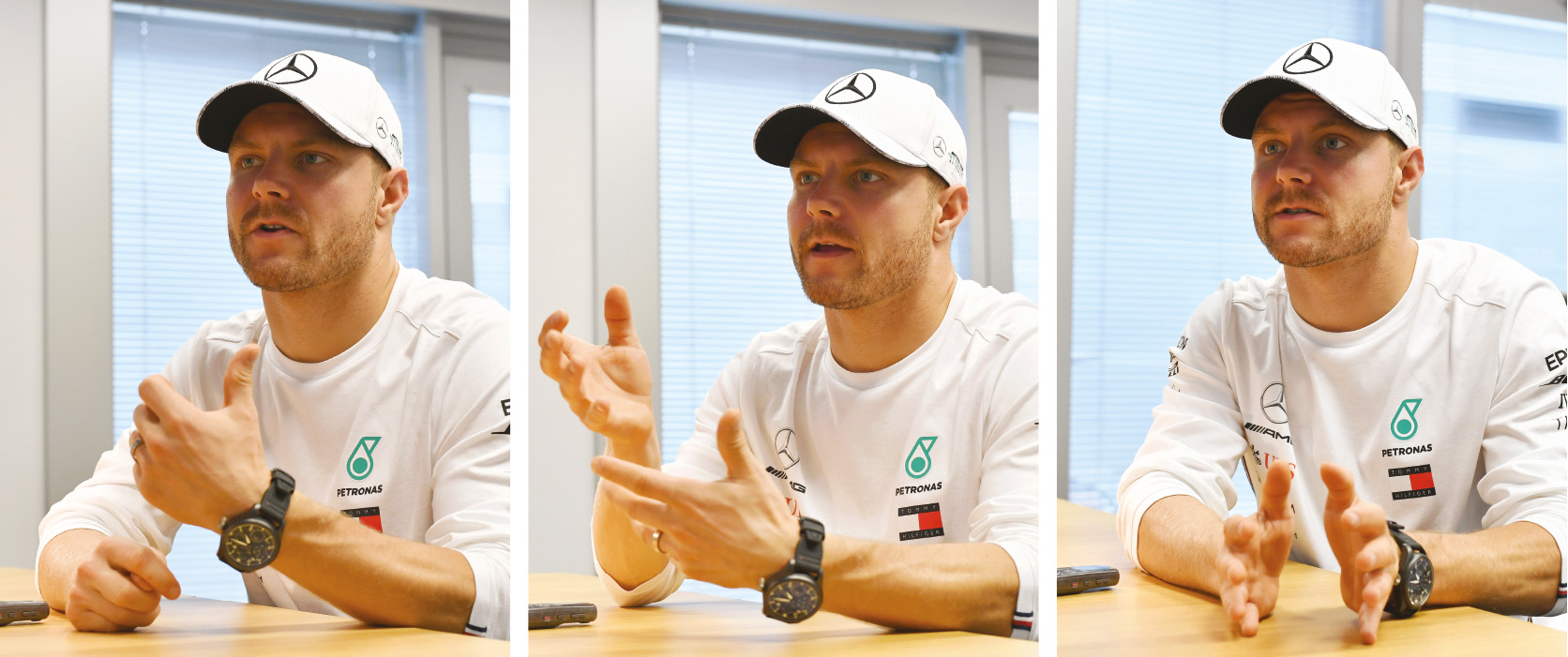 So did Bottas' performances drop off after that? He reckons not. "I see people talking about me being strong at the beginning of the season and then dropping down but I tend to disagree. I see everything on paper and my season performance, race pace, qualifying performance have got better through the year as an average. Some fine details here and there have gone in his [Hamilton's] favour and for sure there have been some mistakes from my side, in qualifying. But other things are just bad circumstances really. Like at Monza I should have been on pole but got Kimi's yellow flags at the end of the lap. In Singapore I didn't get a single clear lap in qualifying. So that compromised those weekends a bit. But I can't say much has changed. Things tended to go more my way at the beginning of the year then switched around a bit but I feel my performance is still the same as then. I still feel good in the car."
But there's good, and there's that special feeling he talked of where he can do no wrong, can be on the limit from the moment the wheels begin turning. Sometimes the demands of the car and track resonate with him more than others. "As a driver you always need to adapt to the car and track. But you can only do it to a certain extent because you lose the natural driving, then you overthink things and it becomes an issue and you tend to lose time. In certain circumstances I know I can be pretty tough to beat and then there are certain circumstances where the way I drive creates some issues for me."
He's reluctant to be drawn into exactly what those issues are, but from observation he's a less improvisational performer than Hamilton. He drives with a lot of commitment and precision, with a very geometric approach to the corners. Everything is calm, flat, simple. Hamilton's style is more free-wheeling, not so rigidly set. He seems happier to let the car slide to a part of the track other than the perfect line, finding some other way of keeping the momentum. Bottas is a little more compartmentalised. A Hamilton lap in a less-than-perfect car is more a flowing narrative rather than Bottas' series of separate chapters.
Looking beyond those first five races, at Monaco Bottas began the weekend again with an apparent edge. Only traffic on his final Q3 run put him behind. Certain he had time in hand, he lost out on pole by a tenth. That defined his weekend, left him no longer in charge of his destiny, despite an underlying performance advantage up until then.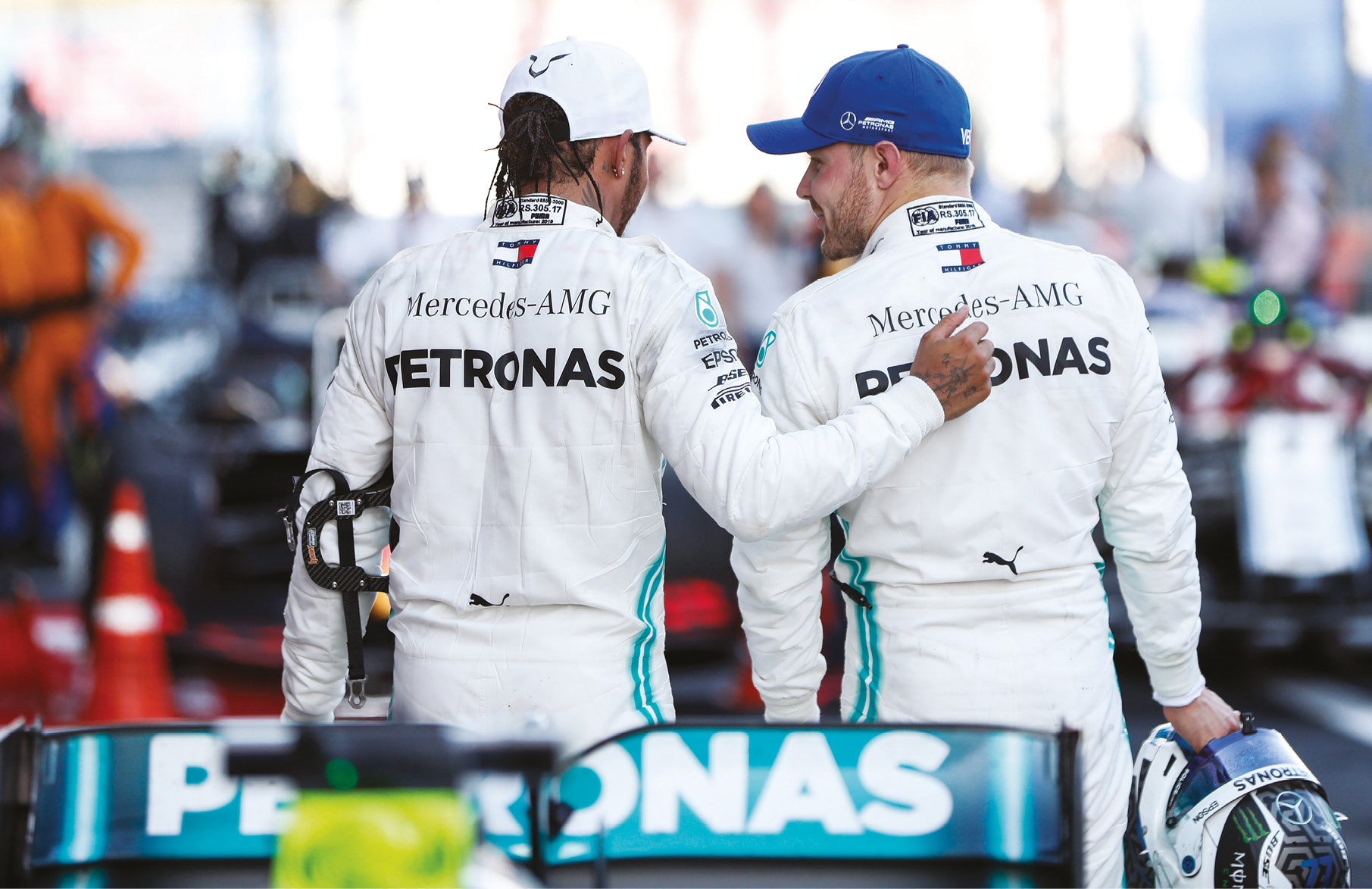 Canada was different. There, he seemed distracted and scrappy, spun in Q3 and spent much of the race stuck behind a slower car, overheating his brakes. In Paul Ricard he'd regained his composure and underlying speed but the wind mixed things up in Q3 and he couldn't respond, in contrast to Hamilton. In Hamilton's description of his pole lap is much of what Bottas is up against. "It's quite gusty… so you have to be dynamic with how you attack the lap. There are certain points at which you can attack and there are others where you kind of have to give way a bit to the wind." The change of wind direction had left Bottas lost with his worked-out lines and braking points.
In hindsight, those two races – the fluster of Montréal, the lack of spontaneity required at the critical moment in France – were the snap points in the Hamilton/Bottas 2019 dynamic, where Hamilton produced stuff Bottas had no answer for. Bottas' inherent pace after his winter reset forced Hamilton to reach deeper – and when he reached, it was there. And that set the tone. From there, Hamilton was flying, Bottas was struggling.
There were further operational difficulties for Valtteri in Austria but that was a weekend in which the car's inadequate cooling was the main factor. At Silverstone he stole pole in Hamilton's own backyard but in the race was dummied by him, forced into racing hard enough to put himself on a disadvantageous two-stop strategy while Hamilton conjured the stint length to allow a one-stop – even against the team's plans. That was exactly the sort of tricky competitive bluff Bottas couldn't even begin to contemplate and underlined again what a monumental task he faces. It wasn't just that Hamilton's stature allowed him to push at the boundaries of team play to his own advantage, but he was clever and skilful in how he forced his rival to use his tyres without using up his own. Mercurial, tricksy, cunning, liable to ambush you at any time. Things that Valtteri just isn't. But he can't change that, so he looks inside to squeeze more from what is there. "Lewis's efficiency in the race in terms of pace versus tyre drop off is very good," he allows. "I'm still working on how to get there with set up and driving style. That's developing all the time."
"I'm still peaking, and I know I have that ultimate performance"
By now, it was that familiar time of year when speculation about Bottas' future would begin, Toto Wolff (his former manager) never having given him more than one year at a time. Esteban Ocon – who had sat in the Merc garage – was tipped as Bottas' successor and Wolff wasn't killing the rumour. "That was a distraction," he admits. Bottas was finally confirmed for 2020 before Spa. "Things like this are never helpful. For some, internal pressure can be a good thing. But when it's a long time, it can be annoying. I definitely felt more relaxed and better in the car when everything was signed, so I'm sure it wasn't helping but that's the way it goes."
His situation wasn't helped when he dropped the car out of second place in the wet of Hockenheim but he bounced back to out-qualify Hamilton at the Hungaroring. Those positions were reversed within a few seconds of the start as Hamilton ran around his outside at turn 2, having hemmed him into a narrow approach angle. Bottas could have simply hung the other Merc out to dry over the exit kerbs to retain the place, but chose not to. There are strict team rules about no contact and Hamilton had incorporated that into his racecraft, effectively neutralising him. "It would have been different if it had been a Ferrari," Bottas concedes. "The team have made it very clear they don't want us colliding. There are certain internal rules about this." And Hamilton had played them, which showed again how Hamilton sails closer to the wind to prevail. That set Hamilton up for victory as Bottas was hit by Charles Leclerc, requiring an early pit stop that left him eighth. Although the Hungary weekend backs up Bottas' contention that the deficit is not raw performance, it raises the question: Is Bottas just too nice?
He can't change that. His instincts aren't as sharp as the colossus he's being compared to, competition doesn't take him to such places far removed from his personality. He remains deeply competitive. He will work more diligently and there will be other days where he leaves even as great a driver as Lewis Hamilton scratching for the thread of an opportunity to compete with him. "I'm not there yet," he smiles. "But I'm still peaking. I know I have the ultimate performance but I need more consistency to be there every weekend."