From 1946 to 1951 – for an entire generation of fans – Alfa Romeo's works Grand Prix car – the immortal 'Alfetta' – set the gold standard. Through that period these 1500cc straight-8 supercharged cars were the standard-setters of their time. Even when the Alfa Corse factory team took a sabbatical from racing during 1949 and Ferrari blossomed to brief dominance, the Prancing Horse was widely regarded as just the understudy, merely keeping the legend's seat warm while it took a much-needed financial breather…
Through those years – during which the old-established Grand Prix Formula renamed (from 1948) as 'Formula A' or 'Formula 1' – the ever-developing series of Alfa Romeo Tipo 158/159 cars contested 42 top-flight races. They won 38 and reigned unbeaten through 1947-48 and 1950. Alfa Corse used the greatest drivers of its time, and it took an all-new 4½-litre unsupercharged V12 Ferrari to knock the ageing cars off their hard-won pedestal in 1951 – not that Alfa's finest believed that was, in fact, the case…
From its racing introduction in 1938, the Alfetta's power grew progressively from around 195bhp to a stunning 425bhp — thanks to some 42 lbs psi supercharge boost — by 1951. In inverse proportion, its fuel consumption plummeted through that period to barely 1.6mpg. The unsupercharged 4.5-litre V12 Ferrari 375s which toppled the Alfa did so by being almost as fast, and needing fewer refuelling stops. Not quite tortoise and hare, but you get the picture…
GiovannBattista Guidotti – pre-war chief tester turned post-war racing manager of Alfa's experimental department – once told me how the project to build a 1500cc racing Voiturette car (for the GP2 category of its day) had begun – sub-contracted to the marque's Modena-based quasi-works team, the Scuderia Ferrari. "It was at the 1936 Italian GP at Monza, when Ferrari was there and he said to my chief, engineer Jano, and me: 'Look, your best driver, Nuvolari, finished second and the Germans have won again. We cannot match their money and effort in the Grand Prix class. We should build a 1500 to race Maserati's four-cylinder, which is winning the class. We can beat them, and there will be no Germans!'.
"Jano said, 'No, I am too busy, too much to do'. Ferrari replied: 'You send me your best man, I will supply the Lambrusco and Zampone…'" — Modenese wine and the local delicacy of stuffed pigs' trotters – "…and you do the manufacture, and we'll get the job done between us".
At the time, Jano was busy with designs for a 4.4-litre V12 GP car for 1937 – the Alfa Romeo 12C-37. It flopped… Jano was fired.
In May 1937, Jano's No 2 for 13 years, Ing Gioachino Colombo, was posted to Ferrari's Modena works to produce the proposed new 1500. His task was eased by the fact that the design office at Portello, Milan, was at that time involved in drafting proposals for a new Tipo 316 V16 Grand Prix car for the 3-litre supercharged GP Formula taking effect in 1938. It was logical to design a potent 1500 from one bank of that 3-litre GP engine.
Where the V16's gear-train drive to the twin overhead cams and other ancillaries was at the rear of the engine, unlike other Alfa eights in which it had always resided amidships, Colombo juggled it to the front of his engine, shortening the crankshaft.
He drew two aluminium block castings, 58mm bore x 70mm stroke providing 1497cc. The crankcase was cast elektron alloy, with steel cylinder liners, and the crankshaft ran in eight main bearings with a ninth subsidiary. Lubrication was dry sump. The twin-overhead cam engine was supercharged by a single-stage Roots compressor, boosting at an initial 17.6psi. In testing at Modena this 1500 developed 180bhp at 6500rpm. By its race debut six months later, Alfa Corse had 195bhp at 7000rpm – 130bhp per litre.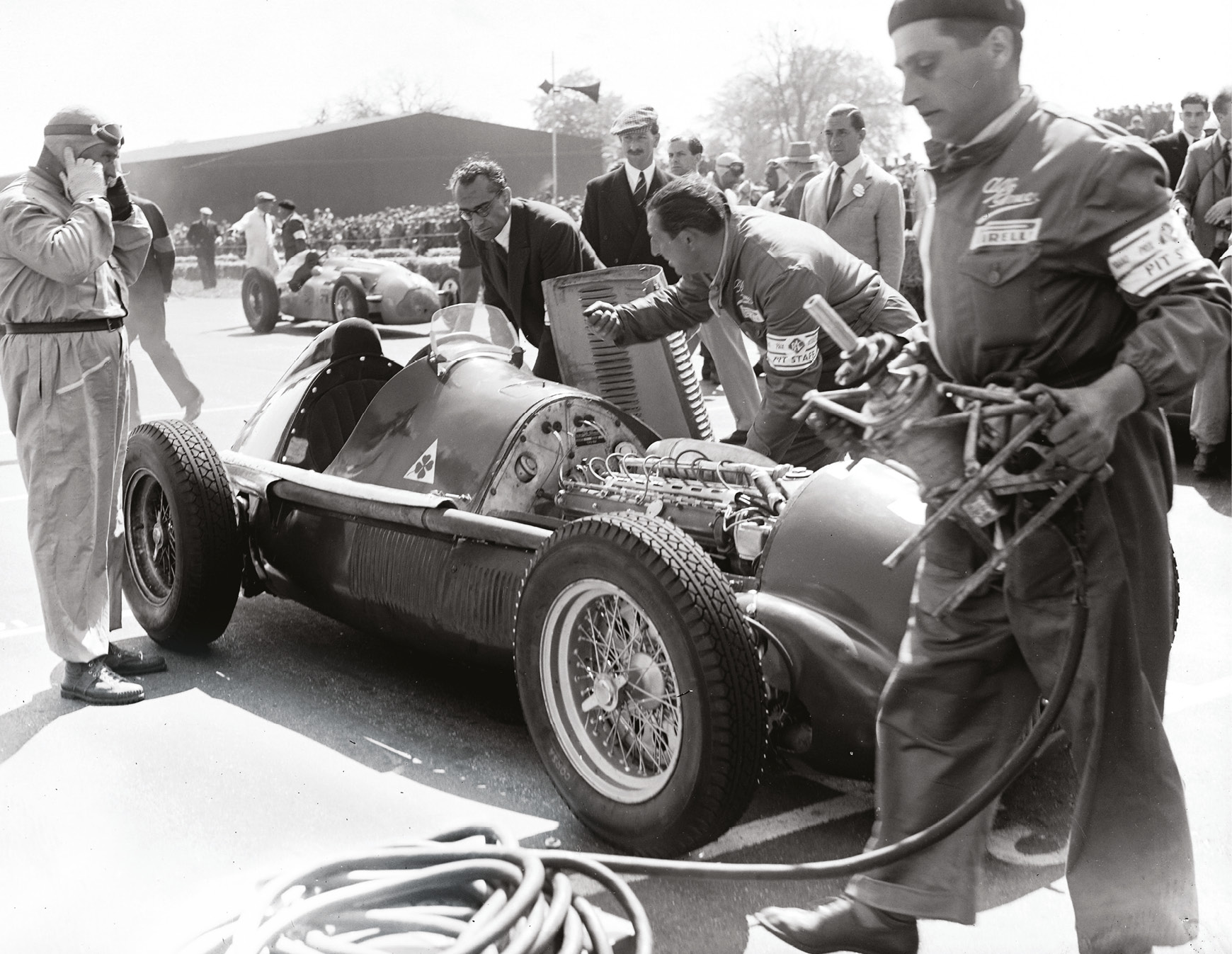 This engine and a four-speed transaxle were mounted in a twin-tube steel chassis with trailing-arm and transverse leaf-spring suspension. A slender body featured a raked potato-chipper grille. Relatively short-distance vetturetta racing allowed 'just' a 37.5 gallon tail tank. It would grow, and proliferate with side and scuttle tanks.
Guidotti: "Four cars were built at Modena and virtually completed in every detail there, then the management set up Alfa Corse at Portello; Ferrari came to us as manager and we ran from the factory." This was a move which Alfa Romeo MD Ugo Gobbato had ordered. Mr Ferrari fitted like a star-shaped peg in a square hole, and he soon opted out.
During 1938 the new Alfettas contested four races, made 14 starts, won twice in the hands of Emilio — brother of Luigi — Villoresi, but had eight retirements. Bearings were a weakness, and for 1939 needle roller big ends were adopted and main-bearing oil feeds improved. The engine now achieved 225bhp at 7500rpm – 150bhp per litre.
At the opening 1500cc Vetturetta race of 1939 – at Tripoli – Mercedes-Benz shook the Italians with its late-entry W165 V8s. Villoresi kept the revs down in his Alfetta and finished third; three other Alfettas failed. The cooling system was changed and its working pressure increased. Engine lubrication was again modified, and the cars coincidentally rebodied to virtually their final form. Of four more races that year, they won three. Their drivers included 'Nino' Farina, Clemente Biondetti, Francesco Severi and Carlo Pintacuda. But on a black day at Monza – during a press reception – Emilio Villoresi was killed in one of the cars, and during practice at Pescara '39 Giordano Aldrighetti also crashed fatally.
The needle-roller-bearing 1939 cars appear in some records as the '158C' model, and six new cars were constructed for 1940. A seventh car with experimental de Dion rear suspension emerged as the '158D'. At Tripoli in 1940, before Italy entered the war, four of these works 158s finished 1-2-3-5 in the absence of Mercedes-Benz. Then Mussolini ill-advisedly took Italy to war.
After the Italian surrender in 1943, amidst German occupation of northern Italy, the works cars were stored – some in a cheese factory, some at Melzo east of Milan, others in Brianza to the north. Factory test driver Consalvo Sanesi told me how: "We took it for granted we would be racing again and went looking for the cars and parts. It took about a month to remember where they all were. They were so covered in grease it was difficult to grab hold of them! But preparing them for racing was not hard…"
Two of the Alfettas re-emerged for the 1946 St Cloud GP in Paris, but works drivers Jean-Pierre Wimille and Farina both retired.
During the war years, Jano's replacement as Alfa Romeo chief engineer, Wifredo Ricart (recalled disparagingly by Guidotti and Sanesi), had built two rear-engined flat-12 1500cc racing cars, the Alfa Romeo Tipo 512s.
Sanesi covered some 4000 test kms in these 'Italian Auto Unions'. Though consistently slower than the 158s, their two-stage supercharging "worked well". It was then adopted on two 158/46Bs driven by Farina and Varzi for the GP des Nations in Geneva. Through 1947 the 158s met no serious opposition. A further improved 158/47 was developed, using an enlarged low-pressure supercharger which on the test-bed gave 310bhp, still at 7500rpm. This found weaknesses in the Elektron crankcase-castings as areas around the main bearing housings cracked. Tie-rods were inserted, bracing the main bearing caps to the blocks.
"Alfa's team comprised Fangio, Farina and Fagioli – the Three Fs"
The 158/47 actually emerged in 1948, when tragically Varzi toppled it over in wet practice at Berne, and was killed as the aero-screen split his face. Wimille won the Italian GP on the 158/47's race debut. In the Monza GP, Wimille and Trossi finished 1-2 in 158/47s, Sanesi third and Taruffi fourth in 158s.
But Varzi was dead. Wimille was killed that winter driving a Gordini in Argentina and chain-smoking third driver Count Carlo Felice Trossi died of cancer. Robbed of drivers, short of money (and engineer-power), Alfa withdrew from racing for 1949. At that point, the 158s in their various forms had won 13 consecutive races.
However, money was then raised to support a works team return for 1950, funded thanks to Director Pivarelli of Alfa's Como branch, whose whip-round amongst national dealerships raised 200 million Lire sponsorship. The company's new driver team would comprise Juan Manuel Fangio, Giuseppe 'Nino' Farina and Luigi Fagioli —the famous 'Three Fs'. None was a spring chicken: Fangio was 39, Farina 44 and Fagioli 52. But back in those days experience and reputation could trump youthful promise…
In their comeback, at the 1950 San Remo GP, Fangio opened his account by defeating the new unsupercharged V12 Ferraris. In their first F1 World Championship race – the series-opening British GP at Silverstone – Farina, Fagioli and guest driver Reg Parnell (also 39) finished 1-2-3 after Fangio retired. But in the Belgian GP and at Geneva the 4.1-litre Ferraris posed an increasing threat. The team drivers had kept revs in hand to preserve their ageing, though properly 'lifed' power units, while Ing. Nicolis had squeezed more boost pressure to gain another 20bhp. Some described this development as creating the Alfa Romeo 159 model.
Fangio won the Monaco, Belgian, French, GP des Nations and Pescara races – Farina the British, Swiss, Bari, International Trophy and Italian GPs. The Italian took that inaugural Drivers' World Championship title from Fangio, and Alfa Romeo was on top of the world.
Into 1951, when in February Colombo returned to the fold from Ferrari, the '159' engines were being run to 10,500rpm on the bench, and endurance tested at 9500. The superchargers produced higher boost, absorbing more power (eventually some 135bhp), while 8500-9000rpm was the race rev limit – and fuel consumption soared.
More power, higher speeds and fuel-bloated weight highlighted the original swing-axle rear suspension's limitations. A de Dion system was adopted while the new 4.5-litre unblown Ferrari V12s closed the performance gap. Fangio took over Fagioli's Alfetta to win the French GP (just) at Reims-Gueux in July 1951 – the 158-series' 34th victory since 1946. But next time out, at Silverstone for that year's British GP, González of Ferrari beat the Alfas at last in his unblown 4.5. Ascari in the same car then beat the Alfas in the German GP. The history books say the Alfetta was at last in eclipse, but Alfa Corse disagreed…
Guidotti: "Handling was our problem, not power. The de Dion rear end improved the situation, but was not a complete cure. It took us some time to discover why."
Sanesi: "I drove many miles testing the 1951 cars; the increase in power from around 350 to 420bhp meant the old swing axles were inadequate. The de Dion rear suspension was better, but I realised the problem was the old chassis, which were flexing under the extra weight, power and loadings."
Guidotti: "At the Nürburgring those chassis frames, which were physically old, began to crack but we had the new 159s."
The true 159s had superstructure tubes added to improve torsional rigidity and beam strength. Alfa archivist Luigi Fusi classified these cars as 159M (Maggiorata: 'increased'). Now fitted with massive scuttle air intakes feeding the hungry induction, the Alfa Romeo 158/159 series had at last reached its final form, running 42.6lbs psi supercharger pressure and delivering an absolute maximum of 425bhp at 9300rpm.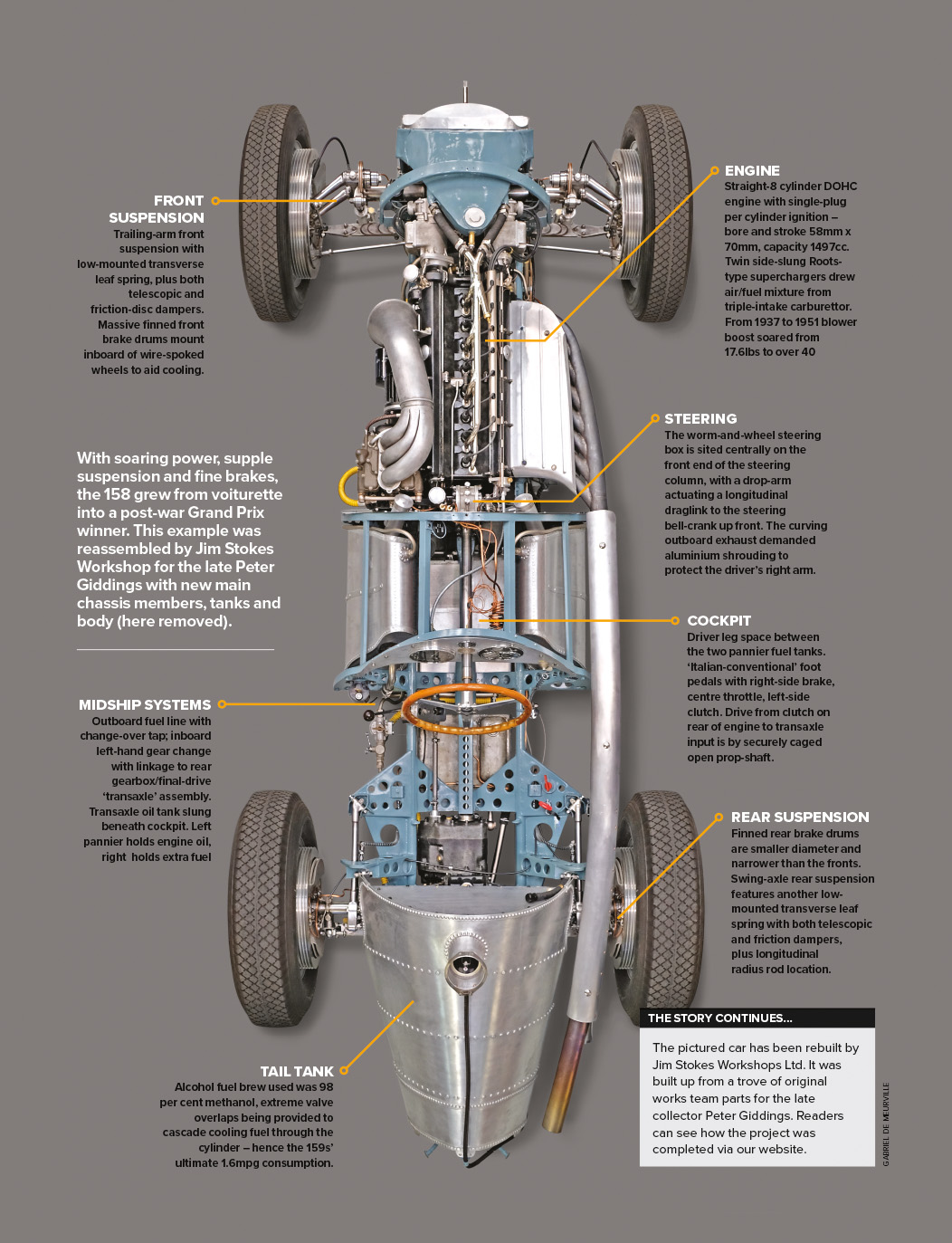 Guidotti: "At Monza in the Gran Premio d'Italia we failed and Ferrari won again, but not because theirs was the better car. Our cylinder heads were old and over-stressed, the material had deteriorated with age and several were found to be porous. We then used newly-cast heads for the Championship-deciding Spanish GP at Barcelona. I broke the lap record in practice, and Fangio won both the race and the World Championship. On the main straight there, I saw 310kph —192 mph — "and the engine accelerated to that speed vividly, with no flat spots at all".
At that point – with Fangio securing Alfa's second consecutive World Championship – the board decided their R&D people really should concentrate upon production, and announced withdrawal from Formula 1.
Guidotti summed up the 158/159 Alfetta series as follows: "Throughout its life the car was ahead of its competitors, engine very powerful and smooth, 50/50 weight distribution on half-full tanks, very stable roadholding, basic understeer, but a shape which did not fly at speed. Very important: some did fly, our car did not.
"The brakes were the best of their time, a major part of the car's success, and Jano's clutch — duralumin and steel multi-plate — was a masterpiece – reliable and it didn't suffer if oil leaked onto it. The suspension then was Colombo's masterpiece: the transverse leaf springs were as soft as an American car's on the straight – the car riding perfectly over bad surfaces – while as it rolled into a corner, bump rubbers came into contact with the spring, shortened its effective length and so stiffened the suspension for maximum roadholding.
"Telescopic dampers braked the big suspension movements while friction dampers braked the little ones. The Cento-cinquant'otto and Cento-cinquanta nove (158 and 159) were superior to all competitors, and I am convinced would still have been winning if we had continued into 1952…"
when the brakes got hot the drums would go blue, and when I came back into the pits with blue brakes the mechanics would pull my leg
I asked contemporary works team driver Sanesi what the works Alfetta was like to drive. He said: "Beautifully balanced, a big steering wheel with low ratio making them light to handle even with fuel tanks full. The brakes were very good. They distinguished our cars from the rest. But the driving style which I copied from Wimille was to use the brakes very lightly, to be neat and smooth because hard braking meant slow lap times.
"And when the brakes got hot the drums would go blue, and when I came back into the pits with blue brakes the mechanics would pull my leg: there was always this combination between bad times and blue brakes, and a rev counter tell-tale over the limit too! The brakes and rev counter tell-tale were always the first things checked. With 8000 revs allowed and 8500 on the tell-tale as well as slow times, they would all make fun. They would never miss the opportunity!"
Sanesi's successor as Alfa's chief test driver was Guido Moroni, who had joined Alfa Romeo as a boy in 1938, ran in the 1950 Monte Carlo Rally, then co-drove with Fangio's Argentine protégé Onofre Marimón in the 1953 Mille Miglia. Into the 1980s he had often driven the Alfa Museum's surviving 159 "runner" and he backed up Sanesi completely: "It is a fine, vivid car, with much power. You have to be light and smooth on the throttle to get the best from it. The steering is lighter than you expect and the brakes good for their type. The gearchange is direct, not heavy — you drive the car and understand why it was so successful. We at Alfa Romeo really are so proud of it".