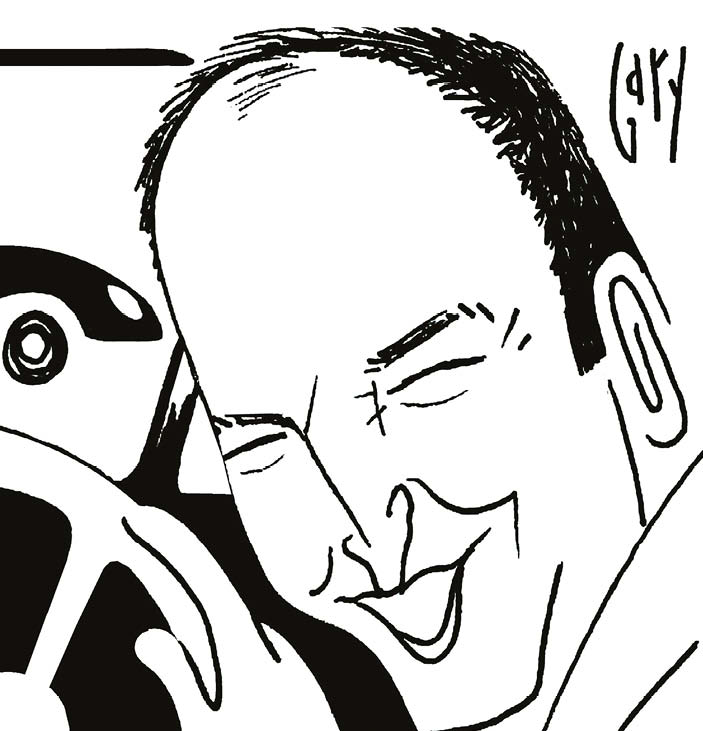 I note a change in tack from the team behind the renewed Bloodhound LSR Land Speed Record car, a project now in its 13th year and under new management for the last six months. The original aim of reaching 1000mph on land is now an aspiration, and very much dependent on testing and the attempt to raise the current Land Speed Record from 763mph. 'We should perhaps have been clearer about that at the time,' I was told.
Rather than regarding this as a potential scaling down of objectives, I'm actually heartened, as I am by the much increased flow of news from project HQ and the clear progress being made. As the car heads off to South Africa to test on jet power alone, before a 12-18 month refit to accommodate rocket power too, I sense a more pragmatic approach and the realisation that while the team may judge itself on what it feels capable of, sponsors will look rather more at what has been achieved so far, which in results terms are a few low speed (200mph) runs at Newquay airport in 2017.
The projections say the car can reach comfortably over 500mph just with its Rolls-Royce jet, and I am told that if everything goes perfectly, something 'beginning with a six' is possible. You might say that Craig Breedlove went past 600mph on land some 54 years ago, but if the team can demonstrate a car that's gone faster than any other since Thrust SSC penetrated the sound barrier in 1997 – even before its rocket is fitted – the credibility that ebbed away will return in a flash and hopefully, the sponsorship to go with it. Don't think that just because there's not going to be a record attempt in South Africa this summer that these runs are somehow unimportant. I'd say the future of the entire project rests upon them.
---
Just back from the Spa Six Hours where, alliteratively enough, the family Ford Falcon failed to finish once again. This time however we were spared the usual dramatics. In previous years it's been put out by a collapsed hub, an engine blowing up and a crash, and those were just the times when I've been on board. On one of the rare occasions it did finish, it caught fire before taking the flag. This year it was caused by a wire detaching itself from the alternator, running the car out of electrical power 20 minutes before the six hours had elapsed.
But it didn't matter at all. What mattered is that all three Frankels – two brothers and one son/nephew had a hoot at one of the world's greatest circuits and more wheel time than many get in a season of sprint racing. We will be back.
---
I returned from Spa to what looked like a small packing case on the doormat. As it happens, it turned out to be a book.
I'd known that the fourth and final edition of Karl Ludvigsen's Porsche history Excellence Was Expected was incoming for a while. But it still staggered me. For the last 15 years and as Karl knows well, I've been nicking facts out of the second edition as, I am sure, have most other journalists who write about matters Porsche. My edition extends to three volumes and 1582 pages. Until now it was the greatest single-marque history I have known. But the new one dwarfs it, extending to 2834 pages, four volumes and over 3000 photographs. It starts with the birth of the company in 1948 and continues up to the launch of the Taycan this year. Almost unbelievably, there are 30 chapters simply dedicated to the 911.
This is not a rollicking, page-turning bedtime read, but a serious reference work backed by in-depth interviews conducted over nearly half a century with those who were there at the time. And it comes with a serious price: £450.
---
A manufacturer has just announced a new, multi-billion Euro investment plan. It involves replacing an existing saloon, creating a new mid-sized SUV to go with the full-sized offering already in the market, a sports car, sports coupé and sports cabriolet. Petrol, petrol-electric and fully electric powertrains are promised. Care to guess this company? It's Maserati. I think it's fair to say its most recent turnaround has not hit its marks, so here's hoping this one does.
"I just don't think people dream of owning a Maserati any more"
But I worry for it and for two reasons. One, it seems incredibly ambitious and with Fiat Chrysler Automobile's track record of promising much and delivering not quite so much, that's a real concern. But my real worry is the brand. To me, Maserati is not a strong brand in the way Ferrari and Porsche are strong brands. Truth is, it has been over 60 years since a Maserati last won a grand prix. In the 30-plus years I've been doing this job, a Maserati must have won some comparison tests in magazines, but I don't recall seeing them. I just don't think people dream of owning a Maserati any more.
In itself this need not be a death sentence, but it does mean you're not going to get where you want to go just by following everyone else, which is what this plan appears to do. I'd place Jaguar in a similar position and the reason it can't make enough I-Paces right now is that it is its first car in goodness knows how long that chose to lead rather than follow.
---
A former editor of Motor Sport, Andrew splits his time between testing the latest road cars and racing (mostly) historic machinery
Follow Andrew on Twitter @Andrew_Frankel
---
digital extra