The hybrid era has not been a friend to either Red Bull or Honda, and their new partnership for this year represents something of a last-chance saloon for both. It's worked better than many had expected, with Max Verstappen's mid-season wins in Austria and Germany the first for the Japanese manufacturer since 2006.
But even in Austria there were rumours that Honda's continuation into the new formula from 2021 onwards could not be guaranteed. For the racing part of Honda campaigning the board to continue, that breakthrough win could not have come at a better time. Present that day in Spielberg had been Honda's automotive COO Seiji Kuraishi, a man said not to be in favour of the programme. In a presentation last year, he said, "One of our goals is to make Honda a company that society wants to exist. In order to achieve this we have formulated the 2030 vision to provide new value unique to Honda. One of the keys to achieving this objective is reducing CO2 output." A petrol-burning formula, hybrid or not, might not resonate much with a company looking to move to electric and fuel cell technology.
But for the marketing arm and the racing and engineering staff, F1 success continues to carry weight. Mere F1 participation not so much. The only way Red Bull and the racing arm of Honda might sway the board and ensure the programme's continuation will be with further race victories.
Within that strategic background, the Japanese GP at Suzuka – Honda's very own track – assumed stratospheric importance. Working backwards from there had defined how the upgraded Spec 4 Honda engines would be introduced, with grid penalties in earlier races so as to be in peak condition at Suzuka. Along the way it was careful not to incur the penalties at Singapore, a track traditionally well-suited to Red Bull. Between Singapore and Suzuka came the Russian GP at Sochi where Verstappen took a further grid penalty so as to introduce another new Spec 4 motor into the engine pool.
The trick of the Spec 4 engine wasn't so much the motor itself, but the new Mobil fuel around which it had been developed. Only two evolutions per season of the original fuel are permitted and this was the last one. In this fuel flow-limited formula, the trade-off between a fuel's density (defining how much you can light-fuel the car) and energy content is a very tricky one – and this is where the laboratory magic is worked. The new fuel is said to contain a rare molecule that Mobil has monopolised the global stock of. Chemical engineering is where the exotic stuff in F1 is happening. Honda reckoned on a boost of around 50bhp – worth around 1sec per Suzuka lap – which if realised would bring it almost to power parity with Mercedes, though still off Ferrari.
As if the threat of Honda's future participation didn't bring pressure enough on Red Bull, there was also the matter of its star driver Verstappen
Mobil's David Tsurasaki said: "It's one of the biggest steps we've done since we partnered with Red Bull. And as engine technology matures, it's getting harder to adjust. This upgrade is something we have been working on for a long time. I think it is one of the better improvements for us. FIA regulation is fairly strictly limited. It must be a chemical that has been used in commercial fuels in the past and is still available. In that sense, it is not a brand new technology. But that material is something we have never used in Formula 1."
As if the threat of Honda's future participation didn't bring pressure enough on Red Bull, there was also the matter of its star driver Verstappen – in the driver market, the hottest of properties but, like Honda, only committed to the team until the end of 2020. From his perspective, he's five years into his F1 career and with only a handful of race wins to show for it. If he's to win the multiple championships he feels are within him, he needs to be convinced that Red Bull can provide the equipment to go up against Mercedes and Ferrari. Otherwise he may just as well join forces with one of them.
The Austria and Germany wins made it look as if the Red Bull-Honda combination was on that path. But latterly… Not so much. Max's father Jos was frank in his assessment to Dutch TV: "We've stood still while others made progress. That is hugely frustrating, but we depend on the team. In both engine and car, we lag behind a bit. Red Bull has had all year to close the gap but we haven't gotten closer. So why would they suddenly close the gap next year? I am really worried about that. We will talk to the team to see what can be done, but at the moment it's not good enough. Put Max in a good car and he will be there. The situation he is in is absolutely not his fault, which makes it even more difficult. The team needs to get it to work, otherwise next year will be lost as well. At the moment it doesn't look like we can fight for the championship next year either."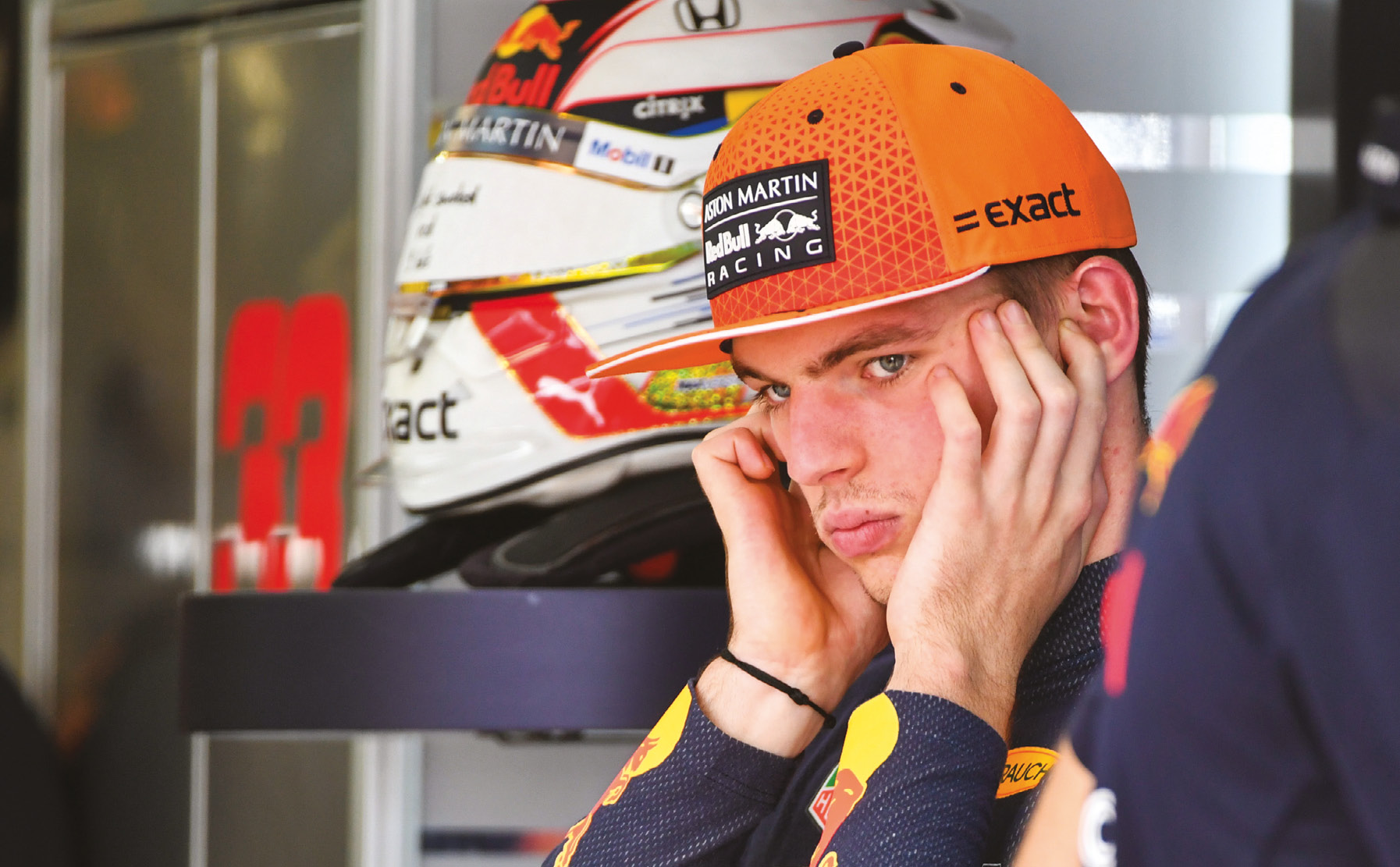 So that was the team backdrop to the crucial three-race sequence of Singapore, Russia and Japan. Singapore rewards downforce, chassis balance and driver ability. Perfect Red Bull territory. So it was an overwhelming disappointment that the car wasn't good there. The Ferrari – with its updated aero that has brought the centre of pressure forwards to finally give it a reasonable balance – was the thing to have. Key to it all was its ability to smother the many kerbs and bumps.
The Red Bull, by contrast, was bouncing horribly, Verstappen complaining on Friday that he couldn't even keep his feet properly on the pedals in some sections. The set-up had been devised around an incorrect understanding of the extent of the bumps and should really have been running higher downforce. Verstappen qualified fourth, 0.6sec adrift of Charles Leclerc's pole. As Ferrari enjoyed the luxury of a controversy over which of its drivers won – Sebastian Vettel having been inadvertently undercut ahead of Leclerc around the stops – Red Bull took advantage of a strategic error from Mercedes to leapfrog Verstappen past Lewis Hamilton for third. Worryingly, Kuraishi-san had not joined the team, as planned, in Singapore… He would, though, be in Suzuka.
In Sochi, even before Verstappen's (planned) five-place engine penalty, the Red Bull again lagged behind both Ferrari and Mercedes, with Verstappen qualifying fifth and racing to fourth. Ferrari had again been the class of the field but this time lost victory to the unfortunate timing of a virtual safety car that allowed Hamilton to make up over 10sec at his stop, leapfrogging Leclerc to the front. Ironically the VSC had been triggered by Vettel as he was instructed to park his car after an ERS-K failure. Valtteri Bottas and Leclerc completed the podium.
Typhoon Hagibis ensured that Suzuka qualifying was delayed until race morning (as has happened here before), but the post-storm reality didn't reveal any great news. Around Honda's home track, with the trick new Mobil fuel feeding the Spec 4 motor, in percentage terms Verstappen was further away from pole than he had been at either Singapore or Sochi, over 0.7sec adrift of Vettel. It got worse: within seconds of the start Verstappen had been assaulted by Leclerc, spinning the Red Bull onto the run-off with a heavily damaged floor. After running a few desolate slow laps near the back, he was retired as Bottas took an unopposed victory ahead of Vettel and Hamilton. There was a great bit of Red Bull damage limitation from the team's other driver Alex Albon, who first time at Suzuka had equalled Verstappen's qualifying lap to the thousandth and finished a solid fourth. A wonderful performance from a personal perspective, but maybe not the stuff that might rescue a programme.
Mercedes sealed its sixth consecutive World Constructors' Championship. The world yearns for a different outcome.
digital extra