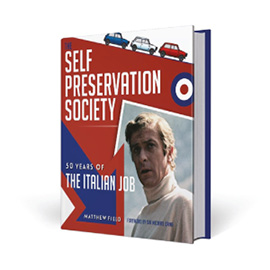 Self-Preservation Society. 50 Years of the Italian Job
Matthew Field, Published by Porter, £45
ISBN 978-1-907-085864
Just how much can you write on a 50-year-old film? This much, and all of it is fascinating. Is that just because I love The Italian Job film? Partly, but alongside that, this is an amazing bit of delving: over years Field has tracked down not just the main players but most of the crew, the supports, the car people, the scripts and locations, and he loads the book with first-hand memories of a minor project which became a classic. (Naturally we'll ignore the remake, even though Field dutifully discusses it.)
In among terrific location photos of cast, cars and extras, Field drops in script pages, call sheets and personal notes that provide a generous picture of the complexity of getting a film green-lit, cast, designed and under way. What's remarkable to find is that scriptwriter Troy Kennedy Martin actually wrote a rather dark heist story, with serious violence, but producer Michael Deeley and maverick director Peter Collinson sent it in a different direction – lighter, more comic, picking up the zeitgeist of swinging London. What remained, according to Martin's own words, was a Eurosceptic slant – the cocky Brits outwitting the Mafia and the Italian police – because at the time the Common Market was a major topic…
Yet it took a powerful Italian to make it happen: Fiat boss Gianni Agnelli. Martin got to see him, persuaded him it was good PR for Turin, and Agnelli said yes – which meant the authorities couldn't say no. According to Michael Caine, "the centre of Turin was handed over to us". Even then they took liberties: that monster traffic jam wasn't all faked. They actually blocked piazza exits to trap rush-hour traffic, the cameras hidden to avoid a lynching. Another near-riot came when filming the climactic teetering coach and holiday-making locals wanted to use the road. Reading the book makes you realise how astonishing it is that the film came off – they really did slide the coach sideways, they really did make the rooftop jump, and they really didn't warn that triangular museum they were going to drive up its roof.
Though some of the key players are now dead, Field's 20 years of digging means that they too have had their say – elements they disliked, scenes that were cut, the riotous fun they had. Maps of Turin with locations marked mean devotees can go and gaze. There seems nothing that Field, described here as "the world's leading authority", hasn't discovered, yet it's not anorak-y, it's both entertaining and handsomely designed. Thumbs up.
---
Land Rover Design: 70 years of Success
Nick Hull, Published by Veloce, £50
ISBN 978-1-845849-87-0
For 70 years Land Rovers and Range Rovers have displayed a strong and distinctive visual character. Written by a design commentator who's been at the coal face, this highly informed and heartily illustrated critique traces that lineage, and how those flat sides of the first unstyled 1948 LR morphed into Range Rover, Discovery and now all the chunky niche fillers that tempt buyers from their previous saloons.
For an outsider there's an awful lot about who did what, where and when, but the development tales from sketch to model to full-size clay are absorbing, especially the cancelled projects – shame the Tonka-toy SD5 mini Range Rover didn't happen. GC
---
The Great British Rally, RAC to Rally GB – The Complete Story
Graham Robson & Martin Holmes, Published by Veloce, £35
ISBN 978-1-787113-68-8
Wales Rally GB 2019 represented the 75th running of Britain's premier rally, so this book is a timely release.
The authors know a thing or two about the event in all its forms – RAC Rally, Rally GB, Wales Rally GB. Robson is a motoring historian while Holmes was a co-driver for outfits like Ford, Renault, Toyota and more.
This book charts the history and development of Rally GB – from the first official running – it began as a tourism race down to Torquay in 1932 – to the introduction of tests, and latterly the special stages we know.
All eras of the sport are looked at, from pre-war chuggers to fire-spitting Group B cars and the current fastest-ever WRC machines. It gives a good account of how the rally helped the economy in the early days and boosted national morale at a key time. Results for each running are included, as is a swathe of nice imagery to accompany each period – usually showing something sideways, the way rally cars should be. RL