Ford v Ferrari: Stunt Driving
The storyline of Le Mans '66 – the 20th Century Fox film about Carroll Shelby leading the Ford factory team to a podium-packing victory in the 1966 Le Mans 24 Hours – had been kicking around Hollywood for some time. Fox had bought the rights to the A J Baime book Go Like Hell. But the movie now released is instead a new take on the true story, developed by director James Mangold, and scripted by Jez Butterworth, John-Henry Butterworth and Jason Keller.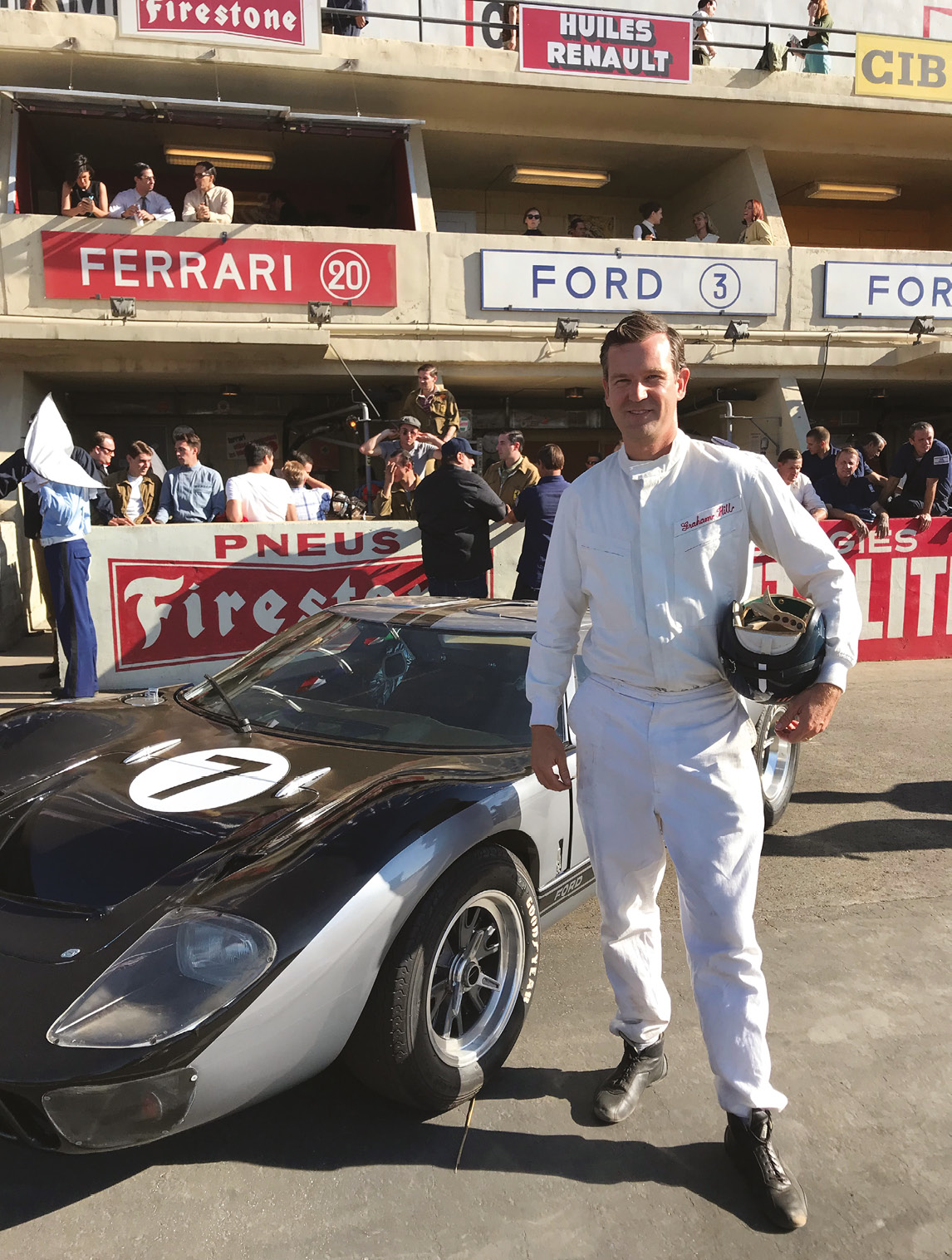 Mangold finally began shooting the movie on July 30 last year, and the process went on for 67 days, with units working in California, New Orleans, Atlanta, Savannah and Statesboro, Georgia, as well as at
Le Mans itself.
When I first got the call inviting me to become involved, there were just a couple of months to go before filming began. My introduction came through stunt co-ordinator, Robert Nagle, a former racer turned movie industry stunt man. As a fan of the period and of motor racing in general he'd had this story on his radar for many years. Now I was engaged simply as one of his stunt driver team.
Even though my father wasn't in the 1966 Ford team, he'd been with them for the preceding two years when the team was run by John Wyer. For 1966 he'd joined Chaparral and it was probably too esoteric, and inessential to the plot, for the movie to feature my old man as a driver, although he gets one or two mentions in the story line.
In contrast, Alex Gurney (Dan's son) and Jeff Bucknum (Ronnie's son) both have their fathers featured. Alex had a couple of lines in the movie, playing Dan, so he was considered 'an actor'. Jeff, whose father co-drove the third-place car, was ever vigilant to see his father was fairly depicted.
My first engagement with the production came at Willow Springs Raceway, in the high desert about 90 minutes north of Los Angeles. I arrived to find an absolute army of studio trucks, trailers, 1960s cars – some genuine, some lookalike – and just hundreds of extras all dressed in period-correct clothing.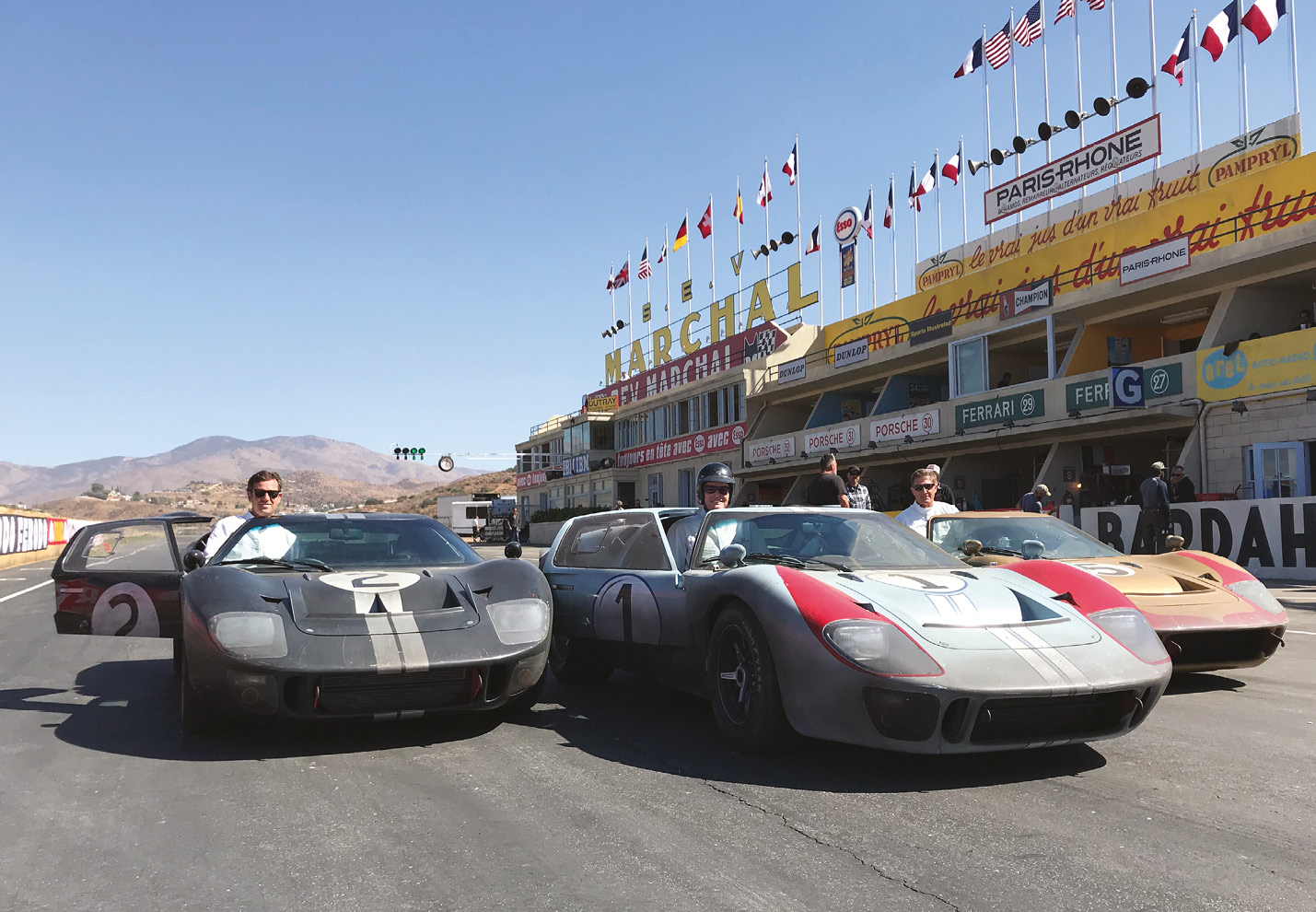 I found they actually had more cars than drivers, but the first thing that struck me was the art department's incredible attention to the finest visual detail.
What they were shooting at Willow Springs was an early part of the story – a kind of nondescript early-60s SCCA race from the time when Ken Miles and Shelby's other team drivers were just beginning to make the new Cobra's mark. The storyline was that a Chevrolet Corvette was leading the race – as they did in the day – only for Ken Miles' Cobra to streak by on the last lap, and win. I was driving a Corvette, Alex in another as Dan, but Ken Miles in the Cobra streaked by on the last lap – as scripted. It was an interesting day, high action that I thought was tastefully done. I was pretty impressed, not least with the care put into briefing us before the shoot.
They had a great custom-made chase car, festooned with cameras. Called the 'Frankenstein', it was essentially a stock-car racer-looking rig, built low to the ground, with a frame built around it to get heavy cameras quickly around corners and with enough acceleration to move the heavy equipment. We were briefed to exaggerate facial expressions, and our hand movements. We didn't always get it right, so they'd shoot again. We ended up spending maybe 10 days at Willow Springs. It was mid-August, every day over 100 degrees. They kept us supplied with ice packs for our cooled driving suits. Almost every need was met. Nothing seemed too much trouble.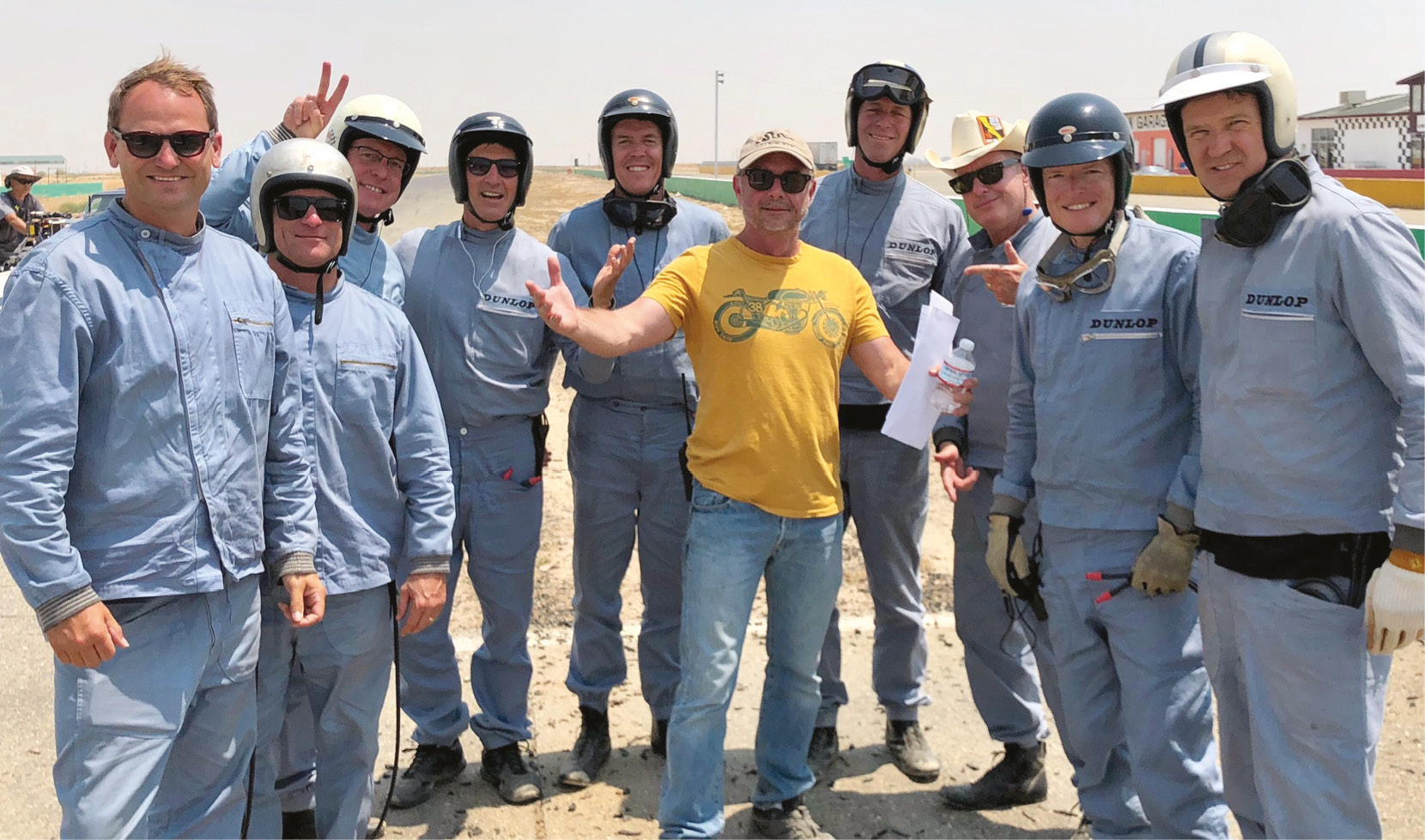 That first day of filming was an eye-opening experience – weird but exciting. I was part of a new team getting together for the first time. The most eye-catching of all are the customised vehicles that are covered with cameras and allow a car or a shell of a car to be driven around while an actor is inside, well… acting.
The driver/operator sits way out back and up high. Along with about a dozen other stunt drivers, Robert, our co-ordinator, had us gathered around a table with a bunch of Matchbox cars to strategise our next sequence, carefully choreographing our individual maneuvers to make the racing look as realistic and as action-packed as possible. I knew a lot of the other stunt guys and each brought a wealth of driving talent, so just about any idea thrown out there, the team would be on board.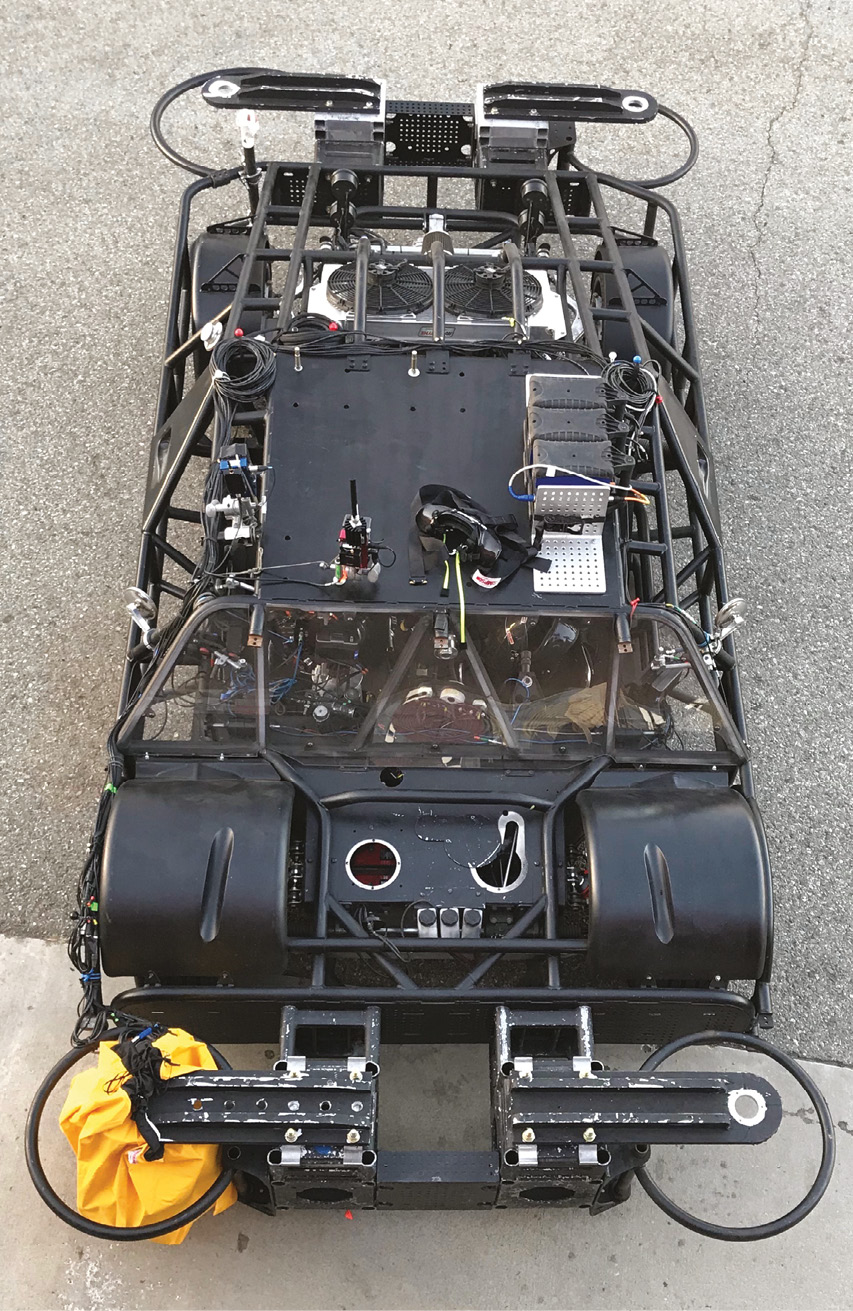 I guess I did OK because they then asked me to go to Georgia, where they were shooting 'Mulsanne Straight' footage on location. They'd found a long straight through the pine trees outside Statesborough in Georgia. I'd guess it was made more attractive by some local tax support.
Having missed the first few days while finishing up my MC duties for the Pebble Beach Concours d'Elegance, I arrived in Georgia the following Monday – straight into an all-night shoot. Taking the better part of the dark hours, we shot a sequence showing a Ford GT going wide – at 'Arnage' – while avoiding a Ferrari P3 that had spun out.
The GT40, driven by Jeremy Fry (lead stunt driver on Baby Driver) kicked the tail out coming around Arnage and crashed into hay bales, climbing right up them and tearing off again in anger. I was put on flagman duty to act as the corner marshal alerting the oncoming race cars.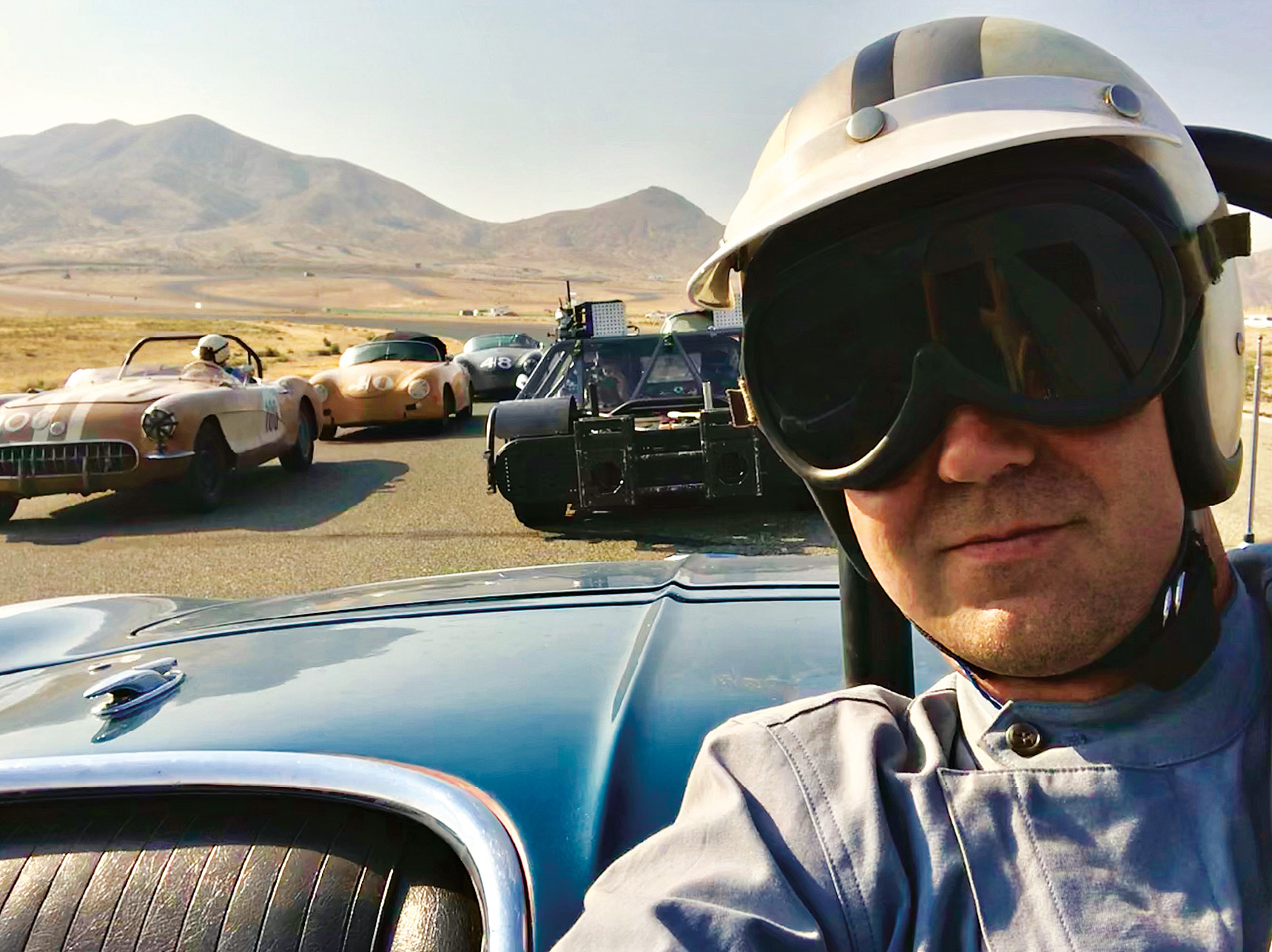 As always, each such scene was carefully choreographed, analysed for all the ways to make it right and to double-double-check what could go wrong. After a few rehearsals, the tension builds up, then action is called. The maneuver was pulled off expertly and much to the delight of the film-making team. After a few more days getting all the Mulsanne sequences we were off to the next location, an hour down the road.
At Hutchinson Island Raceway outside Savannah, where I'd won a race back around '97, the unit took it over and dressed it with period 1966 Le Mans advertising to look the part. We spent about three weeks there shooting all kinds of stuff, night, day, dusk, dawn, rain, dry… and shifting straw bales around to relieve the waiting. There was even a reproduction of the little house and garden that back then was on the inside of White House corner.
Then to Road Atlanta – using mainly the back straight and a couple of corners. I spent most of the time in a GT40 lookalike. They had a big articulated truck with a pneumatic cannon, on which they loaded a Ferrari 275GTB shell mounted on a rolling simplified tube-frame chassis. They lined it all up, there was a big safety briefing – one of dozens! – and they fired it. I think they got through two 275GTB shells; after wadding-up a test car, the two 'Ferraris' went live.
My instruction was to "do what you do in a race to avoid an accident…". OK, right
As our stunt coordinator lined up the cars for a crash sequence, it turned out I would be the first GT40 to deal with the chaos unfolding ahead. The fibreglass shell 'GTB' would launch at a range of about 60 yards and would land just ahead of me on the track where I'd be arriving at a fair clip with a couple of Ferrari P3s on my tail. My instruction was to "do what you do in a race to avoid an accident…". OK, right.
On our first take, with a giant BOOM from the cannon, the Ferrari shell launched and did a full forward rotation to land on its roof, hitting two strategically placed crash cameras which took off like two giant cubes bouncing along the track in front. The lunar-lander look-alike 'Frankenstein' camera car came rushing up on the action as we dodged and weaved through the debris field. The launch car from the cannon hit the grass and ricocheted across my bow just as the camera car flashed by for the wide shot. I aimed for the inside verge, at the last instant gunned the throttle and spun, but flashed through between the 'Ferrari' and the camera car, which got well and truly T-boned.
The second unit director, Darrin Prescott, came up to us after, thrilled to bits, as the scene unfolded with unexpected extra drama. They wanted us just to go for it… but always in a very well briefed, well considered and controlled environment. The truth was that with real cars, real speed, it felt like the real deal… which brought a real thrill to it all.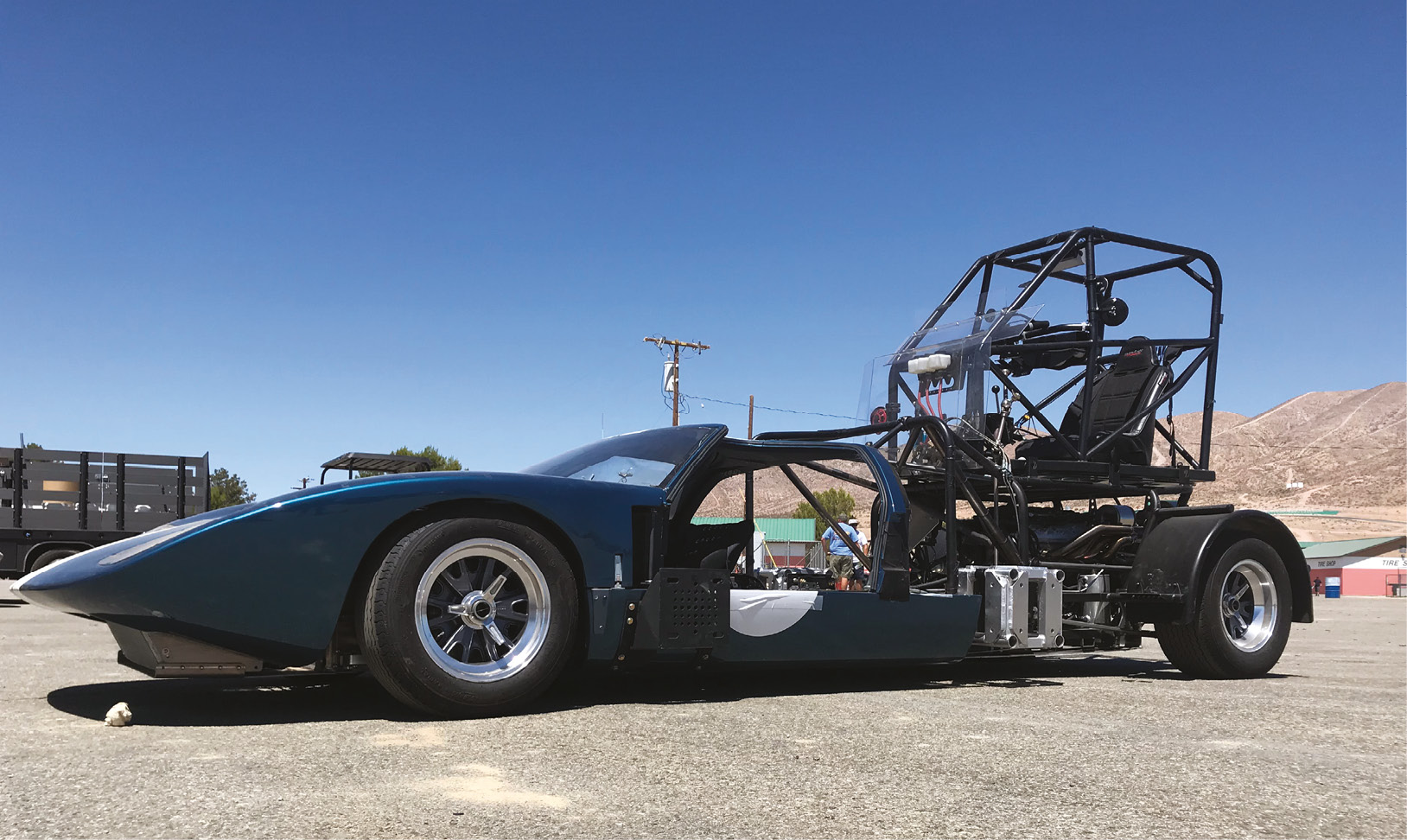 Back in California, meanwhile, they'd built a fantastic – and I do mean FANTASTIC – reproduction of the 1966 Le Mans pits on a section of the private Agua Dulce Airport, near Palmdale, again 90-odd minutes from LA. I was blown away by the art department's detailing there – authentic window frames, doors, light fittings – even the media centre. It seemed incredible to me they could take such care – then just tear it all down.
Much of the movie narrative was shot by the first unit there, while we just drove by as background – eight or a dozen of us, in Fords, Ferraris, Porsche 906s, 911s… pits to the right, big blue screens to the left – hiding the rest of the airport. They would later 'block in' the grandstands and crowds by CGI there – modern movie magic. But that pit row was something else… amazing. They meanwhile shot the supposed Shelby factory in a hangar at another nearby airport.
Before every shot there was a safety meeting. Everyone involved in a scene would be told what was required and what to expect, all led by Prescott and Nagle. The standing order was "Speak up if anything doesn't sound right". They had rain cranes showering the course during many of the night scenes being shot in the pit lane, which gave us all a bit of a thrill of aquaplaning down a runway. 
I really enjoyed driving the lookalike GT40s, not least because I could fit into them, while in the lookalike Ferrari P3s and Porsches I was really too scrunched up. We didn't have much contact with the movie's stars – Matt Damon as Carroll Shelby and Christian Bale as Ken Miles – but Bale proved a decent driver and drove some scenes himself.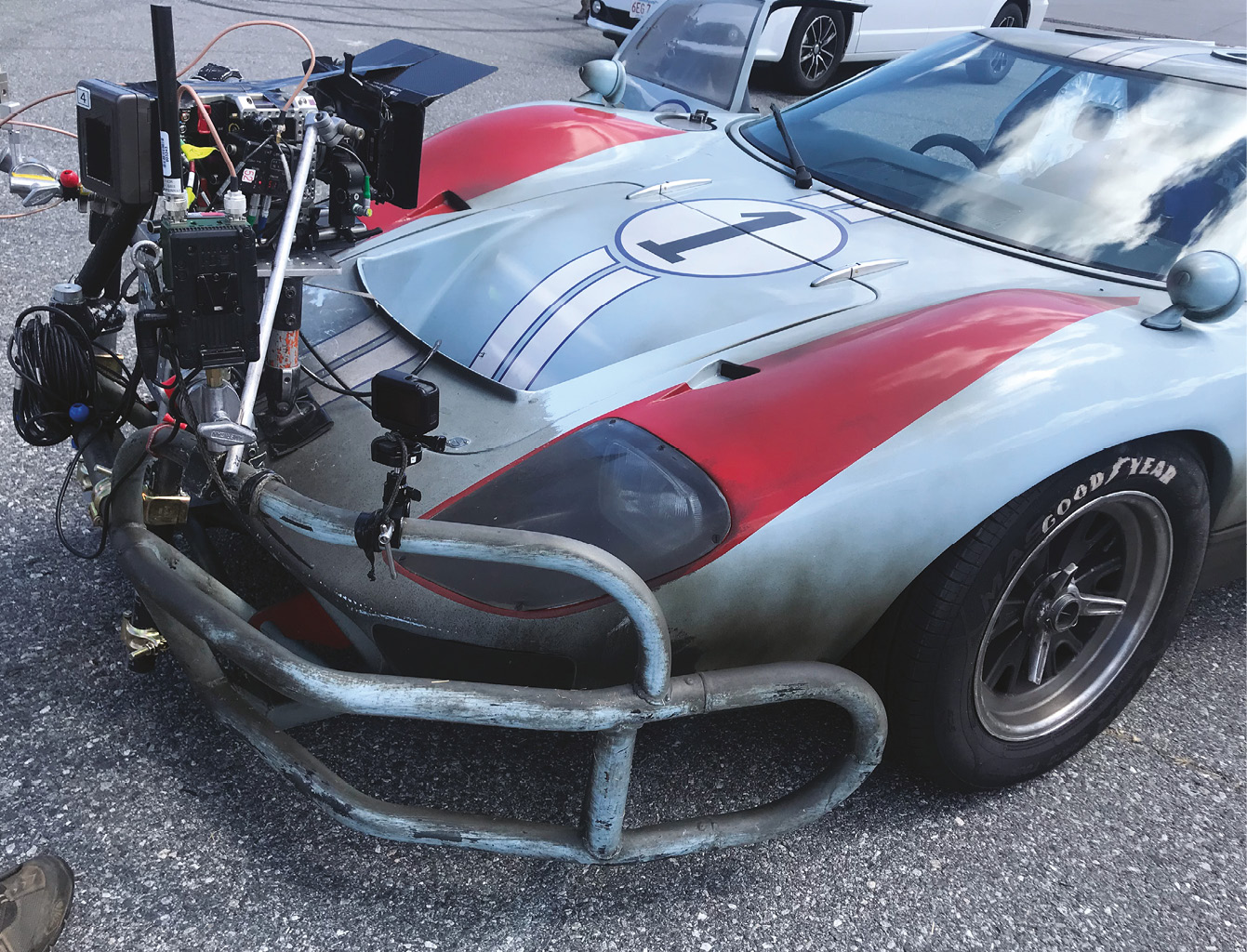 What will I remember most – apart from the Road Atlanta moment – was shooting the Le Mans start, over and over. They dressed me as Graham Hill, with London Rowing Club helmet colours… and I insisted on the moustache. Every detail had to be right – we'd sprint across as the flag fell, the mechanics cheering us on. And I stood there, and they called 'Action' – and for a moment – in front of that huge, fantastic, pit row you could hear a pin drop.
This is what my Dad had always preferred to avoid – the pressure of the Le Mans start. But he'd been there in 1966 driving for Chaparral – and for me, Le Mans '66 suddenly felt real…
---
digital extra