Road car buying guide: Mercedes CLK DTM AMG
When DTM domination culminated in a limited-edition road racer, AMG went the whole hog with the Mercedes CLK
Remember when celebration special editions were a thing? Makers who scored big on track endeavoured to release limited runs to tie-in with their sporting achievements. How many can you name? How about the Renault Clio Williams, the Richard Burns-inspired Subaru Impreza RB320 and the Tommi Makinen Mitsubishi Lancer Evo VI for starters?
One you may not know much about is the Mercedes CLK DTM AMG. When Bernd Schneider crossed the line in sixth place at Hockenheim in 2003, giving him just enough points to claim the DTM title, little did he know what was to come. In fact, the year was so good for Mercedes-AMG – its teams finishing one-two in the championship and sharing all but one of the 10 race wins between them – that the manufacturer felt it needed to do something to celebrate, to showcase this newfound dominance. Something wild.
Launched to little fanfare in 2004, this super-modified version of the CLK sports coupé will surely go down in history as one of AMG's finest and rarest creations.
Only 100 were made, with just 40 of them being right-hand drive. And you couldn't simply wander into a showroom and order one yourself. No, you had to be invited to own one, Ferrari-style.
It's not as if they were cheap, costing a whopping £180,000, about five times what you'd fork out for the standard car. So what made it special? Well, almost everything.
The clue lies in those DTM letters, Deutsche Tourenwagen Masters. AMG was essentially given free rein to develop this beast, and took all of its sporting know-how to create a crazy racer for the road.
Starting with a standard CLK chassis, most of the interior was ripped out. The back seats went, replaced by a carbon-fibre well with chassis braces and carbon-fibre dash and door cards, along with racing harnesses installed instead of seatbelts.
Then AMG designed a wide-arch kit that mimicked that of the DTM CLK race cars as closely as could be road legal, featuring the distinctive flared front arches running right the way down the side-skirts to the large air intakes just before the rear wheels.
It wasn't cheap, so what made it special? Well, almost everything
As for most of the standard body panels which did remain, AMG recreated them from carbon fibre to trim weight, installed a huge rear wing developed from the DTM cars, and redesigned the suspension using adjustable springs/shocks with stiffer bushes. Larger brakes went on, as well as a bespoke electronic stability control system, and then AMG turned its attention to the engine bay.
In the DTM, AMG had been restricted to engines of up to four litres that produced less than 500bhp. But for this project, there were no such rules , so AMG pulled out the stops. In went a 5.4-litre supercharged V8, capable of creating a mammoth 582bhp and 590lb ft of torque, with all the power heading to the rear wheels through a five- speed semi-automatic gearbox and a limited-slip differential.
The numbers were startling: 0-62mph in 3.9sec – almost half a second faster than Ferrari's flagship 575 Maranello, and less than three-tenths slower than its Enzo hypercar – and on to a limited top speed of just under 200mph, which was deemed a sensible figure by Mercedes.
Not bad for something that weighed 1748kg. That's quite a transformation for what started life as an executive coupé, designed to ferry businessmen from one end of the autobahn to the other as comfortably as their expense accounts could muster.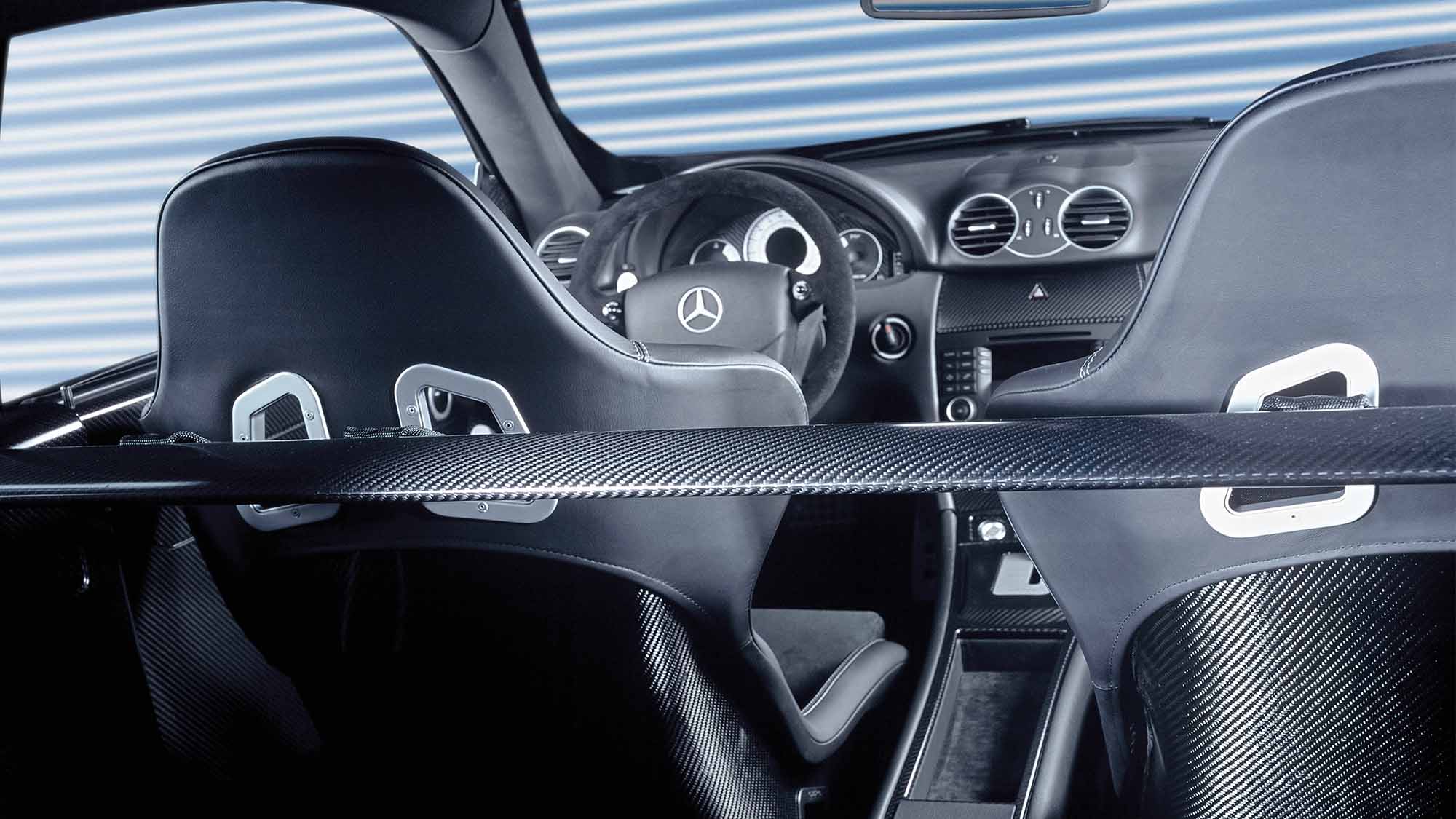 It's no surprise that the DTM variant attracted a different clientele, mainly racing drivers. Kimi Räikkönen bought one, as did Jenson Button and (now double Indy 500 winner) Takuma Sato. It sold out in minutes and prompted Mercedes-AMG to go one better by releasing an even more limited run of 80 drop-tops for 2005. Juan Pablo Montoya and Mika Häkkinen both fancied one.
While all of the cars were intended for the European market, a few found their way across the Atlantic where they lie in the hands of private collectors, most with tiny mileage. Some crop up for sale now and then.
The CLK DTM AMG remains one of the rarest AMG models, and prices have begun to climb meaning it's a great investment opportunity. If you can find one.
Mercedes CLK DTM AMG
Price new £180,000
Price now £240,000-£400,000
Engine 5.4-litre supercharged V8
Rivals BMW E46 M3 GTR, MG XPower SV, Nissan Skyline R34 Z-Tune
Verdict One of the last of a truly bonkers breed. Bring back sporting specials, we say