Jo Ramirez: The Motor Sport Interview
With an F1 career spanning more than 40 years, this master of the pitlane has rubbed shoulders with such greats as Dan Gurney, Ken Tyrrell and Ron Dennis. Not bad for a university drop out...
Anyone who has been to the Mexican Grand Prix or the Carrera Panamericana will have been infused with the nation's passion for motor racing. Former McLaren International team co-ordinator Joaquin 'Jo' Ramirez dropped out of university in Mexico City to follow his friend Ricardo Rodriguez to Europe, starting as an apprentice mechanic at Scuderia Ferrari in 1962. When Rodriguez was killed at the Mexican Grand Prix, Jo moved to Maserati, and Lamborghini, coming to England in 1964 to work on the Ford GT40 project before joining Dan Gurney's All American Racers team as Dan's mechanic on the Eagle-Weslake.
During the 1960s and '70s he went on to work with Ken Tyrrell, John Wyer, Shadow, ATS, Theodore and the Fittipaldi brothers at Copersucar before joining McLaren in 1984. After 40 years in the pitlane he retired in 2001 having managed, and refereed, Alain Prost, Ayrton Senna, Mika Häkkinen and David Coulthard through some of Formula 1's fiercest rivalries.
From his hilltop home near Malaga he tells us about life alongside some of the greatest names in the sport.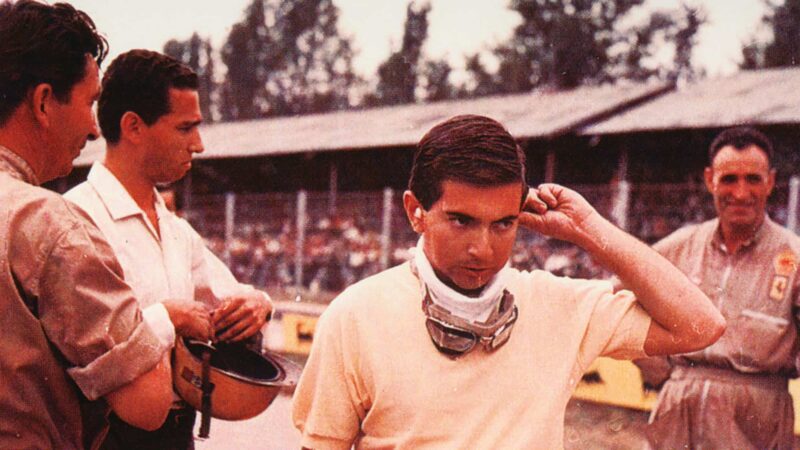 Motor Sport: Your first job in Europe was with Ferrari, a dream come true. Was this always the plan when you left home in Mexico City?
JR: "There was no plan, exactly, but Ricardo [Rodriguez] and I were close friends, we raced karts together, and when he signed for Ferrari in 1962 he knew how keen I was to get to Europe and said he would introduce me to Ferrari. Well, I couldn't afford a flight to Italy but a friend of mine in the government got me a ticket as far as New York, where I bought the cheapest ticket I could find to get across the Atlantic in tourist class on the Queen Elizabeth. I shared a cabin with an Australian guy and we used to gatecrash the parties in first class. We had so much fun, a fantastic experience.
"From England I hitch-hiked down to Sicily for the Targa Florio where I was to meet up with Ricardo. He introduced me to Eugenio Dragoni and Mauro Forghieri and the rest was up to me. Mauro and I got on very well, he was my mentor in those early days, we are still friends. He and Dragoni, they liked my enthusiasm, so they said if I could get to the races they'd pay my hotel and food so that's how I started. I became friends with Giancarlo Baghetti and Lorenzo Bandini, travelled to the races in Giancarlo's Ferrari, and then at the track I was given all the shitty jobs, making the coffee, things like that, but I was in my element. It was a fantastic time, learning Italian, and gradually getting closer to the cars."
The 1962 season was a terrible time for Ferrari, not a single victory and sixth in the Constructors'. What was going on?
JR: "There were big problems in Italy, a lot of strikes that affected all the Italian teams so they hadn't developed the car at all from the previous year when Phil Hill won the Championship. A lot of the engineers had left or been fired at the end of '61, the team was in disarray and the cars were withdrawn from the last two races. The car was never competitive but Ricardo was fourth in Belgium, the youngest ever driver to score points, a record that stood for 38 years.
"Of course he wanted to race in Mexico, and he got a drive with Rob Walker in the Lotus-Climax, but he was killed in practice which was just such a tragedy, a terrible end to a bad year.
"I'd been listening to The Archers to learn some phrases"
I wasn't there, I couldn't afford the flight to Mexico. I was devastated, not sure I wanted to stay in the sport, but I'd met Juan Manuel Fangio and he said he would introduce me to Maserati. He was such a wonderful person. Back in Modena he'd already left but he had sent me a note which he said I should take to Giulio Alfieri at Maserati. You can imagine, a recommendation from Fangio… and this led to me going to Rome, getting a work permit, and my first paid job with Maserati. My boss there was Giampaolo Dallara, my second mentor, so I had a great year with the sports cars. My first love was the racing but Ferruccio Lamborghini came to me and persuaded me to work on his new road cars. I wasn't sure but he promised that after one year they would go racing to help sell the cars. I was his sixth employee, involved in every single part of the cars, a fantastic experience, and we did a lot of testing, driving those cars around Italy. It was clear to me they weren't going to go racing so I packed my bags into my Fiat 500 and headed for England."
Another new start, a new challenge, so how did you get yourself back into racing?
JR: "I'd sent letters to all the teams and I went to see John Horsman and John Wyer at Ford Advanced Vehicles where they were working on the GT40 to go to Le Mans and beat Ferrari. My English was almost non-existent, I'd been listening to The Archers to learn some phrases, but they gave me a job and that's how I got together with Dan Gurney. He liked Mexican food, we got on very well, and so in 1966 I joined his All American Racers F1 team. After a year with the Climax engine we got the V12 Weslake and we won the Race of Champions and of course the Belgian Grand Prix. Now we had the power but lots of little things were breaking and at the Nürburgring a driveshaft broke when we should have won that one.
Dan was very creative, he changed little things all the time, went a bit quicker to show us he was right, then went back to the old set-up… but we loved him. He treated us all so well and he was a very good driver. I went to America with him, racing Can-Am and IndyCar, a great experience and I earnt enough money in two years to come back to England and buy a house.
"It was perfect timing because John Wyer asked me to join the Gulf Porsche team. Those cars were incredible. I used to drive the 917 from our hotel to the track at Le Mans and I realised the drivers really deserved what they got paid to race that car. They were something else, so powerful. It was my first job with sports cars, working on cars with doors, lights and lots of bodywork but I loved the pitstops. So many times we won because of our work in the pits.
At Daytona in 1971 Jackie Oliver came in stuck in fifth gear and we completely rebuilt the gearbox in one hour. Then Pedro Rodriguez took over in the rain and they won the race. Pedro was fantastic in sports cars, incredibly quick in the wet. Next day the headline in the local paper was 'Mechanics save the win for Wyer'."
You went back to Formula 1 with Tyrrell. What was it like working for Ken at the height of the team's success?
JR: "I will always be grateful for that opportunity, to work with such a great team, with a man like Ken who was very direct, a man who did not suffer fools, who knew exactly what he wanted from us. When I first arrived I couldn't believe what I saw, just a couple of Portakabins and a shed where we built the cars.
"Ken Tyrrell was very direct and did not suffer fools"
"It was a family team, just 25 of us and six of us went to the races along with Ken and Norah, amazing. There was such great harmony, we all stayed in the same hotel, we ate together and Ken was a wonderful raconteur with great stories. He was also a tough character. We'd joke about his 'froth jobs' when he'd get very excited, foam coming out of his mouth, but he was a great boss which is why people stayed with him. Jackie Stewart had good offers from Ferrari but he stayed with Tyrrell where there were no politics and everyone pulling together.
"The American Grand Prix at Watkins Glen in 1973 was just a terrible time, a horrible memory. François Cevert was killed in practice, suddenly there was silence, all the cars stopped. I ran to a service car going to the accident. Jody Scheckter stopped me, said, 'Don't go, there's nothing you can do, don't go.' I was François' mechanic so when they took his car to a local garage I went there and I was sick, the blackest day of my life, but people who saw the crash said nothing had broken on the car. Nobody knew that Jackie Stewart was going to retire and Ken was sorry he'd never told François he would be team leader the following year. It was to be Jackie's last race, he'd won the Championship, but Ken withdrew the car. I remember strapping Jackie into his car in practice that weekend and he said to me, 'Jo, do you mind if I keep this steering wheel?' And I thought, 'That's strange, maybe he is going to retire.'"
After all these years as mechanic you got your first team manager's job at Fittipaldi. Was it a tough decision to leave Tyrrell?
JR: "Ken was very supportive. He said I must take this opportunity but there would always be a job for me at Tyrrell if it didn't work out. Well, the team was not successful, but I learnt a lot about what it takes to be a team manager, about how to conduct a team. The learning curve was steep. The Fittipaldi brothers had a lot of money from Copersucar but working in Brazil was so difficult, having to import everything from Europe, parts for the cars left in customs for weeks, and the Brazilian government was no help at all even though we were building a Brazilian F1 car. Then there was a big fight between Emerson and Wilson. A lot of money was spent, it was sad."
It might appear that moving to Shadow, working with Don Nichols, was a leap from the frying pan into the fire?
JR: "No, not really. It was a challenge because I had to build the team virtually from scratch. It may have seemed that Don Nichols was a mysterious figure, and in some ways he was, but he needed me to preserve the team after Arrows copied his cars. It was amazing, the drawings of the two cars were almost identical and Don wanted to fight them in court while we rebuilt the team. It was Christmas, six weeks before the first race, and we had one mechanic, some engines, a chassis, the ladies who did the accounts, and that was it. So, we had to find two drivers, more mechanics and build the cars, the DN8 that Tony Southgate had designed. We signed Clay Regazzoni and Hans Stuck in '78. Somehow we got the cars to Argentina in the second week of January and then two weeks later Clay was fifth in Brazil which was amazing. At the end of '79, with Elio de Angelis and Jan Lammers, we beat ATS in the Constructors' Championship by one point at the last race in America. Elio finished fourth ahead of Hans Stuck in fifth after I'd put qualifying tyres on the front of his car for extra grip for the last few laps. The guys thought this was mad – but it worked."
That's ironic because you went to ATS, and then to Theodore.
JR: "Yes, I know, I think Gunter Schmid was impressed when we beat ATS in America. Anyway he hired me and he was not always easy to work with, a little bit crazy. When I started as team manager Schmid hadn't told Vic Elford, who'd run the team, that I was coming. It was so embarrassing – Vic and I were friends. Schmid was a good businessman but racing is different from normal business. At Long Beach there was me, two mechanics, two spare wheels, a box of spares and Schmid. That was the team. Goodyear said to me, 'You have four sets of qualifiers,' and I said, 'But we don't have enough wheels.' Crazy. Anyway, Jan Lammers had fantastic car control, the best I'd seen, and he qualified fourth, incredible, and then a driveshaft broke on the first lap of the race.
"Two years was enough and Teddy Yip wanted me to run his Theodore team. It was a good offer, I liked him, we were treated like royalty in Macau where he and Stanley Ho were the kings. Teddy was always on the phone, moving money here, there and everywhere, and he was competitive, loved his racing. He would come to me in the paddock, hand me a plastic bag full of money, one time it was $50,000, and say, 'You need this for the team.' We had fun, scored some points, had some good times, and then Ron Dennis started calling me and I went to McLaren for 1984."
You stayed for 16 years, managing Prost and Senna at the height of their rivalry. Was McLaren the ultimate ambition?
JR: "Not really, I turned the offer down the first time he called, but Ron is very persuasive. I'd known him for a long time, knew what to expect. Alain Prost came to McLaren in '84, alongside Lauda who pipped him to the Championship by half a point. We never had a number one or number two driver but Alain made the team his own, winning the title in '85 and '86.
"So when Ayrton Senna came in '88 Alain was already twice a champion and at first he welcomed Ayrton, accepted him with open arms. We won 15 races, total supremacy, it was incredible, but Alain had accused Ayrton of dangerous driving in Portugal, said if that was how Ayrton wanted to win a Championship he could keep it. Then in '89, it started to get really bad. Alain was struggling to match Ayrton in qualifying, and it was like two teams inside McLaren after it really erupted at Imola when Alain accused Ayrton of ignoring an agreement they'd made about who would win if they got away in the lead. I don't think they ever recovered from that and of course there were the collisions in Japan and managing that situation was very challenging. Alain won the Championship in '89 but went to Ferrari at the end of the year. Ayrton had this amazing aura around him – when he walked into a room, the room changed, and he was really the first of a new generation of drivers to work so hard, so intensely, on getting the best performance from the car.
He was so focused, he wanted to win at any cost. I never saw the same absolute will to win in another driver. He would spend hours with the engineers, late into the night, and he had formed a very close relationship with Honda. There was talk of him getting the best engine.
"Alain was not used to working so many hours. He liked time for a round of golf, so the way Ayrton applied himself took him by surprise. In the end he would stay late in case he missed anything Ayrton was doing. Everyone talks about Ayrton, even now, but Alain deserves as much adulation. He was a talented driver. He was maybe too soft to be a successful team owner, not tough enough, and I was surprised he did not have more success. Great drivers don't always make good team owners. Ron was an excellent team boss but he wasn't a good driver!"
Team co-ordinator at McLaren was your toughest challenge. What was it like working for Ron Dennis?
JR: "He was such a huge personality in our sport. He saw how Formula 1 was going to develop, and he was a very important part of our success at McLaren. The early partnership with John Barnard was a very clever move. Barnard was the best at the time. My office was next to Ron's and they used to have unbelievable arguments. The walls were almost shaking, but they respected each other. They were the best at what they did. During the races only the engineers and Ron were able to speak to the drivers and some of them were nervous about making decisions. They'd wait for Ron to react, to make those split-second decisions. I don't know why because I have to say Ron was very good to me. If you did your job well, one of the best bosses I ever had.
"We have lost some of the romance and the creativity, the innovation"
"We never had a contract until Ron found out that I'd had an offer from Ferrari. He asked me, 'What were you doing in Maranello?' I don't know how he found out. He said, 'OK, if Ferrari call you, you have to go and see them, but give me a chance before you sign anything.' I said I didn't need a contract but we signed one after that. At the end he gave me the most unbelievable leaving party at Indianapolis in 2001, it was fantastic. Ron looked after his employees, was very generous in that way. Not everyone knows that about him. When he left, McLaren lost a lot of good people and it's taken them a long time to return to where they are today."
What is your view of the sport that was your whole life for so many years? Are you optimistic for the future of Formula 1?
JR: "We have lost some of the romance and the creativity, the innovation. There is no room for the Chapmans, the Barnards and the Murrays of this world but of course the safety has improved dramatically.
"I don't like the use of so many penalties. They often don't match the 'offence'. I mean, this is motor racing, there will always be racing incidents between the best drivers in the best cars. I'm not sure about the new formats, the Sprint races, but more excitement on Fridays is good for the fans. It's an exciting season, some good young drivers coming forward, and of course I like what Lando is doing at McLaren."