Precision, Winter 2021
There is certainly no shortage of British watch brands offering home-grown designs right now, but few can match five-year-old Marloe in the value-for-money stakes.
If you've never heard of it, here's some background: launched on Kickstarter in January 2016 by marketing consultant Oliver Goffe and draughtsman Gordon Fraser, it delivered its first watches seven months later in the form of the two-hand Derwent (then £329) and the Lomond chronograph (£450). Both had hand-wound movements from China's Tianjin Seagull company and, as the months ticked by and sales grew from tens to hundreds to thousands, so the number of satisfied customers steadily increased.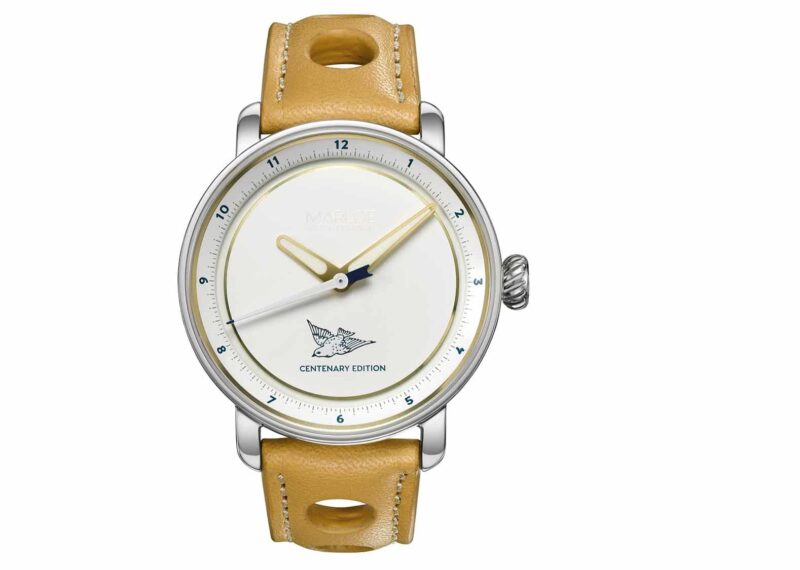 Marketing man Goffe says he was moved to set up mechanical-only Marloe after seeing the high margins being achieved by other brands charging similar amounts for quartz-powered models – and because he remembers seeing his father winding his watch each morning before leaving for work. It was all to do with that tactile/mindful/slow-living thing that we're now hearing so much about…
These days, Marloe has upgraded its entire range to run with higher-quality mechanical movements from Japanese maker Miyota or Swiss manufacturers Sellita and ETA, but a mere £299 will still get you in, while you'll only pay £1200 for a range-topping special edition.
Originally based in Berkshire, Marloe moved its operation north of the border in January last year to Perth, where Fraser is based. Earlier this year, meanwhile, the brand announced an official partnership with the Campbell Family Heritage Trust that allows it to produce official watches inspired by father-and-son speed record holders Sir Malcolm and Donald Campbell.
We brought you news of the first of these through the Precision page of July's Motor Sport – and now Marloe has released a new limited edition that specifically marks this year's centenary of the birth of Donald Campbell, who died in 1967 at the young age of 45 after his boat, Bluebird K7, left Coniston Water and became airborne at a speed of almost 300mph.
The Centenary Edition watch features an understated white dial adorned with a line drawing of a bluebird, an embossed Marloe logo and a touch of gold-coloured detailing. A dished chapter ring surrounds the dial, with the two parts being separated by a moat of luminous material that glows blue in the dark. Turning the watch over reveals an exhibition caseback marked with a facsimile of Campbell's signature and surrounded by a retainer inscribed with the words: "Donald Campbell. Speed record breaker on land and water, official commemorative edition".
A vintage-look leather rally strap completes the picture, and the watch is priced at £399.
Marloe launches a new Pacific range of premium watches in November. Consisting of four designs inspired by various eras of the jet age, the series comprises the 52 (based on the de Havilland Comet), the 55 (for jet-setting business types), the 66 (blackened in the manner of a stealth aircraft) and the 76 (a tribute to Concorde). Each is priced at £1200.