Precision, Winter 2022
The world had to say goodbye to one of the great designers of the past century when Sir Terence Conran died a little more than two years ago. The restaurateur, writer, retailer and founder of London landmarks such as the Design Museum, the Bluebird Garage café, Quaglino's restaurant and the Habitat and Conran Shop stores touched the lives of millions.
If you've ever travelled in a Land Rover Discovery, for example, you've benefited from the Conran touch – because it was Sir Terence who designed the original model's practical, spacious and light-filled interior.
Sir Terence's flair for design continued until the end of his life, with one of his final projects being the creation of this inaugural model for the Brooklands Watch Company, which was founded four years ago by aviator and saloon car racer Simon Jeffs following a visit to the Brooklands Museum. There Jeffs discovered the Holden Apparatus, the world's first chronograph designed for establishing official speed records – and made up his mind to create a watch that paid homage to those golden years of motor sport.
In order to do the project justice, Jeffs called upon the unique skills of Sir Terence (his parents were Brooklands regulars, his mother as an aviatrix, his father as a motor racing spectator), who visited the museum on a research mission and became especially inspired by the legendary Napier-Railton in which John Cobb established the all-time Brooklands lap record of 143.44mph in 1935.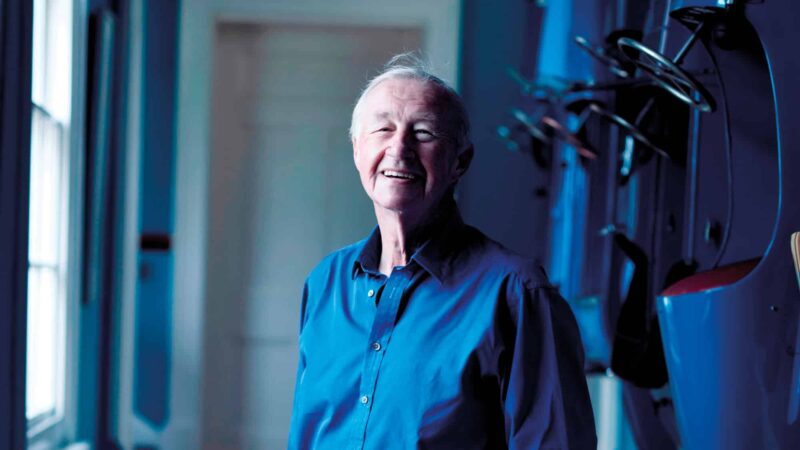 As well as the layout of the car's W12, 24-litre Napier Lion aero engine providing the Triple-Four name for the watch, its remarkable conrod arrangement (three per piston) has been replicated in the design of the automatic winding rotor which can be seen through the sapphire crystal back of the 43mm case.
The dial, meanwhile, features the same, vertical subdial layout that was found on the stopwatches used by Brooklands timekeepers and chronograph hands based on those of the Brooklands villa clock.
Perhaps the nicest detail, however, lies in the fact that the perimeter of the dial is claimed to rise at exactly the same angle as that of the Brooklands banking.
Finishing touches include a winding crown tipped in Conran Blue and a blue leather strap embossed with the pattern of a vintage racing tyre.
The Model 1 Triple-Four Racing Chronograph (to give it its full name) will be made in just 500 examples, each supplied in a special presentation box with an enamelled badge based on the much-coveted Brooklands Gold Star that was awarded to anyone who lapped the circuit at more than 100mph.
Also included in each box is a unique, stamped metal plate carrying the edition number of the relevant watch.
Brooklands Model 1 Triple Four Racing Chronograph, £5754. brooklandswatches.com. For a limited period, this watch can be bought from the Conran Shop Chelsea, Michelin House, 81 Fulham Road, London SW3. conranshop.co.uk
Brooklands Model 1 Triple Four Racing Chronograph
£5754
---
For a limited period, this watch can be bought from the Conran Shop Chelsea, Michelin House, 81 Fulham Road, London SW3.
conranshop.co.uk