1974 Argentine Grand Prix race report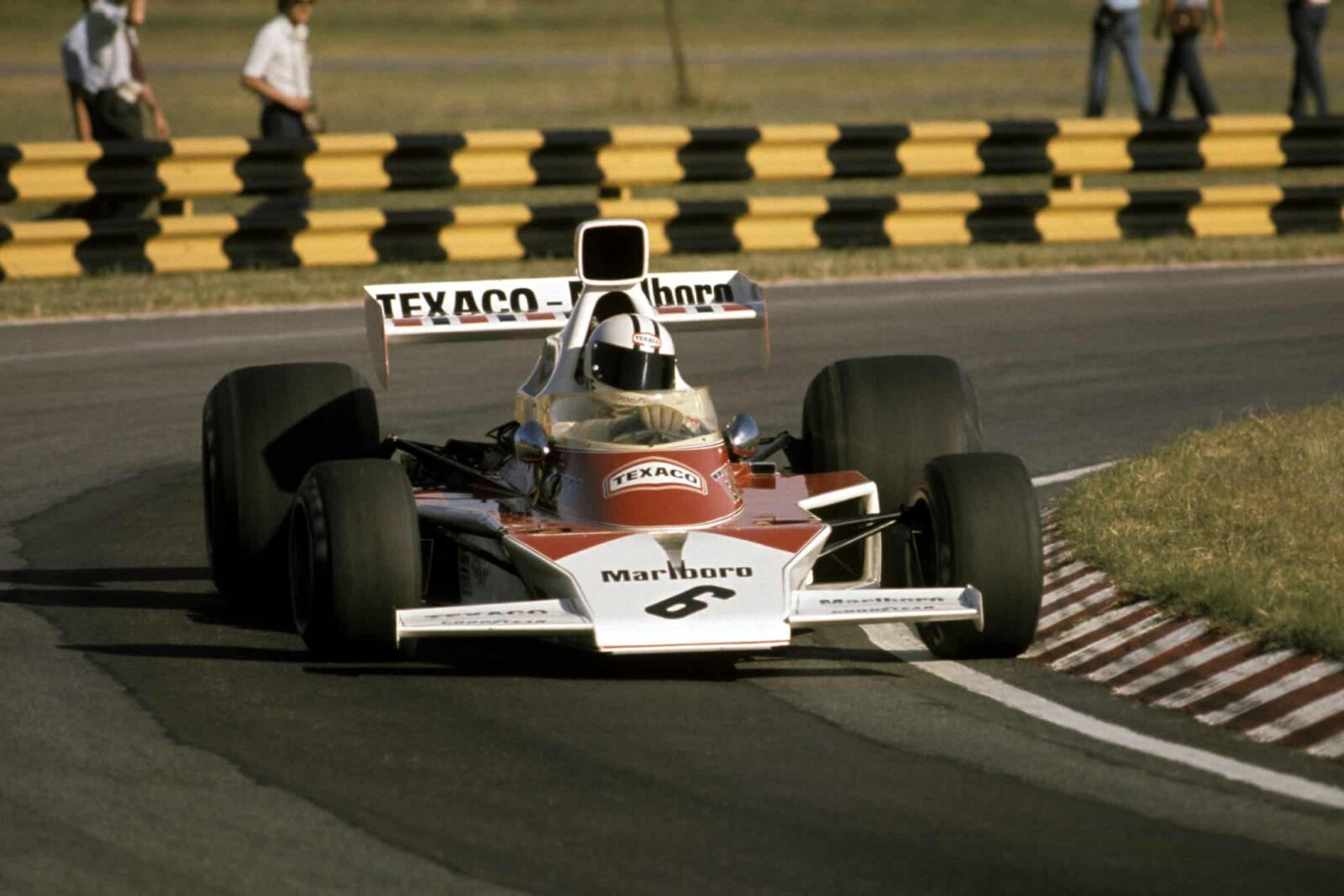 Buenos Aires, January 13th
For the third consecutive year, the World Championship series started in sun-soaked Argentina, all the regular Grand Prix teams air-freighting their cars out to this event and then keeping them in South America until after the two Brazilian Formula One races. Although the first race of the new season took place barely three months after the last race of the old, there were a good number of fresh and revised Grand Prix cars to look at, while scarcely a single driver seemed to have stayed in his 1973 berth.
Of the three teams who did the Grand Prix winning in 1973, Team Lotus looked much the same as they have for the past season. The Swede, Ronnie Peterson, remains with Colin Chapman's organisation, continuing in the position of number one which he developed in the latter part of last season by the simple expedient of driving consistently quicker than his "joint number one" Emerson Fittipaldi. As the Brazilian didn't manage to retain his World Championship title last year, and obviously thought that Chapman had been a little ungentlemanly in not "allowing" him to win at Monza instead of Peterson, Fittipaldi decided to go elsewhere. Thus Chapman replaced him with the former Ferrari team leader Jacky Ickx, who finally had become fed up with the lack of results in his 12-cylinder car.
Still sporting their black and gold sponsorship livery front the John Player cigarette company, an arrangement which is entering its third year, two Lotus 72s had been brought to South America. Peterson's car was 72/R8, the one he used as a spare during 1973, while Ickx was equipped with a brand new machine carrying the chassis plate of 72/R5, the car written off by Fittipaldi during practice for last year's Dutch Grand Prix. New regulations formulated over the winter demand that rear wings be placed a maximum of 100 centimetres behind the centre line of the rear wheels, so the complicated assembly which hung far out on the back of the Lotus last year supporting wing and oil tank had to be abandoned, the wing taking a slightly more conventional position with the oil tank straddling the gearbox. Otherwise the two Lotuses were identical in specification to last year's cars, but no spare chassis was available. Anticipating Chapman's forthcoming new Formula One car, two Lotus 72s were sold to South Africa. Now the new Formula One Lotus is not ready yet, while South Africa's ban on motor racing means that the sold cars now sit in crates, unwanted and unused.
Having lost Cevert in the accident at Watkins Glen, and Stewart taking the decision to retire, Elf Team Tyrrell were starting again virtually from scratch. South Africa's Jody Scheckter, who spent a good proportion of 1973 crashing works McLaren M23s, was snapped up by Tyrrell as a likely lad for the future, whilst French Formula Two driver Patrick DepaiIler joined the team as number two. Incidentally, Tyrrell reaffirmed that his choice of Depailler was his own, not a decision thrust upon him by Elf's vested interest in the team. Unfortunately, Depailler broke his leg very badly on a "scrambles" motorcycle last September, and still limps badly, so this could hardly help things in the heat of Argentina.
Stewart's regular chassis 006/2 was reserved for Scheckter, Derek Gardner having fixed up torsion-bar rear suspension in recent testing, in an effort to make the car more controllable over bumpy surfaces. Depailler drove 005, the car which was used by Amon in Canada and the United States at the end of last year, although it remains in front-radiator guise.
Big sponsorship changes meant that three McLaren M23s appeared at Buenos Aires, two painted in bright red and white colours as a result of a new arrangement with Marlboro and Texaco, while the third carried the familiar Yardley colours. A certain amount of legal strife has been going on between Yardley and McLaren Racing's directors, but it seems to have been reconciled in time for Mike Hailwood to take his place behind the wheel of M23/1. Emerson Fittipaldi joined Hulme in the Marlboro part of the operation, this pair using M23/5 and M23/6 respectively. Gordon Coppuck has increased the wheelbase and widened the rear track of all three cars, the former by means of a spacer just in front of the gearbox, in order to improve their traction out of slow corners.
The crowds at Buenos Aires obviously cheer for Carlos Reutemann, their local hero, and for the third consecutive season the swarthy South American has stayed with the Ecclestone Brabham team. This year they have new cars, developments by designer Gordon Murray of last season's BT42s, and the team's number two driver is a Formula Three competitor, Richard Robarts. The cars show no indication of outside sponsorship, so it is not known precisely how the inexperienced Essex driver secured a place in this works team.
Another team without a major sponsor is BRM, and to judge by some of the comments made recently by the Chairman of their Board of Directors, they probably won't find one again. Marlboro finally got fed up with the lack of results and general interference from this same Chairman and decided to take their bag of dollars to an eager McLaren Racing. Both Gianclaudio Regazzoni and Niki Lauda decided they were not prepared to stay with the Bourne team, so they went off to form a fresh Ferrari twosome, which left BRM apparently high and dry. They are still using the same cars as for the past three seasons, and while this is merely a compliment to the designer when considering a race winner like Chapman's 72, with BRM it seems a matter of economic necessity. When the three BRMs were seen to be starting 1974 painted in their old familiar green colour as they loaded them onto the plane at Gatwick, patriotic hearts stirred, but this virtue was no thicker than the paint on the car's flanks when decals for the French Motul Oil concern sprouted on the British Machines. When it appeared that Jean-Pierre Beitoise was to drive P160/09, Henri Pescarolo P160/10. and Francois Migault P160/05, it became clear that the cars had been sold to their third sponsor in four years. Completely unchanged, except for oil tanks now mounted on the right-hand side of the engine, the cars have undergone no development since they last raced.
Another patriotic team which has avoided commercial sponsorship, though no doubt it could attract it if need be, is the Ferrari outfit. Fortunately a Ferrari always seems to remain a Ferrari, they are one of motor racing's constants, and the whole team seems to have been re-invigorated by the return to the team of Regazzoni. The mechanics are very loyal to the determined Swiss, who is close enough to pure Italian to satisfy the Monza crowds, which is all that really matters. An intensive development campaign has been carried out with the 312B3s, and two revised machines appeared in Argentina. Regazzoni handled No. 011 and Lauda No. 012, both cars having had their driving positions moved farther forward and slight changes to the rear suspension geometry as well as sporting the currently fashionable tall, slim airbox, a trend pioneered by Hesketh designer Harvey Postlethwaite.
March Engineering produced a brand new Formula One car, designated the 741, with many detail similarities to last year's chassis. It has a wide monocoque which tapers forward to be narrower at the front end, while conventional wishbone suspension at the front and parallel links plus radius arm and top link at the rear is employed. The rear wing is a huge affair, with massive sideplates shrouding the oil coolers on each side and a long nose similar to that seen on Hesketh's March in practice at Austria last year. Unfortunately, Robin Herd hadn't done his calculations quite accurately, the new 741 proving to be a few centimetres too wide when it was scrutineered. Mosley was thus left with the task of obtaining the approval of all the other team managers before it raced. Drivers were Howden Ganley in 741/2 and the young German, Hans-Joachim Stuck, son of the pre-war Auto Union ace, in 741/1. BMW Competitions Director Jochen Neerpasch was watching Stuck closely, but many people read too much significance into the fact that this March sported the colourful BMW streak across its nose.
Having got sick and tired of waiting for McLaren and Yardley to patch up their differences, Peter Revson left to join the UOP Shadow team managed by Alan Rees, and had the first of the 1974 Shadows, DN3/1A, to drive in Argentina. Jean-Pierre Jarier suddenly decided he didn't like March Engineering after they'd given him the equipment to win the 1973 European F2 Championship, and chose to buy himself out of the balance of his four-year contract with Max Mosley. By the satisfied expression on Mosley's face, we concluded that privilege must have swallowed most of his retainer from UOP. Jarier used Oliver's car from Watkins Glen, DN1/6A, in Argentina, as the second 1974 Shadow will not be ready until the European races.
Frank Williams arrived with a single car, IR/03, for his new recruit, Arturo Merzario, with larger radiators and a selection of nose sections to choose from, while Surtees has started with a fresh sheet of paper and is looking for better luck with his TS16 which has certain family resemblances to his Formula Two chassis. Brazil's Carlos Pace had TS16/02 with the up-and-coming German, Jochen Mass, in TS16/03.
Privateers using "production" cars included James Hunt in March 731/3, the highly developed Hesketh Racing machine which shamed the factory team last year, the private team waiting for the new Hesketh car which will probably be practised in Brazil, while North London car dealers, Hexagon of Highgate, have bought the ex-works Brabham BT42/2 for John Watson. This car has been rebuilt by Alan McCall with slight revisions including a different nose section, new rear wing and bigger brake cooling ducts. Rikky von Opel continues with a fresh Ensign chassis similar to last year's example, but with different rear suspension geometry and numbered MN02.
Finally, Eric Broadley's Lola firm is once more represented on the Grand Prix grids, having been absent in works-supported form since 1962. Graham Hill's links with Embassy called for a fresh chassis after the unsuccessful spell last season with Shadow, so Lola came up with the brand new T370 after being Commissioned to build it. Graham Hill handled 370/HU2 and the second car, 370/HU3, was entrusted to F5000 driver Guy Edwards, who had some success with a Lola T330 last season. A conventional, rather heavy car, it was too new to have anything great expected of it in Buenos Aires.
Qualifying
The 2.12-mile number nine circuit combination in the Parc Almirante Brown, used for the past two Grands Prix, was eschewed in favour of the longer 3.8-mile number 15 complex. This was last used for the 1972 Buenos Aires 1,000-km. sports-car race, so the only yardstick of performance for 3-litre cars was the 1 min. 58.39 sec. lap record established by Wisell in a Lola T280-Cosworth V8 prototype. Quite predictably, the whole Grand Prix field eventually qualified inside that figure, although a few of the stragglers only just managed it. Practice was split into four sessions, two on Friday and two on Saturday, the earliest session starting at 3 p.m. Emerson Fittipaldi, who won last year's race in his Lotus, set the pace from the start with 1 min. 53.92 sec., but the new McLaren "team leader" was only settling into the car, so there was obviously plenty to be shaved off this. Despite the fact that most of Firestone's consignment of tyres for Argentina were lying, impounded by the Customs, at Buenos Aires airport, with the result that the fastest rubber wasn't available until the second day, Hunt took his March round just 0.2 sec. slower and Niki Lauda was up there trying like mad with his Ferrari on 1 min. 54.15 sec.
The Lotus duo was having some difficulty adapting to the lastest, even larger diameter, offerings from Goodyear, both Peterson and Ickx having to throw away all pretence towards style and hurl their cars around in great opposite-lock slides. Peterson's efforts resulted in 1 min. 54.25 sec., while Mike Hailwood was absolutely revelling in a car which went exactly where he placed it, being close behind the Swedish Lotus driver on 1 min. 54.68 sec.
The inexperience of the two Tyrrell drivers was showing up, Scheckter trying as hard as he knew, but only being able to record 1 min. 54.83 sec., not being at all sure whether the new suspension arrangement was an improvement or not as he hasn't the experience to judge. With Depailler getting a bit breathless in his efforts to keep up, the Tyrrell organisation was feeling the loss of Stewart and Cevert very keenly from the point of view of experience.
Regazzoni spent some time in the pits having his Ferrari adjusted to his liking, and in the second session turned on the power and roared round in 1 min. 50.96 sec., to be the only person under the 1 min. 51 sec. barrier on the first day. Revson, delighted with the fast and stable handling of the new Shadow, recorded 1 min. 51.30 sec., while Reutemann demonstrated confidence on his home circuit with 1 min. 55.5 sec.. although his team-mate Robarts was just getting used to his BT44 after a fuel blockage in the first session resulted in his having to use the team's spare BT42/3.
Both the Lotus drivers were well down in the second session. Peterson now quite convinced that something was wrong because the car over-steered far too much for his ease, while Hunt fell away during this session as well with only one set of tyres to rely on. Things really didn't look at all promising for BRM, for Beltoise was scratching around in the middle of the field, expending a lot of effort for very little result, while Pescarolo and Migault were even further down. Ganley complained that the March wobbled about the road too much, so the bib spoiler beneath the nose section was removed, and Stuck just sat in the pits while the New Zealander sorted the bugs out and was only permitted seven laps right at the end.
John Watson's Hexagon Brabham BT42 displayed far too much under-steer, while Jarier's best of 1 min. 56.08 sec. wasn't had in the "old and uncompetitive" 1973 Shadow which Follmer and Oliver had complained about, hearing in mind that the engine was only firing most of the time on six or seven cylinders. It was changed before the race, but left the hard-charging young Frenchman a long way down the grid. Hill was doing a lot of laps to acclimatise himself to the Lola, while his novice team-mate Edwards just concentrated on keeping the car pointing in the right direction and getting used to his new environment.
With the heat on Saturday even more stifling than it had been on Friday, it seemed that few people would be likely to challenge Regazzoni's best. Times were appreciably slower, Hunt being quickest in the third session with 1 min. 52.74 sec., while Lauda did 1 min. 52.92 sec. and Peterson demonstrated that his car was now slightly better with a 1 min. 53.00 sec. lap. Most of the teams were waiting for the cool of the evening to bring out their "sticky" qualifying tyres and have a last crack at improving their times, and in the last hour a great flurry of wheel changing took place with everyone darting in and out of the pits. Regazzoni and Lauda both went out together in an effort to improve their times, for Emerson Fittipaldi had shot right into the picture with a lap in 1 min. 51.06 sec. and Hunt was in amongst the "heroes" with an energetic 1 min. 51.52 sec. The Lotus team were leaving their challenge until right to the end of the session, and in the closing fifteen minutes Reutemann fired up his Brabham BT44 in the pits only to find that it wouldn't run smoothly between 7,500 and 9,000 r.p.m.; a valve was sticking in the metering unit, so any change of improving his time was gone.
Revson inavertently triggered the fire extinguisher, just as he was about to make a final effort, so it was left to Peterson to take three quick laps in the dying moment of official practice and trim Regazzoni's time by 0.2 sec., leaving pole position on 1 min. 50.78 sec. Thus most of the acknowledged aces were in the top ten. Hunt and Lauda pushing in as two rising stars, while Pace's Surtees was just outside although he'd been trying extremely hard in his new car. Scheckter and Depailler both qualified outside the select places, it being a very unusual sight to have both Tyrrells out of the top ten places.
Race
On race morning, an unofficial session was allowed just before lunch, and it was notable that neither of the Lotuses bothered to come out, Peter Warr doubtless feeling that what they hadn't learned in the five hours of official practice wasn't going to be found in a quick "half-hour blind" on race morning. Scheckter's Tyrrell now had conventional suspension at the back, while Ganley's March enlivened proceedings by short-circuiting the wiring round its rear warning light and setting the rear end on fire. Damage was minimal and repairable.
President Peron arrived to watch the race from a special place of honour in the main grandstand, and the massive grandstands echoed to cheers for Reutemann. Peterson's Lotus dived into the pits at the end of its warming-up lap, the Swede announcing that his car had developed a misfire at the top end, but there wasn't anything they could do about it and he duly took up his position on the grid.
The cars quickly moved away from the dummy grid and were almost immediately flagged off, Peterson and Hunt making fine getaways from the right-hand side of the grid, while Regazzoni fluffed his start and allowed Revson to nuzzle alongside as they went into the first corner. Regazzoni, trying to hold his line, collided with the Shadow team leader as they went into the corner, both cars spinning wildly. Jarier piled into the confusion, ending up with both of the Shadows out of the race, even though Revson limped round to the end of the first lap to retire, while Merzario, Watson and Scheckter were also involved in the fracas but managed to continue. Merzario subsequently stopped to have his damaged nose cowling changed, only to pull up with his engine overheating later in the race.
Hunt took the lead halfway round that opening lap, but it wasn't for long. As he braked for the first hairpin on the infield, he found that his clutch wasn't functioning, so chose the long way round on the grass while he sorted the situation out. Thus it was Peterson who led at the end of the opening lap, with Reutemann, Emerson Fittipaldi, Hailwood, Ickx, Hulme, Pace, Lauda, Beltoise, Depailler, and the rest of the field in hot pursuit. Regazzoni completed the first lap in 20th position, driving the Ferrari with his usual cold determination and hell-bent on getting back up with the leaders.
Peterson was working hard, but it was only a matter of time before the tenacious Reutemann found a way through. One didn't have to see the Argentinian take the lead, one knew it in the same way as one knows that a Ferrari has taken the lead at Lesmo while sitting in the main grandstand at Monza. The cheers were deafening as the sleek white Brabham charged through to complete the third lap ahead of Peterson. while Hailwood darted into third place as Fittipaldi's engine started to misfire and the Brazilian dropped to eighth before corning into the pits. It appeared that a plug lead had come loose and the mechanics firmly pushed it back into place before he Continued. Hulme took up the cudgels and passed Hailwood, while Lauda slipped his Ferrari in front of Pace, and already this bunch was pulling away from the rest of the field, led at this stage by the tenacious Beltoise, who makes up much of what he lacks in talent by sheer determination.
While Reutemann continued to pull away from his pursuers, Peterson gradually dropped back through that leading bunch and Hulme assumed second place, while Mass' Surtees, dicing with Depailler farther back, packed up with engine failure, then Hunt, who was carving his way through the tail-enders with great determination, watched his water temperature soaring across the dial and, with only eleven laps completed, stopped before anything worse happened to his Cosworth engine.
Regazzoni tore up through the field into seventh place by lap 15, thus becoming sixth place 13 laps later as Lotus lost the prospect of another good placing when Ickx, by now just behind Hulme, pulled into the pits with a deflated rear tyre. It was quickly replaced, but, although the Belgian got back into the race, he eventually stopped with transmission trouble after driving for many laps with an inoperative clutch. Fittipaldi had been further delayed with a second pit stop, the McLaren driver having accidentally switched off his ignition, and was now well down with the tail-enders although he kept on lapping consistently until the finish.
Scheckter's Tyrrell overheated after 24 laps, and Depailler was tiring quickly, so that Beltoise was getting away. Howden Ganley's March got the better of Pescarolo's BRM which was firing intermittently on ten or eleven cylinders, while Pace dropped out of the leading bunch when his engine overheated and he retired on lap 26.
Out in front, Reutemann had apparently no opposition. By lap 35 he was almost half a minute ahead of Hulme and the Texaco-Marlboro McLaren seemed to be making no impression on the Argentinian. The only slightly ominous sign was that the Brabham's cold airbox was gradually becoming detached from the streamlined rear body section, causing it to fall forward and hang over Reutemann's head. But it didn't seem to affect him unduly, and he maintained his comfortable advantage.
Regazzoni gradually wore down Hailwood, passing him on lap 35, while March's efforts became diluted when Stuck made a stop to replace a flat tyre and was unable to get going again as the clutch had packed up. Robarts lost 2nd and 5th gears, both needed badly on this circuit with its long straights and tight corners, so he stopped for good on lap 36.
Gradually Reutemann's lead steadied, and then dwindled by a few seconds. Most observers thought that the Argentinian was just easing up to conserve his car and stroke it home confidently to an overwhelmingly popular win in his home Grand Prix. But gradually the Brabham's engine note lost its crisp edge and Hulme started to make up ground. It seems a lead had come off the distributor, causing the engine to go rather flat, but it still looked as though Reutemann would make it. With five laps left, the tension in the stands must have been unbearable, for the Brabham was now cutting out on corners, all the symptoms of insufficient fuel getting through its system.
Almost unnoticed, Hill's Lola stopped with its engine overheating on lap 48, for Hulme was now catching Reutemann hand over fist. Going into lap 52 it was clear that the new Brabham wasn't going to make it, and as Hulme flashed past into his last lap, now in the lead, Reutemann staggered the very sick car past the pits in second place. To the unveiled disappointment of those thousands of spectators, the car finally ground to a halt halfway round the last lap, and Lauda, Regazzoni, Hailwood, Beltoise. and Depailler went by before the chequered flag came out, leaving the disappointed Argentinian a lowly seventh. Eighth was Ganley, having lost two places on the very last lap, when the March ran out of petrol, while Pescarolo's misfiring BRM kept ahead of Fittipaldi and newcomer Edwards, although the Lola only completed 51 laps of the race.-A.H.