To me it seems barely believable that the fourth-generation Mazda MX-5 is already three years old. In my mind's eye it was barely last week that I was skidding around in it, as chuffed as can be that it appeared to have recaptured the spirit of the original.
Well now it's gone back for seconds. While other firms might focus a mid-life refresh on perception rather than reality – making affordable changes that can be seen rather than expensive ones that can only be felt, Mazda demurs, as it has so often done with its little roadster.
While the entry level 1.5-litre car remains mechanically similar, the 2-litre model has been given lighter rods and pistons as well as a lighter flywheel, not to mention the ability to breathe better thanks to bigger valves and wider throttle bodies. And engines that breathe better spin faster, this one raising peak power to 181bhp at 7000rpm – and it'll sing all the way to 7500rpm if you so choose.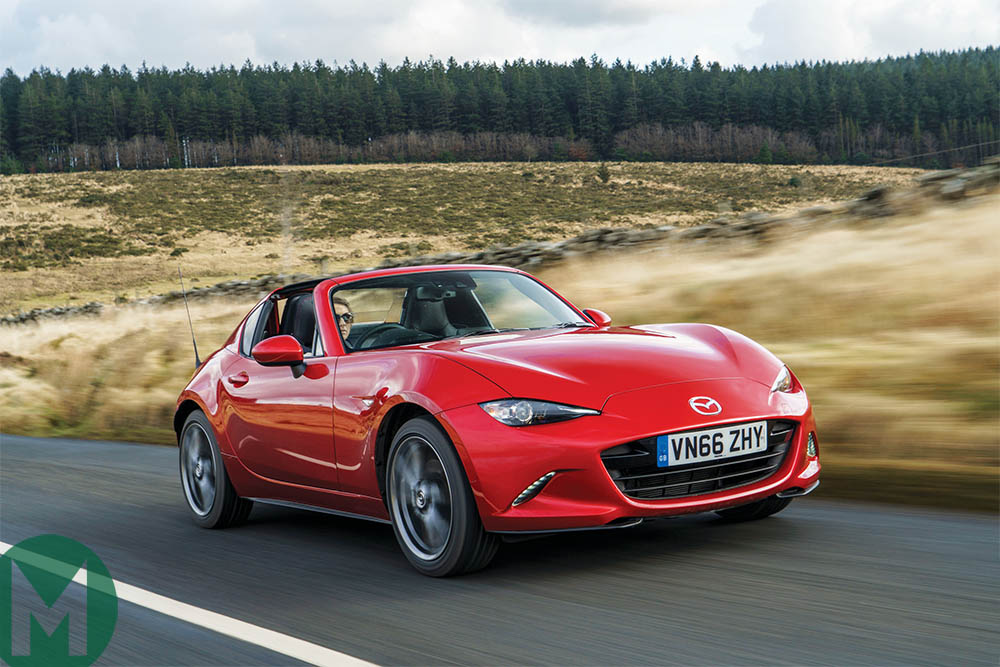 For once there is no downside here, no 'ah, but' moment. You might think that wringing more power from the same size engine might make it peakier, but it doesn't: torque is not only increased, it also appears significantly further down the rev range, so the new engine responds not just faster, but sooner. Its voice is that of the relentless enthusiast and, while less smooth than any number of turbo fours, so too is it more characterful and delighted to keep revving long after they've run out of puff.
Does it bring new life to the apparently unchanged chassis? Not really, but nor was any needed. All 2-litre cars still come with a gentle limited-slip differential and those who can should opt for the more expensive Sport Nav version for the Bilstein dampers it brings. These don't provide the grip of a mid-engined supercar, but nor would you want them too: unlike such machines that must always be driven within their broad capabilities on the public road, much of the fun the Mazda provides is derived from how it reacts to being pushed about a bit. And those dampers just bring an extra level of control and fluency to its body movements.
Old issues remain: there's not quite enough legroom for the truly tall, boot space is limited and oddly shaped and even the RF model I drove, with its retractable folding hard-top, is not exactly a relaxing companion on a long drive. If that's what you want, the same money will buy a VW Golf GTI.
But no Golf will provide such driving pleasure in such a simple, unadulterated form. Small, affordable, pure in configuration and execution but still beautifully engineered, it's a car to remind those of us who are of a certain age why we fell in love with driving in the first place.
Other sports cars might have more coveted badges, higher power outputs and longer equipment lists, but few of any price will make you smile more readily. And surely that's what a sports car is all about?
FACTFILE
Price £27,795 Engine 2.0 litres, 4 cylinders Power [email protected] Torque 151lb [email protected] Weight 1188kg Power to weight 152bhp per tonne Transmission six-speed manual, four-wheel drive 0-62mph 6.5sec Top speed 136mph Economy 40.9mpg CO2 156g/km