Readers' letters can sometimes close a gap that has gaped for years. A recent email sent my mind back to a blustery day on a Scottish cliff top where I was shown what purported to be a crucial element in the story of the legendary Silver Arrows that dominated 1930s Grand Prix racing. But was it?
We're used nowadays to seeing Auto Unions in the metal, and in the plural. Yet these were cars which until the 1990s most assumed we would never see running again; the handful of survivors from this extraordinary era of German technical superiority were incomplete or long past running condition, and it seemed that the secrets that went into building and operating them had evaporated with their makers. Some 10 or 12 of the cars had been gathered into the USSR as war spoils, not to race or even copy but as ending up as exhibits in technical colleges, or scrapped. The most complete, the V16 C/D-type hillclimb machine, languished on display in the Riga motor museum in Latvia, little visited and unlikely to be allowed abroad.
Yet as holes began to appear in an increasingly rusty Iron Curtain, rumours of other AU remains escaped. US collector Paul Karassik spent years chasing up these reports and as we know managed to obtain one and half V12 D-types, triggering the Audi/Crosthwaite & Gardiner restoration and replica programme. Then in 2000 a fuzzy picture in Classic & Sportscar of a V16 engine being unloaded at a small Scottish port seemed to show a vertical supercharger of AU pattern – was this another element coming in from the cold?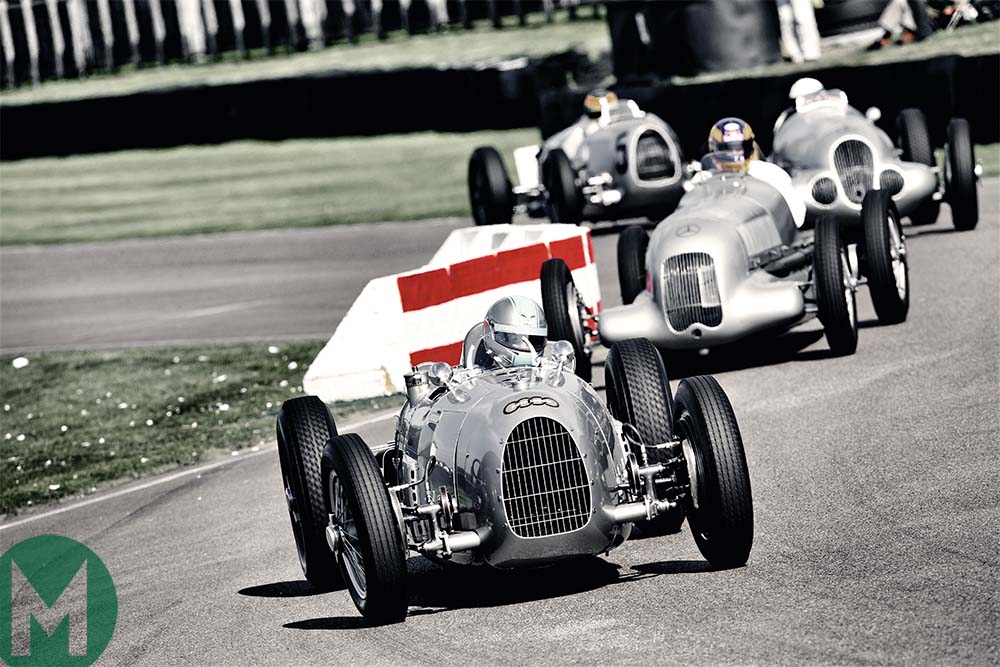 I forgot about it until in 2001 I received an e-mail: 'Come and see my Auto-Union'. It came from Aberdeenshire, not Ingolstadt, from an ex-Lotus engineer called Terry Wright. When I asked Audi about it there was 'a guarded response' and mention of a wooden engine. Still, I was intrigued and travelled to Terry's home above the tiny Scottish harbour of Boddam where he had rolled the car out to the clifftop for inspection.
Certainly I was looking at a complete rolling car which resembled A-type pictures, though many details differed; Terry's line was that this was because it was the P-wagen, the 1933 prototype that Ferdinand Porsche built before AU bought and developed the project. He showed me many period pictures, telling me how he'd had to reverse-engineer missing parts from these photos as there weren't any drawings. And yes, he had a fully equipped workshop so he could make most things from scratch – which was convenient as so many parts seemed to have been damaged or pinched in transit…
Swiss Grand Prix, Berne 1938: Professor Porsche P-wagen proposal blossomed into Auto Union's successful race programme
Under the panels lay what looked like a whole engine, but when I asked about running it Terry said he'd filled it with inhibiting oil and couldn't do so right now. Hmmm.
Being no expert on the silver cars I just nodded as an eager Terry, white hair waving in the North Sea wind, told me an involved tale of Russian business connections and under-the-counter deals, back-handers and 'unofficial' paperwork, much in the same vein as the Karassiks told me when I met them. Terry's line was that this stemmed from contacts he made in the 1960s while stationed with the RAF in Germany and crossing the Curtain with his karting club.
But as he continued on to a claim that he'd also bought a complete crated Spitfire aircraft, one of several which had been buried unassembled on a Russian airfield, which he planned to assemble himself, and then that he'd also obtained a V1 Doodlebug rocket with pilot's cabin (yes, the Germans did build some, as suicide weapons) which he reckoned he could launch from aboard a lorry at 70mph – well, I began to stand further back from the cliff edge of acceptance. Metaphorically squaring up, I relayed what the Audi man had said about timber engineering and queried the lack of engine and chassis numbers; Terry's response was that all numbers had been removed before he obtained the parts, and he implied that Audi was trying to hog the silver limelight.
For some reason we had a sudden gap to fill in the magazine so the car got more space than it should have, though I was careful to say "Terry says…" and "He tells me…" If it was even partly real it was a find, and if he'd built all of it himself – well, that was an achievement of a different kind. Or would be if it had a running engine.
Terry had told me he was part of Team Lotus from 1968-78 and built 49s and 72s, so he had the metalworking skills he would need for such a build. He was certainly a Lotus enthusiast, running his own 7 on the road, and knew all about nearby Crimond airfield where Jim Clark had his first taste of motor racing.
Now an email from Terry's son Gavin tells me his father died a few years back, but among his effects are photos and drawings that clear the air. Says Gavin: "It appears he spent 30 years building racing cars which now are in private collections all over the world. Every single one has been built by him and only him in a shed".
To tell the story of his father's remarkable enterprise Gavin wants to gather information on all these cars, so any leads would be appreciated. That might help to clarify the origins of one or two machines in private hands – although some owners might not be too inclined to assist…
AMONG THE BURGEONING FIELD of classic rallying a highly popular element is the simple tour, with no timing involved beyond arriving at lunch before the grub runs out. That's the sort of event I've been doing lately as I gird my loins to tackle some proper regularity events this year. It's a great way to enjoy your classic vehicle, mix with fellow car fans and benefit from someone else's local knowledge as you explore some new countryside. Last year I especially enjoyed Blackpalfrey MC's Tour of Kent which showed me attractive northern parts of the county I'd not been to before. First time out in the 635CSi too, which went superbly. (Well, first 'rally'; I took it to Motor Sport's first Trackday at Thruxton in October and had a terrific time on the skid-pan, where I started well and got slowly worse – no reflection on Josh Young's cheerful tutelage, just over-ambition.)
Later we headed west for the HRCR's Autumn Leaves tour through the golden foliage of the Forest of Dean – a completely new area to me, even though I often visit Mr road-tester Frankel nearby. Like most tours this one was full, with reserves. But on the Cotswold Economy Run, an event I've always enjoyed, I learned that tighter interpretation of the rules is making it hard to offer entrants even a trivial degree of competition. For 20 years Peter and Lin Baker have organised this sociable event around nothing more than a 'predict your mpg' challenge, but this year for the first time were told by the MSA that this made it a competitive event on a par with a road rally. The regs had to be re-written and all mention of medals excised – even the jokey ones.
I'm well aware of the safety revisions following several tragic rally accidents, but a group of old cars pottering through the lanes watching their fuel gauges hardly seems to come into the same frame.
And finally, after many enjoyable years this will be the last of these Historic Scene columns – although I will be more visible than ever elsewhere in the magazine. Thank you to those who said they enjoyed reading about how my old cars are going – you'll have to catch me in person for updates now.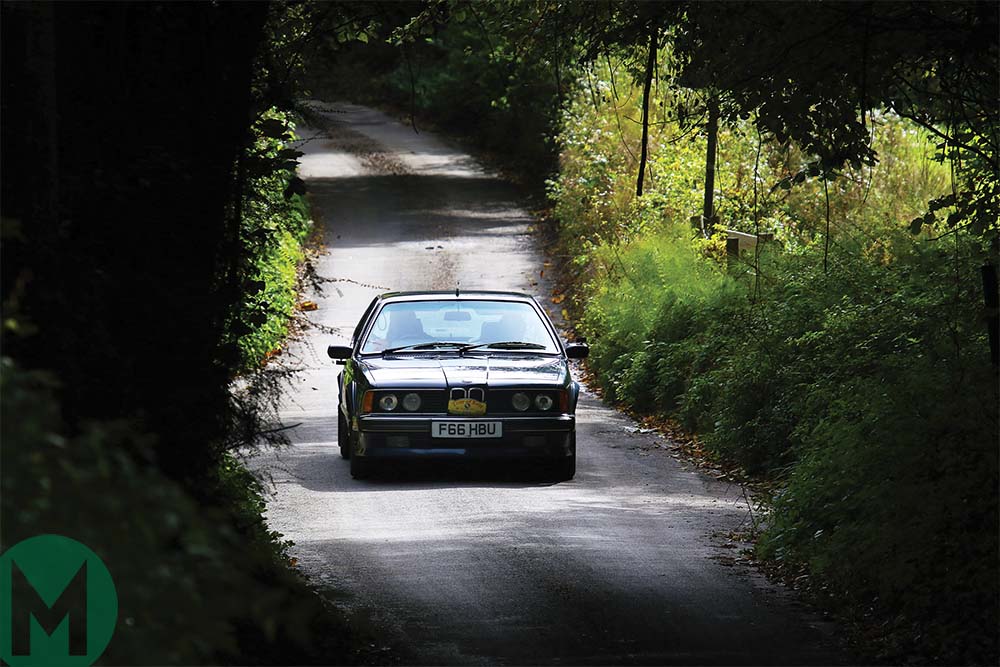 Long-time staffman Gordon Cruickshank learned his trade under Bill Boddy, and competes in historic events in his Jaguar Mk2 and BMW 635
IMAGES: LAT & M&H PHOTOGRAPHY