In many ways the biggest surprise is that it's taken so long for Giampaolo Dallara to put his name to a road car, for in the racing world there are few areas in which his company hasn't been represented. Think 'Dallara' and I reckon a vision of a Formula 3 car will float before the eyes of those who have even heard of the company. But he has also been involved in IndyCar, Formula E, Formula 2, Le Mans, GP3 and on and on… right up to Formula 1. The Haas F1 team may use a Ferrari powertrain, but the chassis is Dallara.
The Dallara Stradale has been around for four years and it is a rather hard car to pigeon-hole. It's far more expensive than the most expensive Caterham Seven or Ariel Atom, not least because it comes with a carbon-fibre tub and has carbon bodywork. Its £143,500 price makes it much closer to the likes of the Porsche 911 GT3 RS, but it's a far more hardcore car than that: it's road legal so you can drive it to and from the track, but it makes not the smallest concession to practicality. Its track focus and carbon construction may make it seem most like a McLaren Senna, but it has half the power and costs many times less.
This of course may mean that Dallara has identified a corner of the playground to call its own, and among those who know I'm sure the brand and its carbon construction will prove tempting. As will the fact that you can have three different Stradales according to your mood. Without a roof or windscreen you effectively have a Stradale roadster, or you can add the roof and turn it into a conventional sports car (albeit with no doors) or you can bolt on the canopy with its small but effective gullwing apertures and have a fully sealed Stradale.
In lightest form it weighs 855kg and with the optional rear wing will develop close to that in downforce: 820kg to be precise.
For while the Stradale offers 390bhp from its Ford Focus RS-derived 2.3-litre motor, it is not its power that liberates some quite astonishing lap times, but its aerodynamics. It has a completely flat floor, also in carbon, a deep rear venturi and a pronounced front spoiler. Actually it doesn't look as extreme an aero car as the Senna, but turn it into a corner at a three-figure speed and you'll be left in no doubt that it's not just the tyres doing the gripping.
It's quite an intimidating car to drop down into with the roof on – I drove it that way on the road but without the roof on the track because it has greater downforce without the dome getting in the way of air flow to the rear wing. You sit very low, there's no visibility to the side or over your shoulder and when the Ford four sparks up, it comes with a blaring accompaniment.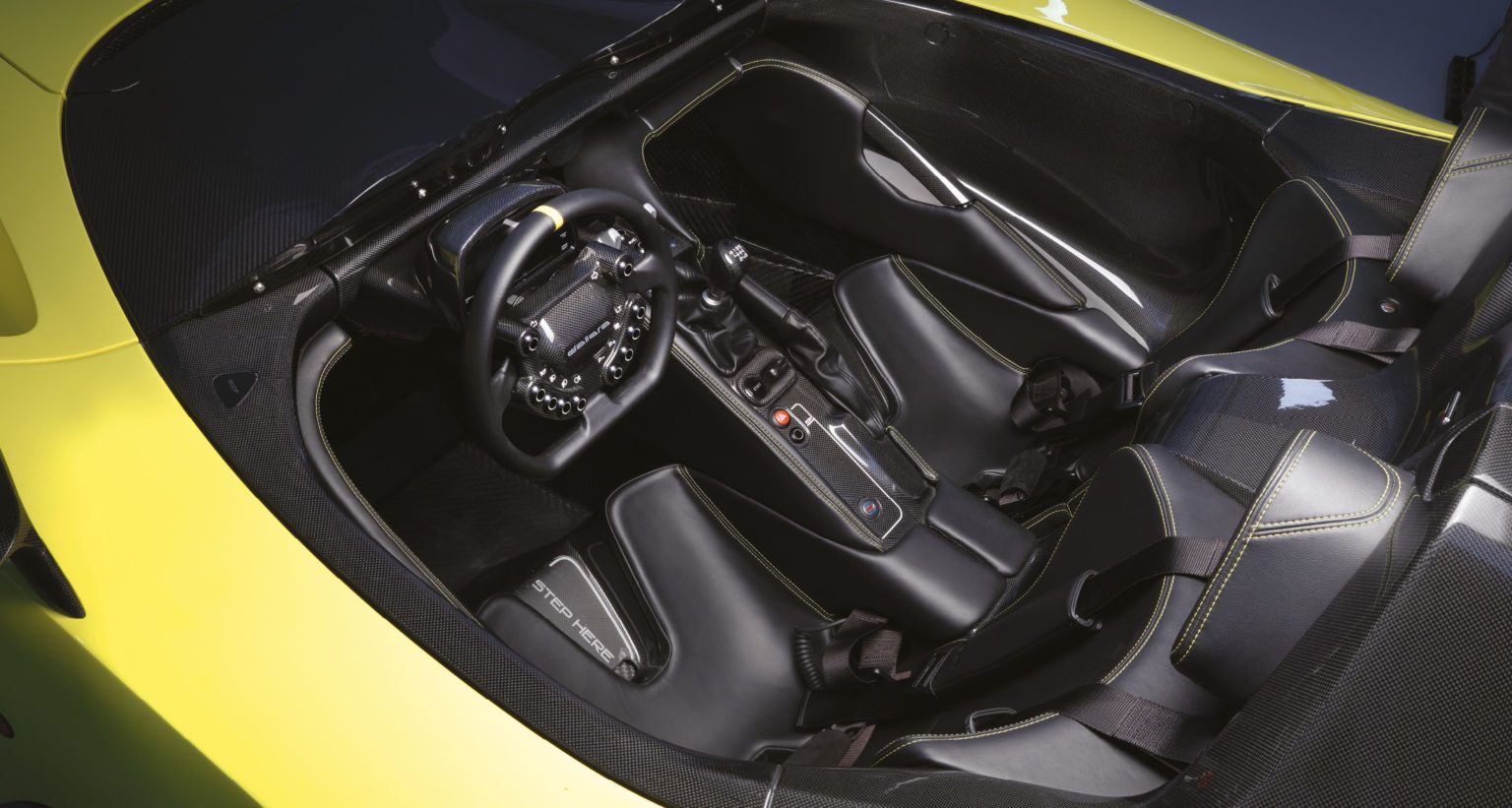 And it's pretty compromised in public. You can't use much of its power, nor can you really derive any meaningful benefits from the aero. And what's left is an ugly engine note, a coarse six-speed robotised manual paddle shift (six manual gears are standard, which saves 40kg and I am sure would be preferable), and over-servoed brakes.
It's not all bad: the steering is delightful and the body so well controlled by its dampers it will tackle the most difficult of mountain roads with a deftness matched by very few road cars indeed. It also has enormous traction, too.
But this was a car born for the track and you'll barely be out of the pit lane before discovering its true calling. But you may be several laps in before you'll trust that it really does have as much grip as the signals from the chassis suggest. What we're talking about here is a level of adhesion on another level to either the aforementioned Caterhams and Ariels, or any conventional supercar. Through fast corners I'm not even sure a Senna would stay with it.
When you do find the limit, you'll be naturally concerned that by then you'll be travelling so damn fast that when it loses grip it'll take you on a short one-way trip to the nearest barrier. But actually it's very progressive. No, it's not a drift machine and I imagine it would bite back if you deliberately tried to provoke it, but so long as you steer clear of artificial inputs its natural desire is to understeer gently, which can be easily cancelled with a reduction in power. For a car such as this, that is precisely the behaviour you want. What is strange is that given it has created a chassis which probably breaks new ground for road car ability, Dallara has not done better with the rest of the car. I think the powertrain choice is wrong – ideally it would have a normally aspirated V8 but they're fairly thin on the ground these days – but there are plenty of turbo V6s that would do a far better job than the gravel-voiced Ford. But maybe the extra width would have interfered with the aero or rear suspension package? Less forgiveable are those brakes, which for all their power are difficult to modulate because the pedal is too light and lacks feel. It's an odd mistake for such a thoroughbred company to make.
Despite all this, it has its place. It has a great name among those who know, and, probably most importantly, it will make mincemeat out of just about any other road car at a track day meeting, including those costing many, many times more. Also and for purists (among whose number I count myself), you could argue the car is worth it for its chassis alone.
Even so, the impression it leaves is not just how good it is, but how very much better even than that it could and perhaps should have been.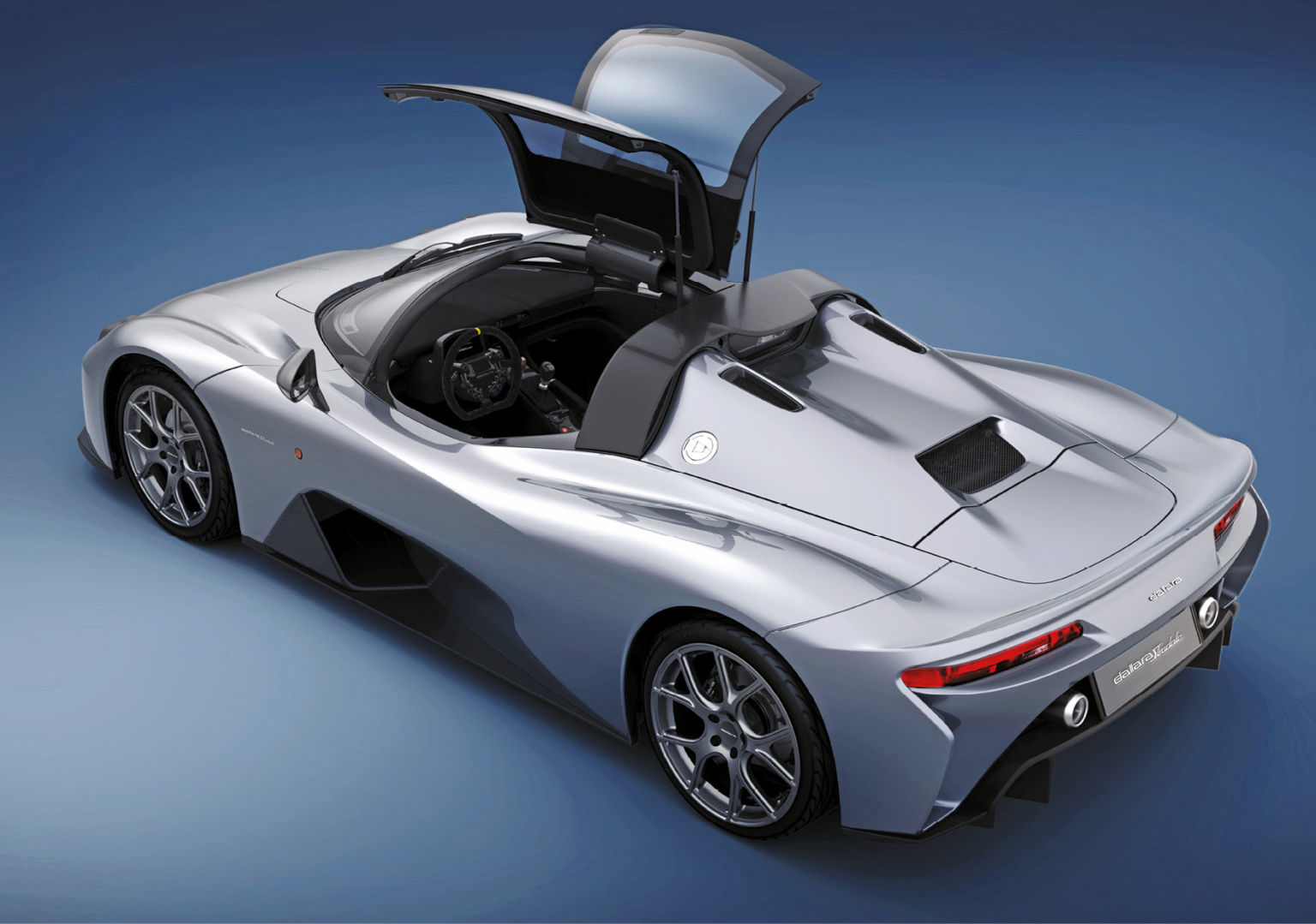 ---
Dallara Stradale
Price £143,500
Engine 2.3-litres, four cylinders, turbocharged
Power 390[email protected]
Weight 855kg
Power to weight 462bhp per tonne
Transmission Six-speed robotised manual, rear-wheel drive
0-60mph 3.3sec
Top speed 175mph
Economy n/a
CO2 n/a
Verdict Stunning chassis, but flawed
---
DIGITAL EXTRA