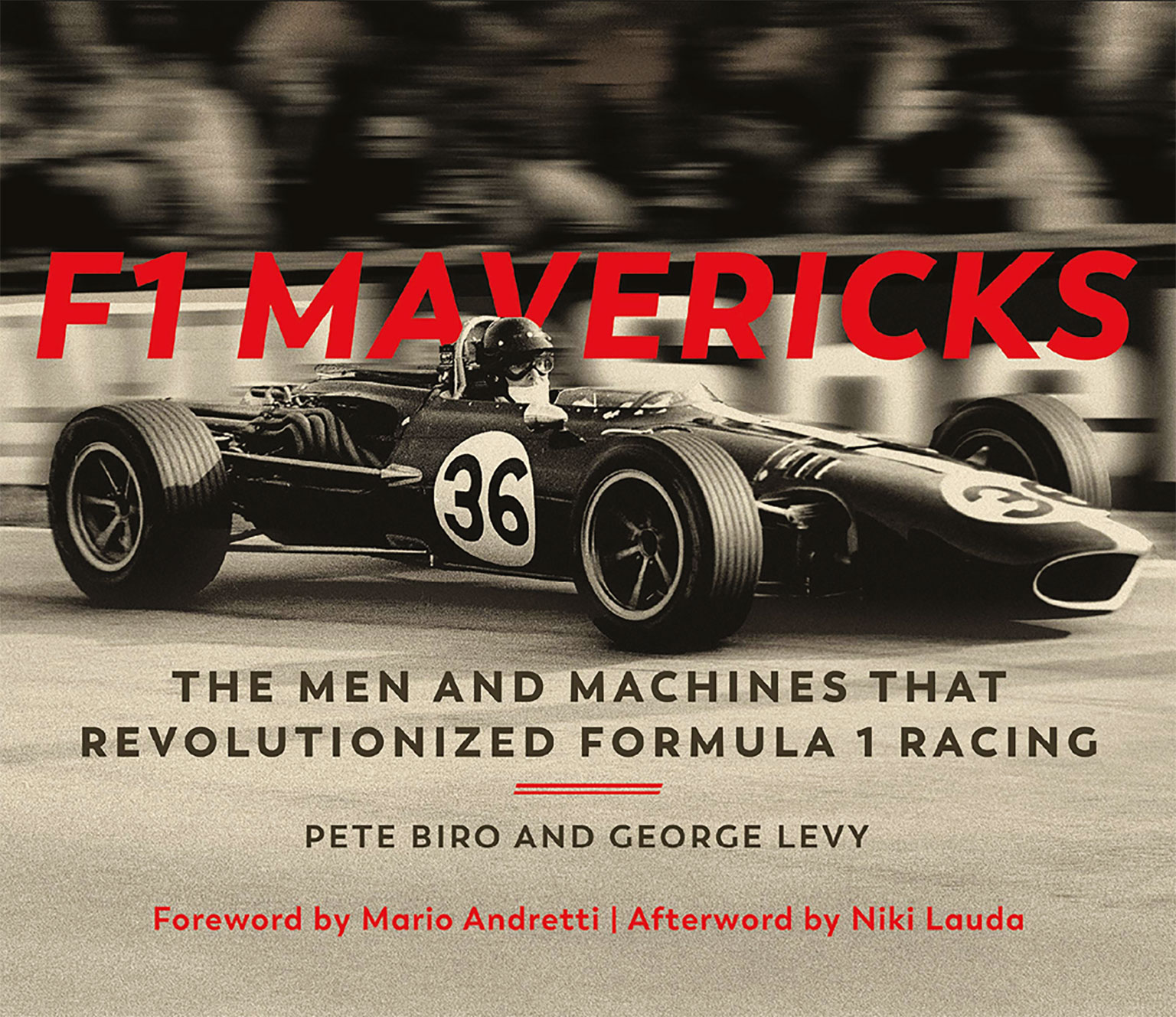 F1 Mavericks: The Men and Machines that Revolutionized Formula 1 Racing
Pete Biro & George Levy
Published by Quarto. £35.
ISBN 978-0-7603-6221-1
A journey through Formula 1 races from the 1958 Belgian Grand Prix to the Caesars Palace Grand Prix of 1982, F1 Mavericks offers insight in the shape of a sizeable photographic collection taken by the late Pete Biro, combined with chronological detailing through history race-by-race.
Authored by George Levy, it offers a focus on the key moments in F1 history, both in the racing and car development and the changing of the guard through the decades.
Bookended by contributions from Mario Andretti and the late Niki Lauda, it is filled with action shots and personal looks at drivers and races in a golden era of the sport.
The book also includes images from the Cahier Archive in its chronicling of the deep history of the sport, its drivers and the teams that helped shape modern day F1.
Each chapter includes sidebars on the progression in technology extracts from authorities such as Doug Nye and people who were there in the form of team members as well as drivers themselves.
Each element serves to paint vivid pictures of the period, from F1's most dangerous era of the 1960s, to the rapid progression of car design and influx of a new generation of talent.
A neat detailing of the sport's progression is the main attraction and strength of the book. Going from front-engined winners in the hands of Mike Hawthorn and Peter Collins, to the evolution through the likes of Bernie Ecclestone's vision for the sport and Gordon Murray's out-designing of the competition, it offers a succinct read in combination with unique archive images.
Every period also includes insights on 'mavericks' from F1 past. Names such as Jack Brabham and Ken Tyrrell are given their own overview, and major successes explained, or their personalities fleshed out further with stories from their time in the sport.
While the book does not reveal any untold secrets, the majority of space is taken by the catalogue of images, from black and white to grainy colour, and makes for an easy experience flicking through.
It doesn't neglect detail in any area, explaining the surrounding narratives, backgrounds and repercussions of key incidents and makes the retelling of well-known events worth the time dedicated.
While the read is by no means long, the imagery on show is exceptional and it would be a welcome addition for any fan of
the sport.
---
First Gear – Myth-busting Motoring Milestones
Keith Ray
Published by The History Press, £12.99
ISBN: 978-0750988162
It looks like a stocking-filler for the mass market, but a look inside shows it's more than that. In page after page of 'Firsts', Ray surprises with unexpected facts – that number plates were issued in Paris in 1893 or that a breathalyser appeared in 1936. But it's hardly for kids – there are entries for 'the first hemi cylinder head' and 'the first CV joint'. Historians may argue a few points, such as the first V8 and the 1870 Marcus car, but that's what historians are for. GC
---
Louis Renault's amazing Type A
Graeme Cocks
Published by Motoring Past, A$45
ISBN 978-t0987280879
A cover with D Ricciardo on a veteran car suggests a different book to the actual contents: the Renault F1 pilot did try this earliest product of the French marque, but the bulk of it concerns the brothers' first cars, a rich tale of innovation as the firm gets going, goes racing and fights off copycats. Laced with great period photos and drawings, this is a fine picture of pioneer days, plus the history of the 1899 cover car and its fraught Brighton run. GC
---
The cars you always promised yourself
Steve Saxty
Published by Porter Press, £44.95
ISBN 978-1-907085-83-3
Covering the performance, or at least lifestyle, variants of Fords from Capri to Puma and written by a former Ford designer, it's very much design-led, but also speaks to those who decided what might sell. There's a lot on development of the Capri – fascinating to see what it could have looked like when still called 'Colt' – but there are eye-catching pages on 'might have beens' such as an Escort coupé or mid-motored Saxon. Tensions and cross-feeds between UK, US and German studios broaden what's very much an insider's story of 'brand leverage' using styling and badging. But it's a shock to learn the vacuous Probe was nearly called Mustang. GC
---