Aston Zagato Continuation

A dozen years ago I drove a recreation of DP214 at Goodwood. The car belonged to Wolfgang Friedrichs, who then as now is completely straightforward about its identity. He also owns the very real DP212, and racing the 214 allows him to preserve his original Project Car for really special events, like the TT Celebration race.
I recall, and my notes confirm, a hardcore racing car, stiffly suspended with heavy controls which rewarded smooth driving with decent lap times, but which was not overly tolerant of the more casual approach, particularly on corner entry. It was a truly fabulous thing to drive, but entertaining in a very grown up and quite serious way.
Which is one more thing it doesn't share with the DB4 GT Zagato. This is one of 19 recreation cars created by Aston Martin Works and only available for sale when paired with a brand new DBS Zagato, with a £6 million price tag for the brace. And insofar as it's a DB4 GT Zagato built by Aston Martin, it deserves to be thought of as a 'real' car rather than 'just' a replica.
But it's not quite the same as the original. For a start it's far better built: early 1960s Astons were always quite approximate in construction and none more so than the Zagatos, no two of which were exactly alike. In fact if you spend time poring over pictures of them in period, you may be rather surprised by how startlingly dissimilar so many of them actually are.
The 2019 Zagatos will be identical, save where personal preferences – some may not want carbon-fibre seats for instance – vary the script. They're all built from the same digitised template to a standard far beyond that possible, or even desirable, back in the 1960s.
Mechanically, however, they are essentially the same, save one fairly massive difference: the 'new' Zagatos have 4.7-litre engines, a full litre bigger than those fitted to the originals. Aston Martin says you could have a 3.7 if you really wanted, but no-one has asked. There are many reasons behind the increase is size, more power being only the most obvious.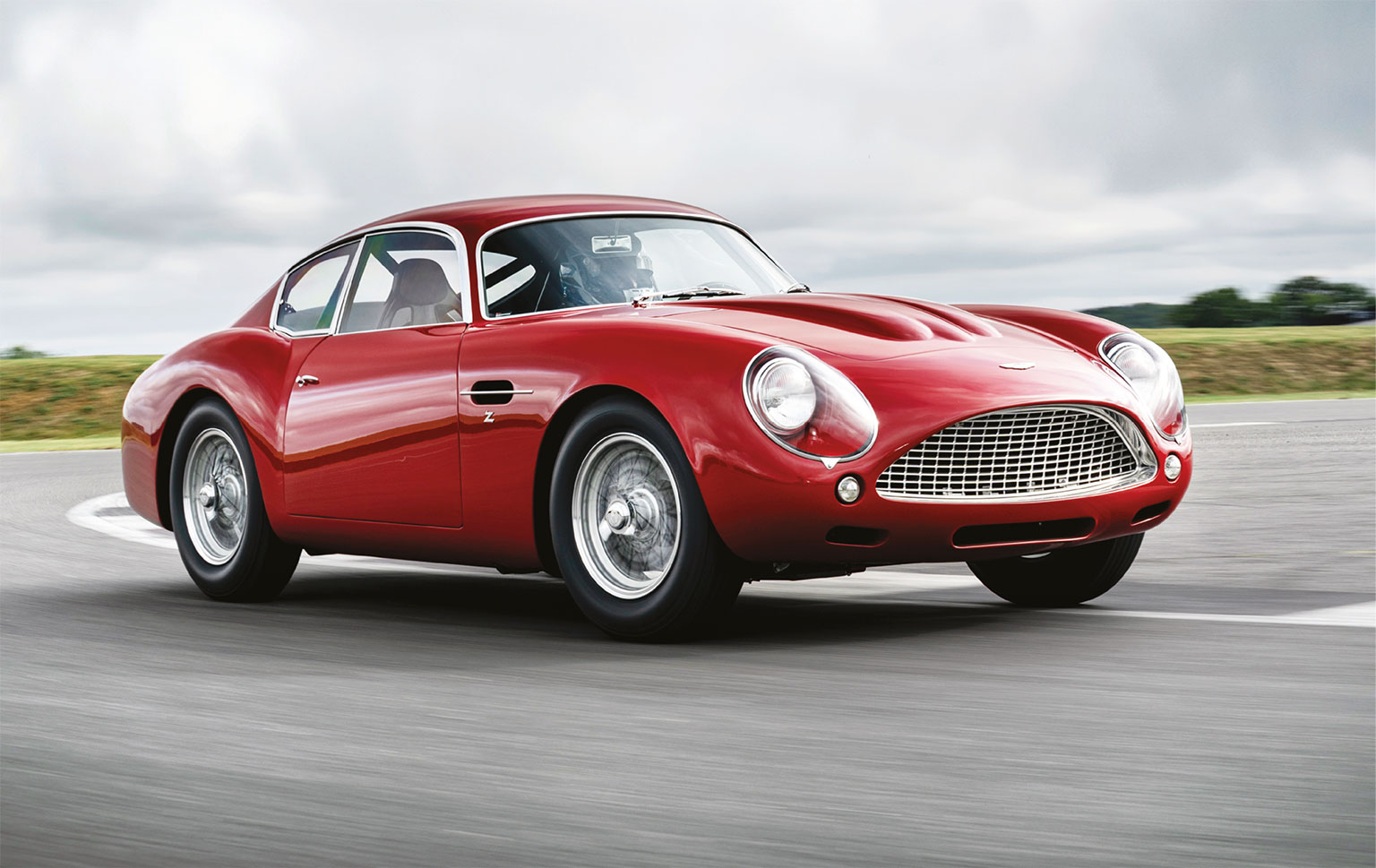 In fact the engine is nothing like as powerful as it could be, the alloy twin-cam straight six producing about 380bhp. Consider that an iron pushrod Ford V8 of the same size and not dissimilar vintage can now make 470bhp in a GT40 and you'll see what I mean. But Aston Martin didn't just want power, it wanted a decent spread of torque and long-term reliability, too.
It's an enormously fun thing to hoof about, even within the limited confines of Silverstone's Stowe circuit. You have to forget its value – and this is the prototype I'm driving – because if you thought what it might be worth, you'd never drive it the way it demands to be driven. Which is sideways, pretty much everywhere.
"It's beautiful, but so too is there a hint of animal about it"
It's now a gloriously overpowered car, its ability to gain speed out of all proportion to its capacity for losing it again via the limited media of skinny Dunlop discs and crossply tyres. The engine is not a shrieker like a Ferrari V12, but howls up to its redline, accompanied by a very welcome scream of its straight-cut gears, changes being forced through from the shoulder.
Turn in conventionally and it doesn't understand. It understeers quite a lot and feels heavy and slow. But be over ambitious with your entry speed, send it in on trailing throttle trusting the ensuring slide to scrub the excess speed and you're at once in four-wheel drifting heaven. Even now it's not as precise as a GTO, but once you've wound off all of one lock and wound on enough of the other and got your foot hard back on the throttle… well, your greatest chance of crashing is by laughing yourself straight off the circuit.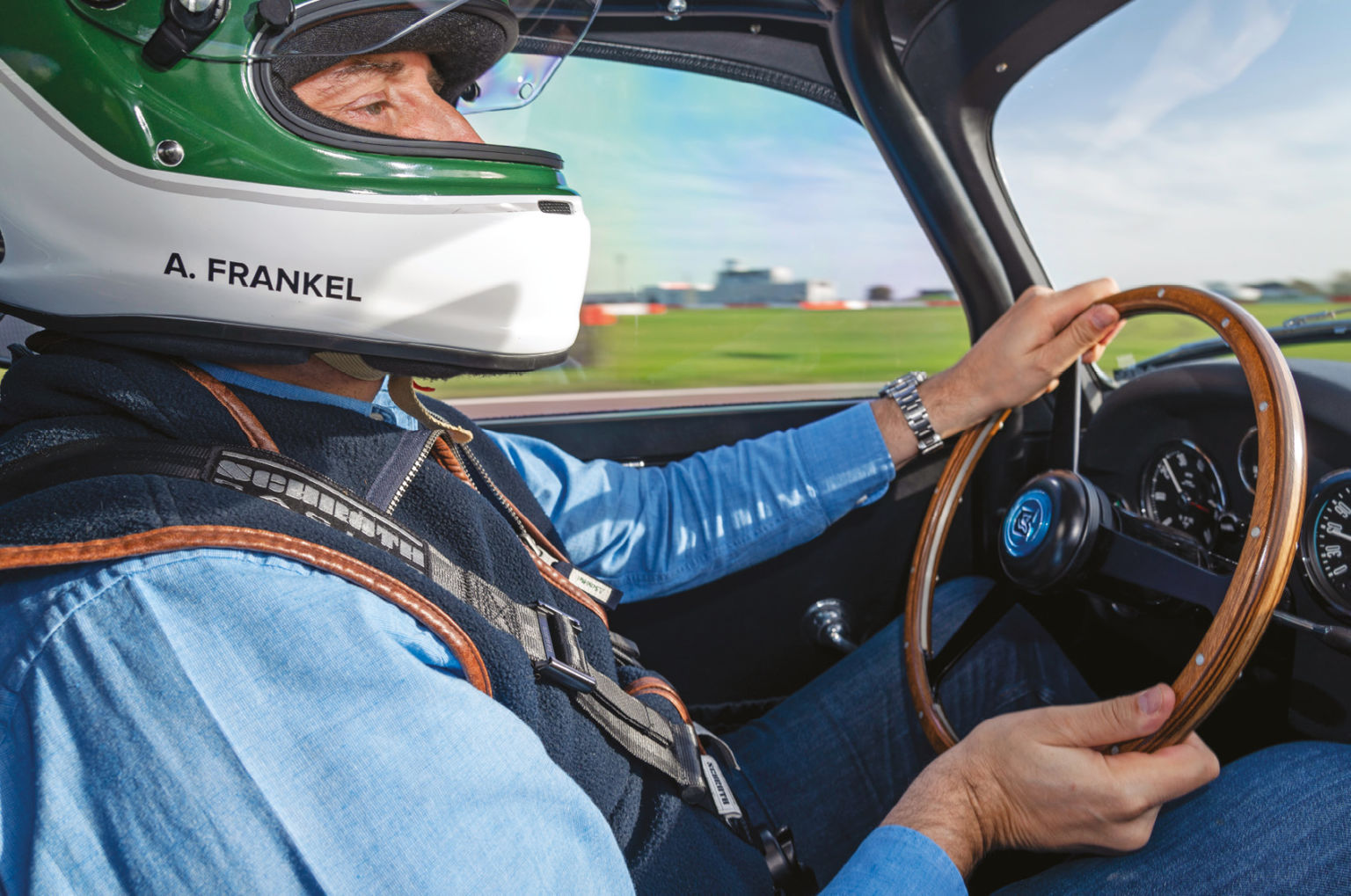 I hope those who drove these cars in period realised how much fun they were having, and I hope also that made up at least in part for the fact that the DB4GT was very rarely the quickest thing on the international stage, Zagato or not.
What I find most remarkable about it and those it raced against is that it manages to drive exactly as it appears, a trait it shares with both the GTO and Shelby Daytona Cobra. The Ferrari is a delicate, precision instrument, the Cobra a far blunter weapon requiring as much brute force as fingertip control. The Zagato exists somewhere in between, just as its looks suggests: it is beautiful, but so too is there a hint of animal about it. If you're going to tame it, you're going to have to wrestle with it a bit, too. Which, to me at least, is exactly how an old Aston Martin racer should be.