It was early 2014. The dawn of F1's hybrid era and the very first Mercedes power unit had just been signed off ahead of the first race. But during testing it spectacularly self-destructed.
"The whole gear drive exploded," says Andy Cowell, managing director of Mercedes High Performance Powertrains. "The crank gear came off and we were here for 24 hours trying to work out what to do for the next engine. We went to Melbourne not knowing how we were going to do."
It didn't take long to find out. Nico Rosberg won. With some understatement, Cowell adds: "Then we won lots of races."
Make that 89 wins and 4921 laps led (over two-thirds of the last five years). Mercedes took six constructors' championships and six drivers' titles. This year, Lewis Hamilton completed every lap of the season, ending with victory in a cloud of smoke in Abu Dhabi.
"It was a bit of a nerve-wracking last race because we'd got a clean slate up to that point," says Cowell. "There was a big cheer when Lewis crossed the line and then we watched him do the donuts. It had been mentioned in the briefing, so he knew what to do: just nail it."
It's some indication of why Mercedes-AMG HPP receives the 2019 Motor Sport Hall of Fame Editor's Choice Award. Designed to highlight lesser-known individuals and teams that have made an indelible mark on motor racing, it this year recognises more than 500 team members at Brixworth, Northants behind the dominant Mercedes engines.
In a podcast available on the Motor Sport website, Cowell reveals that the seeds of success were planted 12 years ago when the company — which began as Ilmor in 1983 — embraced the new KERS (Kinetic Energy Recovery System) technology, developing the hybrid system in-house.
"That decision back in 2007 is absolutely what helped us perform well in 2014 because KERS was sort of a practice for ERS," he says.
Even so, Mercedes' success was far from assured. In 2013, Cowell says, merely finishing races was a daunting prospect, let alone standing on the podium, with any of the four teams the firm supplied.
"There's no real magic, you just try things and learn from it"
"Partway through 2013 we asked everybody to work more hours because we couldn't see how any of the cars would finish in Melbourne," says Cowell. "We painted this horrible image of all eight cars parked by the side of the track. Everybody dug deep with some amazing ingenuity to solve issues."
Cowell outlines the complexity of a modern F1 hybrid engine: "Two high-power, high-speed electric machines and two inverters go with that," he says. "A big battery pack to manage both of those, the control to look after not just the fuelling and the spark timing of the engine and the variable inlet, but also the scheduling of the MGU-K and the -H and variable inlet systems on the compressor. Managing all of that together was a significant challenge over 2013, but the people here love a challenge."
Cowell insists that there's no secret to the success; just a team of dedicated engineers who work closely together to come up with ways of going faster.
"We have an attitude that every experiment teaches you something, so long as you get a conclusion," he says. "In all development, if it doesn't make the car quicker then you go the other way and invariably that direction makes it quicker. There's no real magic. You try things and you learn and then you move forward."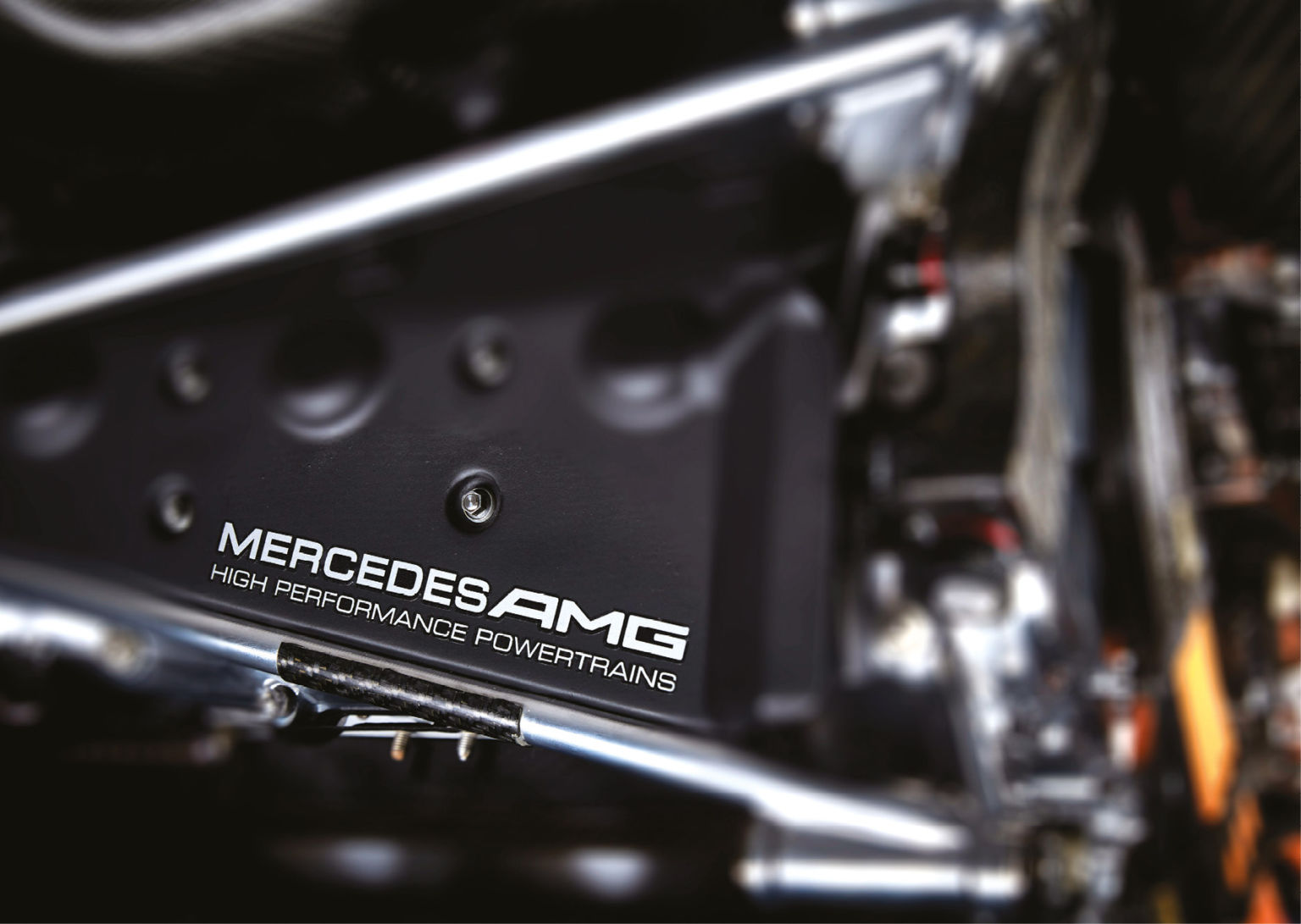 Success makes the Brixworth HQ a good place to be on a Monday morning. After each victory, staff don their green victory T-shirts and, at 11.30am, charge their glasses with champagne (just halfway) for a race debrief.
However, Ferrari's recent resurgence has made later debriefs more common. These happen when the team has lost. There are no green T-shirts, no champagne. And plenty of soul-searching.
There's no stopping when it comes to engine development. Even Mercedes' famous 'party mode' has evolved and plays an increasing part during races.
"We have a qualifying mode, available for every important lap in qualifying, the start of the race and then some key points," says Cowell. "We have a regular race mode and we have race-plus. We have expanded race-plus such that we use the qualifying aspect at the start of the straight where it's most important. We have a race-save mode, which Lewis is exceptionally good at turning into as soon as he knows his race is in a stable position. Often he gives us a few heart attacks; we still think the race is on and he's turning it down."
Efficiency is improved, too. By 2017, the Mercedes engine converted more than half of the energy in the fuel it used into power, compared with 30 per cent for road cars and 29 per cent for a 2013 F1 V8. This F1 knowledge is being used to make lighter, lower-friction road engines and better hybrid systems. Mercedes also uses the electrical expertise for its new Formula E team.
Cowell admits that it's getting harder to make big leaps in performance with the V6, but Mercedes isn't short of ideas: "The gains are smaller but you end up looking in more areas, places you've not hunted in before, you do find reasonable-sized gains. Every time you're beaten, it hurts like hell… There's a huge amount of determination to win."

digital extra