Friends reunited: Derek Warwick & Brian Henton's 1980 F2 title-winning Tolemans
To mark the 40th anniversary of Toleman's European F2 Championship success, Chris Witty organised a team reunion at Silverstone, where Brian Henton and Derek Warwick were reunited with their TG280s. Motor Sport captured the moment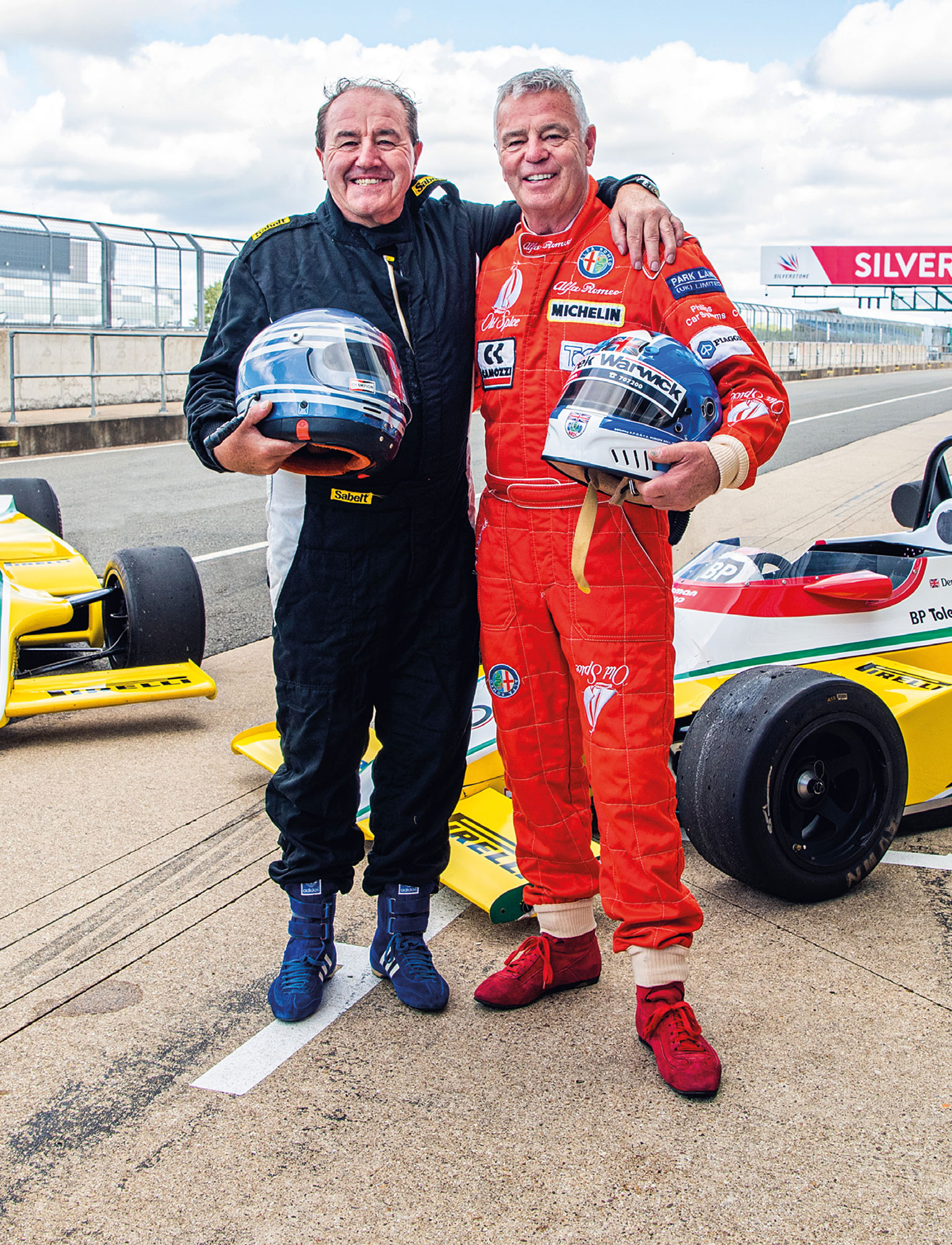 Before we go back to the history, can we start with what it was like to drive the Toleman TG280 again after 40 years?
Derek Warwick, Toleman team driver: "I was stunned how comfortable I felt. I was almost flat through Copse. The car was amazingly balanced, and I was pushing it. Unfortunately, I only had a short run and I would have loved to go out again. It was so easy to predict what it was doing, there was no snappiness. Just a bit of understeer, but I think that was the tyres more than the car. I didn't want to do it, to be honest. I know what I'm like and I know I will push too much too soon! But I was nowhere near its maximum, and I was on top of it. It's put a big smile on my face."
Brian Henton, Toleman team driver: "It was quite an experience. I shouldn't say this, but I had to ask the mechanics how many gears it's got! I haven't been in anything so confined for years. But what was incredible was it all came back to me. I got so frustrated because I couldn't go quicker, the back end kept breaking away, lots of oversteer. I wanted to stop and adjust it, but there wasn't time. But the feel was great. What impressed me is that when I looked at the car it was like a miniature F1. You could see the design pedigree Rory [Byrne] created in those days, long before he produced his great F1 Ferraris. But I reckon old Warwick pulled a stroke on me. I'm sure he got in that car earlier. He took off like a scalded cat! We were always so competitive back then. Now, even behind the camera car he kept sticking his nose in front…"
Okay, let's go back a bit. John, when did you join Toleman?
John Gentry, draughtsman and race engineer: "Close to the start of the season. I was at March previously, running the 792."
Warwick: "We don't mention that car!"
Gentry: "Oddly, Marc Surer won the title in it."
Warwick: "It came with about 200lb springs. It lolloped all over the place!"
Gentry: "Yeah, I didn't design it! Roger Silman got me involved in Toleman towards the end of 1979. Rory and I worked in a tiny office. Rory was drawing the bodywork and I did the rest. Rory obviously had some good ideas and I always think this car was an updated Ralt. Rory spent a lot of time at the military base at Shrivenham where they had a wind tunnel. Didn't we make the rolling road? That was the deal. Then we could really look at the aero stuff, and Rory got well into that."
Chris Witty, team press and PR: "Brian, you drove the March, the Ralt and the Toleman. Which was better?"
Henton: "I think that Warwick's got a better engine than me in that one! [Much laughter] March with the 782 produced a classic owners' car, probably the best in their history in terms of a production-type car. You could tune it with the rollbars. Then we went on to the Ralt, which was more refined, but at the same time a bit agricultural with bits bolted on rather than designed. Performance-wise, the 782 was quite difficult to beat, but the Ralt was an equal competitor. Certainly, it was quicker than the 792, which, as Derek says, was a disaster. When we got the evolution of all that work and we came to 1980, the Toleman was better than any other F2 car that had been produced. The combination we'd got with the alloy-block Hart and the chassis and the aero – and the team, which is as important as anything… Believe it or not, I get on with few people in my life, but I got on with Derek very well. We actually had quite a homogeneous team." During the season, Byrne engineered Brian's car and Gentry Warwick's. Inevitably, an internal rivalry sparked.
Gentry: "Everything would be fine. Sometimes, Brian, you'd be quicker – and often, Derek, you'd be quicker… Then warm-up comes. You, Brian, would pull in and go out again, then, lo and behold, go half a second quicker."
Warwick: "And I'd say, 'What the hell's going on there, then!'"
Gentry: "It was a slip of the pen!"
Henton: "We didn't have the sophisticated timekeeping they have now, but my ex-wife was a very good timekeeper and could time every car. We decided that whatever
time we'd do, we'd put it down a second quicker than we were actually doing – because we were fighting! There were two teams: myself and Rory, and Derek and John. So this lot would be panicking, changing rollbars and so on, trying to work out where the lost time had gone! In fact, it was nowhere, it was all fictitious."
Les Thacker, BP motor sport manager: "Misano was an amazing race because it was the championship decider. Brian – Andrea de Cesaris slightly molested you and you came in with half the wheel missing. You drove six or seven laps at the end with a chunk out of the wheel. Do you remember that?"
Henton: "No, I always seemed to have chunks coming off. It was quite an aggressive season! I remember when we were at Mugello, we'd pulled that stunt putting out times that were half a second quicker than Derek's, and this was another defining race. We both took off and for the whole race Derek was right behind me. He'd drop back a bit, his tyres would come in and he'd come back for me, and I kept thinking, 'Sooner or later, he's going to have me – probably on the last lap.' But I held on. Afterwards Derek said, 'Bloody hell, I thought I'd have you, but I just knew you had that edge," – which was the fictitious edge we'd put out!
Witty: "The thing is, they were about a minute down the road from everyone else."
Warwick: "This was the first works team I'd ever driven for. Two years of Formula Ford and two years of Formula 3, we ran out of the back of the truck, and there was the disaster that was '79. Then, all of a sudden, I'd died and gone to heaven at this works team. We had everything, the car was amazing and we had tyres coming out of our ears. It was just unbelievable."
Brian, how did you get the drive?
Henton: "It was Derek and Stephen South to start with. I was supposed to be going over to the States to race a Lola for Newman/Haas. At five o'clock in the morning, I was just getting up, the phone rang and it was Maggie Smith, who was running Paul Newman's racing operation. She said, 'Everything's on hold, I'll get back to you.' Which she never did. I've waited 40 years and never had the call! I went back to my wife and said, 'It's all over, I've lost that drive, I'm not going to drive this year.' Then at eight o'clock the phone rang: 'You know whose voice this is?' It was Alex. 'How quickly can you get to Brentwood? My legs are open, I'm ready, I'm going to get a good kick, but we want you to drive for the next season.' So I zoomed out to Brentwood. This is the crossroads of what life is about. Stephen South went out to drive that really difficult Lola and lost a leg [amputated after a crash at Trois-Rivières in Quebec, Canada], and I went on to win the Formula 2 Championship. It could have been exactly the opposite. It's almost fate."
Derek, 40 years later, what does the 1980 season mean to you?
Warwick: "It's simple for me: without Alex and Les, I wouldn't have made it to F1 and had nothing of the career I had. Everything is down to those two guys. They put me in an amazing car, an amazing team with all the infrastructure and put me into F1. Without them, I was dead and buried."
And Alex, were you convinced after 1980 that Toleman was ready for F1?
Alex Hawkridge, Toleman team director: "Well, I looked at it from the perspective of the team. We built up a top-line team and we had the talent, in my view, to go into F1. It was the FISA-FOCA war and there was all this stuff going around about how many teams there would be and which would be allowed to run. I only ever had two conversations with Bernie Ecclestone. The first, he told me I couldn't get an entry, and the second one he said, 'You can get an entry, but you have to use DFV engines,' which he happened to own. So I said to Bernie, 'If I was going into Formula 1 now, I'd have a turbocharged engine and the DFV is obsolete – if not in practice, in theory.' We just went ahead without talking to Bernie again. We did our own thing. We probably should have taken a year to build a car rather than try and do it while we were racing."
Warwick: "We were super-confident, weren't we? We thought we could take the F2 car into F1. Remember that test we had with the F2 car fitted with the F1 engine with twin turbos? It was at Goodwood. I thought, 'Bloody hell!'"
Henton: "It was as quick as a bullet. I said at the time, 'I tell you what, if this is going to be the Formula 1 car…' We were that optimistic! And then when I saw the finished project, it was slightly disappointing."
Rory has said of that time that he was making mistakes on the job. I suppose you all were.
Warwick: "Yes. None of the guys had come from other F1 teams. They were all from your team, Alex."
Hawkridge: "They were self-made from Formula Ford."
Witty: "And we never went backwards."
Hawkridge: "That was the most impressive thing about Toleman. Every season, every session practically, we always improved."
Toleman competed in F1 through four seasons, going from a team that struggled to even get close to qualifying for races in 1981 to becoming a podium finisher with a young Ayrton Senna in 1984. Although Toleman appeared on the grid in '85, it was really by now Benetton – the team had been sold to the Italian clothing company early in the year and the Toleman F1 affair was at an end.
Hawkridge: "There were two things that helped make Senna look good in '84. First, we'd never been able to get the same engine management systems as the other F1 teams, so we developed one with a little company called Zytek, of which I owned 30 per cent. They were ex-Lucas guys who had been working on engine management in the background, but Lucas weren't interested in proceeding with it. So we hired them alongside Brian Hart and gave them targets of what to achieve. It was the first engine-management system to use fibre optics instead of wiring, so there were no misfires because of interference with electrical fields in the engine. The other thing we needed was a turbo. No one would supply us, and we were running Garrett turbos which were off trucks. Sitting on top of the engine was the only way to cool it. Then, through contacts with IVECO and Roger Penske, we got hold of Holset turbochargers, which were state of the art. It was a better turbo than any other that existed. We put that on and found
a second a lap."
Along with his fabled second place at the Monaco Grand Prix in 1984, Senna also finished third behind Alain Prost and Niki Lauda at the season finale at Estoril – effectively Toleman's final F1 race.
Hawkridge: "We only got beaten by McLaren at the end of the season, and there were lots of factory teams in those days, so to finish on the podium you had to beat Ferrari, Alfa Romeo, BMW, Renault… It was bloody good, and with those bits it was brilliant."
---
Number 7: Toleman TG280-05
This was one of two cars Brian Henton used to win the 1980 European F2 Championship. Chassis 05 was the team's spare but, fitted with upgraded rear suspension, it was first raced by Henton at Silverstone and then for the remaining five races. Jim Crawford then ran 05 in 1981 as a private entry. It spent some years in Northern Ireland before being bought by Ray Rowan in 1987. The car then ran in the 1988 and 1989 British Sprint Championship driven by Nigel Bigwood. Terry Fisher bought the car in 2005 and restored it to works spec.
Number 8: Toleman TG280-02
This car was used by Derek Warwick throughout the 1980 European F2 Championship. It was sold to Austrian privateer Sewi Hopfer who raced it in the 1981 F2 season before selling it to fellow Austrian Walter Pedrazza in 1982. Pedrazza installed a Heidegger BMW into the back and campaigned the car in hillclimb events. It had a number of Hungarian owners and was brought back to the UK in poor condition in 2007. It was acquired by Mark Harrison in 2017 and fully restored with a Hart 420R.
---
Crazy gang spirit reeled in the wins
Designer Rory Byrne on Toleman's charge to the top
What was your relationship with Alex Hawkridge like?
"He was 100 per cent supportive and we had a common understanding of what we needed to do to beat March. We saw things the same way and we've continued to be the best of friends."
What made you move from March to Ralt in Formula 2 in 1979?
"We were customers, and to be honest [March co-founder] Robin Herd did his normal clever job of making us feel involved when actually giving us a lot of bum steers. I think we surprised them at our first race at Thruxton [in 1978] where Rad Dougall finished third. Robin realised we were a serious competitor and not just another customer. From then on, I received technical tips at the circuits on how to set up the car from Robin, but I realised that most of them didn't help us because he didn't want us competing. Fair enough, but I disregarded what he said.
"We knew Thruxton, so we did well but at all the other circuits in Europe, we were finding our way. We weren't competitive mainly because we didn't know the circuits and I didn't know how to set up the car. It was a learning year.
"What we realised was if we were going to beat March, it wouldn't likely be in a March because Robin would make sure of that. It was Alex's decision to switch. I met Ron Tauranac at the Ralt factory and he was on his way to designing a ground-effect F2 car, the RT2. If we could get it to work it was going to be a step further than a March 782.
"The Ralt RT2 was a complex car; the design had been for full ground effect and there were several new features on it which were new to Ron, and certainly new to me. It took us time to develop the car to a stage where we were happy to race it."
How did the Toleman TG280 differ from the Ralt RT2?
"All of the aerodynamic principles remained because the TG280 was also a ground-effect car. In 1979 you were still allowed sliding skirts and the Ralt RT2 had them. It was getting those sliding skirts to function properly and not jam that delayed the running of the RT2. Then in 1980 they banned the sliding skirts. You could have ground effect but you were limited by the height of the bottom of the skirt. They couldn't be lower than 4cm from the ground, but there was another rule saying they couldn't be more than 1cm below the bottom of the driver's seat. So we dropped the driver's seat 1cm below the bottom of the car to get to that 4cm and had a bulge in the chassis under where the seat was to allow us to run lower with downforce.
"We dominated the season because we were the only team to explore the rules and optimise the ground effect. I remember we were at Vallelunga when Barry Bland [who represented all the F2 teams' interests] said, 'You know everyone is saying your skirts are illegal.' At Vallelunga, cars were asked to be pushed over the scrutineering pit to check for skirt and ride height. So when the two Tolemans were pushed over the pit, who was there? Robin Herd! I will never forget the look on his face when he saw the underside of our cars with the bulge in it. It was just a picture – I'll never forget."
Why did you switch from Goodyear to Pirelli?
"Goodyears were prone to blistering and degradation, and during 1979 they changed the site of manufacture from the UK to the US and made a fundamental change to the tyre. The new tyre was faster on one lap but over a race, it wasn't. What we used to do at certain tracks to ease degradation was to use tyres from a stockpile of the older-spec tyres. You were worse off in qualifying but by the end of the race you were quicker. I was concerned that for the following year we wouldn't have the possibility to use any of our old Goodyears because we'd used them all up. We decided we'd be better off working with another manufacturer.
"Knowing the characteristics of Pirellis, I sat down with them, particularly Gianni Turchetti. They agreed to change the construction – the critical area, I remember, being the corner between the tread and sidewall. They did a lot of work and we made a lot of progress.
"Even though the Pirellis were not up to scratch at the beginning of the season, we dominated because we had superior aerodynamics and by the time the others cottoned on to it and engineered their cars to suit, Pirelli was better than Goodyear, so we dominated the rest of the season."
What was your relationship with Brian Henton like?
"He was not only a quick driver, he was super-competitive and technically knew an awful lot about the car, which in those days, with no telemetry or anything, was always a good thing. In 1980 I effectively ran Brian's car and John Gentry ran Derek's, and when you're running a driver then
you have to be close out of necessity. We developed a good working relationship."
And Brian Hart?
"Brian always appeared to us to be on the conservative side. He was a bit reserved about committing, which frustrated us at times but, in hindsight, when you consider the resources he had at his disposal compared to BMW, he did a fantastic job. His engine was a lot lighter than the BMW, which was worth quite a lot of lap time. I don't think we were that far off BMW in terms of power in spite of them having a huge budget."