Ford GT40 MkIII replica: Atwell's finest
Only a few examples of the road-only Ford GT40 were ever sold. Simon de Burton has found a replica as good as the real thing
All variations of Ford's legendary, multiple Le Mans-winning GT40 are rare – but one of the scarcest is the Mark III version launched in 1968 in a bid to demonstrate that the mighty, rear-engined racer could be tamed into a (reasonably) well-mannered road car.
Although you'll seldom see a Mark III in the wild, they are easily distinguished by their four headlamps and enlarged rear body that was intended to stow sufficient luggage for a spot of touring. Less obvious is the softer suspension and the more road-friendly 4.7-litre engine, which made a relatively tractable 306bhp compared with the higher outputs of the peaky 4.9 or 7-litre lumps fitted to most of the race cars.
Ford GT40 Mark IIIs also offered greater crash protection, more ground clearance and an interior that replaced the bare-bones-basic cockpit of the racers with one that was fully 'trimmed'. The gear lever was also repositioned between the seats instead of being between the driver and driver's door as it was in 'working' GT40s – and, just to hammer the message home, Ford even included an ashtray.
Only seven Mark IIIs were originally built, four of which Ford kept for promotional use with the remaining three being sold to private customers, the most high-profile being the celebrated Austrian conductor Herbert von Karajan who led the Berlin Philharmonic for 34 years.
Von Karajan ordered his Mark III – at the age of 60 – in June 1968 from John Wyer's JW Automotive Engineering in Slough (the successor to Ford Advanced Vehicles), specifying Ice Blue paintwork, a black interior and left-hand drive.
The composer kept the car for five years and 5000 miles, after which it returned to the UK and had two further owners before being acquired by US enthusiast Charles Kalko in 1976. He cherished it for 24 years, eventually consigning it to auctioneer Barrett-Jackson, which sold it for £215,000 (£380,000 today) to LA's Petersen Automotive Museum where it remains on display.
That car is unlikely to be sold again any time soon – but the superb recreation being offered by Germany's Chrome Cars is certainly the next best thing.
It was built around one of the bodies created by former Ford Plant Swansea senior production engineer Ken Atwell who was licensed by Ford to produce pinpoint accurate moulds from one of the company's own Mark III cars that Atwell restored in 1982 after it was damaged in a filming accident.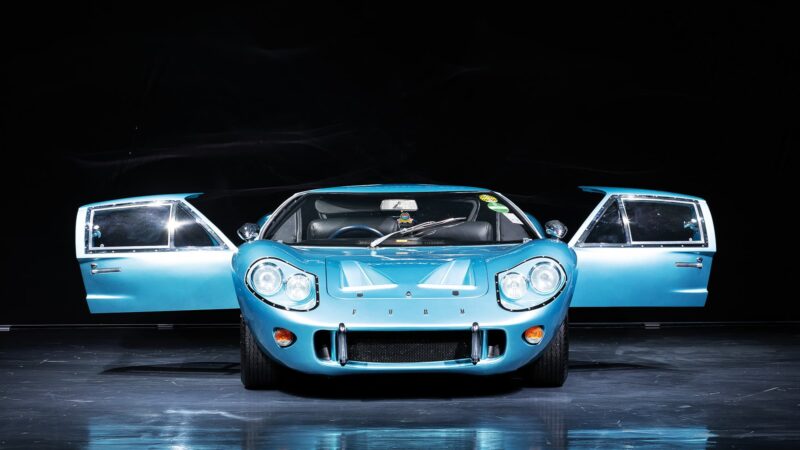 Atwell, who died almost five years ago, became famous for the quality of his 'KVA' (Ken Vincent Atwell) replicas – a reputation that is entirely justified by this one, which is a carbon copy of the von Karajan car save for its more powerful, 5.7-litre Oselli-tuned engine and more modern suspension.
Otherwise it is superbly accurate all the way from the correct Marchal headlamps to the modified Ford Anglia over-riders and engine cover catches sourced from a BAC 1-11 aircraft – as per the originals.
So… is it better than the real thing? We think it might be.
Ford GT40 MKIII KVA Replica. On sale with Chrome Cars, Laasdorf, Germany. Price on request. chromecars.de.