1987 Australian Grand Prix race report
Bowing out
Gerhard Berger sustained his winning momentum to reel off his second victory in a fortnight when the Grand Prix circus arrived in Adelaide for the Australian Grand Prix, the final round of the sixteen race 1987 World Championship series.
Despite the fact that the 28-year-old Austrian was feeling distinctly below par all weekend with a raging sore throat and ear-ache, once strapped into the cockpit of his Ferrari F187 he produced an absolutely flawless performance, qualifying on pole position and leading every lap of the way.
It is funny how things run true to a pattern in Formula One. Often you find that, once the World Championship is settled, the top team's level of achievement fades noticeably and an outsider often begins to demonstrate unexpected form.
That is exactly what has happened this season with Williams and Ferrari, although it has to be said that the signs of a Maranello revival were there from the Hungarian Grand Prix where Berger got his Ferrari onto the front row alongside Mansell. Once Piquet's World Championship was assured by Mansell's practice crash in Japan, there were no more Williams race finishes at either Suzuka or Adelaide.
It is all too easy to put that down to some sort of almost unconscious easing of effort, but if that was the case it was more with the Honda part of the equation than the Williams element. Piquet and Riccardo Patrese (Mansell's stand-in at Adelaide) suffered major engine failures in Japan and Australia respectively, the first such failures since Piquet's retirement in the third race of the season at Spa.
Out on the circuit, the Adelaide qualifying battle was waged between Berger and outgoing World Champion Alain Prost. In the Friday session Berger posted a 1 min 17.267 sec lap, and in the significantly hotter conditions which prevailed the following day, he only went out for a few laps shortly before the end of the session, just as a defensive precaution in the event of anybody getting threateningly close.
He need not have worried. Prost's McLaren was fastest on the Saturday on 1min 17.967sec, guaranteeing the Frenchman only his second front-row starting position of the year (his first was at Suzuka), while the second row was comprised of Honda runners Nelson Piquet (Williams FW11B) and Ayrton Senna (Lotus 99T).
Thierry Boutsen, seeking his elusive first win for the Benetton-Ford partnership, qualified fifth ahead of Michele Alboreto's Ferrari and Riccardo Patrese in the second Williams, a driver nomination we will return to in a moment. Boutsen and his wife Patricia had been looking forward to a relaxing holiday in Bali during the ten-day break between Japan and Australia, so when the Belgian driver was told his services would be required back in Europe for a test at Imola on the Thursday after Suzuka, he was obviously disappointed. However, the purpose of his return was, at least in part, to set a "bogey time" against which a selection of potential candidates for the second Benetton seat next year would be measured.
The three men who took part in the test were Minardi driver Alessandro Nannini (who also made the return flight from Suzuka and then back to Australia!), recently crowned European Formula 3000 title-holder Stefano Modena, and Lucas British Formula Three Champion Johnny Herbert. Impressively, Herbert was quickest on an individual lap basis, but when all the "ifs and buts" were taken into account, all three did a very impressive job indeed.
In the event Nannini has been signed to drive alongside Boutsen in 1988, replacing fellow-Italian Teo Fabi who has become rather disillusioned with Formula One and has decided to continue his career contesting the CART series in North America.
However, when Patrese was released by Mr Ecclestone from his last race with the Brabham team in order to fill in for Mansell in his new employer's line-up, Modena was drafted into the Brabham line-up. The young Italian did an excellent job, but not, I have to say, justifying what I consider to be the over-the-top praise lavished on him by our old mates Murray Walker and James Hunt.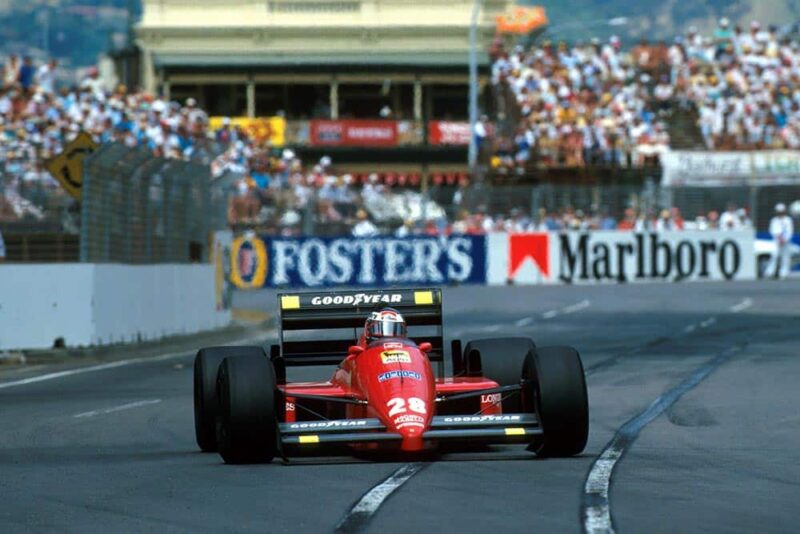 In no way do I wish to pour cold water over Modena's maiden Grand Prix outing. He is an accomplished and highly talented natural driver who, to judge by the observations of those who have studied his form closely in F3000, has a great future. But, hell, he only qualified fifteenth in Adelaide, and did retire from the race with heat exhaustion and cramp . .
In that connection, I well recall Martin Brundle finishing fifth on his Grand Prix debut at Rio in 1984 (and it can be pretty sweltering in Brazil, by the way!). As an index by which to cross-reference his form, at that point Martin had proved the only person to get on terms with Ayrton Senna in Formula Three the previous summer. Now look what has happened to him; he has decided to give up F1 for the time being — after a pitiful season with Zakspeed — and drive a TWR Jaguar in endurance racing next year.
The point I am making, of course, is an obvious one. Do not fall into the trap of believing that if you are quick enough and good enough, you will make it in F1. That is simply not true! You have to be good enough, quick enough, lucky enough, opportunistic enough, well-connected enough and just in the right place at the right time. Then you might have a chance.
Anyway, Modena clearly has the talent and connections, so it will be interesting to see whether he can harness all the other necessary crucial qualities to enjoy the glittering Grand Prix career which is being so expansively predicted for him by many of his followers.
Talking of Fabi and Boutsen, their year-long Benetton partnership finished on a somewhat bizarre note with the two men arguing furiously in the pits after the race. Both B187s were in dire brake trouble from the start (Fabi's running cast iron brakes discs, Boutsen carbon) and while Fabi eventually retired, Thierry wound up fourth on the road only to be promoted to third following Senna's disqualification.
However, at one point Boutsen came up to lap Fabi and the Italian decided that he would not allow his team-mate to go by. For several laps Fabi weaved and chopped the Belgian driver and, when Boutsen attempted to take the matter up with him afterwards, a season of pent-up frustration and anger spilled over to produce an uncharacteristically acid reponse from the normally mild-mannered Italian.
"That pays you back for what you did to me at Estoril," said Fabi, "and you come back and speak to me again when you've scored three pole positions . . ." With that, their partnership came to an abrupt end . . .
Talking of partnerships coming to an end, the McLaren/TAG/Porsche collaboration finished on a disappointing note in Australia. Although Alain Prost challenged Berger hard from second place for some distance, his car was in brake trouble almost from the start and eventually he spun off spectacularly when a carbon brake-disc shattered and locked up its wheel. A similar failure claimed Stefan Johansson's sister car, so it was a low note for one of the most successful racing cars of recent years to bow out on.
The first McLaren fitted with its Porsche-made, TAG-financed engine made its race debut in the 1983 Dutch Grand Prix, handled by Niki Lauda. Since then the cars have propelled Lauda (1984) and Prost (1985 and 1986) to three World Championships in four seasons, winning a total of 25 World Championship Grands Prix, including a record 12 out of 16 in 1984. Of his 28 career Grand Prix wins. Prost has scored 19 of them at the wheel of these McLarens, his first nine having been notched up for Renault. Moreover, in 1984, the McLaren team scored a record 143.5 points in the Constructors' Championship, a tally which has not been equalled since.
Another partnership which ended at Adelaide was the Williams-Honda alliance. The first Williams-Honda took to the track at Kyalami in the last race of 1983, since which time this chassis/engine package has won 23 Grands Prix. Thirteen of those were won by Nigel Mansell, seven by Nelson Piquet and three by Keke Rosberg. The team also won the Constructors' Championship in 1986 and 1987.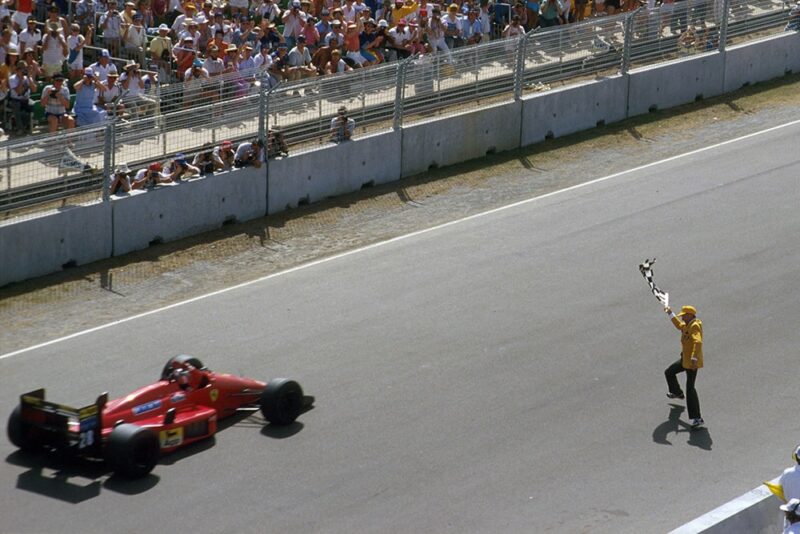 Senna's disqualification in Adelaide was just one of those occasional cock-ups which can blight the progress of a Grand Prix team from time to time. The addition of extra ducting to cool the rear brakes resulted in Senna's Lotus 99T infringing the regulations concerning maximum bodywork-width. This matter was protested by Benetton, with some behind-the-scenes support from Ferrari, and the Lotus was disqualified.
Lotus did not lodge an appeal; there was no point. The car did not conform to the dimensional regulations and that was an end to it.
This, in turn, was a sad way in which to end another partnership, that of Senna and the Lotus team. The Brazilian has driven for Lotus ever since leaving Toleman at the end of 1984, but the combination never quite gelled in the way it ought to have done. Lotus gave Senna everything they could in terms of support and resources, but the net achievement amounted to six wins over three seasons. Not even the switch to Honda power at the start of 1987 could elevate Lotus to the status of genuine front runners, so Senna decided on a change of team. For 1988 he will line up alongside Alain Prost in the McLaren-Honda squad — a chassis/engine/driver combination which should be worth watching. . .
Senna's disqualification in Adelaide promoted Michele Alboreto to second place, the season thereby rounded off with a Maranello 1-2. Boutsen found himself moved up to third place and the remaining top six placings fell to naturally-aspirated cars in the order Tyrrell (Jonathan Palmer), Larrousse-Lola (Yannick Dalmas) and AGS (Roberto Moreno).
I should perhaps add that Dalmas, running in only his third Grand Prix, is one of Modena's F3000 sparring partners, and is regarded by those who have watched this season's racing in that category as being every bit as talented as the much talked-about Italian. AM