Lunch with... Gordon Murray
One of Formula 1's greatest innovators is still finding new engineering challenges.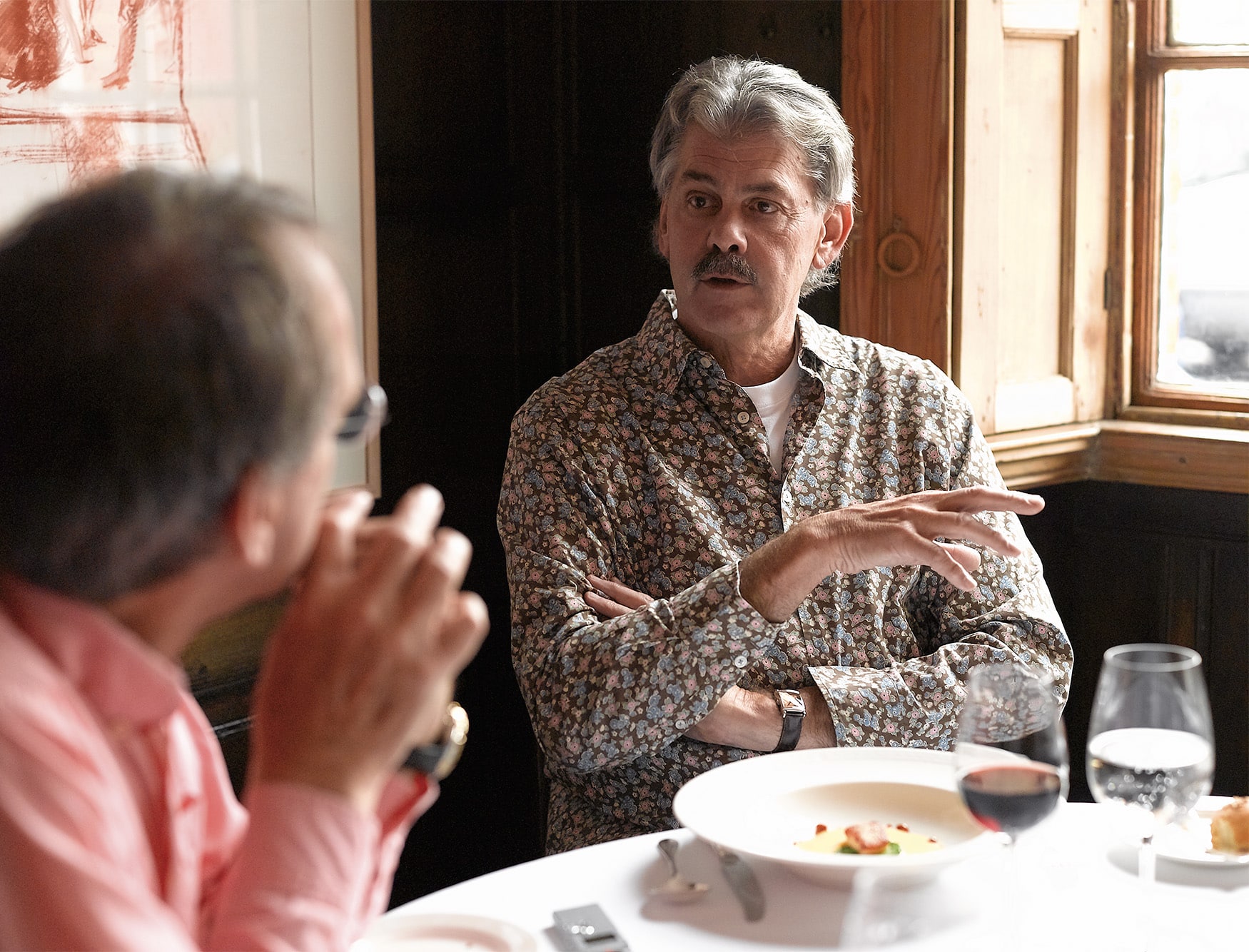 A genius, according to the Oxford Dictionary, is someone "possessing exceptional intellectual or creative power". It's an overused word, but that definition describes Gordon Murray perfectly. We know him for his achievements in the world of Formula 1, but his brain is equally at home exploring oenology, or architecture, or rock music. He is happiest when facing an apparently insoluble problem, examining it from every angle in order to find an inventive solution.
This constant cranial activity is concealed beneath an extraordinarily calm, laid-back exterior. Gordon talks fluently, but quietly, and his speech is as logical as his thought processes. I have seen some notes he kept of meetings during the early planning of the McLaren F1 road car: they are detailed, ordered, logical and extremely neat. Yet he was scribbling them during the meeting itself as the ideas emerged, not writing them afterwards. Confront him with any topic, whether within or outside his personal experience, and he will consider for a moment, and then deliver a view which is often surprising, but always ordered, incisive and intelligent. He really does seem to possess a mind unlike most of the rest of us.
During his 17 seasons as a top Formula 1 designer his cars won 56 Grands Prix, five World Drivers' Championships and three Constructors' Championships. In 1990 he turned away from F1 without regret, since when a stream of unique automotive designs has flowed from his pencil. Now he is developing a revolutionary city car which, he says, is a complete rethink of every single aspect of the automobile.
We're eating in one of Surrey's two Michelin-starred restaurants, Drake's in Ripley. Gordon has been there before, when McLaren boss Ron Dennis threw a birthday party for his wife Lisa. He chooses scallops and John Dory. He prefers to drink red wine and, after careful discussion with the sommelier, selects a Rioja.
Gordon was born in Durban, South Africa in 1946. His father worked for a Peugeot dealer as a mechanic, and prepared local racers' cars in his spare time. "Nobody in South Africa had any money to go racing, so it was a very fertile ground for people with imagination. My dad helped people build specials out of production car parts, tuning their engines, making their bodies. Every weekend we were off racing somewhere. There was a round-the-houses track in Durban, plus the Roy Hesketh Circuit in Pietermaritzburg, and lots of hillclimbs just on bits of country road. All I ever wanted to do was be a racing driver. I had no interest in car design at all. But I couldn't afford to buy a car, so I had to build one. But I was very into engines. I designed a twin-cam racing engine when I was 17. I thought South Africa needed its own Coventry Climax, so I drew one. Then I did a day-release sandwich course in engineering, and for the thesis we had to design a 3hp stationary engine. I drew a self-igniting rotary with only three moving parts. It would have been no good for a car – very high revs, very low torque – but it would have been just right for third-world countries to drive their pumps and stuff. I'll get around to prototyping it one day."
Gordon still has all his student notebooks. In one of them is an inventive sketch of a futuristic rear-engined road car, with a centrally-seated driver and two passengers sitting each side of and slightly behind him. The McLaren F1 was still more than 20 years away.
"The car I built to race was called by my initials, IGM. I bought a crashed Ford Anglia 105E for £60 to get the block and the head, but I made my own pistons, camshaft, inlet and exhaust manifolds. I made a gas-flowing device to get the head and manifolds to breathe, and it gave really good power. I made the chassis; it was a cycle-winged sports racer, like a clubman's car. And I raced it pretty successfully – I was National Champion in my class. But after a couple of seasons I thought I should move to England because it was the centre of the universe for my two loves, racing and music. I'd been into music since I was 10, when I first heard Little Richard; that changed my life.
"So I wrote to Colin Chapman. He not only replied to my letter, he offered me a job. In December 1969 I arrived in England in the middle of a bitterly cold winter, and I hadn't bothered to bring a jumper. I went to Norwich by coach, and when I got there I found Lotus was laying people off and there was nothing for me. For several months I lived on the floor of a bed-sitter in Hendon, cold and jobless. I didn't have the money to live, let alone race."
Then one day he wandered into the Brabham factory. It was run by Jack Brabham and Ron Tauranac then, and coincidentally Tauranac was interviewing that day for a vacancy in the drawing office. He mistook Gordon for one of the formal applicants, and gave him the job. As well as doing detail work on the F1 car of the day and on the customer F2 and F3 cars, Gordon drew a simple road car in his spare time. This used Mini subframes and a sporty Moke-like body, and four were built in a shed on the edge of Heathrow Airport. One served as Gordon's sole road car for two years. Soon a chance meeting with Alain de Cadenet led to Gordon designing the Duckhams Le Mans car. "It was the first real racing car I'd designed, and I did it in four months, during the night. I was doing a 14-hour day at Brabham, finishing at 10pm, working on the Le Mans car until three in the morning, and then back at work at 8am."
At the end of 1971 Gordon was about to move on when he heard Brabham was changing hands, so he decided to hang around and see what the new owner was like. This was Bernie Ecclestone, who on his first visit to the New Haw factory found Gordon's tall frame squeezed into a corner of the drawing office. Bernie said later: "Tauranac told me I should get rid of him and keep everybody else. So I kept Gordon and got rid of everybody else." After a difficult season for Brabham in 1972, Gordon was called into his office. "Bernie said, 'I want a completely new Formula 1 car, and you're it.' I had a clean sheet of paper to do what I wanted. Bernie's a go-for-it type of guy, and maybe that's what he saw in me. He left me on my own, but he was always totally supportive. When I went out on a limb, like with the fan car or the surface radiators, he actually liked all that."
That first car, the BT42, with its monocoque triangular in section, was designed and built in four months. It would have won its first Grand Prix, at Barcelona with Carlos Reutemann, but for a split rubber driveshaft boot with seven laps to go. It was smaller and more compact than its rivals, and it looked sharp and elegant at a time when most racing cars were workmanlike but intrinsically ugly. "I'm unusual for an engineer in that I went to art school when I was 13. I still do a bit of drawing and painting, and I love styling. I couldn't bring myself to make an ugly car. Before wind tunnels, shaping a car was all practical – wool tufts and intelligent guesses. Even with basic wind tunnel work there were parts of the car that made no difference to performance. The bit leading up to the cockpit could be virtually any shape you liked, as long as the bubble you looked through didn't buffet the driver's helmet. So why not make it look nice? Most engineers are not sympathetic to artistic stuff at all; they couldn't draw something pretty if you put a gun to their head." As well as handsome, his cars were innovative: Brabham was the first to use carbon-fibre in their construction, initially to make the cockpit safer, and the first to use carbon brakes.
Until 1972 Gordon had clung to his ambition of racing himself, and he chose the 750 Formula not just because it was cheap, but also because it allowed car designers so much freedom. "I designed the IGM T2 as a lay-down aluminium monocoque, and I came up with pull-rod suspension for it. I used that on my second F1 car, the BT44. Now everybody's got it in F1, of course. I was doing the IGM with a mechanic at Brabham called Ian Hilton, but he was killed in a car smash on a level crossing. A Shadow mechanic wanted to take it on and I gave him all the drawings, but by now I was too busy and it never got built. That was the end of my racing career."
The BT44 would have won its first race, too, except that a fuelling error in Argentina made Reutemann stutter to a halt two laps from the end. But there were three victories that year, and two more in 1975 with the BT44B. Then, in a major deal by Ecclestone, Cosworth power was replaced by Alfa Romeo's flat-12 for 1976. The Italian engines were heavy and thirsty, and the BT45 never won a race, although in BT45B form in 1977 John Watson had several strong drives, culminating in a near win at Dijon. For 1978 the BT46 included another Murray innovation, surface radiators – thin panels disposed along the sides of the monocoque to reduce frontal area – but the car overheated.
Gordon's solution was sensational: the BT46B fan car. This had a conventional radiator mounted horizontally over the engine, cooled by a gearbox-driven fan at the back of the car. The engine bay was shrouded and sealed by flexible skirts running on the track, so that not only was the radiator fed with air but also the car was sucked down onto the ground, giving hitherto undreamed-of levels of downforce. Two BT46Bs appeared at the Swedish GP at Anderstorp in June and, to the consternation of every other team, Niki Lauda ran away with the race.
"The car was legal as the rules stood then. Article 3.7 said: 'Any device whose primary function is to have an aerodynamic influence on the performance of the car has to be firmly fixed.' So I had to ensure that more than half of the air was cooling the radiator. After the race the FIA sealed the car in the truck at Anderstorp and then came to the factory with an anemometer. They got us to run the engine, and measured the flow of air through the fan and through the radiator. They found that 60 per cent of the air was for cooling and 40 per cent was for downforce. Not its primary function, you see. So the FIA wrote to us and said, 'The car is legal, but it's using a loophole in the regulations. In next year's rules we'll close that loophole, but you can use it for the rest of the season.'
"But Bernie – I didn't understand this at the time – had his eyes on bigger things. He was working on getting his foothold in the Formula One Constructors' Association and launching himself towards what he's doing now. He reckoned the uproar was in danger of collapsing FOCA completely. So he asked me – he didn't dictate – he asked me to fit normal radiators to the car. I was very pissed off, but I agreed."
The last Brabham-Alfa was the ground-effect BT48. The team was back with Cosworth engines for the 1980 BT49, which the rapidly maturing Nelson Piquet drove to three victories and second place in the Championship. In 1981, with the BT49C, Piquet was World Champion.
"Basically Bernie left me to run things; he trusted me. We employed a fraction of the personnel of the big teams like McLaren and Williams. We were giant-killers. I did the design work, I did the hire and fire, oversaw production, oversaw parts supply, the test programme, the wind tunnel work. I did all the strategy at the races. Stupidly I refused to have a race engineer. Other teams had an engineer per car plus a T-car guy, and a technical director. I did it all myself. God knows how many hours a week I was working. But I only ever need to sleep four hours a night, and I feel good on that."
In 1982 came Bernie's deal with BMW, for which Gordon designed the BT50. Initially there were many reliability problems with the hugely powerful turbocharged four-cylinder, but this became the vehicle for one of the great Murray innovations. Mid-race refuelling stops are so much part of today's F1 scene that is hard to remember the intrigue and scepticism surrounding Brabham's decision to run smaller tanks and softer tyres, and set up a refuelling rig in the pits.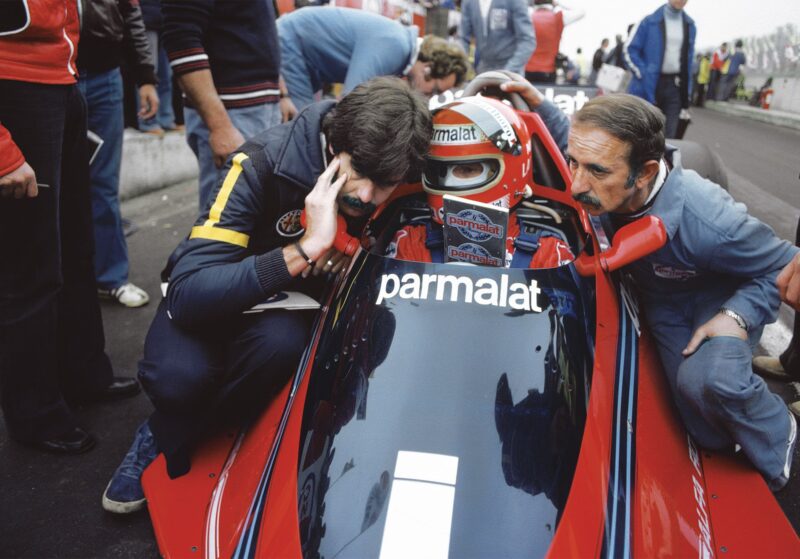 "It started as a hot bath idea. I used to have a lot of good ideas after a hot bath. Apparently there's a physical reason for this, there's a channel in your spine that opens up in the heat and increases the blood supply to the brain. I knew how much the tyres used to go off. And I'd learned from running the cars light in qualifying that the weight of one litre of fuel cost around one hundredth of a second in lap times. So I lay in the bath doing the maths.
"The clever thing wasn't having the idea, it was developing all the stuff that went into it. That's the bit I love. Throw me a series of connected problems and I've got to find a way to make everything work together. In this case it was, how do you change the tyres quickly, how do you put the fuel in quickly, and how do you avoid losing pace going back out on cold tyres? We videoed the mechanics changing tyres, analysed it frame by frame, and I redesigned the hubs, bearing carriers, threads, nuts and wheel guns, with a device to retain the nuts. And I put titanium on-board air jacks on the car. Now they can use simple lever jacks because they have so many mechanics on a pitstop, I think it's 19 these days, but we only had eight guys working on a stop. Tyre warmers didn't exist then, so I made an oven, a big thing like the Tardis, with temperature probes and hot air circulating through four tyres. Then we did the fuel kit. Nowadays it all has to be done at atmospheric pressure, so it's pretty slow. But there were no rules about it then, so I designed a twin-barrel fuel system running at 4bar. The damper barrel fed the fuel barrel and the fuel barrel fed the car, and we could push in 35 gallons in 3.5 seconds. Which is like an explosion, believe me.
"With the refuelling we had one guy on one side of the car opening the breather, one on the other putting in the fuel. Big heavy hoses over their shoulders. If the breather's not on when the fuel guy opens the pressure, the car disintegrates. Four bar inside a carbon and aluminium monocoque, you wouldn't find the pieces. So I designed all sorts of little mechanical interlocks inside the tank and it all got really complicated, castellations and cams and Geneva mechanisms. And I looked at it and thought, on a racing car it's going to vibrate; one day it's going to fail to work and the car's going to explode. No more Brabham, no more pitlane, maybe no more F1. I studied the videos again, and I realised that during a stop the breather guy and the fuel guy would be facing each other each side of the roll hoop with their noses about four inches apart. So I scrapped the interlocks and I got the two of them together and I said to the breather guy, 'When you approach the car with your hose, you're looking down to where you've got to lock the hose on, so don't look up until it's on.' And I said to the fuel guy, 'Don't turn on the fuel until he looks up at you and you see the whites of his eyes four inches away.' So that's what they did, and it worked."
The next problem was that when the car came into the pits and was stationary for eight seconds, the turbo was so hot that its bearings melted. "It just seized solid. We looked at water jackets, we looked at another radiator, and then I suddenly remembered the air jacks. The jack man plugged in an air line fed by an enormous air bottle, and it only took a bit of that air to jack the car up. So we took a tube off the jack line and made a shroud around the turbo, and when the car was jacked up it blew cold air over the turbo bearings. That fixed it.
"All this stuff was designed and developed in three months, with a tiny team of people. We took Donington for a secret test, guards on the fences, and we needed to beat 20 seconds for slowing down, doing the stop, and accelerating away. We did it in 19. Then I worked out a simple mathematical equation for each track. You filled in the circuit characteristics and it gave you the optimum moment to stop for fuel."
Unrelated turbo problems meant that the strategy only really came into play late in the season, with Piquet and Patrese between them winning the last three Grands Prix of the year. "For 1983 I was sure that all the other teams would copy us, but we arrived in Brazil and nobody had half-tank cars. Nobody had done the maths. I said to Bernie, 'We've got away with it!'" Piquet was World Champion again that year – and then refuelling stops were banned.
Somehow Gordon found time in the 1980s to put together a rock band. "I play guitar and drums, both very badly. One day our lead guitarist said he was just going out to the pub, and he never came back, which was a shame because he was the only one who could sing. But we had various people float in and out, sometimes we'd have a jam session that would last all weekend. Leo Sayer sang with us for a bit, and George Harrison played with us one night. We had a lot of fun."
In 1986, after 17 years with Brabham, Gordon decided to leave. "Brabham was sliding downhill. Bernie's priorities were more and more with FOCA, and he let Nelson go because of what I believe was a small amount of money. It had been strong with Nelson; he'd been with us for seven years, won two championships. The sponsorship deals were running out, the engine contract was running out, and to cap it all we just couldn't get the BT55 to work. We couldn't get the engine to scavenge." The problematic BT55 was the revolutionary, ultra-low 1986 car, with the engine lying on its side.
"Then Elio de Angelis was killed in a testing accident at Paul Ricard. I was fed up with all the travel, and the general direction that F1 was going in, and I didn't see it as an on-going challenge any more. I decided I should try something new.
"Just then Ron Dennis came chasing after me, because John Barnard was leaving McLaren. So I said to him, 'I'll come on board on one condition: three more years of Formula 1, and then that's it. That'll be 20 years in F1, and that's enough.' And he agreed to that.
"McLaren was different because so much of what I'd had to do at Brabham, from talking to sponsors to dealing with staff issues, was taken care of. Which was great, because I could concentrate on structuring the engineering. When I got to McLaren I found they had no process whatever. I introduced post-race analysis, failure reports, all the stuff they didn't have and badly needed. I ran the team technically, did the strategy at races, everything I loved to do. Ron just let me get on with it. When I arrived in October 1986 the 1987 car was already done. I did the 1988 car [MP4/4 with Honda V6 turbo], the 1989 car [MP4/4B with Honda V12] and the 1990 car [MP4/5 with Honda V12]. All of them won the World Championship."
In fact the McLaren domination of F1 during the Murray years was just about total, earning both the Drivers' and Constructors' titles three years on the trot. In 1988 the red and white cars of Senna and Prost won 15 of 16 rounds. But Gordon held Ron to his three-year promise. "The days of real technical innovation in F1, with big steps forward overnight, were rapidly disappearing, because of the increasing levels of regulation. Young engineers joining F1 now don't know any different, and for them it must be great, but it didn't appeal to me as much as the days when it was more sports and engineering-driven. Now it was just all business."
So he left F1, but he didn't leave McLaren. Since 1988 he'd been talking to Dennis and fellow directors Creighton Brown and Mansour Ojeh about taking another clean sheet of paper and building the ultimate road car. McLaren Cars Ltd was formed in early 1989.
"Ron had the foresight to realise that McLaren was little more than an F1 team, and he was determined to expand it. I'd wanted to do a road sports car since I was about 15, a proper Ferrari-beater. I don't think a car like the McLaren F1 will ever happen in the same way again, not because the design capabilities aren't there, but because the process by which it happened wouldn't be allowed. Very seldom in history has one person been given the responsibility of everything to do with one car – laying out the building, deciding on the furniture and the carpets, employing every single staff member, designing the car, everything down to the fitted luggage and the hi-fi, developing the car, putting it into production, even writing the owner's handbook. The McLaren F1 was able to be one man's vision, uncompromised.
"Apart from the Mercedes SLR, I can put my hand on my heart and say I've designed everything in all my cars. But what I'm not good at doing, and what we needed a lot of, are those wonderful quick illustrations where chrome looks like chrome and rubber looks like rubber.I also needed someone to do the clay models. So I asked Peter Stevens, a car designer in his own right, if he could recommend an RCA graduate to do that for us. He wanted to know what I was doing, so I told him. And he said, 'I want that job.' I said he'd have to work for me and he said, 'Fine.' He didn't impose anything on me at all.
"Because of F1 commitments, I only really started towards the end of 1989. The whole programme was 43 months. This was a car that would do 240mph, and was 50 per cent lighter than its opposition. The world's first carbon-composite road car."
For many of us the McLaren F1 is simply the finest supercar of all time. But before its development was finished Gordon was already working on McLaren Cars Project 2, a two-plus-two Porsche 911-sized mid-engined sports car. BMW accepted it, but almost simultaneously Dennis concluded a five-year agreement with Mercedes-Benz. "It would have been a very nice little car, but the Mercedes deal put the kibosh on that. We had nothing else to do, so in 1995 we went racing with the F1 road car.
"I'd said from day one that we shouldn't ever think about the F1 as a racing car because we'd compromise it. It had to be a road car that you could drive to the South of France with the air-conditioning on, good sound system, comfortable suspension with long wheel travel." But, inevitably, there were customers who wanted to change that, and the GTR was the result. On its first visit to Le Mans it won a historic victory.
"I loved that period. It gave me a huge boost. From being disillusioned with Formula 1, it took me back to why I liked racing in the first place. There was enough competition between Porsche, Ferrari and ourselves to make it really nail-biting. And there was interaction between the teams. You could go into the Ferrari pit and watch one of their pitstops. Lovely old-fashioned camaraderie, like F1 in the 1970s. Then Porsche made the GT1, a bit of a homologation special, although they did make enough production cars just in time. So we said, if you want to do that we'll play the same game, and we made the long-tail. We made five long-tail road cars. And we won the GT category at Le Mans in 1997, and were second overall. But then Mercedes made their car and jumped the rules without making a road version. So the whole GT concept went out the window."
Project 3 was a city car, which Gordon worked on for a year, but the McLaren board decided not to do it. Project 4 was a two-seater Formula 1 demonstration car, which followed the tandem-seat layout that Gordon had used in the Rocket, the tiny Yamaha-powered fun car he'd designed in six months of spare time for his friend Chris Craft. Project 5 was a rear-engined V8 supercar. "We presented it to Mercedes and they said: 'The good news is you've got the job, the bad news is we want one with a front engine.' That became the SLR. It wasn't really my sort of car, but for the company it was a big prestigious chunk of work. And it's still the world's only full ground-effect front-engined car, and it's probably the safest car of its type on the planet.
"Project 6 was a very radical Le Mans car, underfloor radiators, high nose. Wind tunnel tests showed it would have annihilated everything at the time on downforce, lift over drag. But Ron didn't want to get into building customer racing cars for sale. The SLR was Project 7, and Project 8 was the next rear-engined car which was put to Mercedes. It would have been a huge step forward in sports car design – just what Ferrari are talking about now, lighter weight, modular construction, better material usage. We could have done that four years ago. It's all been canned now.
"At Brabham, and then to start with at McLaren, I used to go around the company every morning and say hello to every single person. I knew their families, I knew their kids' names, where they went on holiday. When we started the F1 project we were 36 people. By the time we started production with the SLR we were 450. I was going down into the workshop and seeing people I didn't even know. I don't like big companies, I like small teams. So in December 2004 I left to run Gordon Murray Design. Since arriving in England 34 years before I'd only worked for two companies, and I decided if I was going to start all over again at the age of 58 it would have to be with a team of people I knew. Luckily I've got 16 of them, straight out of McLaren. They were my team, they just moved from Woking to Shalford.
"It started with a project that Creighton Brown was putting together, a sports car to build in Brazil. Then tragically Creighton died of cancer in 2006. So I took a deep breath and I pulled the environmental car forward.
"It's a complete rethink on the motorcar, every single aspect of it: wheels, tyres, brakes, seating position, luggage, child seats, visibility, wipers, congestion, parking. And life cycle and CO2, that's the biggest one, from digging the ore out of the ground to burying the car at the end of its life. I want to see a two-thirds reduction in the CO2 damage we're doing now. But you can't sell a small car that's not iconic, like the original Mini was. When you see one I don't want you to say, 'What the hell's that?' I want you to say, 'I want one of those.' We've got to ensure that happens. It has to have style."
Gordon's plans are wide-reaching. "We've got 14 variants on the board at the moment: inner-city taxi, delivery van, pick-up, flat-bed, emergency medical supplies, holiday resort buggy, post van. You don't sit in it like an ordinary car. There are six layouts built into the internal architecture, so today I'm taking the kids to school, flip, flip, tomorrow I'm taking somebody to the airport with big suitcases, flip, flip, then I'm on a commuter run with a briefcase and want more room and comfort, flip, flip. Funky ergonomics, high eye-line, good peripheral vision. It won't require sophisticated production techniques. The chassis is designed to fold flat, like an Ikea wardrobe, so you can get more of them into a container."
When Gordon first came to England his girlfriend Stella followed him a few months later, and they were married in 1970. In 1975 they bought a farmer's cottage in Surrey, and they live there still, although Gordon concedes that the house has grown considerably down the years. "We've only got one bedroom, but the bedroom is bigger now. And we've got lots of barns and things." One of these encloses a replica of an American drive-in movie theatre, complete with popcorn machines and an original 1959 Cadillac convertible to sit in and watch the film. They have a dramatic house on the north-west coast of Scotland, and two houses in France: "the one we go to, east of Bergerac, and the ruin that I'm going to do up one day." In his garage are a McLaren F1, of course, and an SLR and a Rocket. "Then I've got a 1957 Ford Thunderbird with porthole hardtop, very American Graffiti, and a 1968 Series 3 Lotus Elan, which is a proper car." His everyday car is a Smart Roadster: "It's great, does everything I need." He loves Fiat 500s, of the original 1960s variety, and has fitted one with a high-revving Yamaha motorcycle engine and six-speed sequential gearbox. He disapproves of Fiat's new Cinquecento: "It's too like the new MINI, which is brilliant marketing but crap packaging, so big and heavy. As a purist I would have liked to see BMW take the iconic Mini brand and make a real step forward. But I suppose it wouldn't have made them the money the new MINI makes." He also has several motorcycles, including a 996 Ducati and a Honda 1300 Pan-European.
Gordon is 61 now, and his environmental car has got him every bit as fired up and motivated as he was when he started in Formula 1. "Three mainstream manufacturers have approached us. I'm talking to the Americans at the moment, and next week I'm flying to Japan to talk to a couple of firms there. We do the design, prototyping, development, engineering support. We don't do production, but I'm planning to retain the rights to the design.
"I want to create a new world class of vehicle. We're in the best bit now, the problem solving. I just love it." And once the environmental car is off and running, the extraordinary Murray brain will hunt down more stimulating problems: and then, no doubt, come up with more hot-bath ideas to solve them.