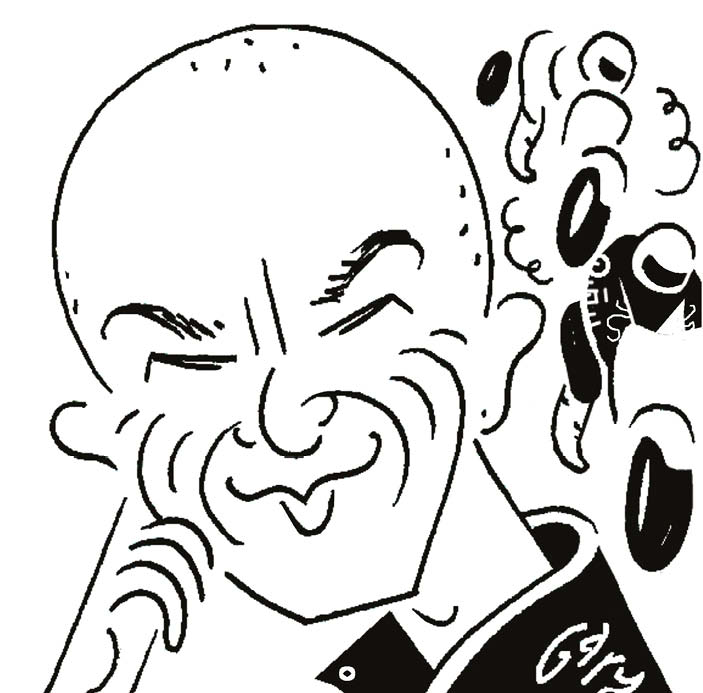 Marc Márquez recently won his sixth MotoGP world championship in seven years and it is difficult to see anyone ending his dominance of the sport anytime soon.
There is one overriding reason for this. The Spanish Honda rider possesses a skill that no one else has: he can slide the front tyre, a very risky trick on a motorcycle.
This is not the only weapon in his armoury, of course. Márquez has within him everything necessary to make him a great bike racer. He is intelligent, determined, committed, brave, cunning and tactically astute. He is happy to take risks, he can shrug off pain, he enjoys crushing rivals and he works well in a team. Once upon a time he had his weaknesses, but one by one he has exorcised these.
However, it is his otherworldly ability with the front tyre that really crushes his opponents. Few people understand this better than Öhlins race engineer Thomas Alatalo, who works with five of the six factories on the MotoGP grid: Aprilia, Ducati, Honda, Suzuki and Yamaha.
"I'm not allowed to say exactly what I see in Marc's data, but I can tell you that it's all about corner entry," says Alatalo. "No one else can ride a front slide for so long; nobody else can be that many times near crashing without actually crashing.
"To me it's very much related to the fact that he has a better feel for what the tyre is doing at any moment and he has quicker reactions. In racing you always come back to the famous concept that car racing engineers use: the traction circle. This came from an old Lotus engineer who basically nailed what racing is all about: it's about always maintaining the highest level of acceleration in the appropriate direction.
"When you go down the straight you accelerate as fast as possible in the forward direction. When you brake at the end of the straight you accelerate as fast as possible backwards. When you go around the corner you accelerate as much as possible to the inside of the corner, left or right. By doing all of that you are pushing the traction circle, which is how much traction you have, 360 degrees around the contact patch.
"The way Marc rides, he is a master at balancing on the edge of the traction circle because he feels the limit better than everybody else: 'OK, now I'm outside the traction circle, I'm sliding the front and I'm going to crash if I don't do something about it'. That reaction takes longer for others."
Márquez is famous for crashing without crashing. He has at least one of these moments at most grands prix, like during practice for October's Australian GP when the front tyre slid away entering a slow right-hander. Anyone who witnessed what was happening knew Márquez was falling off his motorcycle. Data measured his lean angle at 70.6 degrees from the vertical, but he didn't crash. He used the throttle, his knees and his elbows to save the day. "You cannot imagine how I play with my elbows," he says.
Most riders have seen Márquez do this kind of thing. "Last year at the [floodlit] Qatar pre-season tests Marc went out in the night with a hard front," recalls Michelin MotoGP manager Piero Taramasso. "No one else would go out with the hard front at night, when the track is cold; but he told us: 'I want to try it'.
"MotoGP isn't tennis or F1: if a rider gets it wrong they get hurt"
"So he went out and soon after Jack Miller came into his box. He told us that Marc had been in front of him and losing the front on purpose, trying to look for the limit. He said it was crazy because Marc was going to full lock. Jack went into Marc's garage and said, 'what were you doing in Turn Six [a low-speed left that claims many victims] – you were leaning 20 degrees in the corner and turning the handlebars onto full lock?!' Marc said, 'oh, I was looking for the limit, because I want to know where's the limit and I want to feel the reaction'. No one else can do that. That's why he gains a lot turning into corners compared to the other riders."
Qualifying for last August's Czech Grand Prix was another memorable Márquez moment. He was out on slicks when a rain shower hit the track. Yet he kept going faster, his bike slipping and sliding through the puddles. His final lap was 2.5 seconds quicker than anyone else.
"I don't understand how the track was dry for Marc, but not for the rest of us," deadpanned 2019 Italian Grand Prix winner Danilo Petrucci.
Who might challenge Marc Márquez in the near future? The man most likely would seem to be Fabio Quartararo, the 20-year-old Frenchman who dazzled MotoGP in his rookie season. But can Quartararo, or anyone else, match the champion's super skill?
MotoGP isn't tennis, football or even Formula 1. When a rider practices a new trick and gets it wrong he is likely to get hurt; which will damage his confidence, perhaps discouraging him from trying again.
In the meantime there is only one thing to do: watch Márquez with slack-jawed admiration, which is what the rest of the grid are already doing.
---
Mat Oxley has covered motorcycle racing for many years – and also has the distinction of being an Isle of Man TT winner
Follow Mat on Twitter @matoxley