Lewis Hamilton, with the 2019 crown coming into full definition in the last few races, was always going to tread more carefully than usual. But only in the high-risk moments. His focus was still absolutely on winning each race, but in any potentially treacherous trice, the task would always override the instinct. In the three-race sequence of Mexico, Austin and Interlagos, Hamilton respectively prepared for, clinched and reflected on the winning of world championship number six.
The dynamics of the situation were beautifully played out in the opening moments of the Mexican race as Red Bull's Max Verstappen – the weekend's bad boy after staying flat past yellows on the last lap of qualifying and thereby being penalised out of his pole position – took advantage of Hamilton's situations short term and long. Short term, Hamilton's momentum was checked by Sebastian Vettel's Ferrari swerving across, pushing him towards the dirt. With the title prospect taking precedence over the split-second moment, Hamilton backed off and played it cautious. "All of a sudden Max is alongside me. I always leave Max a lot of space – it's the smartest thing you can do. But there wasn't a lot of space for me to give him…"
Through the sequence of turns 1-2, Hamilton stayed on the outside, Verstappen ran him wheel-to-wheel. A snap of oversteer put the Red Bull's outside-rear wheel in contact with the Merc's floor and they tangoed off together into the dirt, rejoining a few places down as the Ferraris of Charles Leclerc and Sebastian Vettel lead the pack.
Verstappen's fearless youthful audacity has won him races but it lost him this one. As he made his recovery he went for an outrageous move inside the hairpin of the stadium on Valtteri Bottas' Mercedes. Nice guy Valtteri is one tough nut wheel-to-wheel and after being mugged by Verstappen at Monza last year had privately made a vow to himself: Verstappen doesn't get to do that twice. So he didn't appear to try too hard to co-operate in making Verstappen's move work. Mercedes front-wing endplate sliced a Red Bull right-rear tyre and by the time it had deflated Max was past the pit entry. Strike one Hamilton opponent away. Lewis was at this time running fourth, with Alex Albon's Red Bull tightly tailing the Ferraris.
Albon was in fact a crucial factor in Hamilton's Mexican victory, as Red Bull used him to apply undercut pressure to the Ferraris at a time when it wasn't clear if theirs should be a one- or a two-stop race. To protect Ferrari's lead, it responded with leader Leclerc, thereby committing him firmly to a two-stop. Which turned out to be the wrong strategy on the day. Strike another Hamilton opponent away.
Vettel would ordinarily have already lost track position to Albon if he'd been brought in the lap after Leclerc, but now was given the opportunity to pit without losing track position, as Albon had been delayed on his outlap passing Carlos Sainz's McLaren. Would Seb like to come in, he was asked? Feeling his tyres could run a long time yet and sensing that the race was migrating towards a one-stop, Vettel replied that 'all was peachy' and he'd stay out there, thanks. He thus assumed the lead – albeit with Hamilton's Mercedes now filling his mirrors.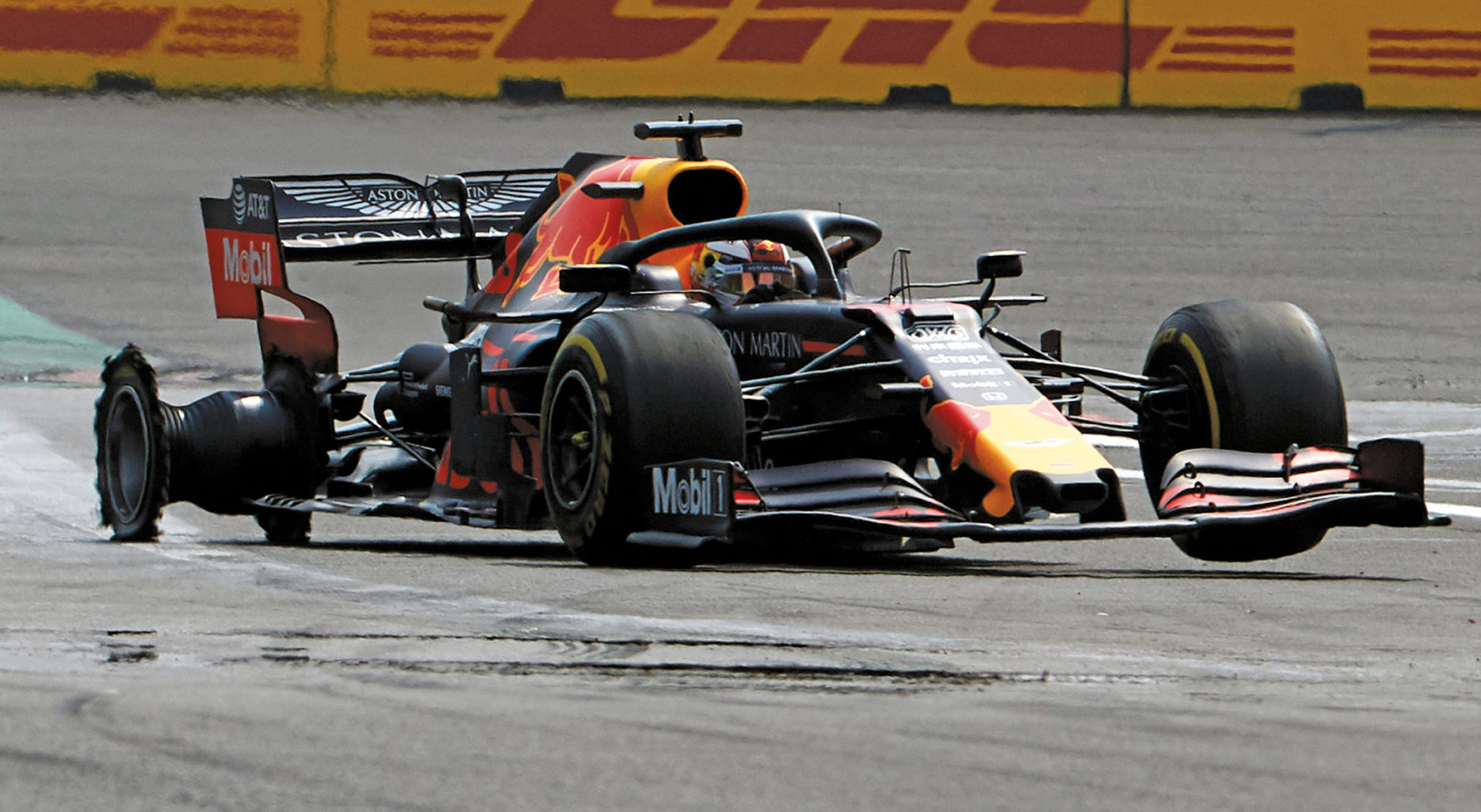 On the Mercedes pitwall they'd been carefully monitoring the tyre deg and, realising it was very low, had long-since concluded that so long as it could run Hamilton for at least 19 laps, then a one-stop was feasible. Ferrari wasn't so gung-ho and believed it needed to get Vettel until at least lap 30. Hamilton pitted on lap 23, thereby undercutting him ahead of the Ferrari. Even on his newer tyres Vettel was not able to cut into Hamilton's lead in the final stint. Which is how Hamilton won the Mexican GP. His only championship rival, team-mate Bottas, kept himself in mathematical contention with third, right on Vettel's tail. But Hamilton went to Austin needing just four points.
He wanted to clinch it with the full 25, however. His focus was on winning this race from the front, taking destiny into his own hands. That was to reckon without him inadvertently knocking the cover from the brake bias control on his steering wheel in Q3. He didn't realise he was changing the bias as his hands moved over the wheel and consequently gave himself several time-costing moments, which left him fifth and Bottas on pole. "That was totally down to myself," he would later reflect. "I was in a dark place after that. Earlier in my career, 2007 and '08, if I'd had a bad race I couldn't leave my room for three days… As I've grown I've understood how to stay centred, to get myself out of dark holes. But I was in one after qualifying. I put it right the next day."
In Brazil Hamilton could race without a care. He said: "Maybe we can be more aggressive, we can have some fun with these guys."
He was up to third a few corners into the race, Bottas leading from Verstappen as the Ferrari challenge collapsed (a detuned old-spec engine and under-temperature tyres for Leclerc, collapsed suspension for Vettel). Like Mexico, this would develop into a race of tyre strategy. But the other way around, migrating from an apparent one-stop to a two as this time the tyre deg was greater than expected. This worked against Hamilton, as Verstappen forced Bottas into pitting early – thereby putting him into what turned out to be the correct strategy. Hamilton went the opposite way and stayed on a one-stop. It got him into the lead, but with Bottas coming back at him on way faster tyres and plenty of laps left. Hamilton defended, but only up to a point. There was a title to win after all. An honourable second on the wrong strategy was the price to be paid for the qualifying mis-hap and under the circumstances of title number six, it's a result even Hamilton can live with.
In Brazil he could race without a care. In the post-qualifying press conference he looked straight at Verstappen sitting next to him and, smiling, answered a question about that with, "Maybe we can be more aggressive, we can have some fun with these guys." Verstappen was on pole while Hamilton was third in a Merc definitely down on power to the Honda at this altitude.
On race day Hamilton did perhaps drive with more carefree abandon, and was pushing his team to make aggressive choices – but he was against a faster Red Bull. He went wheel-to-wheel with Vettel through the Senna Esses at the start to vault to second. He managed to briefly squeak ahead of Verstappen around the first stops after the latter lost time to an errant Williams in the pitlane, but had used all his extra battery energy in doing the stunning outlap, so was literally powerless to prevent the Red Bull sailing past 20mph faster down the pit straight. A late safety car put him back in the lead as Verstappen pitted for new rubber and sat himself on the Merc's tail for the restart – but again Verstappen had the straight-line speed to retake the lead and pull away.
The Ferraris of Vettel and Leclerc taking each other out brought one final safety car, and induced Hamilton to gamble on surrendering two places to get new tyres on and try for a last-gasp win. Racing restarted with two laps left – he was instantly past Pierre Gasly's Toro Rosso and chasing the second-placed Albon. Hamilton was running out of time and there was no title to worry about, so he tried a marginal move on Albon into Turn 10. They collided, spinning Albon to the back and losing Hamilton a place to Gasly, which he couldn't retake before the flag as Verstappen lead a Honda-powered 1-2. Hamilton was deeply apologetic to Albon later. But he'd given his all. "I raced my heart out. I left nothing on the table and I took a lot of risks. We could keep up with them in the corners but they were outshining us on the straights. I don't think there was anything we could do."