Lewis Hamilton in 2019 rode as an avenger of doubt, swashbuckling aside all challengers as he drove to his sixth world title, still the dominant force even as the other warriors of his generation began to fall, replaced by fearless, thrusting young padawans transitioning into jedis.
That was the seasonal narrative as Formula 1 took a step towards somewhere, with a reworked set of technical regulations which sought to improve the cars' raceability, borrowing from research for the 2021 formula. Quite where 'somewhere' ends up being isn't yet clear, but as the sport's owners and bosses worried and argued behind the scenes about that, the shop front put on a pretty good show.
As the best team with the firmest combined technical grasp of engines and aero, Mercedes flourished from the regulation change as Ferrari's potent challenge of the previous two years faltered. Despite bouts of promised but unfulfilled dominance from the Scuderia, five consecutive Mercedes 1-2s at the beginning of the season built title foundations that Ferrari was never going to crack. A record-breaking sixth consecutive clinching of both drivers' and constructors' championships for Mercedes was an outcome that was foreshadowed in the opening race in Melbourne, as were pretty much all of the season's significant themes.
The passing of Charlie Whiting (the FIA's technical, safety and race director) in Australia put a line beneath an era. It was an awful way to start the season. There he'd been Thursday afternoon, walking the track, busy and wise-cracking, as ever. He didn't wake up next day. His death left a huge gap that F1 still hasn't properly filled. It turned out to be just one of many ways in which Melbourne set a new template.
---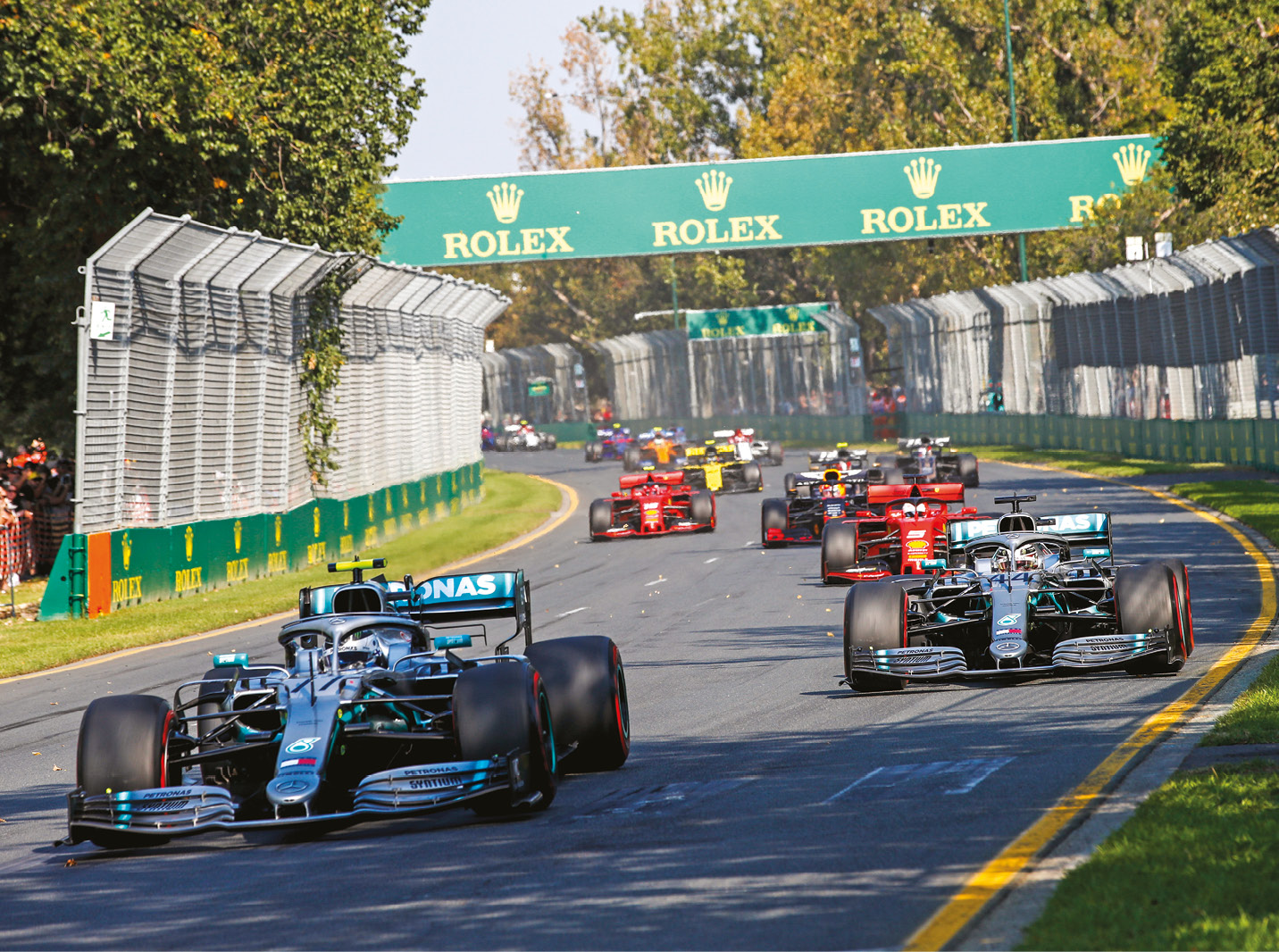 The Silver Arrows spear the Prancing Horse
"Going into Melbourne after seeing how fast Ferrari were in testing, we thought we would be somewhere behind them," said Merc's tech director James Allison, "but not embarrassingly so and with the development potential we felt was in the car we thought we'd then have a strong early part of the year to catch up on the points, and then a brilliant final. That was what we were thinking and Toto [Wolff] gave a stirring speech before we left about the scale of the challenge we faced but if we wanted to show everyone that we were worthy winners then there'd no better way than this. Then we go to the first race and actually found that we were pretty decent – and we saw the shocked looks on Ferrari's faces."
The development potential he talked about was built into the aero team's response to the regulation changes that simplified (but widened) the front wing and put restrictions on brake ducts, barge boards and under-nose guide vanes. This made achieving a good outwash around the front tyres to carry down the whole car (and therefore not interfere with the underfloor and bodyside airflow) much more difficult. Ferrari and others figured they'd prefer to surrender some direct front wing downforce by tapering in the outboard ends so as to enhance the outwash. Mercedes didn't and chose to use the full allowable depth at the outboard ends.
It resulted in a Merc that had more downforce than anything else and a Ferrari with a shortfall of frontal aero grip, although it was very low-drag and very powerful. An unintended consequence of the new regulations was the reduced productivity of the aerodynamic development paths Ferrari and Red Bull were following. The Merc's long wheelbase/low rake concept appeared to be more adaptable to the trickier trade-off between underfloor and front wing downforce.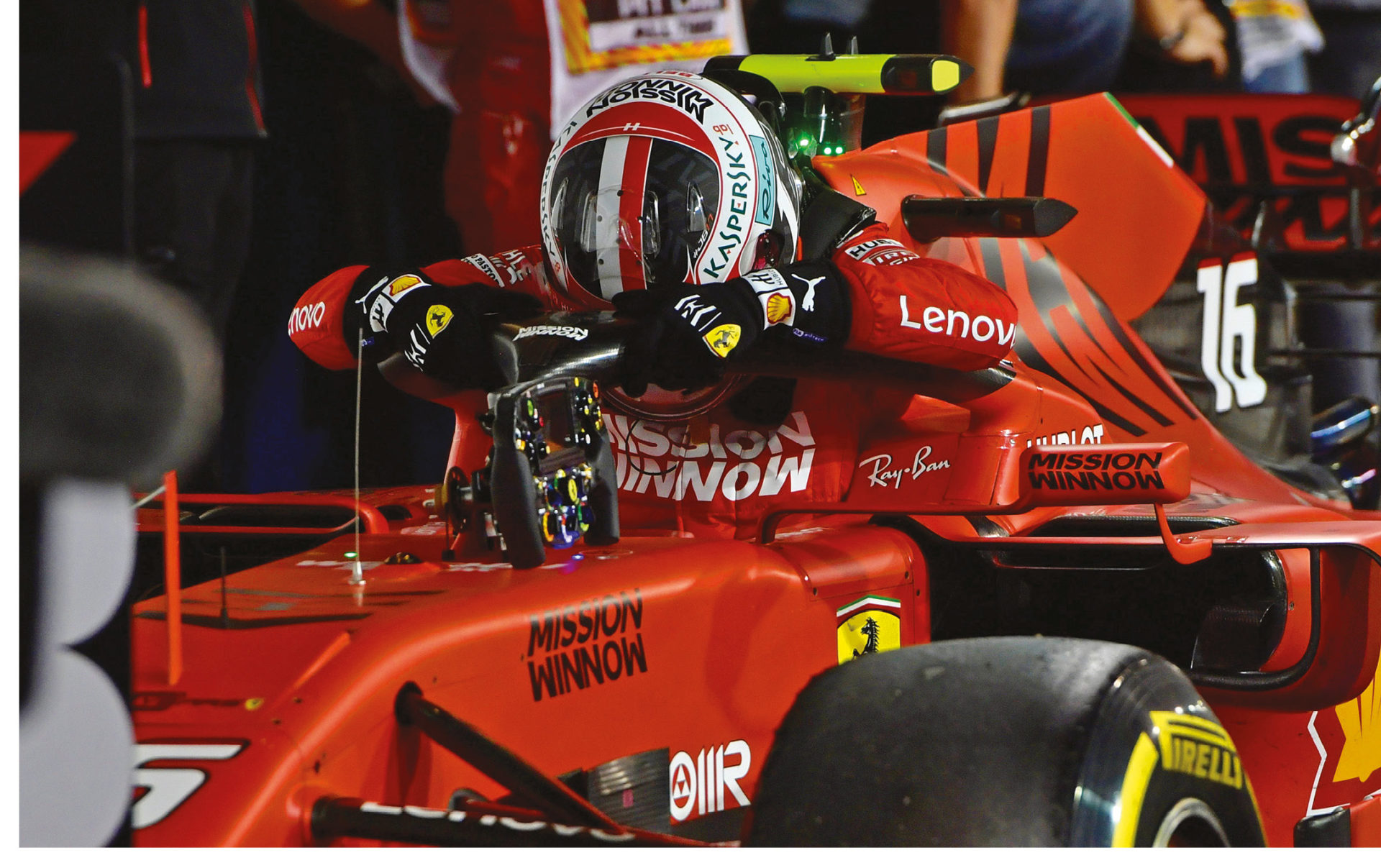 So at Melbourne Hamilton qualified on pole 0.7sec faster than the fastest non-Mercedes and Valtteri Bottas cantered to a comfortable victory after Hamilton lost the start and subsequently damaged his floor. The Ferraris were almost a minute adrift by the end, mechanically compromised at the rear just to get a balance through slow corners from the lack of aero load on the front. There were also engine compromises on the red cars, the motors turned down while a fix was made for a weakness in the ERS that became apparent during the last day of testing.
These themes would repeat for much of the season. The Ferrari's ERS problem was fixed by the next race but various mechanical breakdowns cost it probable victories in Bahrain, Hockenheim and Sochi. It was doubly unfortunate that these failures should have occurred at venues where the SF90 was otherwise the likely winner. The layouts of Bahrain, Baku, Montréal, Hockenheim, Spa and Monza allowed its power advantage (which grew through the season) to find it more time than its downforce deficit cost. But of those six venues where Ferrari had a genuine pace advantage even with the original aerodynamically flawed car, only two victories were secured. Three of the four losses were mechanical.
A very effective upgrade went onto the front of the car for Singapore and from that point it finally had a decent balance and was on pole for another four consecutive races – but with only one victory to show from that sequence. In those races where the Mercedes didn't set pole, it often remained the fastest car on race day and even when it wasn't, Merc's tactical nous could still conjure victories. Annealed by some of the key people having worked together for 18 years in the team in its various guises, Mercedes was every bit as exceptional operationally as it was technically.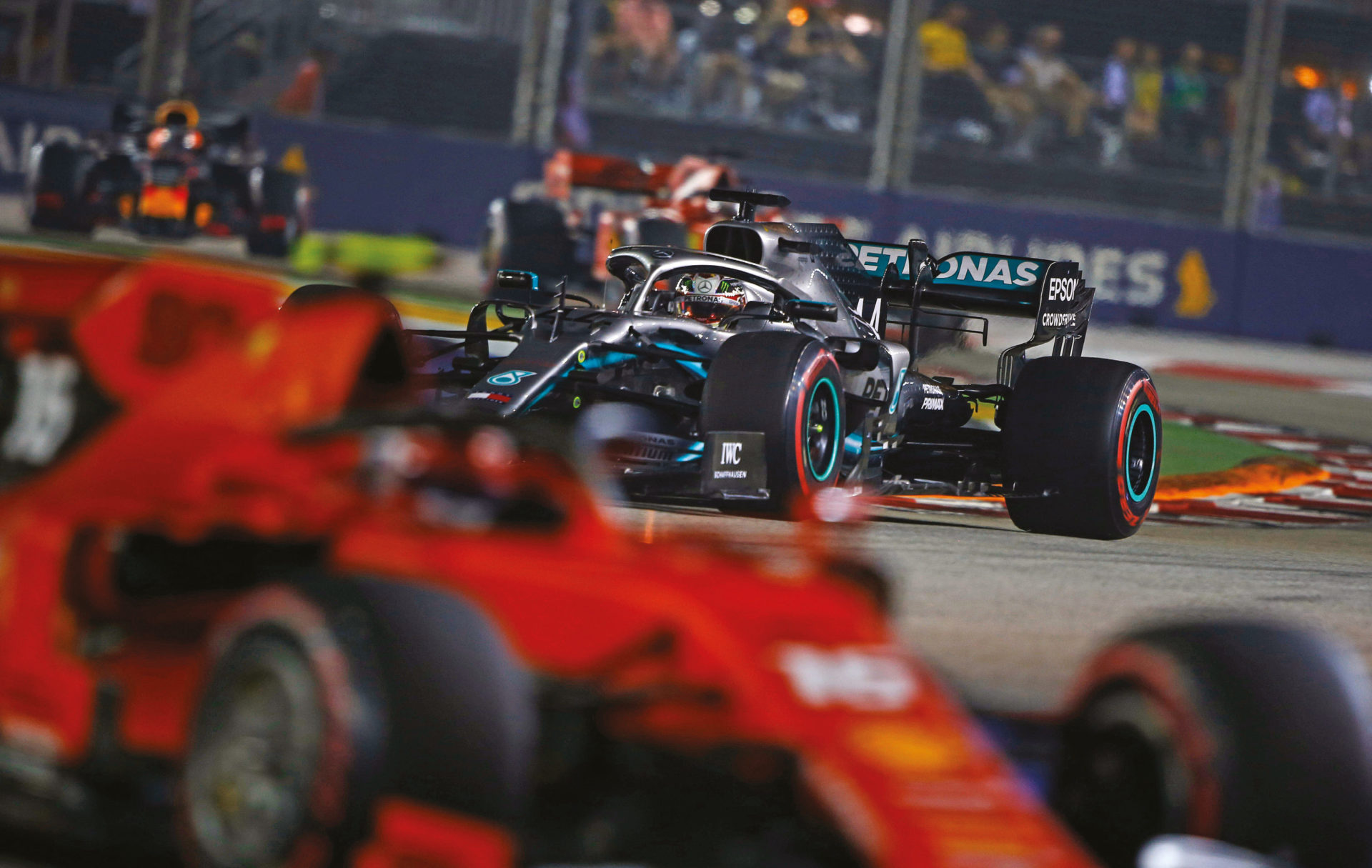 ---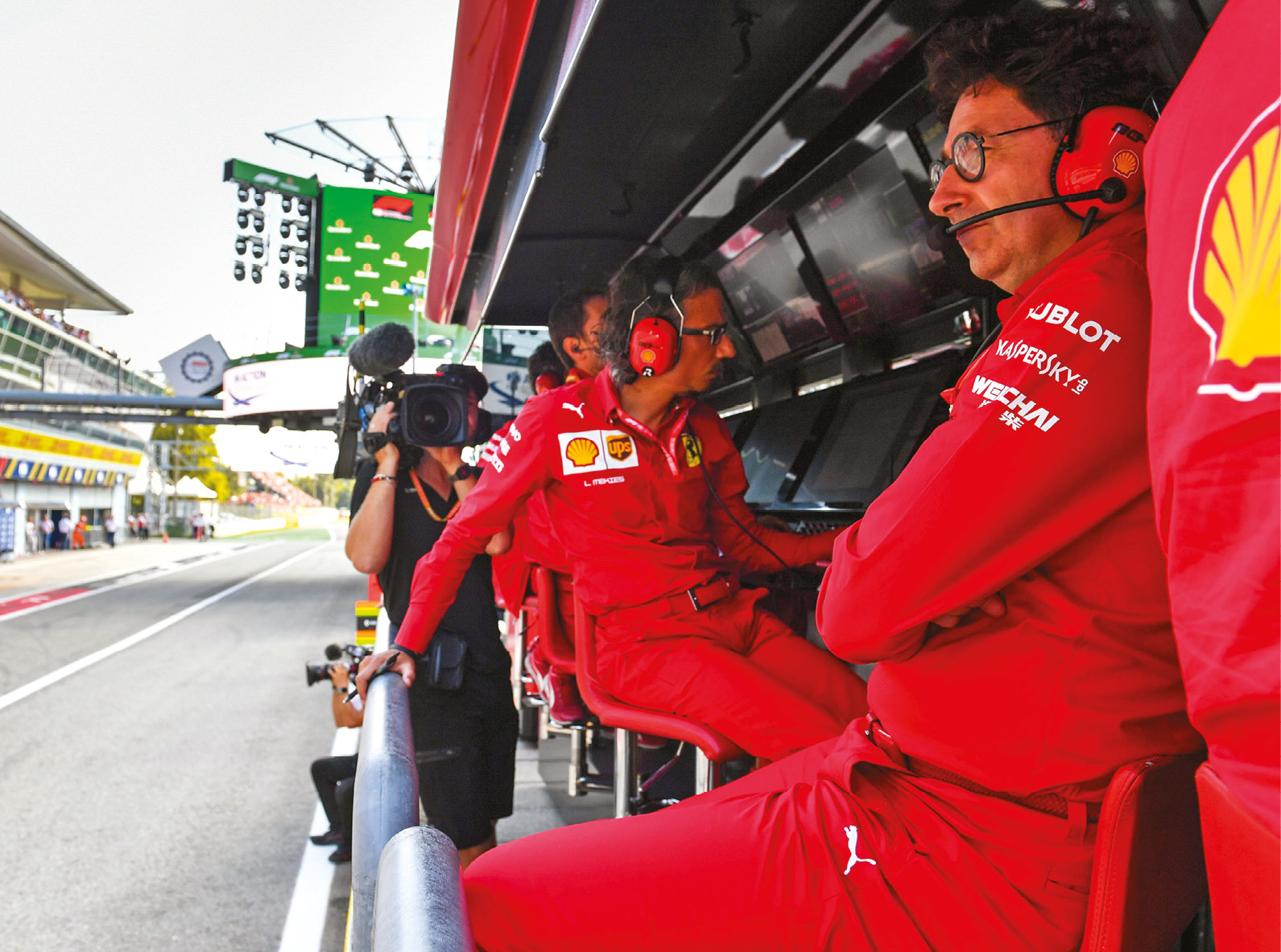 Ferrari's toughest job
After Maurizio Arrivabene was shown the door during the off-season, former tech boss Mattia Binotto (above) brought a very different – more enlightened and less dictatorial – management style to the role. But he had a couple of tricky issues to deal with: a difficult car and a challenging new driver dynamic as the steely, highly ambitious – and very quick – sophomore Charles Leclerc was brought in alongside the proud champion Sebastian Vettel.
Vettel's paranoia antenna would have been twitching. Going into his fifth season with the Scuderia and still not having won it a title, the recruitment of the young gun in place of Kimi Räikkönen could easily be perceived as a benchmarking of Vettel. This indeed is what the late Sergio Marchionne had intended. But to allay Vettel's fears, Binotto said on the eve of the season that Seb started the season as the nominal number one; in any 50/50 situations, he would be given strategic preference as a four-time world champion. But the drivers were otherwise free to race.
The situation arose in Melbourne – just as it would many times through the season. Leclerc was on much newer tyres than Vettel late in the race and so was catching his fourth place fast – and he let the team know over the radio just how much he was being held up. On this occasion they called him off, but it was clear he was not going to be operating like Kimi did. "Yes, I think it makes sense there's a number one in the team," Leclerc said, "and at the moment it's Seb. But it's up to me to change that situation by performance." In Bahrain, one race later, upon being told to stand by for further instructions but to stay behind Vettel for two more laps, he took matters into his own hands and passed his team-mate three corners later.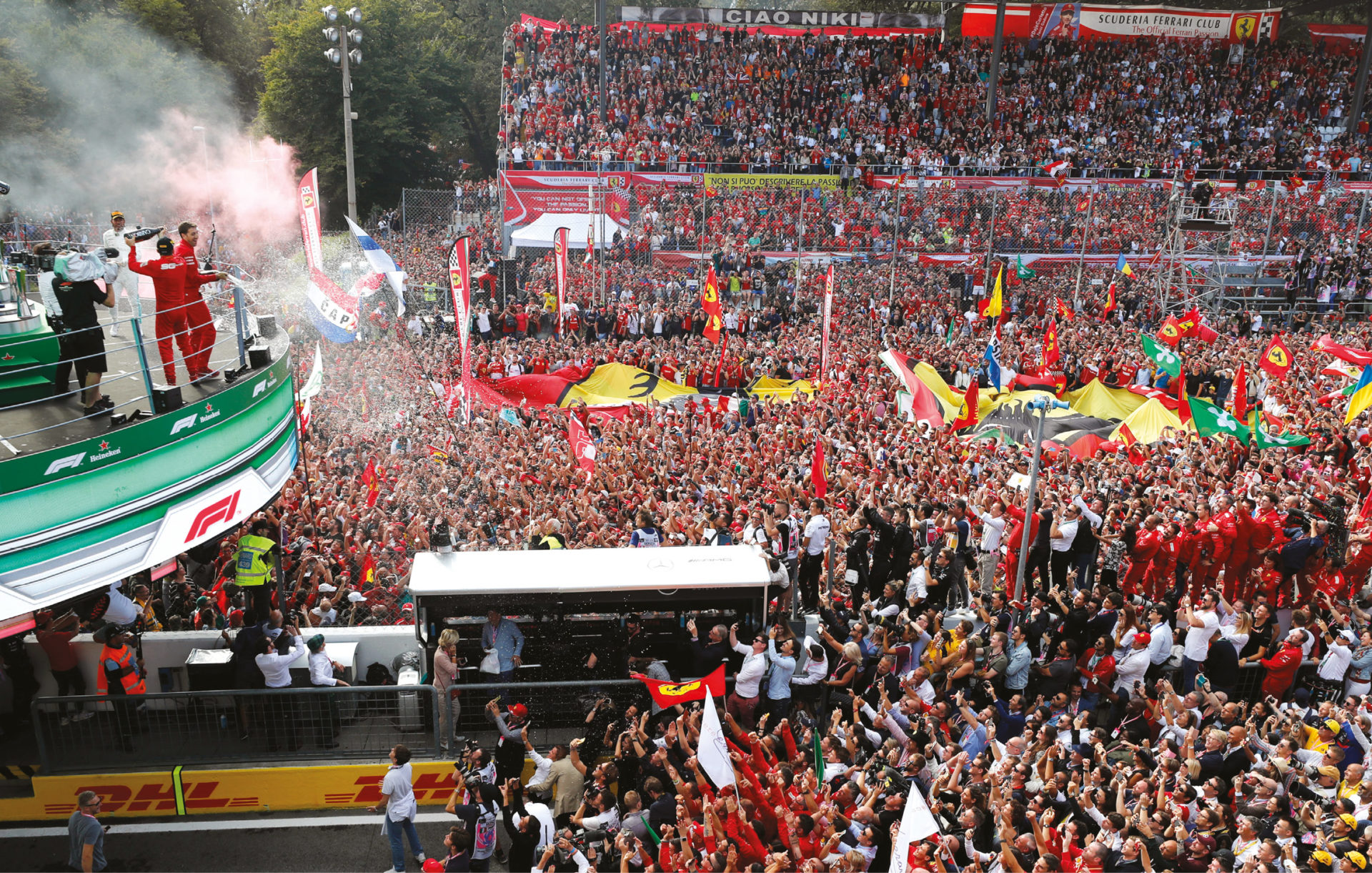 He would go on to score more pole positions than any other driver and when fully on song he was invariably the quicker Ferrari driver, although Vettel did turn it around in the latter part of the season. Leclerc was within a few laps of victory in Bahrain before mechanical dramas. He finally made the breakthrough in Spa, followed seven days later by a repeat in Monza. But it was what happened in Q3 the day before that was really significant. Uncannily like Hamilton in Hungary 2007, Leclerc pulled a fast one within the team to ensure himself pole (by taking the opportunity of not towing Vettel in return for Vettel having towed him on the first runs) – and earned censure from Binotto for doing so. A brilliant victory the following day (including getting physical to keep Hamilton behind him) led the boss to say "all is forgiven".
Those imagining this might have been the final psychological blow for Vettel underestimated him. If anything, he seemed to use it as fuel for a renewed vigour and if his Singapore victory over Leclerc two weeks later was fortuitous, he wasn't shy about celebrating it. Furthermore, his reluctance to give Leclerc back the lead in Sochi after a pre-planned choreographed start to protect them from the Mercs needed the back story of Monza Q3 to be properly appreciated. Singapore was actually his second 'across the line' victory of the season, but that of Montréal was lost to a five-second penalty for the manner in which he rejoined the track after a brief off while dicing with Hamilton. The outrage that followed that led to a less hardline approach from the stewards subsequently for the season's balance.
All remained courteous and professional between Ferrari's young gun and old hand in public, but this was one fierce and potentially volatile intra-team competition, a cauldron that Binotto at times struggled to keep under control.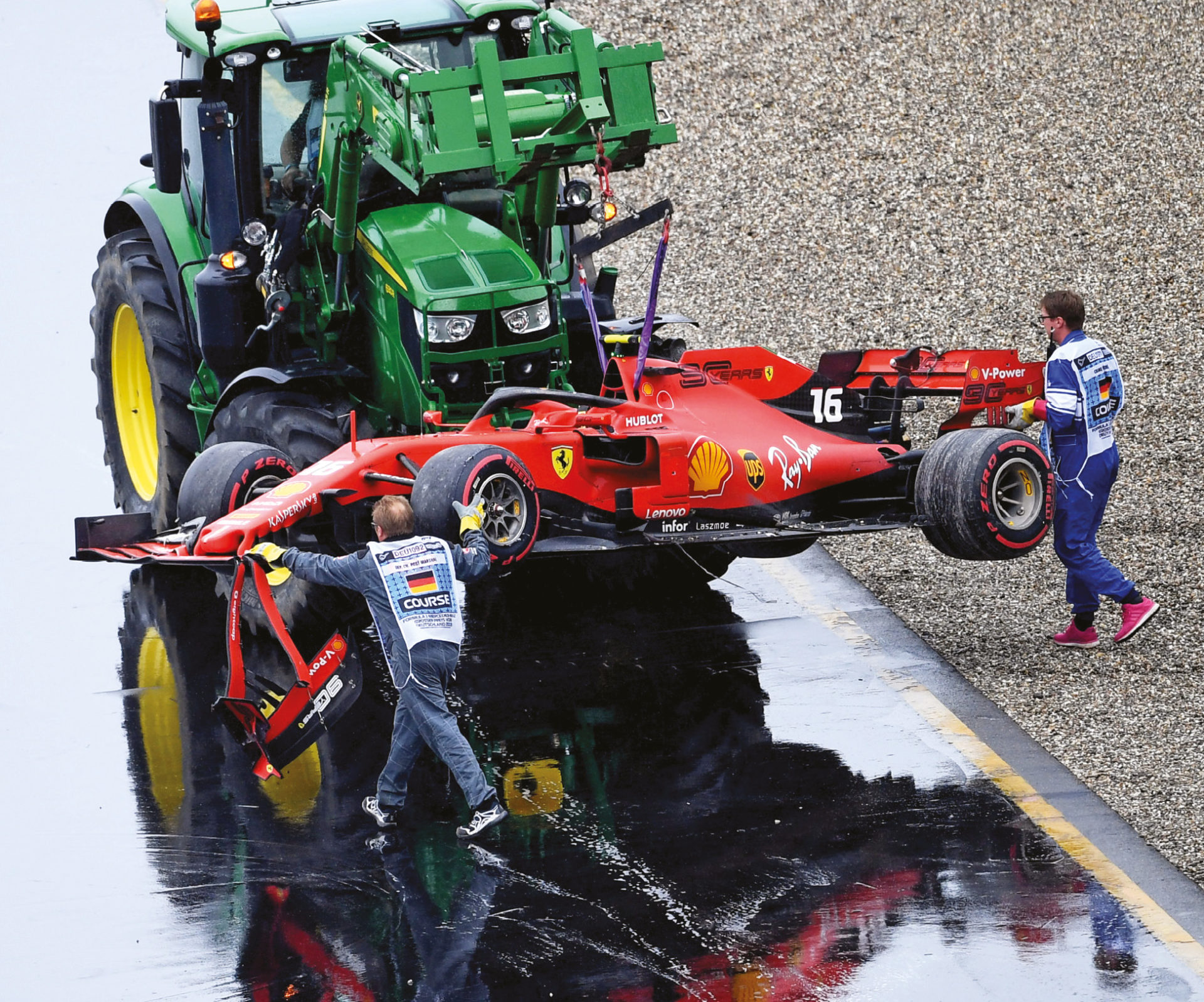 ---
Hamilton vs Bottas II
The internal competition at Mercedes was by comparison very benign. This remained true even as Bottas got his season off to a flying start, not only with his Melbourne victory but with a genuine Hamilton-beating qualifying pace at China, Baku and Barcelona. He won two of the first four races but it might easily have been three, he scored three consecutive poles and his form was enough for the tag 'Bottas II' to take hold. He'd been deeply hacked off with himself during the off-season for having put himself in Hamilton's support role in late 2018 by his own performance shortfall.
He came back a tougher cookie. "To whom it may concern," he famously prefaced his slow-down lap radio declaration in Melbourne, "f**k you." This was Bottas the badass – in the car, at least. Out of it, he remained the same supremely gracious and unassuming individual.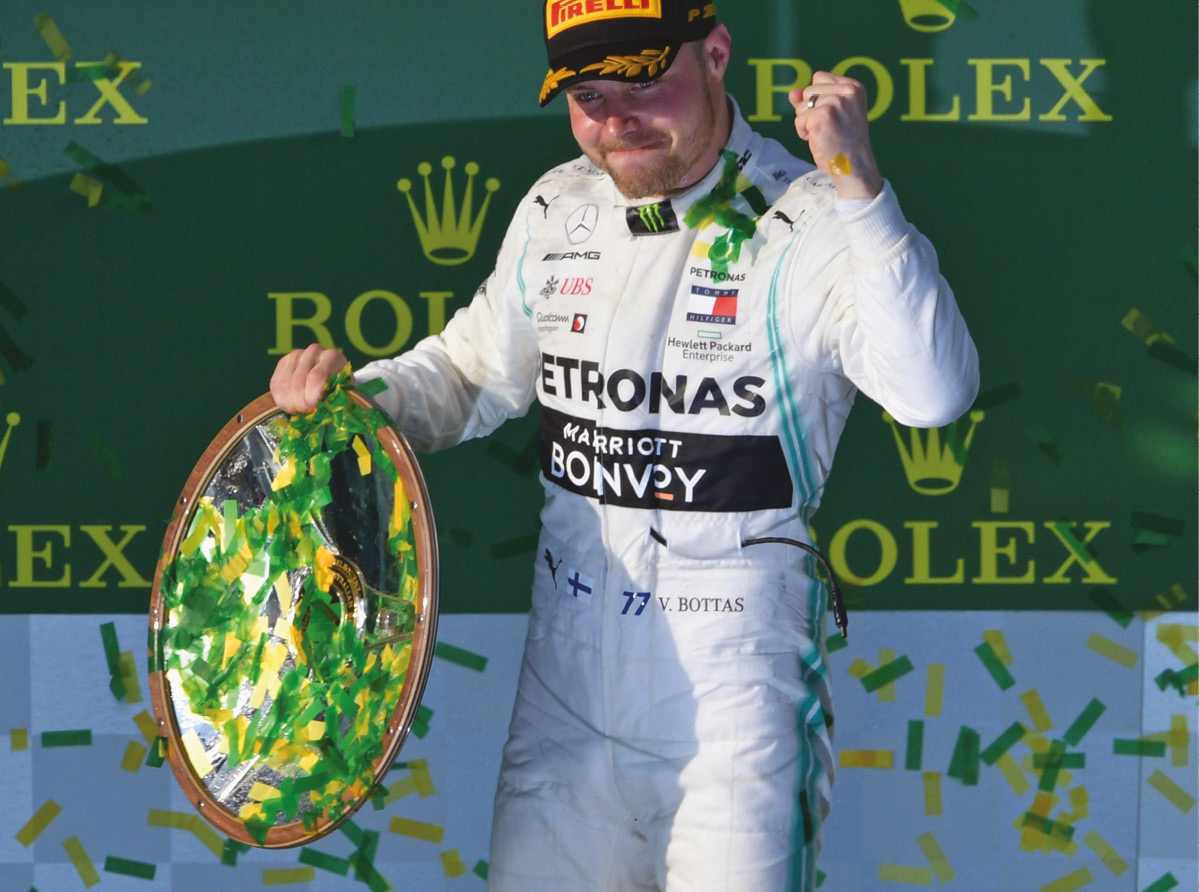 Hamilton admitted later that Bottas' early form raised questions in his mind about what he was missing from his own performances. Hamilton at this stage of the season was scratching wins rather than taking them.
A scrappy Bottas weekend in Canada was the fulcrum on which Hamilton's underlying form turned. From there he was unstoppable, even once Bottas came back on-song. Bottas' stealing of pole at Silverstone brought out the best of the champion on race day. There was no way Hamilton wasn't winning this one, he'd decided – and he had a plan for exactly how he was going to achieve it. He ran Bottas ragged in the early stages, forcing him to use up his tyres in defence as Bottas (and the team) planned around a two-stop. Hamilton reckoned he could do it with a one-stop and his uncanny knack of combing pace with extended tyre life allowed him to pull it off.    
Both Mercs crashed out of a wet Hockenheim, the team's seasonal nadir, Hamilton took an inspired victory out of the grasp of Max Verstappen in Hungary, split the faster Ferraris at Spa, pounced to take advantage of Ferrari's problems in Sochi and utilised the strategy advantage the team gave him to win Mexico. Bottas took victories in Suzuka and Austin.
In upping his game throughout 2019, Bottas forced one of the all-time greatest drivers to do the same.     
---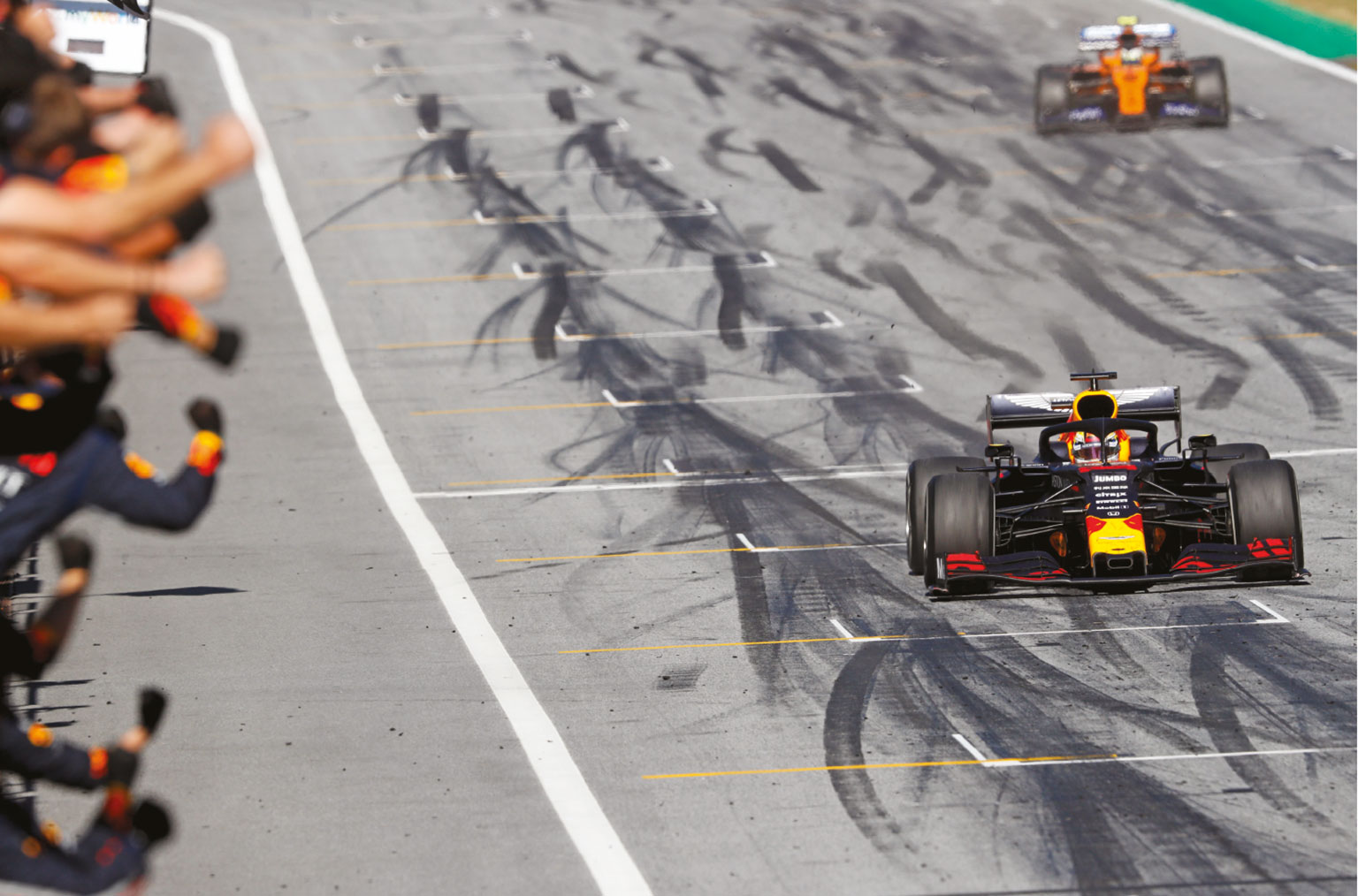 Red Bull's recharge
There was a moment in the Australian Grand Prix where Max Verstappen's newly Honda-powered Red Bull got a run going on Vettel's Ferrari. He needed DRS to make the pass into turn three – but he also needed competitive grunt. It got him third place there, but of more significance, it marked Honda's breakthrough to competitiveness in the hybrid era.
The Red Bull RB15 began as a difficult car but once its aero was developed, it was good enough for Verstappen to give Honda its first victory since 2006. This came in Austria for round nine and marked the first time in the season Mercedes had been defeated. Verstappen repeated the trick two races later – and came within an ace of making it three victories from four in Hungary, where he'd set pole position.
Max remained his brilliant hardcore, controversial self and both Hamilton and Vettel admitted they treated him differently to the others. Something which gave him some satisfaction. Red Bull desperately needs to retain the services of both Verstappen and Honda as it looks beyond 2020.
---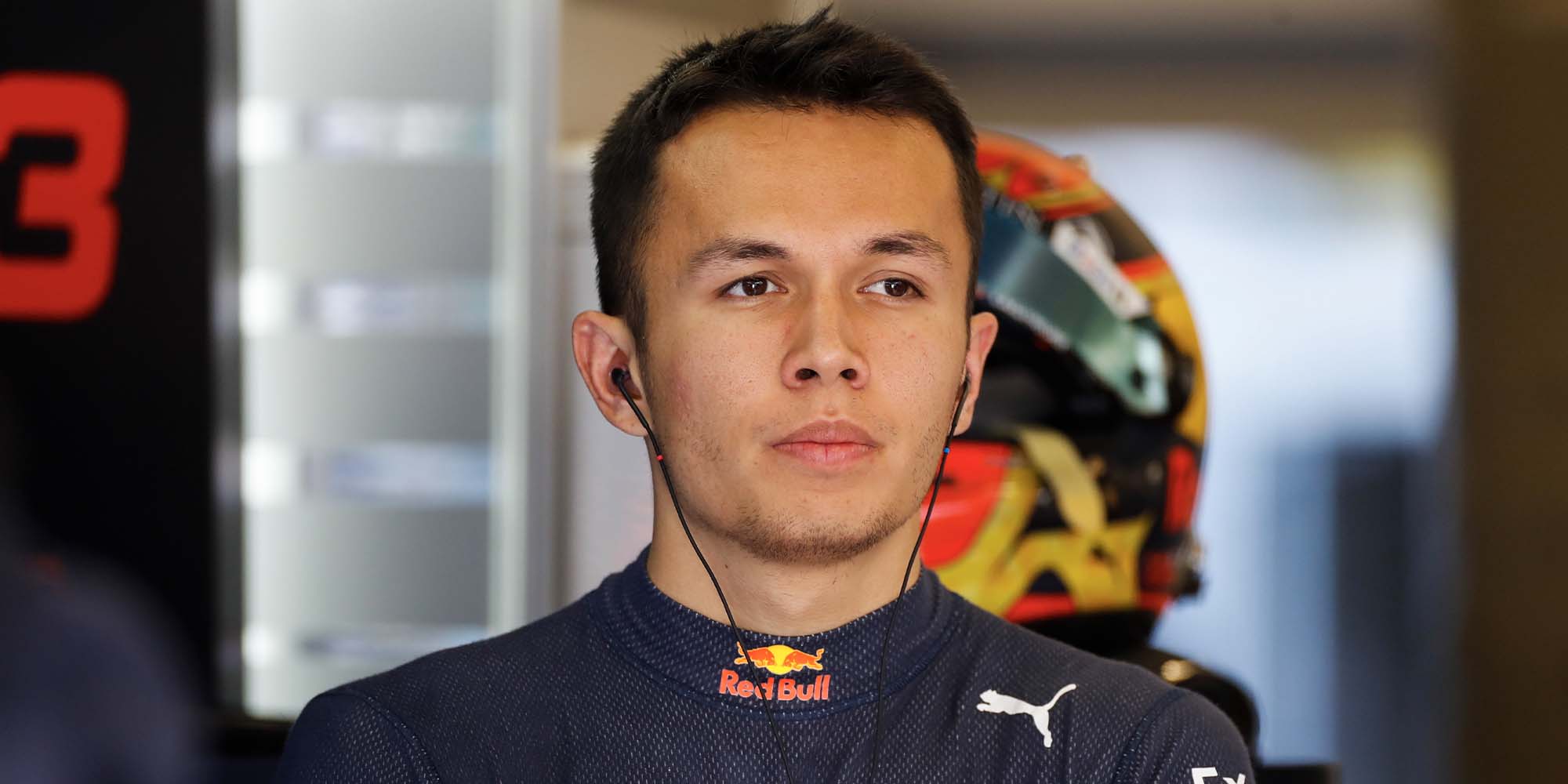 Brilliant rookies
Lando Norris, Alex Albon and George Russell all eclipsed their more experienced team mates as they made their grand prix debuts in Melbourne. In the vastly improved McLaren, Norris had a tough benchmark in the fast and relentless Carlos Sainz, who prevailed over the season as 'best of the rest' outside the top three teams. But Norris was frequently as fast, or faster. Albon shone so brightly in the Toro Rosso that he was in the Red Bull by Spa – and he matched Verstappen's qualifying time on his first visit to Suzuka. Russell in the wildly off-the-pace Williams completely eclipsed the comeback of Robert Kubica. Combined with the emergence of Verstappen and Leclerc, a brilliant new generation has arrived. In this context, 30-year-old Daniel Ricciardo – who had left Red Bull for a dispiriting season with an off-the-pace Renault, despite comfortably eclipsing Nico Hülkenberg – may have cause to ponder whether he's missed his slot.
---
Team of the Year
Mercedes, no contest. Not only did it come up with the best technical solution to the new aero rules, it operated so cohesively under pressure, its reliability was superb. Its victory in Mexico – a circuit on which it assumed it had no hope, going in – with Hamilton was a perfect illustration of winning by being smarter rather than faster. The James Vowles-led strategy crew numbers around 100 people (most of them at the factory), the software is cutting edge but the crucial factor is probably how well-oiled the team of people very familiar with and respectful of each other are. Toto Wolff guides it with a light but sure touch.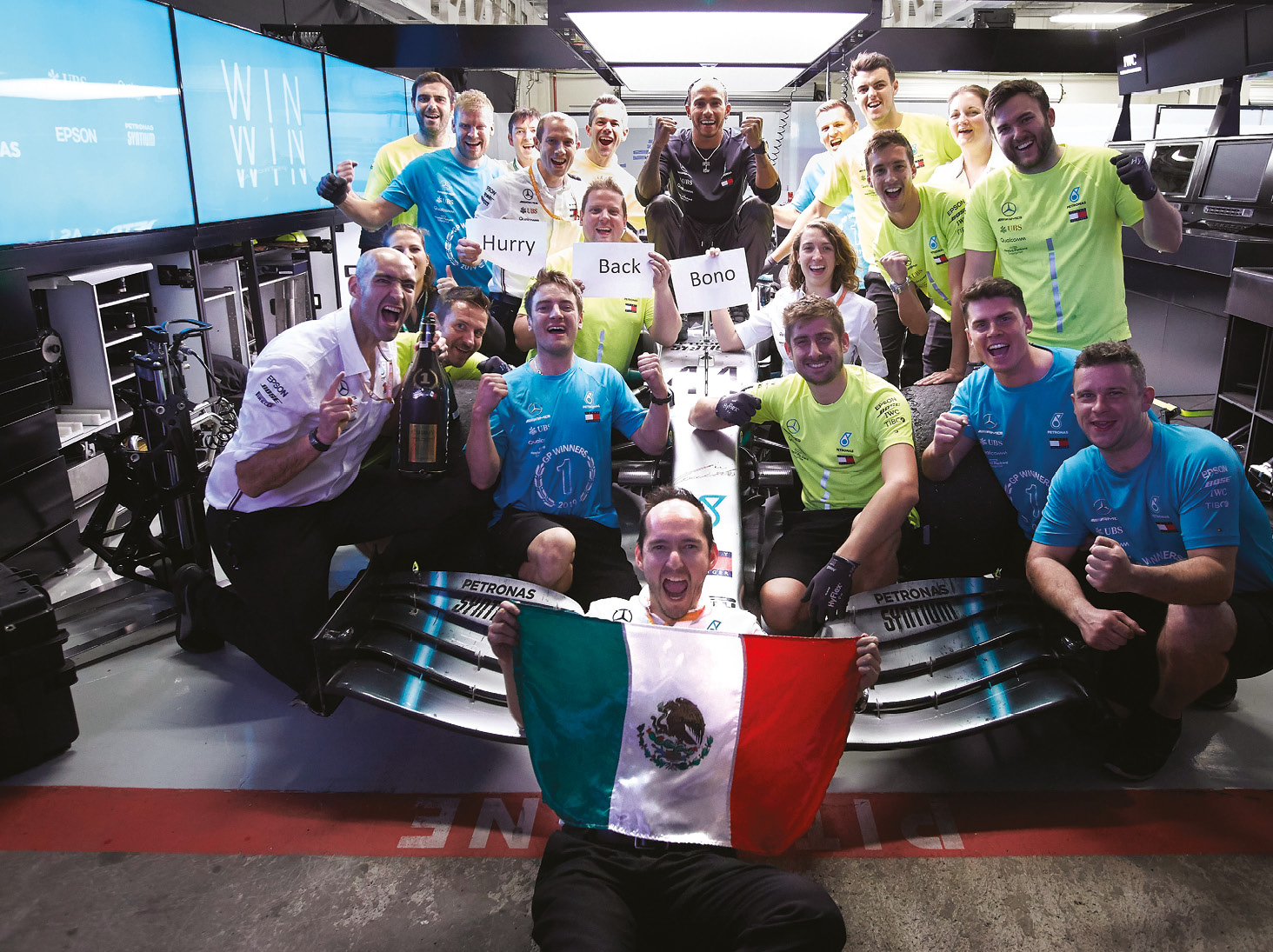 ---
Season Low Point
It happened on two different occasions to two different people, but the theme was the same: the loss of a brilliant individual who brought light to the sport. This was as true of Charlie Whiting's passing on the eve of the season as it was of the great Niki Lauda's just before Monaco. Forty one years earlier Lauda had taken a charging second place there in the Brabham-Alfa BT46. He'd been running in that position when he sensed he had a puncture – and was forced to pit. They turned him round quickly and efficiently and he lowered the lap record in his recovery drive. His mechanic Charlie Whiting checked the tyre that had just come off – sure it had a puncture, but the pressure loss just after Lauda had detected it was just two psi. In their later-life roles they were equally brilliant.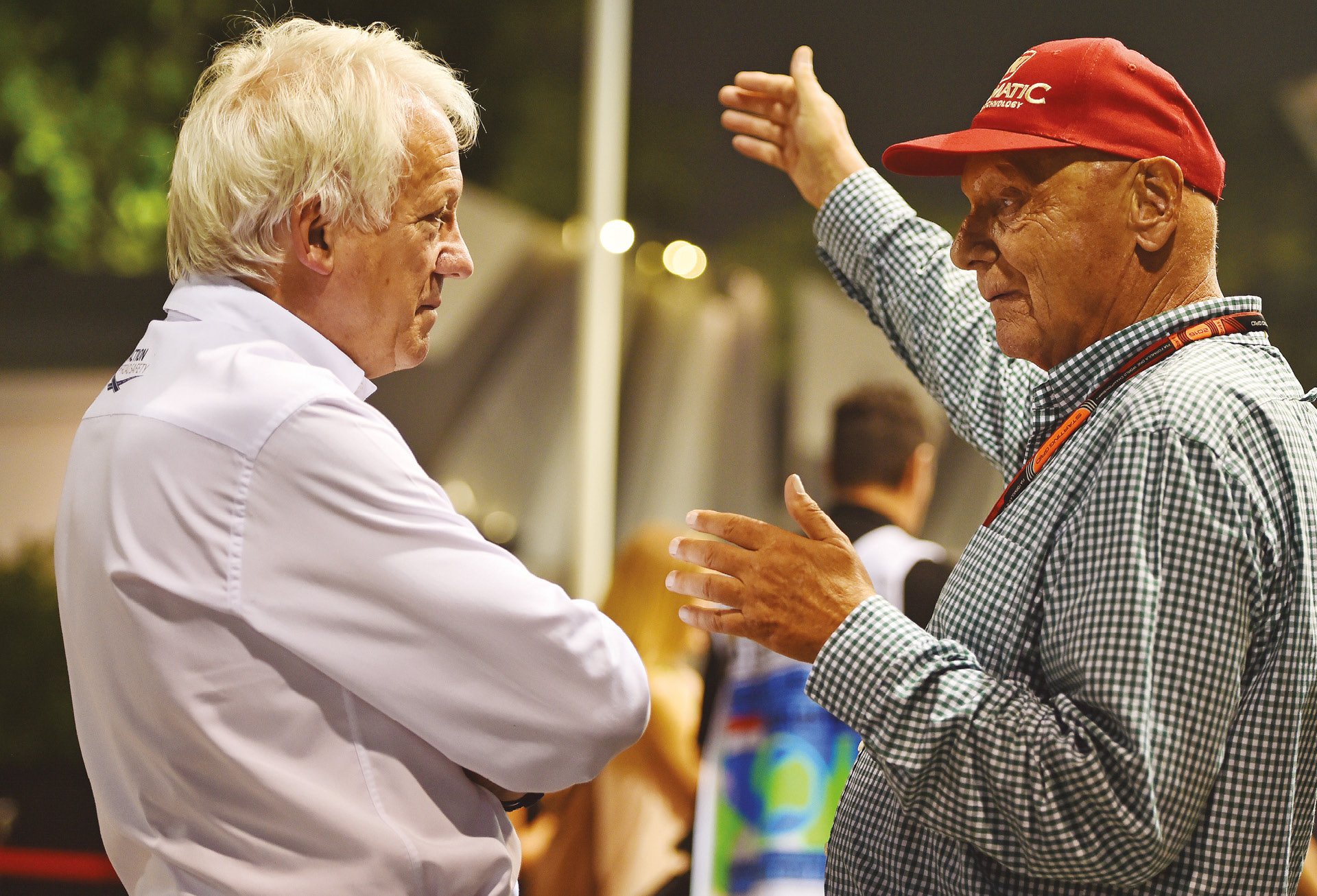 ---
Season High Point
Lewis Hamilton chasing Sebastian Vettel flat-out through the Ardennes countryside, silver pursuing red at 200mph along the valley floor, inches apart, hounding it all the way back up again, through Eau Rouge, the sport's two most iconic teams, two drivers with (at the time) nine world championships between them and so much history. Hamilton pressing, probing, looking for a weakness, Vettel shrewdly covering the right bits of track. Regardless of how it played out, this was the magnificent essence of the sport still visible and beautiful, and at Spa.