1973 Monaco Grand Prix race report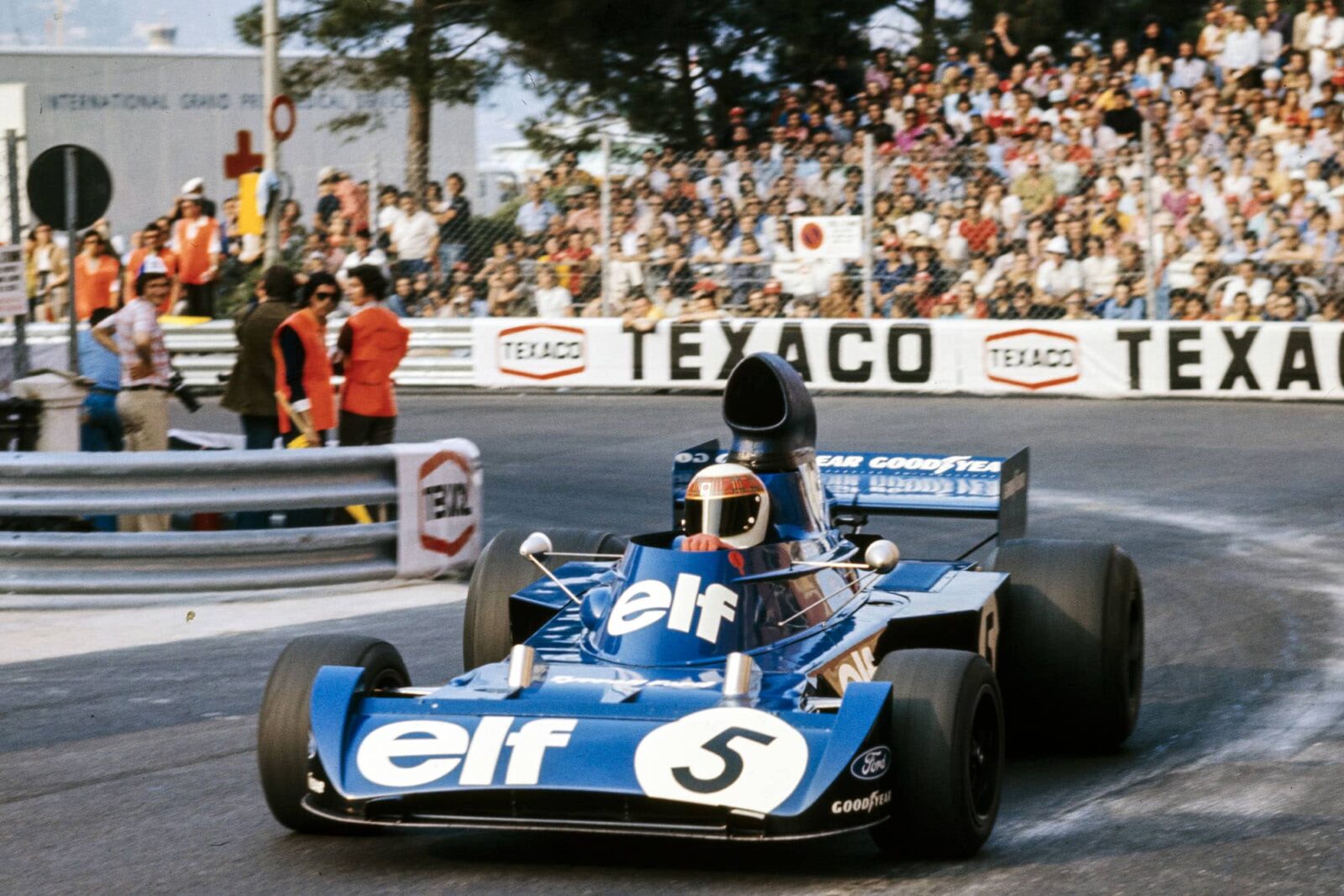 Orthodox race on revised circuit
Monte Carlo, June 3rd
When everyone arrived in Monte Carlo they were completely taken aback by the fact that the revised circuit (described in Motor Sport last month) was ready, if not completely finished in details. The first practice day was Thursday and by holding the National Renault Formula practice first, then the Formula Three practice, it gave the organisation a chance to finish off the details by the time Grand Prix practice started at 5 p.m.
What a pleasant change it all was from the previous Formula One event, held two weeks before at ZoIder, for everyone seemed happy and content to accept everything just as they found it. The new sea-front road from the Portier corner to the harbour was wider and straighter, and instead of passing through the old curved tunnel was now underground for almost its entire length in a grand arcade, so that there was no feeling of diving into a tunnel as before. The chicane which takes the circuit onto the harbour front had gone right back to its original position at the foot of the slope from the sea-front road, a position always previously regarded as dangerous. The Tabac corner was now high and dry on a ledge and the harbour front road turned left before the previous rise up to Tabac, and flowed very fast into the new road below the promenade and joined the existing road that ran out into the harbour around the swimming pool. This road was Armco lined and as wide as possible, but the corners followed each other so quickly that it was real "Mickey Mouse", and at the western side of the harbour it did a tight loop round some buildings and up onto the promenade level past the old Gasworks Hairpin and on to the original circuit towards Ste. Devote. The old promenade, from Tabac to the Gasworks was now the pit area, entered from the inside of the hairpin leading up from the harbour, and exited just before the timing box before Ste. Devote.
Compared with the old circuit this new layout was really a Kart track, and any courageous lad in a Kart powered by a 380-c.c. Husqvarna engine would probably have got from the chicane to Ste. Devote quicker than most Grand Prix cars. However, it had been done for three major reasons and it achieved them all. It solved the problem of the pit area, which for years has been a flagrant violation of all that is required for a Grand Prix, it provided more room for the pits personnel and all the hangers-on, making everyone happy, and it provided some 8,500 more grandstand seats. The rebuilding of the sea-front road and the demolition of the tunnel had no bearing on the matter as that was to do with the town reconstruction. The rest of the circuit, up in the town, through the Casino Square, down through the hairpins of Mirabeau and the old station was unchanged. The alternative to the new harbour section was to abandon the Monaco Grand Prix, and nobody wanted that. While the new sea-front road was wide it was not very smooth and as a piece of modern road-building it was pretty awful; the "Mickey Mouse" kart-track was so tight that if a car spun in it the whole field would have to queue up behind the stationary car, and the join of the road out of the harbour front hairpin onto the Boulevard Albert 1e at the old Gasworks Hairpin was so badly executed that the Grand Prix cars were leaving the ground with all four wheels when accelerating hard in 2nd gear, so that gearboxes, final drives, and drive-shafts were suffering badly.
Having watched and listened to certain people nit-pick when looking at other circuits it was interesting that Monaco was accepted as it stood. The sun was shining, the sea was blue, there were beautiful boats in the harbour, most of them holding never-ending parties, most of the drivers were in the cosiness of the plastic Holiday Inn, the drivers who had their wives with them had no complaints, the bachelor drivers had a superfluity of talent at their disposal, everyone was on holiday and the atmosphere was happy and carefree; in fact, the 2-hour Grand Prix scheduled for Sunday afternoon seemed to be a bit out of place, and a rather tiresome imposition.
Qualifying
As all the teams gathered in the pit area on Thursday afternoon it almost seemed a pity to disturb the happy scene by starting up a racing engine. There was a short delay while some oil spilt by a Formula Three car was cleared up, and then like an explosion it all began to happen, and it was Stewart in Tyrrell 006/2 who led the way out onto the revised circuit. In fact, he continued to lead the way, setting fastest practice lap during this first one-and-a-half-hour session. His teammate Cevert in Tyrrell 006 was not far behind him. Every year there has to be some technical problem to worry the drivers, and this year's problem is brakes. As the cars get bigger and heavier and faster they take more stopping and, added to this, the tyres are giving more adhesion so the brakes can be used harder, and circuits are getting smaller rather than longer so the brakes get less rest to cool down, and so it goes on. Bigger calipers, thicker pads, thicker discs, more cooling, air ducts, air scoops, tubes, deflectors, everything was being tried and the Lockhee and Girling technicians were being over-worked, and the heat being generated was melting the grease in universal joints and hubs, and it was all quite fascinating.
The problem used to be roll-bars, then it was spring-rates and shock absorbers, then ignition units, then tyre vibrations, then differentials. This year it's brakes. Fortunately there are bigger, more powerful, heavier and faster racing cars than Formula One cars, like the Can-Am McLarens and the Porsche 917/10 turbocharged sports cars, so that both brake firms had information and material to draw on to solve the Grand Prix problems.
In addition to all the regular Formula One runners the field was joined by Merzario, taking over the second Ferrari, and two English drivers with private teams courageously tackling an entry into the sanctity of Formula One. These were James Hunt driving a March for the Hesketh Racing team, the car all pure and white and Lord Hesketh's own personal property, he being his own sponsor if you feel a team must be sponsored these days, and David Purley driving his own March and publicising his family's Lec Refrigeration firm. The only person missing from the scene was Peter Revson, who was on his way from the disastrous Indianapolis 500-mile race, though his car was in the pits as a T-car for Hulme.
Twenty-six drivers were entered and only twenty-five were going to start, so there was a bit of a scrabble not to be odd-man out, though until Revson arrived there was no problem. Just as no-one likes to be last, everyone likes to be first, and in addition they could all see that the "Mickey Mouse" section was going to hold things up if you were not in the lead at that point on the opening lap, for previously the fast scrabble down to the old Gasworks Hairpin was one of the few places where you could be brave and overtake, and that was now gone.
The Lotus team were back to three cars, as Peterson's second one at Zolder had yet to be repaired, so the Swede had to be careful for there was no question of borrowing Fittipaldi's spare car. Although he was careful it did not stop him from being fast and he vied closely with Stewart for fastest time of the day, being only three-tenths of a second behind the Scot. The Brazilian World Champion was dragging his feet again, trying both his cars, but not being very impressive with either of them, brakes still being his main worry, until the gear-lever linkage on R7 gave trouble, whereupon he switched to R5 until that was sidelined with clutch bothers, so that in spite of having two cars he was standing around in the pits for quite a time.
Although Ickx was third fastest with his Ferrari he was almost a second slower than Stewart, which is a lot on the Monaco circuit, and the new section had added six seconds to the lap time and taken some 6 m.p.h. off the average speed. Hulme tried Revson's McLaren briefly to make sure it was working properly and Stewart went out in the spare Tyrrell, back in standard form since Zolder, as was his own car. The first signs of trouble from the bumps and tight turns was seen when Cevert's Tyrrell stopped with a broken gearbox. While some drivers were taking a long time to get into the swing of the new circuit, others plunged straight in and twitched their way from one corner to the next, notable among these being Merzario, Follmer and Ganley, while Amon was not disgracing himself with the Tecno. Through all the twitching from right to left, accelerating, braking and generally untidy scratching through the new "Mickey Mouse" kart-track, one driver stood out way above all the others, and that was Stewart, for he made his Tyrrell flow smoothly and effortlessly through it all in the same way he does through fast corners.
After the Formula Three cars had woken everyone's slumbers on Friday morning the Grand Prix cars appeared again, after an early breakfast, and practice ran from 8.40 a.m. until 10.10 a.m., or thereabouts, and once more it was Stewart who impressed with his smooth driving and the easy way he made the Tyrrell flow through the succession of corners. He improved his best time by exactly one second, doing 1 min. 27.5 sec., but all the while Peterson was with him, now being only two-tenths of a second slower, whereas on the first day he had been three-tenths slower. While Stewart looked as though he could go on all day at this pace, and surely could, Peterson never gave the same impression. Give a dog a bad name and he'll keep it for ever. Somehow one just felt that Peterson could not keep it up, or the Lotus would falter or an accident would happen; no doubt, all very unjust thinking, but honest thoughts nevertheless.
Also driving smoothly and unflurried and never looking fast was Hulme, the McLaren riding the bump out of the new hairpin bend better than most, and his result was a mere one-tenth of a second slower than Peterson's time, giving him third fastest of the morning. While all this smooth driving was going on Ickx clouted a kerb with his Ferrari, which bent the front suspension, and parking it at the far end of the circuit he returned to the pits and had a go in Merzario's car. However, it was not to his liking and he soon gave it back to the skinny Italian.
The entire Brabham team had come to a grinding halt with various mechanical problems, the BT37 and one mechanic being all that was left in the pits, the two BT42 cars being abandoned out on the circuit. The UOP-Shadow team were not much better off for Follmer's rear aerofoil broke away from its mountings and flew up in the air and into an empty spectator enclosure, and the mountings on Oliver's car were found to be cracking. Hill's Shadow was all right as his aerofoil was in its original designed position the works cars experimenting with theirs moved farther back. Jarier's works March broke the left-rear driveshaft, and most teams were keeping an eye on the rear end of their cars generally, in view of the pounding that shafts, differentials, gearboxes, hubs and suspension components were getting.
With the end of the second practice a normal pattern was beginning to take shape, with Stewart, Peterson, Hulme, E. Fittipaldi, Cevert and Lauda, in that order, in the "Ace" category, the first three being "Super-Aces", and Ganley, Beltoise, Amon, Hailwood, Pace, Merzario and Regazzoni being in the "hardtrier" category of those who got a lap in under 1 min. 30 sec. For a first time out in such company Hunt was well up among the "odds and sods", just one-tenth of a second slower than Beuttler. As Revson had still not arrived from Indianapolis everyone was still on the starting grid, but there was no doubt that the American would slot straight in among the "O and S", and even with only one practice session left would probably be among the hard-triers, though after the 180-200 m.p.h. of Indianapolis the new "Mickey Mouse" Monaco was going to be a bit of an anti-climax.
On Saturday practice took place in the afternoon on a circuit made slippery and polished by two Formula Three heats, so the overall tempo was slower for the fast drivers. However, Revson had appeared and this made the tail-enders get their skates on for someone was going to get left off the starting grid. There was no sign of the front row of the grid being altered, with Stewart and Peterson side by side, but Cevert and Lauda improved their positions and Ickx retrieved a semblance of hope for the Ferrari team, his car repaired after its kerb-striking incident. The UOP-Shadows were back in the field, their aerofoils re-positioned and braced by struts running forward to the engine air-intake; these struts had been part of the original design and were used in South Africa but subsequently discarded.
Practice had barely begun before the next rear-end struck trouble, and this was Peterson's Lotus, which broke its gearbox. During the afternoon Beltoise had his BRM break its outer universal joint on the left drive-shaft, just as he was about to leave the pits, and Ganley's Iso-Marlboro Williams broke a universal joint in a drive-shaft as he accelerated from the hairpin. Oliver arrived at the pits with his left-front nose fin all crumpled, having got it under someone's rear wheel! just as practice was ending Follmer and Merzario had a violent "coming together" up the hill from Ste. Devote, and as the dust settled they could both be heard claiming "it was his fault". The result was a written-off Shadow, with all the wheels torn off, and a badly bent Ferrari. At this point de Adamich was about to be left off the grid, but one look at the Shadow was enough to remove Follmer from the list, in twentieth place, and move the remainder up one. As expected, Revson had got among the "hard-triers".
Now that the revised circuit had been used in anger, with Stewart on pole position with 1 min. 27.5 sec., the organisers did some sums and estimated that the proposed 80 laps might run for over two hours, and as the regulations imposed this time limit, the race was shortened to 78 laps to be on the safe side. It was suggested that Formula One drivers, being artisans, are paid by the hour, and extra time on Sundays rates double pay, but this seemed unlikely!
Race
To try and describe race day last year to anyone on the morning of the 1973 race, with the sun blazing down, the town packed out, the harbour full of yachts, the pits full of dollybirds and hangers-on, most of whom had long since given up trying to justify their existence, would have been a waste of time. Suffice to say that Monte Carlo was in great form as the Prince and Princess arrived in a royal Daimler, and then drove a lap of the circuit in a Mercedes-Benz, to start the official proceedings. The Grand Prix contenders (and pretenders) had had a brief warm-up session during which Hulme's Cosworth V8 seemed a bit down on power, and his gear ratios were changed in the Hewland gearbox in the hope it would pull better out of the tight corners. Merzario tried out his rebuilt Ferrari and Team Tyrrell, Team Lotus, Team Surtees and BRM all had their training cars standing by in case of last-minute trouble with any of the team cars.
From the 2 x 2 x 2 grid Cevert shot past Peterson and Stewart to lead the field on the opening lap, and Regazzoni followed him through to tuck in behind the Swede and ahead of the Scot. Cevert's glory lasted but one lap for on the second lap he clouted a kerb with his right-front wheel and punctured the tyre, finishing the lap after everyone but Galli had gone by. This left Peterson out on his own for Regazzoni was not fast enough to keep up and though in second place he had a steaming mob queueing up behind him, for overtaking was not easy. Heading the queue was Stewart, cursing himself for being beaten away at the start, and desperately looking for a way by before Peterson got too far away. Right with him was Fittipaldi, Lauda, Ickx and Wilson Fittipaldi, ahead of Amon and Ganley. This queue lasted for five laps, during which time Peterson was getting further and further away, and as the high-speed "crocodile" poured out of the arcade down to the chicane the leading BRM locked its wheels and went skating up the escape road, out of harm's way.
Now the race could start to sort itself out, and while Regazzoni stopped at the pits to say his brakes did not work properly Stewart and Fittipaldi poured on the coal and gathered in the leading Lotus, spacing the others out behind them. Just about at this point the leading car was in trouble with dropping fuel pressure to the injection unit, and though Peterson switched on the electric fuel pump, to try and boost up the pressure from the mechanical one, it was not enough to give full power and he gradually dropped back. Now it was Stewart's turn to take the lead, which he did on lap 8, with Fittipaldi following him through into second place. On lap 9 Lauda, Ickx and Wilson Fittipaldi were by the Swede and pulling away from him. After three more laps things settled down, with Stewart leading Fittipaldi by just over three seconds and stalemate was setting in, the gap remaining very constant while each waited for the other to make a mistake or for the Tyrrell or the Lotus to fail. Then came Lauda, Ickx and Wilson Fittipaldi, one behind the other, the elder Brazilian brother driving the race of his life, and they were followed by Peterson in the sick Lotus leading Amon in the Tecno, Ganley, Hulme, Hailwood, Pace and Jarier, all nose to tail, and then Revson, Hunt, Reutemann and Merzario in a procession with the rest trailing along and Cevert right at the back but gaining ground after his pit stop.
Round and round the streets of the town the procession wound, there being little hope of anyone doing any overtaking unless the chap in front was "nice" and gave way, and as they were all still on the same lap this was not likely to happen. All that could happen was trouble, and Amon was the first to drop out of the merry-go-round when he went into the pits with his left-front tyre flat, rejoining the race at the back. Cevert got by three of the slow cars at the back when they moved over, these being Galli, Hill and Oliver, and then Stewart was amongst them, about to lap them. Although Cevert was catching the slower cars. Stewart was catching him, and as the Scot was weaving through the slow traffic Fittipaldi was following him through and not losing too much ground. While the Lauda, Ickx, W. Fittipaldi trio was lapping the tail of the field the Austrian driver's gearbox broke, which let Ickx into third place, but not a very impressive one, for Stewart and Fittipaldi were well out of sight and drawing away all the time.
The elder and taller Fittipaldi was really enjoying himself, keeping his Brabham BT42 right on the Ferrari tail and going strongly. The Tecno disappeared from the scene when Amon found it swooping from side to side under braking, and after 30 laps Stewart had enlarged his lead to 8.6 sec. over the black and gold Lotus, but was conscious of the ever-present threat. Having galloped past the "Os and Ss" with comparative ease Cevert was now up behind the "hardtriers" and they had no intention of moving over, so he was stuck there for a time, in fifteenth place behind Reutemann, who was up behind Merzario, who was up behind Revson, who was up behind Hunt, the new boy leading this group worthily. The other new boy, Purley, had been chasing de Adamich down near the back of the race and after 32 laps his engine died in the "Mickey Mouse" section. The fuel collector tank on the March had split and he simply ran out of petrol, and had to push the car to the end of the new section while everyone squeezed by under yellow flags.
Cevert eventually got past Reutemann, but was then behind Revson, who is not one to be impressed by a pretty face, and while he was stuck there Stewart came up to lap them. Stewart nipped by his team-mate, and while a Tyrrell with flashing eyes and a French smile is one thing in the mirror, a Tyrrell with the beady eyes of a ruthless Scot in the mirror is another thing altogether, and Revson moved over. Cevert saw his chance and tucked in tight behind his team-leader and followed him by the McLaren. The same thing happened with Merzario and then with Hunt, as they moved over to let Stewart through to lap them. In quick succession Cevert was up three places and he continued to stick to Stewart's tail, even though he was a lap behind Fittipaldi was still in second place, but not quite so quick through the traffic and at 40 laps he was 13 sec. behind Stewart. In third place came Ickx, still followed by W. Fittipaldi, then Hulme who had struggled past Peterson, followed by Ganley and Beltoise, except that while on his fortieth lap Beltoise slid wide out of the Casino square, struck the guard rail which crumpled the left-rear suspension and nearly tore the wheel off, and with only three brakes effective and not much steering control the BRM clanged into the guard-rail at the foot of the hill and smashed the front end pretty thoroughly.
For what it was worth this let Hailwood into eighth place, about to be lapped by Stewart with Cevert in tow, so Hailwood was almost immediately relegated to ninth place. As this happened Ganley's Iso-Marlboro Williams broke a rear drive-shaft universal, just as he had in practice and at the same point on the circuit. This lost him a steady seventh place and let everyone move up one. Without warning Ickx disappeared from third place when his Ferrari broke its right-hand drive-shaft, right at the spline roots, a most unusual happening for a Ferrari, and this let a delighted Wilson Fittipaldi into third place behind his kid-brother. Hulme was now fourth, but not for long as a bolt loosened off and fell out of his gear linkage, and a pit-stop to have it replaced dropped him back. At the same time Reutemann retired at the pits, his gearbox locked in 4th gear, jammed there by a broken 2nd-gear pinion.
The two Tyrrells were still circulating nose-to-tail and anyone who had not been paying attention could have been forgiven for thinking they were first and second, instead of first and fifth and a lap apart. For ten laps nothing much happened, and then Merzario's Ferrari fell by the wayside with sagging oil pressure, and it began to look as though there would hardly be enough finishers to collect all the prizes, and all the 12-cylinder-engined cars had gone. At 67 laps Hailwood got a flat right front tyre and the pit stop to change it dropped him from sixth place to eighth place, and at 70 laps, with eight to go, an unexpected situation arose, that could have resulted in a glorious end of race fracas, but somehow just fizzled out. Wilson Fittipaldi's fine drive came to an end on lap 72, when his fuel system failed to pick up the last few gallons of petrol and the engine died.
Stewart had everything in hand with an 8-sec. lead over Fittipaldi, with Cevert between them on the road but a lap behind. All three of them were closing up on Peterson whose Lotus was still running poorly compared with the leaders, and nobody likes to be lapped in the closing stages of a race, especially as it would also let Cevert by as well, which would have put him into the third place, which the Swede was holding. With Stewart taking it easy on the last few laps, Fittipaldi was closing up and being encouraged to try that much harder. So the scene was set for a super scrap between two Tyrrells and two Lotus, with no one else in the way.
If Peterson could baulk Stewart (in a gentlemanly Jack Brabham fashion, of course) it would help Fittipaldi to catch the Tyrrell, but equally Cevert was in a similar position to baulk Fittipaldi in his chase. On the other hand if he stuck with Stewart he was in a position to snatch third place from Peterson. It was the Frenchman who was the first one to "chicken out" when he saw Fittipaldi pressing in his mirrors and ahead could see Stewart shaping up to lap Peterson. He dropped right back and said afterwards that he could see the makings of a nasty, rough situation in which someone might get hurt and wanted no part of it. Peterson was so depressed by his miserable race that he hardly noticed Stewart going by on lap 74 and the whole affair came to nought, with Fittipaldi setting a new fastest lap on the last lap and finishing 1.3 sec. behind Stewart.
Oh well! It had been rather a dull race anyway, but something has gone out of Grand Prix racing. The problem is to decide when it went. Was it with Farina, Behra, Brabham, Bandini, Rodriguez, or wasn't it ever really there? Perhaps it is just that the wrong people get into the right situations.—D.S.J.
––––––––––––––––––––––––––
Monaco Mutters
Monte Carlo is the sponsors' delight, where sheer affluence can be really used. Oddly enough the winning car is supported by the things that matter, ELF petrol and oil and Goodyear tyres, and Ford are in there somewhere.
************************************
If a team's "money-bag" is not mentioned someone, somewhere gets all uptight, so Marlboro, John Player, Embassy, Yardley, UOP, Iso, Fina, Brooke Bond Oxo, STP, Argentine Meat, Brazilian Banks, Brazilian Coffee, Texaco, Ceramica Pagnossin, Gulf, Firestone, Clarke-Guthrie-Mordaunt-Durlacher, Lord Hesketh, Lec Refrigeration, Martini & Rossi. They all spend money on Grand Prix racing, and no doubt someone has been left out.
************************************
The GPDA were heard "bleating" about too many journalists and photographers in the pits. Quite right, too, but if they were really concerned they would discourage the sponsors' troupes of Dolly Birds, PR men, Ad men, Personal Assistants, the "big wheels" themselves, personal film units and, in particular, the Pop Group that was in the pits in practice.
************************************
The statisticians had a field day. Stewart scored his 25th Grand Prix victory, Graham Hill competed in his 150th Grand Prix, and James Hunt was classified a finisher in his first Grand Prix even though his engine blew up just before the end and he was able to coast across the line.
************************************
Graham Hill stopped at the pits near the end of the race to murmur that the handling of his Shadow had deteriorated. He wasn't exaggerating, for the forward anchorage of the left radius rod was collapsing and the whole rear corner of the car had moved forward a few inches.
Results
31st Monaco Grand Prix – Formula One – 78 laps – 3.278 kms/lap – 255.685 kms – Very Warm
1st: J. Stewart (Tyrrell 006/2) ….. 1 hr. 57min. 44.3 sec. – 130.297 k.p.h.
2nd: E. Fittipaldi (Lotus 72/R7) ….. 1 hr. 57 min. 45.6 sec.
3rd: R. Peterson (Lotus 72/R6) ….. 1 lap behind
4th: F. Cevert (Tyrrell 006) ….. 1 lap behind
5th: P. Revson (McLaren M23/2) ….. 2 laps behind
6th: D. Hulme (McLaren M23/1) ….. 2 laps behind
7th: A. de Adamich (Brabham BT37/2) ….. 3 laps behind
8th: M. Hailwood (Surtees TS14A/04) ….. 3 laps behind
9th: J. Hunt (March 731/1) ….. 5 laps behind – not running at end
10th: J. Oliver (Shadow DN1/4A) ….. 6 laps behind
Fastest lap:E. Fittipaldi (Lotus 72/R7) on lap 78, in 1 min. 28.1 sec. – 133.947 k.p.h. (record for new circuit).
Retirements:M. Beuttler (March 721G/2) on lap 2, engine; G. Regazzoni (BRM P160/07) on lap 16, brakes; C. Amon (Tecno PA123/6) on lap 25, brakes and chassis; N. Lauda (BRM P160/08) on lap 25, gearbox; N. Galli (Williams IR/01) on lap 31, drive-shaft universal; C. Pace (Surtees TS14A/05) on lap 31, drive-shaft; D. Purley (March 731/3) on lap 32, split fuel collector tank; J-P. Beltoise (BRM P160/03) on lap 40, accident at Mirabeau; H. Ganley (Williams IR/02) on lap drive-shaft universal; J. Ickx (Ferrari 312 B3/010) on lap 45, rear drive-shaft; C. Reutemann (Brabham BT42/3) on lap 47, gearbox; A. Merzario (Ferrari 312 B3/011) on lap 59, low oil pressure; G. Hill (Shadow DN1/3A) on lap 63, broken suspension mounting; J-P. Jarier (March 721G/4) on lap 68, gearbox; W. Fittipaldi (Brabham BT42/3) on lap 72, fuel system.
25 starters – 10 finishers