1977 Swedish Grand Prix race report
A very good race
Anderstorp, June 19th
Sweden is not the most exciting country to visit, and the Scandinavian Raceway at Anderstorp is not the most exciting of circuits, but even so the Formula One "circus" enacted a cracking good race. Throughout practice Team Lotus had continued the form they showed in Belgium, and though Andretti was not fastest in all three sessions due to a tyre "nonsense", he did end up on pole position, while team-mate Nilsson was seventh fastest. Alongside the Lotus on the front row was John Watson in a brand new Brabham-Alfa Romeo BT45; while close behind in row two were Hunt in the McLaren M26 which is improving visibly, and Scheckter in the second of the Wolf cars.
Not so long ago everything in Formula One was "democratically equal", as some of the hierarchy behind the Constructors Association would have it, but recently there have been chinks in the armour of this "equality" which was artificial and dull anyway with the result that the overall scene has been changing for the good. Practice in Sweden made it blatantly obvious that those dull days are over and Formula One is getting back to being a serious activity once again; almost Grand Prix. The first signs were the appearance of three special Cosworth engines, a little while ago, one each for Lotus, McLaren and Tyrrell: now there is a special Cosworth engine that is a bit more special than the others, and Andretti had it in his Lotus. Between these two types of Super-Cosworth is yet another one, and Scheckter had it in his Wolf. Once the "ultimate" Cosworth engine has been proved, everyone will get one, or rather everyone who is capable of doing justice to it. The interesting thing about all this engine development being done at the Northampton factory is that the object is to combat the ever-increasing challenge from Ferrari, Matra and Alfa Romeo and their 12-cylinder engines (BRM have a 12-cylinder engine but Cosworth do not consider it a challenge). Well in amongst the Lotus, Wolf and McLaren is the continually improving Alfa Romeo engine, while Ferrari is losing the pace, but Matra are always there. Added to all this is the question of Goodyear tyres. They certainly used to be "equal for everyone" though not everyone was able to design their suspension and handling around the fixed datums of the "issue" tyres from Wolverhamptom. There was almost as big a variety of Goodyear tyres available in Sweden for the top teams as there used to be in the days of competition from Firestone and Dunlop. At the moment Goodyear have a monopoly, and there is no opposition, but just in case some appears on the horizon in France (Michelin), the Wolverhampton firm are getting prepared. Formula One is getting very interesting again, and nobody who is worthy of support from the firms of Cosworth and Goodyear are lacking it.
For sixty-nine and a half laps of the flat Anderstorp raceway, Andretti and Lotus 78/3, with the right engine, the right tyres, the right aerodynamics, the right limited-slip differential, the right springs, the right anti-roll bars, the right brakes and the right driver, simply ran away from the opposition. Of course, it is not as simple as that, because all those things have degrees of "rightness" and the clever thing that Colin Chapman does is to mould them into a homogeneous package; and that is where a lot of teams fall down, their total packages are not wholly homogeneous, they have an important end or two hanging out. The sixty-ninth lap was the downfall for the Lotus; it ran out of petrol, with only two and a half laps to go. Andretti shot into the pits, 5 gallons were poured into the tank, the Lotus took off like a dragster, but it was too late, five cars had gone by and that was it. Andretti finished sixth. Unbeknown, but discovered afterwards, the fuel-injection adjustment had vibrated gradually from "Weak" to "Rich" and the range of movement is just sufficient to affect the fuel consumption, without dramatically affecting the performance.
While Andretti had been "cruising away" towards a devastating victory there had been a battle going on behind that can only be described as Homeric, in all its ferocity and skill. It had involved Watson, Scheckter, Hunt, Depailler, Mass, Reutemann and Laffite. It was real no-holds barred stuff, with no favours asked or given. Watson had actually led the opening lap, but then Andretti went by under braking, leaving the Brabham-Alfa Romeo with Scheckter's Wolf snapping at its tail. Hunt was working like never before to fend off Depailler, Mass, Reutemann and Laffite. If all this wasn't enough, Stuck, Jarier and Regazzoni were having a good old ding-dong and then came Jack Oliver standing-in for Riccardo Patrese who was away at a Formula Two race, and doing a good job with the Shadow, actually staying ahead of Lauda's Ferrari. The Austrian was very disgruntled with the whole Ferrari scene and it was showing in his driving.
On lap 30 Scheckter messed the whole thing up by trying to dive through on the inside of Watson's Brabham on a left-hander, and hit the Ulsterman's rear wheel. The Brabham spun, the Wolf slid out wide and there was a lot of dodging about by those following close behind. This left Andretti with more lead than ever, for the Wolf was too bent to continue, Watson was back in seventh place before he could recover, and Hunt was now second followed by Depailler, Mass, Laffite and Reutemann. The battle between these five now got really serious for it was for second place and they were not just following each other round in an old-fashioned Formula One procession, they were really hammering away at it, and some of the back-markers who got lapped by this bunch must have had second thoughts about getting involved in the serious end of Formula One. While this battle was at its height Laffite picked off Mass, then on the next lap he out-braked Depailler, and two laps later did Hunt. The little Frenchman was in a really ruthless mood and the Ligier-Matra was going superbly. Once firmly into second place Laffite pulled away from the others and looked as though he might have closed up on Andretti, but the Lotus driver had the situation well in hand, holding the gap at around 15 seconds, until that fateful pit-stop. Lafitte led home a joyous eight and a half seconds ahead of Mass, Depailler and Reutemann, and everyone was very pleased that it should be the French Ligier-Matra team that profited from the Lotus had luck, rattier than an unworthy recipient.
In the struggle to retain second place the McLaren M26 had worn out its tyres and after slowing dramatically, Hunt had been forced to stop on lap 53 for new tyres. Finding he could not cope with Oliver's Shadow, Lauda had stopped to try different tyres and aerofoil settings, but it was all to no avail and he gave up. Of Sweden's own drivers Nilsson was right out of luck; early on Laffite shunted the Lotus up the rear which aviated the car and it damaged the nose on landing. After a pit stop for repairs Nilsson rejoined the race in company with Andretti, but a lap down, and the Lotus team-leader "towed" the young Swede along in his slip-stream for most of the race until the steering felt peculiar and he stopped with a suspected wheel bearing breaking up, possibly due to the heavy landing after being punted by the Ligier. Peterson was never in the picture, the Tyrrell's ignition failing very early on, and Conny Anderson was never in the race, being quite unable to qualify with the BRM.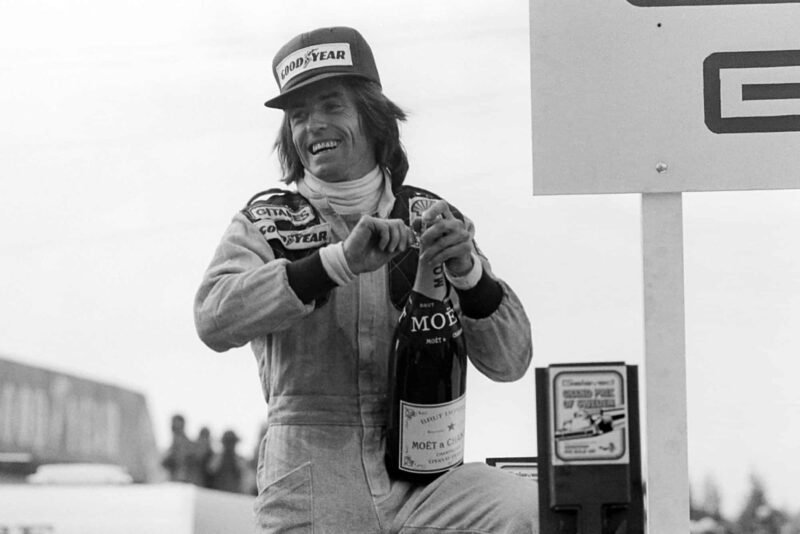 Stuck had driven too hard in the early stages and worn out his front tyres, being forced to stop for a change eventually, and Jones had started off well but ignition failure caused a couple of pits stops which put him well back. Once again Keegan had to start the race in Rebacque's Hesketh, his own losing all its oil pressure on race morning, but this time he kept going to the finish. Purley had gone very well in practice with his LEC, but was slowed in the race by a brief stop to check the rear end of the car, and then by the gear lever coming off. In practice Fittipaldi had a spectacular crash when his new Baldwin-designed car lost a rear wheel due to the axle shaft shearing, and had to use the old FD4/3 for the race. – D.S.J