1982 Detroit Grand Prix race report: Watson's incredible comeback
John Watson won the inaugural Detroit Grand Prix with a stirring comeback drive from 17th, in an entertaining race
Downtown, Detroit, June 6th
Ii is a good thing that we can bend rules and regulations and manipulate procedures to suit ourselves, otherwise there might not have been a Grand Prix through the streets of Detroit. Do not ask how a Formula One race, counting for World Championship points, could be held on a circuit not previously used for racing. Do not ask how it could be run in an anti-clockwise direction. Do not ask how the organisers were able to close roads and disrupt the traffic flow in the city. Do not ask how we got away with two qualifying sessions on one day. Do not ask how we come to have three World Championship events in one country. Do not ask how we could have a round in the World Championship without the current World Champion taking part. Do not ask how we had a race for Renault 5 saloons through the streets of a city owned by Ford and General Motors. Do not ask. . . Just accept the fact that a Grand Prix race was held through the streets of America's Motor City and accept the fact that it was a lot of fun. A bit wild and woolly at times and a bit chaotic, but you must expect that if you race through the streets of a city, and what a nice change from plastic autodrome racing and "clinical facilities". There was nothing clinical about the Detroit circuit or the pits but in view of the temporary nature of the whole thing it was all adequate and a triumph for the Detroit Renaissance Grand Prix Inc.
There is a big area of Detroit on the edge of the river facing Canada, just near the tunnel that joins the two countries, that has recently been totally rebuilt by local industry and its centre-piece is the 73-storey Renaissance Centre which is a pedestrian-orientated complex of offices, shops, restaurants, market places and a gigantic hotel. The sort of thing artists draw and call "a city of the future" and at which we fall over laughing and stumble back to our old-fashioned towns. Everyone is entitled to laugh, but the Renaissance Centre is actually there, even if it does seem unreal. The committee of townspeople who formed "Detroit Renaissance Grand Prix Incorporated 1982" had the idea of running a motor race around the streets surrounding the Renaissance Centre and in true American fashion "if you are going to be a bear, be a grizzly", they opted for a Formula 1 World Championship Grand Prix, and got it. To suggest that Mr. Henry Ford II has more influence in Detroit city than the Chairman of British Leyland does in Birmingham, might be unkind, but it is a fact. It needed a Government act to allow the city streets to be closed to the public for a start. The circuit was laid out around the city area on the edge of the Detroit River with the 5-tower Renaissance complex in the centre, providing all the administration, living and working facilities that anyone could desire.
The starting area was on the road alongside the river and led into a long sweeping left-hand hairpin made up of two corners in one and the route then ran back parallel to the start area, all this being laid out in a huge car park with the aid of concrete blocks. The return run was along Atwater Street tea 90-degree turn to the right up a side street, another 90-degree right into Woodbridge Street, up past a church to a very tight left-hand hairpin on a piece of dual carriageway, immediately followed by a right turn, then a left and a sweep across to another main street.
A short straight led to a left turn down another side street to the next cross-roads where it turned right onto Lamed Street for a longish straight to another left and right to change onto the main Jefferson Boulevard dual carriageway which presented a short straight to a double-left over some tram-lines to dive down a narrow slot under a bridge and a short straight down to the riverfront. Here a tightening left hander took the course into a tunnel, three lanes wide, on a right-hand curve and up a short straight to a very tight ess-bend on to the road along the edge of the river that led back to the start area. Instead of a full-blooded blast past the pits, a tight second gear "chicane" slowed the cars by the pit-lane entrance and they had to accelerate hard over the finishing line to start another lap with the double left-hand sweep. Wild and woolly street racing with bumps, surface changes, tarmac, concrete, manhole covers, solid walls and a tunnel, what more could you want? Lots of people have been complaining about featureless autodromes and artificial circuits. There was not much that was artificial about the Detroit downtown street circuit. If anything it was a bit too real for some people.
Qualifying
The original plan was to have an unofficial test-session for the Formula One teams on Thursday, for acclimatisation and a general bedding-in of the circuit, so everyone arrived in good time, everyone that is except the Toleman-Hart team. Their transporter had trouble returning from Monaco and was late back at the factory which put them behind schedule no they withdrew their two entries for Warwick and Fabi. When the final closing of the roads was achieved on Thursday morning and the installations were finally inspected by FISA officials there was a lot found wanting in the way of escape roads and barriers and by the time all the problems had been dealt with, the idea of a test-run for the Formula One cars had to be called off.
On Friday morning there were still some areas lacking sufficient safety precautions for the spectators and the drivers wanted more "spherical elasticated attenuators" (bundles of old car tyres) in some of the escape roads. All this took time so the regulation test-session from 10 a.m.-11.30 a.m. was scrubbed as was the qualifying hour from 1 p.m. to 2 p.m. By the time everything was arranged to everyone's satisfaction there was only time for an hour of testing from 4 p.m. to 5 p.m. As no-one had driven round the circuit by this time it was a case of getting stuck inns quickly as possible. Spins, trips up escape roads, brushes with walls were the order of the day and there were some breakages. Jarier stopped with the left-hand upper mar rocker-arm suspension member of his Osella torn from its bearings. Afterwards Jean-Pierre said "I didn't hit anything", to which Enzo Osella replied "Our cars don't break by themselves." Arnoux bounced his Renault off a wall and crumpled the rear end, which stopped practice while the wreck was removed. Meanwhile Prost was in trouble with the electrics on his Renault so he took the spare car, which meant Arnoux had to sit and watch. Monsieur Bernard Hanon, the number one man of the Regie Renault, was in the pits watching it all. Everything got going again for another twenty minutes, only to stop again when Jan Lammers crashed his Theodore and broke his right thumb. He was soon in the hospital centre being cared for while the wreckage was removed and we had another ten minutes of free-for-all and the day's activity ended at 5.25 p.m.
It was difficult to assess the overall mood for it varied from frustration to disbelief through disgust and depression but after the dust had settled most people accepted the whole situation for what it was. Niki Lauda summed it up well when he said everyone should get stuck in and get on with the business for we are lucky to be allowed to race Formula One cars in a city in 1982.
The plans for Saturday were altered to allow two separate one-hour sessions, both to count for grid-positions, with a four-hour break between them. No more testing or practice, it was all going to count for real. Interspersed was to be activity for R5 Renault saloons, Formula Atlantic cars and "old cars", all of which were due to have a race at some time or another. Now that the business was getting serious it was time to take stock of the men and the materials in the pit lane, and another delay of an hour to make more modifications to the circuit amenities and safety aspects gave plenty of time for this. Though the atmosphere above was grey and gloomy there were quite a few bright spots on the ground.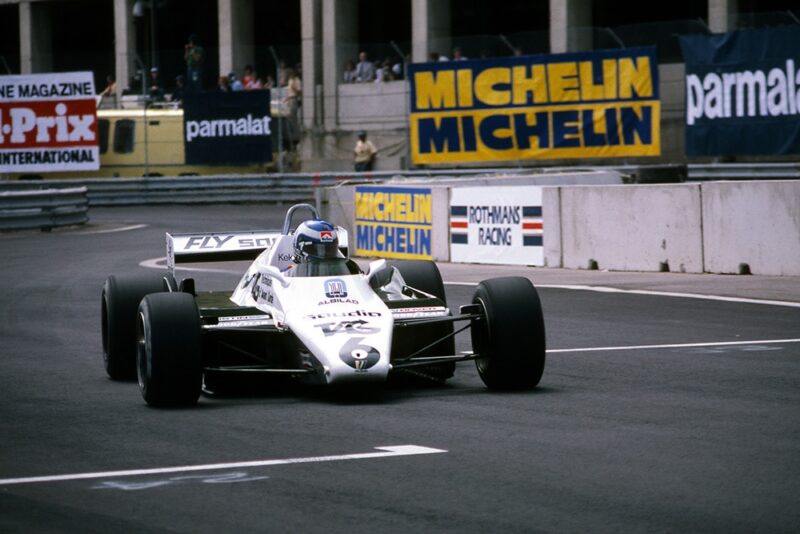 The Brabham team had the same four cars they had used at Monaco, with two BMW-powered ones for Piquet and two Cosworth-powered ones for Patrese, with the latter using carbon-fibre brake discs and pads on both BT49D cars. The Williams team had their normal trio of FW08 cars, number 2 having been returned to the experimental department, and the T-car was trying out some French-made carbon-fibre brake discs and pads for the first time in public, though they had been used in private testing previously. McLaren International had juggled their cars around a bit, Watson now having MP4/5, Lauda MP4/4 with which he had won at Long Beach, and MP4/6 the newest car was now the team spare. Ferrari had two cars for Pironi, still a lone entry, with 126C2/059 to normal specification and 126C2/056 with an entirely new front suspension on it. As with other designers, Mauro Forghieri had found that a strong rocker-arm suspension system was no longer necessary with the stiff springs and minimal movement in use today, so he had followed the Brabham, Tyrrell, Williams and Talbot route of light tubular wishbones and a transverse diagonal pull-rod to operate the inboard spring unit. Both the Talbot team and the Alfa Romeo team had taken a backwards step since Monaco, the French Gitanes team bringing two old JS17 cars for Lafilte and Cheever, with a single new JS19 car as the T-car, this being 01 which Cheever had driven at Monaco, while the Italian Marlboro team had three cars to normal Tipo 182 specification, with no sign of the narrow B-series car. Theodore were looking more confident with a second TY02 car on their strength for Jan Lammers, running on Goodyear tyres, and Ensign had modified the rear end of their car to take Michelin tyres, which meant new wheels made in a hurry for them by Dymag, and new rear uprights and suspension members to accommodate the different wheels and to keep the track the same, all of which was done in the few days between getting back from Monaco and leaving for Detroit.
With no previous knowledge of the Detroit circuit everyone had come in a flexible state of mind, ready to alter and improvise as knowledge was gained, though with the shambles of Friday little was learnt and most drivers had to plunge into the first qualifying hour blindly, which made a change. Quite early on Piquet had to abandon BT50/2 out on the circuit with engine trouble and BT50/3 was not performing properly so the reigning World Champion was at the bottom of the list. Spins and slides into escape areas were still the order of the day and meth and eyeballs were rattling badly over some of the bumps, not because of the bumps but because of the lack of suspension travel on the cars, due to designers' obsession with ground effect. Even now there are people who fail to appreciate what Colin Chapman was open with his "twin sprung structure" Lotus 88. The Renaults with their "Monaco" type engines were going well, even with the tight twists and turns and Prost was setting the pace but in places he was having to "play" with the accelerator pedal like a trials driver to get adhesion over the ripples. Detroit streets were malting everyone work yery hard. Watson followed Serra's Fittipaldi for two laps, wondering how to get by and just as he decided to pass, the Brazilian driver assumed he'd given up trying and the two cars collided with the McLaren being left in the middle of the road rather the worse for wear. Practice was stopped while the bent car was retrieved and then we got going again to conclude the first hour with Prost at the head of the list and Piquet at the bottom. Rosberg had made third fastest time in Williams FW08/1 with the carbon-fibre brakes and as soon as he stopped 1 ½ gallons of oil were poured into the oil tank and the water-ballast tank was filled to the brim, the time taken to do this suggesting it had been completely empty. All this was in case the car had to be weighed, and when it wasn't a long-suffering mechanic had to remove the extra oil with a syringe and pump the water tank dry.
In fifth place was Manfred Winkelhock with one of the ATS cars, a good effort sake had got stuck in while others were messing about, having accidents or mechanical trouble. With Piquet, Patrese, Lauda, Watson, Alboreto, Arnoux, Daly, Mansell, de Angelis, Giacomelli and Laffite not performing as they should, Winkelhock was eleven places higher than he should have been, so good luck to him. With the agreed four-hour break before the second qualifying hour it was going to be 3.20 p.m. before activity resumed and during the lull the rain arrived. It was just an intermittent drizzle at first, but it developed into a consistent drizzle and as far as the starting grid was concerned it was all over and Nelson Piquet and de Villota were the odd men out as the regulation number on the grid was twenty-six. Nowhere in the rules and regulations is there provision for the World Champion not qualifying for a race, so Piquet was destined to be a spectator, which was bad enough for him personally and a pain for the Brabham team, buts total disaster for the BMW factory.
Not surprisingly when the pit lane opened for the second qualifying hour there was no-one waiting to go out. Eventually one or two appeared and splashed round on treaded rain-tyres, but even Lauda, who recorded the best lap, was 18 seconds slower than he had been in the morning. Even at this reduced pace an accident caused practice to be stopped, as de Cesaris spun his Alfa Romeo in the tunnel and hit the wall. With the pits being open to the skies, like Silverstone club-racing in 1948, it was all rather depressing and pointless and the general feeling was that if it was raining on Sunday everyone would stay in the hotel and watch proceedings from their bedroom windows! One thing about a great pedestrian complex like the "town-within-a town" Renaissance Centre is that you could wander about in it for days on end and never know it was raining. Even the "open-air" restaurant had a glass roof high overhead, almost out of sight.
Race
Sunday morning was perfect, with not a cloud in the sky and the sun was warm. The river was filling up with small "me too" type boats too low in the water and too far out to see much, and Dodge Motors hired a fine old triple-decker ferry-boat for an enormous party that you could hear in full swing from the shore, even though it was anchored out in mid-stream. The Detroit river is very wide, probably nearly ¾ mile, so there was room for all the boats anchored in the middle leaving a wide channel for fire boats and rescue launches alongside the circuit and another wide channel on the Canadian side for the passage of large cargo vessels going about their normal business. From 11.20 a.m. to 11.50 a.m. wan the regular F1 warm-up period, after the old-car race in which Englishman Murray Smith in his Jean Behra F2 Porsche Special beat Joel Finn in a rear-engined Cooper-Climax. Prost seemed more intent on making a film for ELF than doing any serious race-preparation, driving round with a large camera fixed to the roll-over bar of his Renault. Pironi was driving the modified Ferrari but there were no carbon-fibre brakes in the Williams or Brabham pits and Piquet was having to answer a barrage of inane questions from the media while the BMW people tried not to be seen. For once the Osella team had got both of their cars into a race only for fate to decide otherwise. Jarier's car came to a stop out on the circuit with a broken fuel line which caused a minor fire and marshals dowsed everything with extinguisher powder which put the fire out but made the car unserviceable, while Paletti had an accident on the last ess-bend, losing a wheel in the process. With only one spare car it was decided that Jarier should take it for the race and everyone warned the Osella team not to use the car covered in fire extinguisher powder, even though it was cleaned off, for some of it could have got into the throttle slides and solidified which would cause them to jam, which is what happened to David Purley at Silverstone a year or two ago.
By the time we had got through the Renault 5 race and prepared for the start of the first Detroit Grand Prix a strong breeze had arisen and grey clouds had covered the sky and all the boats were bobbing about on the river. Only 25 cars left the pit lane on the warm-up lap round to the assembly grid, for Paletti was still awaiting for repairs to his car to be completed. Only 23 actually lined up as Jarier hit a wall in the lone Osella, due to a tyre deflating, he claimed, and Winkelhock had a steering arm break. He got the ATS back into the pit lane and another one was fitted hastily and he rushed round again to take his place on the grid. Too late to join in, Paletti's, car was finished, so the numbers were changed to 31 and Jarier took it over and waited at the pit exit to join the race after everyone had gone by. He was now in his third Osella!
The sun appeared as the 24 cars prepared to set off on their parade-lap behind the Renault of Alain Prost and it was a very odd grid that had team managers and mechanics a bit confused. ATS had a car at each end, as did Renault, while Brabham only had one car and that in mid-field, and McLaren had five rows between their two cars though Lotus had theirs side by side. Guerrero in the Ensign was well up and Alboreto was much further back than usual. In orderly fashion they did their parade lap and with Jarier waiting in the pit lane the 24 starters returned to, their positions on the grid. The red lights came on, then the green and Prost shot off into the lead hotly pursued by de Cesaris and Rosberg. Everyone made the first corner with a little bumping and boring though nothing serious but when the tail-enders arrived at the tight hairpin Baldi's Arrows A4 bounced off a number of cars and put himself out of the race. His main victims were Boesel's March which limped round to the pits to retire with damaged right rear suspension and Alboreto's Tyrrell which had a bent steering tie-rod. This was replaced at the pits, losing the Italian two laps. Salazar's ATS had also been struck and after the second lap he was into the pits to have a bent rear suspension rocker arm replaced. Henton's Tyrrell was also struck but did not stiffer any damage.
Meanwhile Prost was pulling away in that dull, relentless manner that is becoming his hallmark while Rosberg, exuding fire, was trying to get past de Cesaris and on the third lap had no difficulty in doing so as the Alfa Romeo broke a drive-shaft joint and the young Italian toured into the pit lane to retire. On the same lap Jarier retired at the pits, having joined the race after everyone had left the grid, the engine of the last remaining Osella being as flat as a pancake. Winkelhock had failed to complete the second lap due to his steering becoming deranged again and he ended up amongst a wall of tyres, so with the race on its fourth lap we had lost Baldi, Boesel, Winckelhock, Jarier and de Cesaris, while Alboreto and Salazar were in the pits undergoing repairs. Prost was simply running away from everyone, as was Rosberg and Pironi was leading the rest more or less in grid order. As Guerrero started lap 7, in 11th place he was closely followed by de Angelis, Mass, Watson, Patrese and Surer and he got the Ensign a bit sideways on the long double first corner in his endeavours to stay ahead and de Angelis nudged him with the Lotus which punted the blue and white car into the air, to land heavily on its right rear corner and bend the suspension. Mass and Watson dodged successfully but Patrese ran into the tyre wall and took the right front suspension, hub and wheel off the monocoque. With two derelict cars more or Iess on the apex of the corner the race organisers panicked and stopped the race. As the leaders came into the final "chicane" they saw the black flag and at the start line the red flag was being shown so most of them pulled up on the starting grid while one or two went into the pits.
Contrary to the rules a lot of the cars had work done on them while the corner was tidied up and it was over an hour before the race restarted. The 18 cars that remained were lined up in the order at the end of six laps and the event became .a two-part race. Prost had finished the first part in 11 min. 40.582 sec. so this time was subtracted from two hours and part two was to run for approximately 1 hr. 48 min. 20 sec. assuming he led for the rest of the time. If not the time-keepers had to work out the time left depending who was in the lead as the two hour total approached, for according to the rules whoever was to win must not drive for more than two hours. The original idea of it being a 70 lap race had long gone by the board as the average speed estimate was a mile out before practice had begun. During the hour delay the media had been wetting its knickers and radio and television time was fast running out, while local television filled in with a replay of the exciting finish to the recent Indianapolis 500 miles race.
After another parade lap we were off again, as before with Prost running away from Rosberg and Pironi leading the rest. Mansell had been well placed in the first part in fourth place, but he muffed the second start and round the first lap was hit by Arnoux which put him right off his stroke. In trying to make up for starting at the back Alboreto ran into the back of his team-mate's Tyrrell and Henton's car suffered a broken rear aerofoil mounting. As a race it all seemed to be over for Prost was uncatchable, even by Rosberg and the Williams had outpaced all the others by the sixth lap in the second part. However there was some excitement for third place as Pironi (Ferrari) could not shake off Giacomelli (Alfa Romeo) and Cheever (Talbot) and at the back Mass (March) was holding up Mansell (Lotus), de Angelis (Lotus), Watson (McLaren) and the two Tyrrells, Henton's car having its "wing" wobbling from side to side. On lap 10 of the second part, Watson suddenly got into a remarkable rhythm in his McLaren, which was performing perfectly, and in one lap he passed both Team Lotus cars, and on the next lap he was past the March of Jochen Mass. At the same time the leading Renault began to slow dramatically as the fuel-injection system played up and it fell back into Rosberg's clutches.
The tail-enders were still dropping by the wayside, de Angelis when his Lotus suffered clutch and gearbox trouble, Salazar when his ATS steering broke and he hit a wall and Henton when he had to stop at the pits for a new rear aerofoil. Unfortunately there was not another identical one available and the only one they had completely upset the balance of the car so the Derby driver continued at a reduced pace, not really enjoying himself. Watson had really got the wind in his sails and passed Arnoux's Renault, and then Laffite's Talbot and Daly's Williams in quick succession, by which time Prost had lost the lead to Rosberg as the Renault lost power.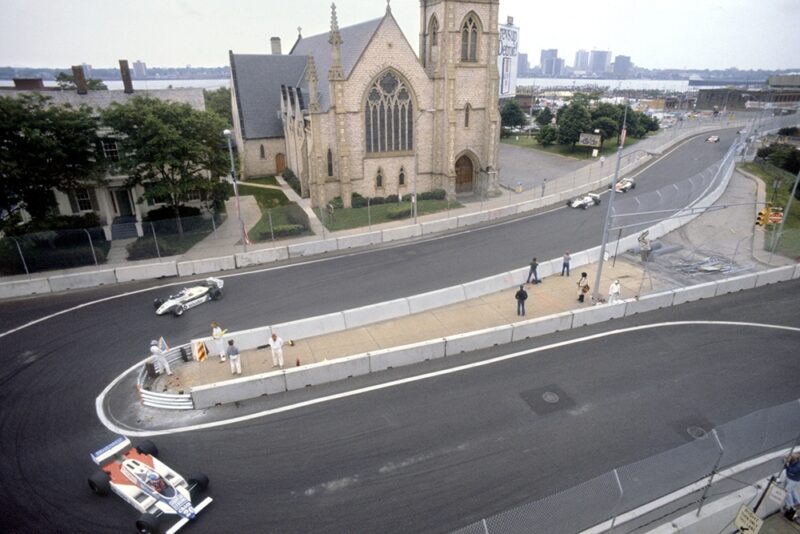 We had covered seventeen laps into the second part of the race so a vigorous and healthy Rosberg led the ailing Prost with Pironi, Giacomelli, Cheever and Lauda stacked up behind and the sun was out and all was well with the world. By 21 laps Watson was on the tail of Lauda's McLaren but at the same time the slowing Prost had been caught by Pironi and his group. Lap 22 finished with the Renault between Giacomelli's Alfa Romeo and Cheever's Talbot but then the Alfa driver made a nonsense and after Lauda and Watson had taken him he tried to retake them and hit a wall and meanwhile Prost was now behind them all and went into the pits at the end of the twenty-fourth lap (thirtieth overall). Two laps later the scene looked settled with Kosberg out on his own followed by Pironi, Cheever, Lauda and Watson, with Laffite and Daly following and then Alboreto, Mansell, Arnoux, Mass and Surer with Surer and Henton a lap behind. But one lap later a remarkable thing happened. Watson overtook Lauda, Cheever and Pironi all in one lap, not in a scuffle as seemed probable, but one at a time, each under braking for a different corner! Even "Wattie" wasn't sure how it happened, he was just into a nice rhythm and did not want to spoil it, but exactly what the others were doing is hard to understand. Not only was John Watson now in second place but he was still going splendidly and was hauling in Rosberg. Clearly Watson's McLaren was in superb condition and all the variables such as tyres, brakes, balance and adhesion were on his side, whereas those on the Williams were not so nicely co-ordinated. Relentlessly Watson bore down on Rosberg and sailed by into the lead on the thirty-first lap (thirty-seventh overall) though the Williams driver still had a time advantage from the first part. Lap by lap Watson pulled away, thus reducing this time advantage and at the same time Rosberg was hampered by a reluctant third gear and was having to change from second gear to fourth gear. Inspired by his team-mate's performance Lauda pulled his finger out and flashed by Cheever and Pironi into third place and the young American driver responded by passing the Ferrari so the order was now Watson, Rosberg, Cheever, Pironi, Laffite, Daly, Alboreto, Mansell and Arnoux though the Frenchman was in similar trouble to Prost with his Renault losing power and was soon to go into the pits for help. In despair the Renault team changed all the fuel-injection and electronic "gizmos" that were changeable, on Prosts car, and with new tyres, he rejoined the race many laps in arrears but going perfectly. Arnoux's trouble was a cooked sparking plug, which took time to find.
Rosberg's front tyres were wearing thin and Lauda was catching him rapidly, the reluctant third gear not helping either and at the start of lap 35 (41 actual) Lauda made an uncharacteristic nonsense in trying to out brake Rosberg and came off second best with a trip into the guard rails. On the same lap Laffite hit Pironi's Ferrari up the back and took the Talbot's nose cone off and bent up the right-front fin, but kept going while the Ferrari went up an escape road but rejoined the race. Cheever got by the ailing Williams and Rosberg was still holding a slender time advantage over Watson, but on lap 38 (44 actual) Watson led on the road and on time so all he had to do now was to keep out of trouble. Alboreto had tried to out-brake Daly at the "chicane" before the pits and had locked up and slid nose first into the tyre wall, and Mansell came to rest as his Cosworth engine gave signs of seizing.
The two Renaults were running again, but many laps behind, and just to show that the trouble had been cured Prost recorded a new lap record on lap 45, but as his heel injury from Monaco was hurting he ran the rest of the time in spasmodic bursts of a quick lap then some slower ones to rest his foot, then another quick one and so on. Watson went on and on majestically, looking so safe and confident, yet smooth and fast and without doubt when John Barnard's McLaren MP4 goes right it goes very right and "Wattle" drives it as well as anyone. This was one of those days.
The first six cars, plus one, were deflected directly from the finish into a scrutineering compound where the petrol was pumped out and the car weighed. The McLaren (Watson), Talbot (Cheever), Ferrari (Pironi), Williams (Rosberg), Williams (Daly), Talbot (Laffite) and March (Mass) all passed the weight check satisfactorily though the March and one of the Talbots transgressed a measurement check on aerofoil height and width but were let off with a warning.
The two-part race gave the time-keepers some headaches but they sorted it out admirably and in 1 hour 58 minutes 41.043 secs. Watson had covered 62 laps, eight short of the number specified in the regulations, but FIA rules call for a race to be stopped at the required number of laps or two hours, whichever comes first and time had won. Twelve cars had finished, but nine had crashed or been involved in accidents which suggests that the long period of clinical autodrome racing we have been through had bred a rather sloppy and inept type of Formula One driver to say nothing of designers with minimal safety factors. Perhaps if street racing continues to take over from autodrome racing, standards will change. High speed circuits like Osterreichring, Silverstone or Monza have never encouraged slipshod driving or design.
For a first attempt the Detroit Grand Prix was a bit of a shambles at times but enjoyable nevertheless and I am sure the organisers will learn by their mistakes. — D.S.J.
RESULTS
DETROIT GRAND PRIX – Formula One – 62 laps – Detroit City – Two-part race – 6 laps plus 56 laps – 4.011 kms per lap – 2 hours duration – Warm
1 John Watson (McLaren MP4/5) 1hr. 58 min 41.043 sec.-125.850 k.p.h.
2 Eddie Cheever (Talbot JS17) 1 hr. 58 min. 56.769 sec.
3 Didier Pironi (Ferrari 126 C2/056) 1 hr. 59 min. 09.120 sec.
4 Keke Rosberg (Williams FW08/3) 1 hr. 59 min. 53.019 sec.
5 Derek Daly (Williams FW08/4) 2 hr. 00 min. 04.800 sec.
6 Jacques Laffite (Talbot JS17) 1 Lap behind
7 Jochen Mass (March 821) 1 Lap behind
8 Marc Surer (Arrows A4) 1 Lap behind
9 Brian Henton (Tyrrell 011) 2 Laps behind
10 René Arnoux (Renault RE36B) 3 Laps behind
11 Francesco Serra (Fittipaldi F8D) 3 Laps behind
12 Alain Prost (Renault RE63B) 8 Laps behind
13 Nigel Mansell (Lotus 91/7) Retired on lap 45 –engine faiure
14 Niki Lauda (McLaren MP4/4) Retired on lap 41 – accident
15 Michele Alboreto (Tyrrell 011) Retired on lap 41 – crashed
16 Bruno Giacomelli (Alfa Romeo V12) Retired on lap 41 – crashed
17 Elio de Angelis (Lotus 91/9) Retired on lap 18 – clutch, gearbox
18 Eliseo Salazar (ATS D6) Retired on lap 14 – crashed
19 Roberto Guerrero (Ensign MN16) Retired on lap 7 – accident
20 Riccardo Patrese (Brabham BT49D/17) Retired on lap 7 – crashed
21 Andrea de Cesaris (Alfa Romeo V12) Retired on lap 3 – driveshaft
22 Jean-Pierre Jarier (Osella FA1C) Retired on lap 3 – engine trouble
23 Manfred Winkelhock (ATS D6) Retired on lap 2 – crashed
24 Raul Boesel (March 821) Retired on lap 1 – accident damage
25 Mauro Baldi (Arrows A4) Retired on lap 1 – accident
26 Riccardo Paletti (Osella FA1C) – Did not start
Fastest Lap: Alain Prost (Renault RE36B) on lap 45 in 1 min. 50.438 sec – 130.798 k.p.h.
25 starters – 12 finishers
N.B. Race stopped one lap short despite the 2 hour rule.