Sublime to ridiculous
Nigel Mansell made it five from five with victory at San Marino before Senna hit back in a Monaco epic that has stood the test of time
As we waited at Bologna airport for the 'plane to London a friend said: "If you don't come away from Imola feeling happy, you might as well give up." How right he was, referring to our visit to the San Marino Grand Prix held on the Autodromo Enzo and Dino Ferrari. Maybe Ferrari didn't win, maybe my favourite driver did not win, maybe the weather could have been hotter, maybe things were not always to my personal liking, but a race at Imola is one of the best tonics in motor racing.
Only the Italians could have organised things to enable them to hold two World Championship Grands Prix each year, the Italian GP at Monza, and the San Marino GP at Imola. Both autodrormos were created originally in municipal parks, Monza being part of the Royal Park, inside its own fencing, and Imola initially a temporary road circuit using the roads within the park alongside the River Santurno, and gradually being developed as a permanent facility. While Monza has always been about sheer speed, Imola has developed more as a driver's circuit, akin to old fashioned open road racing, and in a very few years has become a race not to be missed. The circuit is absolutely first class, fast and spectacular with hills up and down and the fast straight is actually two long curves, where speeds of well over 200 mph were recorded during qualifying. Even the 'rabbits' were doing 190!
If you approach the circuit from the hills behind Imola itself, over some really delightful mountain country, the small roads that lead into the circuit are named via T Nuvolari, via Tenni, via L Musso and via A Ascari. This is a delightful 'olde worlde' touch of which I approve, a sort of unwritten mark of respect, not today's over-familiarity and over-mateyness as used in our daily press.
If practice has begun when you descend the hill towards the Rivazza entrance, with a high stone wall on your left, you can hear the cars screaming down the hill to the double-left Rivazza corners, and it gives you a wonderful feeling of urgency to hurry inside and see what is going on. On top of this high wall there is always a row of agile Italians having a free look!
When you get inside to the very fast righthand bend into the open space of the so-called chicane before the pits, and the bleed-off entry lane to the pit lane itself, the approach speed and entry into the blind right-hander makes you suck your breath, even though you may see it every year. From the left/right jink, effectively round the start of the pit-lane wall, throttles are pushed flat to the floor and kept there for some 20 seconds while the more advanced cars automatically change up through the gears at peak rpm and hold top gear to as much as 203 mph through the speed trap just before the brakes come on in no uncertain manner for the left-hand Tosa hairpin. From the Variante Bassa (to distinguish it from the Variante Alta on the far side of the circuit) the cars pass through the speed trap at the start/finish line, the end of the pit wall, at 160 mph, disappearing round the long, long left hand curve of Tamburello. Imola generates a feeling of urgency by sheer sound alone.
When the do-gooders finally get control of the world and do away with motor racing, I know a lot of people who hope that Italy gets over-looked by some ministerial quirk, and we are left with Monza and Imola.
It would be a complete understatement to say that the Williams-Renault team dominated the San Marino Grand Prix. It was the Grand Prix, playing to a hushed audience in a packed house, with a large supporting cast. It was hushed because the red cars were effectively non-existent, and at Imola if you cannot cheer for Ferrari there is not much point in cheering. After cheering for Ferrari an Italian enthusiast will cheer for a job well done and in appreciation of something that is good, so as the Williams-Renault drivers did their slowing-down lap the large crowd showed their appreciation in a very healthy manner. On the inside, among people who get free tickets to watch motor racing, there was too much moaning and complaining about the monotony of watching another Williams 1-2. Either those people have short memories or they are new to the game, because I do not recall complaints about McLaren, Lotus, Tyrrell, Cooper and others dominating their particular era of Grand Prix racing. These unknowledgeable people spend too much time trying to dream up ways of making Grand Prix racing more entertaining for the public.
Whoever said that Grand Prix racing was for entertaining the public? The public are welcome to come and watch GP racing, and the more intelligent and enthusiastic of them will derive a great deal of enjoyment and satisfaction from what they see, but they are not there "to be entertained" as if they had bought tickets for a cabaret.
As for people who watch what is offered on TV and then moan, the simple answer is to use the off switch, or just pull out the plug. Your troubles will be over instantly. To get back to Grand Prix, which is the thing that really matters, my favourite driver was beaten into a shaky third place, not only in the race but in qualifying as well. The Williams-Renault pair were first and second on the starting grid, first and second throughout the entire 60 laps, and first and second at the finish with Patrese setting a new lap record into the bargain. Mansell won at a new record race average of 127.13 mph and Patrese averaged 130.943 mph on his new record lap, and it was his last lap in the race.
By any standards it was a pretty serious motor race, and afterwards, if you had said to Patrick Head, "That was a fine demonstration of total domination" he would have given his satisfied smile and said "Yes, I suppose it was". Senna, in third place in the McLaren-Honda, never really saw which way the two Williams-Renaults went, and most of the remaining runners only saw them as they went by to lap them. McLaren was not particularly enthusiastic about its third place, for while the rest of the starters would have given all they possessed to be in third place behind the two Anglo-French cars, a third place was not good enough for the Woking team. And spare a thought for the six entries that did not go well enough even to qualify for the back row of the grid.
As the two Williams-Renaults crossed the line flat out to go off on their slowing-down lap, Senna arrived more slowly and promptly pulled off the side after crossing the line. He was physically drained, having driven as hard as he could for the entire race and had been suffering from cramp in the upper half of his body, brought on by the seat-harness pressing on a nerve.
At the end of the slowing down lap the two Williams-Renaults arrived slowly, nose to tail, and as they drove to the finish line between the packed grandstands and the crowded pit wall they coasted to a stop revving their V10s, slightly out of synch with each other, as if to say: "Whaa-am, whaa-am, beat that the rest of you." As they stopped with a final "whee-aam" it was a very moving scene, regardless of whys, wherefores, likes or dislikes. The crowd engulfed them as only an Italian crowd can, and anyone just arriving on the scene could have been forgiven for thinking Ferrari had just won. Hardened viewers just knew that had there been two Ferraris in that crowd it would have been 10 times the size, but the enthusiasm for Grand Prix racing in Italy is the same, win or lose, rain or shine.
As I watched this scene from on high I thought: "I have just seen a memorable example of Europe beating the rest-of-the-world, bravo for Europe United."
Think about that. My friend was absolutely right, we always come away from Imola saying it was a good motor racing weekend, regardless of the actual outcome. Two weeks later the big white bird of Air France disgorged us onto the tarmac at Nice and Page & Moy transported us in coaches to the doors of our Monagasque hotels with no fuss or bother. The only sort of car you want in Monte Carlo at the time of the Monaco Grand Prix is a racing car. Those were there in profusion, the F1 circus alone having 50 in the Principality. The more affluent teams had two spares with them, knowing the risk of writing off a car on the unforgiving Armco-lined streets even before the race began at 3.30 pm on Sunday. In addition there were F3 and Renault Clio races, so at a rough estimate there were 120 cars. If you are going to fill your town with racing cars once a year, you might as well do it to capacity, almost from dawn to dusk, for four days. Try driving a racing car in August in Monte Carlo and see how far you get.
The Monaco Grand Prix is always run to a set of rules over which FISA and Bernie Ecclestone seem to have little control, yet it always takes place. Force majeure is probably the most overworked French phrase used in official discussions about the event. Any other circuit offering such a narrow pit lane would have to spend a fortune on rebuilding; the pit lane, such as it is, is completely divorced from the paddock, which is uncontrolled chaos and so small that some of the major teams are farmed out to an area halfway up a cliff face, while the non-F1 entries have their own paddocks on the opposite side of town. Few of the corners have any sort of run-off area and there is no provision for service or accident vehicles to move around the circuit.
By current F1 standards the speeds are relatively slow, so many of the safety measures needed on an 130 mph average circuit are not really necessary at Monaco, even if the terrain and situation could allow them. Accidents and bent cars are common, though serious injuries are happily rare and the placement of huge mobile cranes overlooking the circuit at strategic points means that a damaged car can be lifted up out of the way almost before the driver has got out! You often hear drivers say "so-and-so crashed badly just behind me, and next time round the wreck had gone!" If he had had time to look up he might have seen the debris dangling from the hook 50 ft above while the crane operator looked for somebody's garden or courtyard in which to dispose of it. Perhaps if drivers and teams were told that any car which flanged itself against the Armco would be dropped into the harbour, there might not be as many minor accidents.
Apart from the 'hardware' part of the Monaco GP, the 'software' also has its problems. Most F1 races are run to a set timetable of practice and qualifying on Friday and Saturday, racing at 2 pm on Sunday, but not Monaco. First practice and qualifying is on Thursday, the F1 cars do not run on Friday and they have to get psyched-up all over again for second practice and qualifying on Saturday. Just to round up the jolly schedule, the race starts at 3.30 pm on Sunday. Fortunately the Monaco Grand Prix only happens once a year; if there were any more races organised like this, most of the teams would go on strike.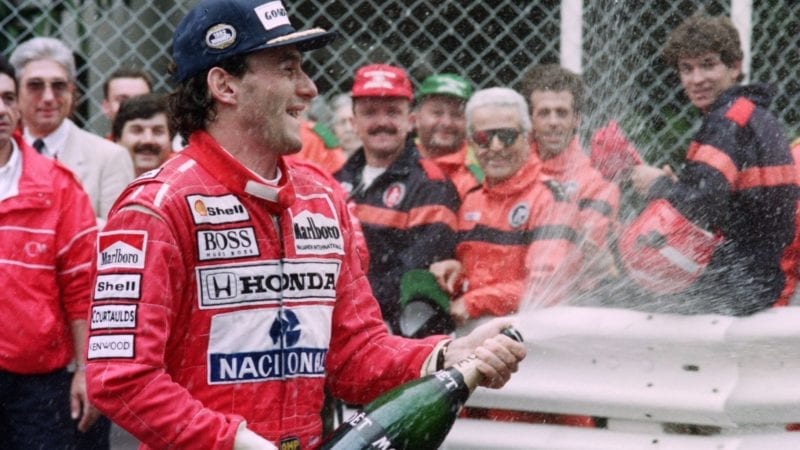 The press centre, where most of the media sit and watch the TV screen that 91 million other viewers are watching, is actually underground, two floors down in a multi-storey car park. There are no windows and, once you get into the lift to descend to it, you are cut off from reality and cannot even hear a Renault V10 or Honda V12. It is a strange world of troglodytes and if you come up for fresh air and look at the reality of an F1 race round the streets of Monte Carlo you begin to ask yourself: "Is this reality?" You cannot ask the man standing next to you, watching the cars go so close that only the wire-netting debris-fence stops you touching them, because one thing you cannot do anywhere near the trackside is to speak. The sound has to be experienced. It is more than noisy, and the vibrations make you tremble with excitement, even if they are from cars other than your particular favourite.
There is so much to see, hear, watch or actively do in Monte Carlo that it is a sobering thought that you can occupy four days just to watch two hours of actual racing, but it is one of those event that everyone should attend in full at least once, just to know that it all really happens. It is rather like the Le Mans 24 Hours; you can say '24-hour race' fairly glibly, but until you have actually been to Le Mans and stayed up all night, with a couple of hours dozing on the grass, and then watched 'The Arrival' at 4pm on Sunday afternoon, you have not really experienced Le Mans.
I went to Le Mans for 25 years in succession, and every time I watched the finishers cross the line I was moved emotionally. I don't go any more, haven't been for 15 years… and I don't miss it for one moment. When the day comes that I don't go to Monaco any more I am sure I won't miss it, but I'll be very glad that I did go. People talk of something being an anacharonism. and I cannot think of a more apposite word for the Monaco Grand Prix, but long may it continue (just once a year).
This year's race was interesting and exciting, for once more the Williams-Renault team dominated almost the entire weekend, only faltering at the last, albeit most important, hurdle.
Mansell, almost home having led all the way from pole position, had to make an unscheduled stop and Senna went by to snatch victory for McLaren, his first this season. Patrese was third, and though some people berated him for being beaten into the first corner by Senna, by the end of the race he had more than earned his keep. For a long, long time he was pressured unmercifully by Michael Schumacher's Benetton, but you cannot do more than 200 races without learning a lot of trackcraft and Patrese used it all to stay ahead, never putting a wheel wrong. At Monte Carlo, that is saying something. The fact that Schumacher finished fourth, only seconds behind the Williams, says it all for a young man in his first Monaco race of any sort, and with less than a year's experience in F1 racing. By such standards other newcomers can be judged, and some of the not-so-new ones as well.
One of the fascinations of Grand Prix racing is that we can go from the sublime to the ridiculous in two weeks. It has always been that way and as long as nobody tries to 'tidy it up' and make clinical racing facilities mandatory, GP racing will continue to be fascinating.