'Extraordinary' scarcely does him justice. Niki Lauda rarely features near the top when motor sport's all-time greats are discussed, but three world titles put him very firmly in that bracket. Andreas Nikolaus Lauda was an exceptionally fine racing driver – and an even more remarkable human being. His death on May 20 will be felt far beyond the sport he graced.
Perhaps his reputation suffers because of his cerebral, calculating style. He didn't have the overt flamboyance of Gilles Villeneuve, Ronnie Peterson or a young Jody Scheckter, but he understood that winning races was not necessarily the key to securing motor racing's biggest prize. In two of his three title seasons – 1977 and 1984 – he scored fewer victories than some key rivals, yet accumulated more points. Such shrewd methodology contrasts sharply with the kind of financial risks the younger Lauda took to secure himself a seat at motor racing's top table.
Born into a wealthy Viennese family, Lauda had the means as a teenager to purchase a Mini Cooper S, with which he contested local hillclimbs from 1968, and he soon began to taste success in sports and saloon cars. That led to an invitation to race for BRT in the 1971 European F2 Championship – and he also made his F1 debut that summer, in an uncompetitive March underwritten by the Austrian GP organisers, who wanted a local driver on their grid.
For 1972 March offered him a dual F1/F2 programme, which required a significant bank loan – and the first he tried to secure was turned down… because Lauda's grandfather, who detested motor racing, was on the board that needed to approve such deals. Undeterred, Lauda borrowed from elsewhere.
The March 721 proved hopeless, but Lauda won that season's British F2 Championship and finished fifth in its European counterpart. Late in the campaign, loan still not repaid, he learned that March would be unable to run him in '73, but managed to persuade BRM boss Louis Stanley to hire him on the basis of a deferred payment from a non-existent sponsor. His performances during the early part of the campaign – notably in Monaco – persuaded Stanley to let him keep the drive for free, so long as he committed to a deal for 1974. Except that Enzo Ferrari's interest was also now piqued…
Disentangled from his BRM paperwork, he was free to join the Scuderia – and start repaying debts. He won his fourth race for the team, Spain 1974, was in title contention prior to a late string of retirements and then dominated proceedings the following season, taking five wins in the new 312T.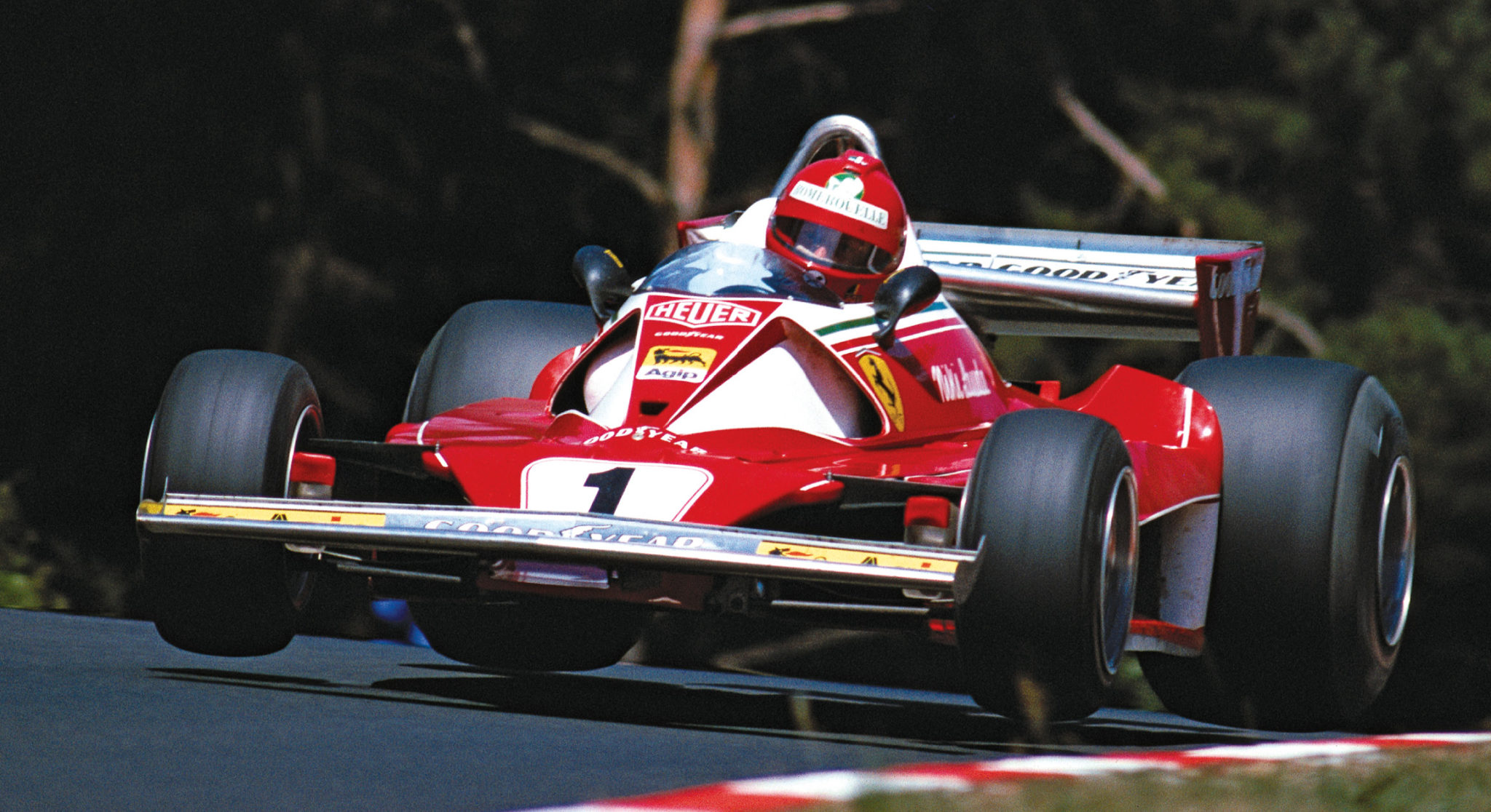 Back-to-back wins at the beginning of 1976 promised more of the same, but this would be the year that forged the Lauda legend for reasons other than his racecraft. During a season notable for controversies on and off the circuit, he suffered serious injuries in a fiery accident during the German GP and was read the last rites… yet six weeks later he was back behind the wheel, finishing fourth in Italy.
That temporary absence had allowed James Hunt to reduce his championship deficit and the title distilled to a showdown in Japan. After a delayed start due to fierce rain, Lauda completed just one lap before deciding conditions weren't fit for purpose. Hunt went on to take the third place he needed, but Lauda never had any regrets. "As it was starting to get darker, the organisers said, 'Right, we have to race now because of TV.' I thought it was idiotic – why hadn't we started earlier when the light was better, because the rain was no different? This stupidity, because of TV, meant conditions were wholly unacceptable. And anyway, I didn't lose the title because of Fuji – I lost it because I missed three races…"
One year later he would be champion for a second time, but then quit Ferrari – the wrong decision, he later conceded – for two seasons with Brabham, towards the end of which he decided he'd had enough of racing and walked away to focus on his airline business.
By 1982 he was back – persuaded out of retirement by new McLaren boss Ron Dennis, for whom he had also taken the 1979 BMW Procar title. He won the third race of his comeback season, at Long Beach… and from 1984 found himself once again in F1's quickest car, the TAG turbo-powered McLaren MP4/2, alongside Alain Prost. "F**k me he was fast," Lauda said. "I realised I wasn't going to beat him in qualifying and decided I had to try something else. So from Friday I worked on race set-ups and on Sunday I was generally in better shape."
"It's hard to imagine there will ever be another quite like him"
Prost won seven races to Lauda's five, but the Austrian took the title by half a point. He would score one more GP victory, his 25th, at Zandvoort in '85, but retired at the season's end to concentrate on his business interests – although he remained a familiar F1 paddock presence (his forthright opinions made him a popular TV pundit).
He held advisory or management roles with Ferrari and Jaguar during the 1990s and early 2000s, then returned to the limelight when Mercedes appointed him non-executive chairman of its F1 team in 2012. It was Lauda whose persuasive powers convinced Lewis Hamilton to defect from McLaren – and the fruits of that deal continue to accumulate.
Niki Lauda remained true to the period in which he evolved as a driver. Happy in a comfortable pullover and jeans, he was a refreshing antidote to modern F1's corporate gloss – and a straight question would always receive a straight answer.
It's hard to imagine there will ever be another quite like him.