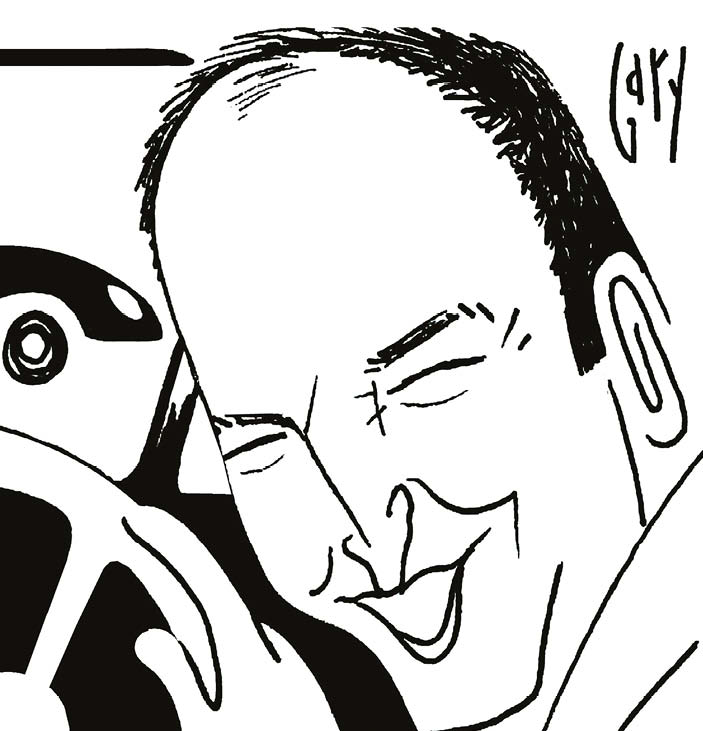 It might be that you've caught me on a bad day, but it seems the future for those of us who enjoy motoring is grim. I know successive generations have said the same thing and we have all managed to have a good time regardless, but the situation we face does now seem to be very different, even if you take into account the almost limitless creativity of engineers to duck around or at least mitigate the worst effects of new legislation.
I've tried, but I just can't get excited by electric cars, I'm afraid. I can see how they can work as functional devices once the range and recharging issues are fixed, but there is nothing about them that appeals to the enthusiast in me and plenty that does not. They make no sound that is of interest to me and their enormous mass compromises everything I enjoy about driving. Those who create them trumpet their astonishing performance while forgetting the link between fast and fun is tenuous at best if, indeed, it is there at all.
Allow me to illustrate. I own a 1950s Citroën 2CV, as does a friend in the same line of business. It's no more than the truth that, between us, we've driven at least one example of every high-performance production road car to be launched in the last 20 years. Last weekend we decided to take the 2CVs for a drive. The following morning he texted me: "Just woke up. Still laughing." I've driven cars worth a million pounds or more, with more than one thousand horsepower, and had far less fun than we did with our two silly old sheds.
There is much solace in this because, as yet, I know of no plan to ban '50s French snails, and until there is I'll always have something enjoyable to drive. And they use so little fuel, I should still be able to fill it up almost regardless of the price per litre.
But as I get older there is a greater comfort to be drawn upon. I've already had over 35 years on the road and, even if I'm spared and still fit enough to be driving 35 years from now, I know at least two-thirds of the miles I will ever do have already flowed under my wheels. Probably closer to three-quarters. I've had my fun, what fun it was and, at least for now, continues to be. But even in this period, life on the road has changed beyond recognition: I look back at some of the things myself and my fellow road test cubs got up to in the late '80s and early '90s with something approaching disbelief. We had a blast. Literally.
It's the person who is today the rabidly enthusiastic 17-year-old, ritually shredding his or her L-plates, for whom I feel sorry. The new cars that populate their future will be increasingly and then overwhelmingly electric. And even if they were enjoyable to drive, I believe motoring for pleasure will become ever more socially unacceptable than it is now and legislation will be brought in to reflect that fact. In fact, it's already happening.
The only answer for those not sold on track days will be cars that can make you cry with laughter without ever going near a speed limit. It's an irrelevance because I'll never, ever sell mine, but I expect to see the values of 1950s 2CVs and their like only heading in one direction.
I've done two races in the old TT Bentley in the last month and come across generally decent driving standards, but with a couple of scary exceptions.
"I was faced with either immediate
evasive action or a crash"
The difference might be that the Bentley was quite competitive in the first race and not at all in the second, so at the latter I was the one being overtaken; but there were at least two instances when I was being lapped where the quicker car not only assumed I'd seen him but also put me in a position where the choice was immediate evasive action or a crash. Which in an open-wheel car on skinny tyres, with no belts or rollover protection and a sky-high centre of gravity, is some distance from my idea of a good time. One of these instances was so close that the chap following was sure I'd been hit.
I wonder what these people think they are doing. There are exceptions, but the overwhelming majority of people who race historics are middle-aged amateurs with expanding bellies and receding hairlines just like mine. And if doing well is so important that you are happy to risk crashing into people you are not really racing, ruining their weekends at best, risking their lives at worst, I think it's probably time you took a look in the mirror.
When earlier this year the Duke of Richmond wrote to Goodwood competitors naming those he'd banned, reprimanded or warned for their driving standards, I expected some kind of outraged reaction from the community. On the contrary, the over-whelming body of opinion I heard was that it needed saying. A couple of owners even said they'd consider bringing their cars back to Goodwood again. I'm all for close racing but this is not professional sport, it's just a bit of fun and some seem have forgotten that, if ever they knew it in the first place. Allowances need to be made for cars that are slower than yours and for drivers with a wide range of abilities. Otherwise it will end in tears.
---
A former editor of Motor Sport, Andrew splits his time between testing the latest road cars and racing (mostly) historic machinery
Follow Andrew on Twitter @Andrew_Frankel