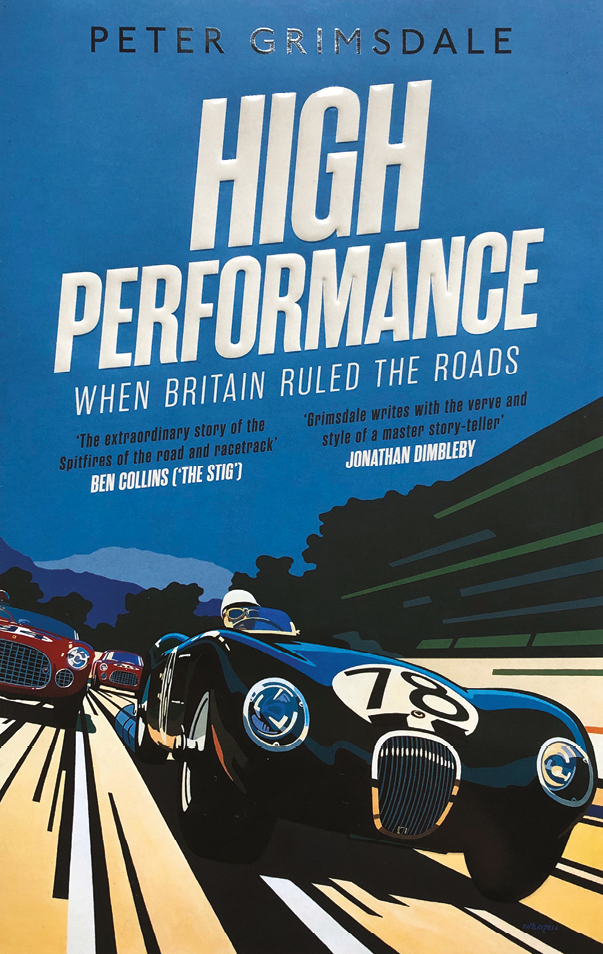 High Performance: when Britain ruled the roads
Peter Grimsdale. Published by Simon & Schuster, £20. ISBN: 978 1 4711 6845 1
Sometimes it takes an outsider to see the wood when the experts are inspecting the trees. That's the position of TV producer and novelist Peter Grimsdale – not a regular motoring writer but a life-long car enthusiast who presents a
wide-ranging portrayal of Britain's recovery from war strife to top nation on wheels.
It celebrates Mini and E-type, Lotus and Jim Clark equally, but highlighted against a background of industry mismanagement, distrust of innovation and a fear of flash.
In a chapter headed 'No style please, we're British', Rover chief Maurice Wilkes rejects a design "because it's a head-turner and we don't make head-turners. We like to make vehicles which are not noticed…"
Against this was the exuberant American influence – disastrously aped by the Austin Atlantic, yet heavy-handedly imposed by GM on Vauxhall – which made home-grown fare look stodgy, costly loss-makers. E-types and Minis were game-changer designs, but they were the exceptions.
Stepping back further than we regulars tend to, Grimsdale frames the successes within a grey, debt-saddled, make-do-and-mend Britain, which morphs triumphantly into the jet set, Swinging London and Minis winning the Monte, then subsides into the strike-torn 1970s and the collapse of the home car industry. Yet those grim 1950s allowed disruptors to thrive; Grimsdale places Cooper and Chapman four-square in this mire in which committee-run BRM floundered, and yet a racing lead emerged that this country enjoys still. Similarly Rover, creating an entire new market sector with the Range-Rover. This is about rebels and visionaries – and their disappearance.
The background detail impresses – that Malcolm Sayer busked in France and studied wind-shaped dunes in Iraq, that Moss once worked as a waiter called Toni, that Ian Fleming encountered an actual Aston loaded with trick gadgetry, that Tony Vandervell besieged a US firm for six days to do the deal that would make his fortune and lead to Vanwall. With references to Stafford Cripps, 19th-century designer Christopher Dresser and the comparison of Colin Chapman to Michael Caine's Italian Job character this
is an unconventional history, but it's absorbing.
---
RGS Atalantas
Alan Shattock. Published by Matador, £39. ISBN 978 1 789016 680
Few Atalantas remain – because there weren't many made, so this is a niche reminder of how a struggling pre-war marque which combined big American V12s with a fine chassis was taken on by enthusiastic racer/engineer Dick Shattock. Written by his son, the book tells of his first special and his aim to offer an innovative kit of parts so others could build variations, as well as his pioneering GRP bodyshells, including for the first TVR.
RGS Atalantas scored modest successes, often under Shattock himself, but didn't become another Lotus. Containing complete histories of every known car, it's a fine feat of research, well illustrated, but the first-hand recollections stop it being too dry – for instance the trip to Switzerland three-up in a luggage-laden Heinkel bubble car. And like the author, I'd love to know if their 35ft-long Silverstone slot track still exists. GC
---
Formula 1: The Knowledge
David Hayhoe. Published by Veloce, £55. ISBN 978-1-787112-37-7
The author has a history of producing motor racing compendia and this, the second edition of a series first published in 2016, is as detailed as its forebears – if not more so…
The planet's evolution means that statistical reference books tend to be obsolete by the time they are printed, as the internet updates rather more swiftly than ink, but this is divided into 1263 sub-sections covering trivia from 1950 onwards and includes topics such as 'banned from racing', 'consecutive points-scoring seasons', 'podium in all but one race of a season' and, obviously, 'F1 drivers who have competed in the Olympic Games' (Ben Pon, briefly a grand prix driver and now a successful vintner in California, was part of the Dutch clay pigeon shooting team in Munich
1972, for instance).
Not the kind of thing you'll want to read on the 7.24 from Orpington to London Victoria, but worth a gentle amble while you're cradling a brandy globe of an evening. SA