Brundles sidebar 2 Le Mans
Tom Walkinshaw was key to Jaguar's return to racing in the 1980s, persuading the factory to take on a campaign in the European Touring Car Championship, with the XJS in '82. He also convinced John Egan, the firm's chairman, to allow TWR to create a Group C car from scratch, rather than develop the US-spec XJR-5.
He hired Tony Southgate, handing the F1 designer a brief to create a Kevlar-reinforced carbon-fibre monocoque that would form the basis of the XJR cars. For 1988, all five of the XJR-9s had been examined in a wind tunnel to ensure they'd reach 240mph. But reliability was a constant worry, especially the gearbox. Jan Lammers somehow managed to drag his car to victory jammed in fourth gear, but Brundle wasn't so lucky, retiring with a cylinder-head failure.
When 1990 rolled around, bad luck almost haunted Brundle again. The XJR-12 he shared with David Leslie and Alain Ferté led but, at 07.00 on Sunday, a drive belt slipped off the water pump pulley and that was that. Except, it wasn't.
Walkinshaw had made a pact with his star driver. The two had formed a close bond ever since an eager Martin wrote to Walkinshaw in 1979, asking for a drive in the BMW County Championship.
"Go like hell and we'll try to break them. If yours breaks, I'll swap cars"
"Tom's plan was for us to drive flat out and draw the Porsches out," says Brundle. "There were so many, so he was like, 'You go like hell and we'll try and break them.' Then he said, 'And if your car breaks, I'm gonna keep your spot in the other car' which I think he forgot to mention to poor old Eliseo Salazar!
"I jumped in the other car, run by TWR USA. But that was missing a gear – fourth – and its front brakes had glazed over by that point, so it hadn't got much in the way of retardation. But we got that to the end. I think by the finish I'd done a dozen hours of racing in total.
"The car was overheating. The radiator [in the nose] as you can imagine would get full of debris and rubber, and I'll never forget Tom, with a bucket of water, throwing the water through from the other side of the rad to try and clear it. So then steam would just envelop you."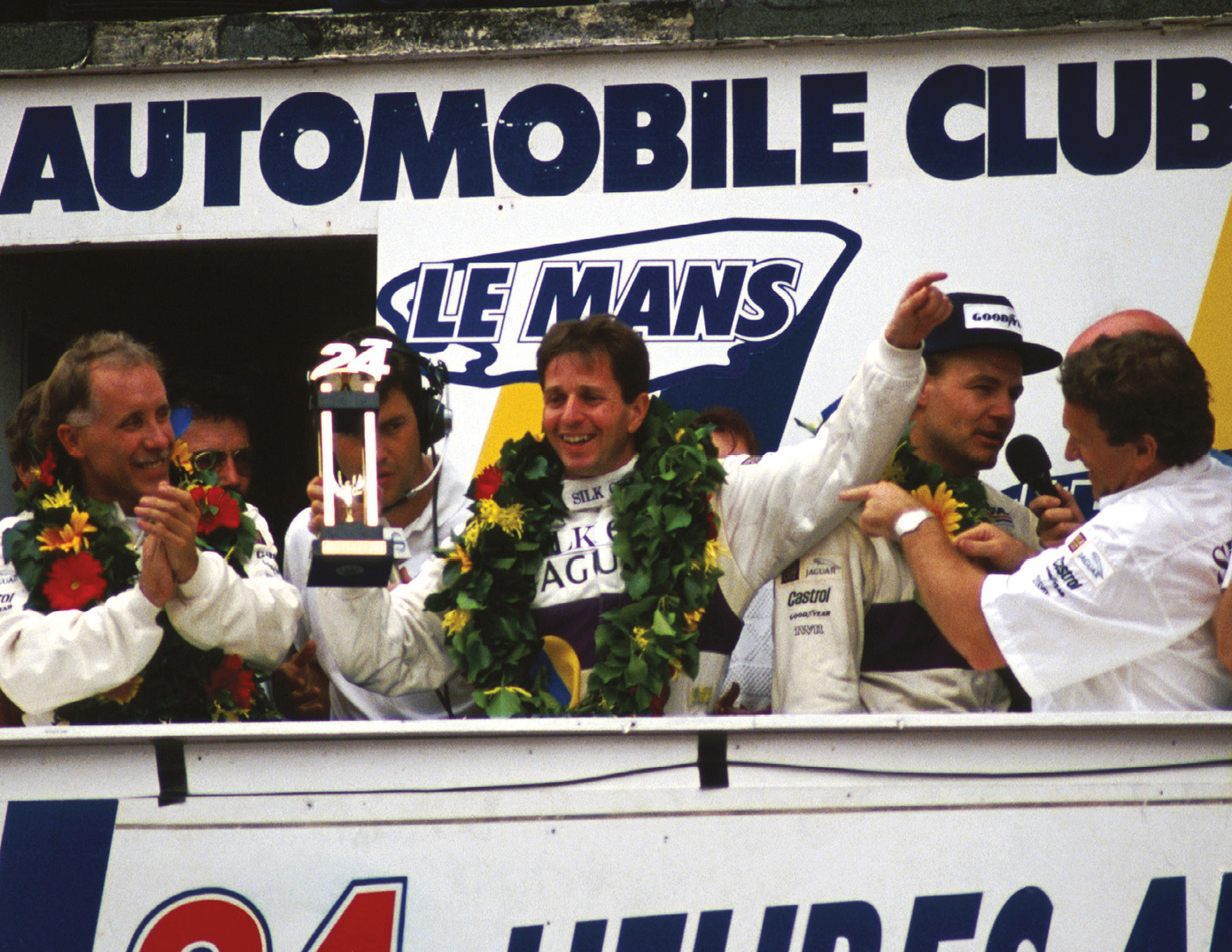 The first and second Jaguars could barely cross the finish line before being swarmed by many of the 50,000 Brits who'd come to see their home team show the rest of the world how it was done. All you could hear were tens of thousands of fans singing the national anthem at the top of their voices.
"There was one guy," recalls Martin, laughing, "who was wearing a Union Flag and, apparently, nothing else. Every time we came past, he waved the Union Flag. I'm pleased to say I didn't see him! They were glorious times, and we had the history of the C-type and the D-type behind us. And in 1988 Jaguar had knocked Porsche from the top spot after six or seven years of dominance."