He was behind the Metro 6R4 and Jaguar XJR-14. Now John Piper has a very different project
His CV includes the Metro 6R4, Jaguar XJR-14 and Panoz GTR-1, but John Piper's latest project is his most personal yet. Damien Smith meets the artisan engineer who's breathing new life into some old favourites
He's spent more than 40 years living at motor sport's cutting edge. So why would such a man, now on the cusp of his eighth decade, even think about starting again with a bright and ambitious new business? "It's just what I do," says designer, ex-mechanic, artisan engineer and artist John Piper. "It's what I've always done.
I guess I'm at that age where lots of people use the 'R' word. I'm 69, 70 in August. But I'll quote Carroll Shelby: 'I'll retire when the work's done.' This is simply who I am and I don't feel I've done it all yet."
Piper's colourful racing life is an unplanned tapestry that's brought him a great deal of pleasure and significant achievement: formative years at Williams and Benetton; a key role in the creation of legendary competition cars such as the Metro 6R4 and Jaguar XJR-14; breaking convention with the insane-looking Panoz GTR-1; heading to Bonneville to set diesel-powered speed records that might stand forever, especially now that fuel source is considered a global pariah. He's done a bit of everything and now, under the auspices of Piper Special Vehicles, he enjoys electro-modding classic cars, including his next big thing: a production armada of battery-powered Austin-Healey Frogeye Sprites.
We've headed to Bristol to meet Piper in his small industrial unit that was once home to Aardman Animations, creator of Wallace and Gromit. That seems fitting. Piper has something of the cheese-loving inventor about him and is brimming with boyish enthusiasm for his new project. There's no sign of an intelligent hound to play the grown-up and keep him grounded… Still, he has engineer son Alex on CAD design duties and a small band of experienced technicians to steer him clear of the car equivalent of 'The Wrong Trousers'.
Piper Special Vehicles' latest work sits on the shop floor and is representative of John's world these past few years: a beguiling new-old MGC GTS replica, which is very much not electric: it's propelled by a good old burbling V8. More of that, plus a wealth of racing stories, to come. But first, John, what's this about sparky Sprites?
"In the 1990s there was a company based on the Isle of Wight that made Frogeyes," Piper explains. "They did it very well, so much so that Geoff Healey, son of founder Donald, allowed them to use the Healey name. Birkin, who make replica Lotus 7s, took the project to South Africa, and Birkin's owner John Watson, whose son Stephen was a test driver for Arrows in F1 and whom I knew through motor racing, ended up selling it to me and Darryl Eales, my investor in Piper Special Vehicles. All the moulds, tooling and drawings, we brought them back in two containers just before Covid struck. As I sent everyone home and put them on furlough, I got some funding through an Innovate UK grant for a feasibility study and it's been very well received by the Niche Vehicle Network."
"Patrick Head taught me to design. I was a good draughtsman, but didn't know my arse from my elbow"
Armed with inspiration from Simon Saunders and his Ariel Atoms, Piper is setting up to make "a modern electric version of the Frogeye Sprite. It will have a glassfibre body – we're looking at organic and sustainable fibres and resins – on a tubular chassis with twin wishbone suspension front and rear. The electric motor and gearbox will offer about 100bhp, and with a 350V battery it should give us in excess of 120 miles in range. The car will be sub-800kg and our targets are sub-eight seconds for 0-60mph and 100mph on top speed."
He has the funding to build three prototypes this year, and is searching for more to commit to a production run of 120 cars built over a three-year period. A move to a bigger facility at Silverstone is likely on the cards too.
"The essence of Piper Special Vehicles is to use all of my background and experience of high-quality engineering in an artisan way," says John. "I have this idea in my head of what it's going to feel like when I drive it. Do you remember the first time you drove a car or rode a motorbike? Wow. You were immediately sucked in. I want you to feel that with this."
Everything, it seems, has led him to this point. Life begins at 70? John Piper might say so – although the rest of it hasn't exactly been shabby. "I don't think I've ever consciously made a career decision," he says. "I've just followed my heart. Throughout my motor racing career I didn't do it because I was a racer, I did it because I loved the engineering. The freedom of that industry led me down this path."
Price of an education
Wind back half a century and it's clear Piper fell into his life in cars. Having earned a degree in engineering from Kingston Polytechnic, John worked for a precision machine tool manufacturer, and through the 750 Motor Club built a Ford 100E special for trials competitions and began working as a mechanic for a Formula Ford racer on spare weekends. Then he spotted an ad for a job as a full-time mechanic.
"It was David Price Racing and the Unipart Formula 3 team based in Twickenham," he reveals. "The drivers were Tiff Needell and Ian Taylor, and I was Ian's mechanic. I absolutely loved it. Then they got the deal to run Giacomo Agostini in a Williams FW06 [in the Aurora-backed British F1 series] and also the deal to run Triplex Rover SD1s in 1980, so I moved from F3 to become chief mechanic on the Rovers with Jeff Allam and Rex Greenslade. A young Nigel Mansell joined the Unipart F3 team too. I was his mechanic for three races."
He credits future McLaren chief mechanic Ian Dyer for teaching him the trade, before a Saturday morning visit to Williams to pick up some spares sparked a career he'd never considered. "The workshop manager said I should talk to Patrick Head because they were looking for a junior draughtsman. So I phoned Patrick, went for an interview and got the job. There were four of us in the office: Patrick, Frank Dernie, me and Neil Oatley. Patrick was fantastic and taught me to design. I was a good draughtsman, but didn't know my arse from my elbow. The reason Patrick employed me I think was because of my time with the precision engineering tooling company. I'm forever grateful to him."
The cars that John Piper created
Rolling into the Metro 6R4
Head took Piper in another direction when the F1 team's Leyland sponsorship helped trigger a Williams special project: the Metro 6R4 Group B rally car.
In a cabin behind the team's base in Didcot, Piper found himself reunited with fellow Kingston Poly graduate Brian O'Rourke, who arrived at Williams from US aerospace company Northrop expecting to work on the team's first carbon-fibre F1 chassis.
"[Austin Rover motor sport boss] John Davenport said he wanted a V8 engine in the front," chuckles Piper. "Patrick and I looked at that and thought, OK, but only if you cut the driver's legs off. Patrick said try it in the back [the four-wheel-drive Metro ended up with a shorter six-cylinder from which its name derives]. I drew the transmission, mechanicals and suspension with help from Bob Farley, a fantastic guy who was seconded from Austin Rover. Brian did the steel shell, having come from doing carbon-fibre air brakes for F-111s at Northrop! Ian Anderson and Derek Jones from Williams built it. We had a great time."
Piper then found himself responsible for "putting miles" on the car at Chalgrove airfield, where a ride with new Rover British Saloon Car Championship recruit Steve Soper proved memorable. "It had been raining, so I asked Steve if he wanted us to sweep the puddles away. 'No, I'll drive around them.' As we'd done one circuit he just brushed the edge of a puddle and suddenly we were spinning, on road tyres. We slid off, laughing – but there was a hole and a wheel dropped into it, breaking the upright and flipping us. He'd won the Metro Challenge, had only just signed his Rover contract and that morning had picked up his new Vitesse road car. 'Steve, I think you should drive the Vitesse back to Cowley. Post the keys through the door and do a runner.' He didn't really appreciate that."
Much of the testing was carried out by BL mainstay Tony Pond. "Patrick had been going on that the first rally car to use aerodynamics would win," recalls Piper. "No one paid much attention. We were going to test at Oulton Park and Patrick said to Brian, 'Go up into the stores and find a wing. You'll need to put some kind of splitter bib on the front to balance it. Set a time. Then put those on to see what Tony says.'
"A main-plane was ridiculous. It was too big, so we found a little counter-flap, made a couple of angled aluminium endplates and riveted them to the tailgate, then made an aluminium strip bib splitter. When we got them out Tony laughed. 'Are you serious?' We put them on and he went about a second and half a lap quicker. He said they look ridiculous. So shall we take them off? 'No, no, no…'"
F1: Reunited with Mansell at Williams, then on to Benetton
Back in Formula 1, Piper worked on the gearbox and rear-end of the 1985 FW10, while O'Rourke finally got to produce the composite chassis he'd been employed for. Under team manager Peter Collins, John found himself race engineering his old F3 driver Nigel Mansell, who had joined Williams that year from Lotus.
"It's quite competitive being a race engineer at Williams and I did feel a bit alone, plus I had a brand-new family," says John. "It felt very strange going away and leaving my young son behind. I got an offer to go to Benetton, so I only did up to Spa with Nigel – then he won the next two races, the bugger!
"Nigel was just like he'd been in F3: what you see is what you get. Fantastically exciting in qualifying. He still blames me for not getting pole in Monaco because we finished with too much fuel, although it wasn't quite like that. We had discussed it and put in enough for an extra lap, but that was discreetly forgotten when he missed it by 0.086sec [to Ayrton Senna]."
Piper spent three happy years at Benetton, working under Rory Byrne and Pat Symonds on gearboxes. "Witney was like F1 as a cottage industry and I made a lot of friends," he says. "Everyone worked really hard until 9pm, then went to the pub with Rory to play table tennis or bar billiards. He'd be back in at 7am. It was a very nice time."
Jaguar: a purple reign
Piper's gearbox expertise led him to Prodrive, but his spell in Banbury was short-lived. "One day the phone rang and it was Ross Brawn, who I'd first met at Williams. 'What are you doing?' I was looking out of the window at the rain. 'Do you want to come and win the World Sportscar Championship?' Yeah, that sounds really good. Again, there was no career plan."
Piper was hired to run Tom Walkinshaw Racing's design office under technical director Brawn as plans fermented to create one of the most celebrated sports Prototypes: the Cosworth HB-powered Jaguar XJR-14. "I absolutely loved it in Kidlington and found Tom a fantastic guy to work for," says Piper. "He had an extremely loyal workforce who had been with him for years. I know his reputation was colourful, but the people who worked for him adored him. If you wanted something and could make a case for it, you got it.
"There were 10 of us in the design office, which was unheard of in a Group C team, and I was in charge of the day-to-day running, although they called me the chief designer. I oversaw the design of the gearbox.
"The XJR-14 was a fabulous car and it was so great to be a part of that. We also did the upgrade to the XJR-12 [the XJR-12D] to make it last at Le Mans, and it did better than that – it won in 1990. I went to TWR in the autumn of 1989, we won Le Mans in 1990 and then the World Sportscar Championship in 1991. I had a three-year contract but then Jaguar pulled out. Crikey, what do you need to do to keep your job?"
Panoz: do as the Don says
In another break with reputation, Walkinshaw paid the rest of Piper's contract when Jaguar pulled the plug, leaving him free to take a sabbatical and indulge another passion. His wife, Ruth Piper, is a respected artist and now John too found he had the time to express himself in a wholly different way.
"I did some sculpture, some ceramics and had a lovely time. Tom sent Andy Morrison round to ask if I'd do the Volvo British Touring Car and I did make a career decision then: I turned it down because my heart wouldn't have been in it. But then the money started to dwindle and I thought, 'I've either got to sell the house and commit to this new way of life or…' Ruth and I were having an exhibition in a Chelsea gallery and I got a call from Adrian Reynard asking what I was doing."
That call came on a Thursday. By the Monday, he was on a plane to Detroit to create the Ford Indigo concept car that celebrated the Blue Oval's Indy 500 success with Reynard and Jacques Villeneuve in 1995. On the back of that, Adrian recruited Piper as technical director of his new Reynard special vehicle division. John designed a lowered gearbox for Reynard's BTCC Ford Mondeo, but it was a Le Mans-related campaign that tickled his creative funny bone: the way-out Panoz GTR-1.
"Nigel Stroud, who is lovely to work with, was on board for the aerodynamics, and he and I went to see Don Panoz in the States," Piper recalls. "Don said, 'There's only one thing I'm going to insist on: the engine has to be in the front.' Don, the cars that win are all mid-engined. 'I don't care.' His son Donny was building a car based on a Mustang platform [the Esperante] and if the racing car was going to be a Panoz flagship it had to have the engine in the same position as Donny's.
"Nigel and I were crestfallen and came back on the plane drawing ideas on serviettes. We thought, if we take the gearbox off the engine and put it in the back we can hang all the suspension off it, like a proper racing car. The engine up front can go against the front bulkhead of a carbon-fibre monocoque, which kind of becomes a spacer between the engine and gearbox. Nigel worked the aerodynamics around that and actually they weren't bad, although it was an odd shape. He had to put the radiators in the front rather than the side to get the aero he was looking for.
"Roush did the Ford engine and their background in V8s is second to none, but not in an efficiency formula. They could get lots of horsepower and make it strong, but Le Mans is all about not using fuel and they found that a challenge. The other big problem I had was getting the carbon-fibre propshafts to last. We broke a lot, but got there in the end. We also did a version of the car that had electric storage." Electrification? Sounds familiar.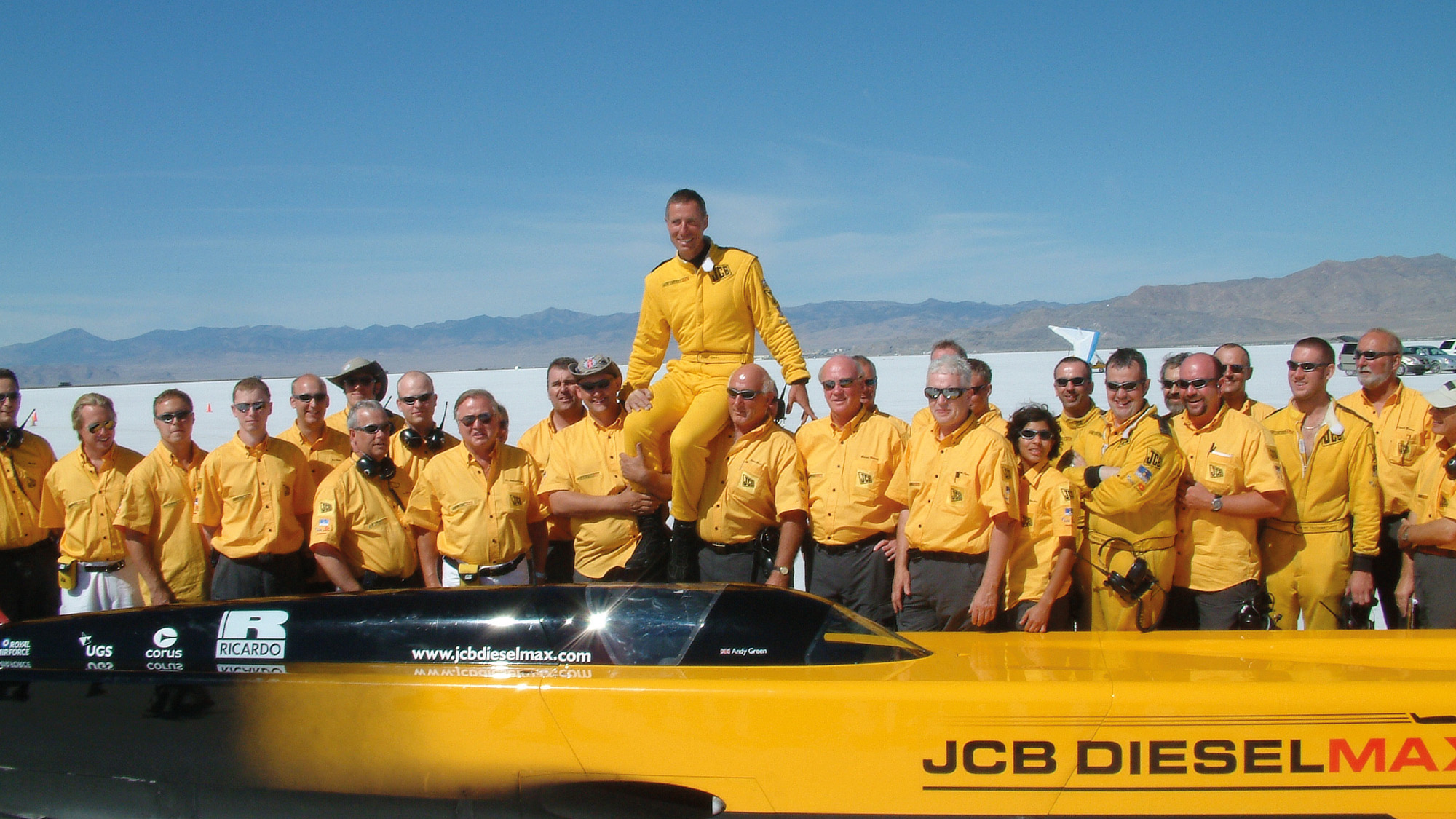 Going straight with JCB
Burnt out at Reynard, John quit and set up Piper Design. A string of projects followed: a car commission from Noel Edmonds for a stillborn TV show; an LMP1 Le Mans car that never left the drawing board; work for Suzuki, Rolls-Royce and MG; an aerodynamic efficiency project for Marks & Spencer trucks; and a novel sandwich van that put the company behind it out of business – and took Piper Design with it.
At a low ebb, he and Ruth prepared to sell their Fulham apartment when, once again, the phone rang. "It was Brian Horner of a company called Visioneering in Coventry. He had a bit of design work on a diesel-powered land speed record car for JCB. Would I be interested? No career decision… It rescued me from depression."
The JCB Dieselmax remains close to Piper's heart. Powered by two JCB444 turbo-diesel engines, the pencil-slim four-wheel-drive machine headed out to the Bonneville Salt Flats in 2006, ultimately setting a new diesel land speed record of 350.092mph with Thrust SSC king Andy Green at the controls.
"We designed the car in five months, built and tested it," says Piper. "I was chief designer. It's the best project I've ever done – well, until the Sprite. The timescale was the biggest challenge. No one gave me a budget, so we really went for it. The wooden hangar we used in Bonneville was where Breedlove, Campbell and the rest had their cars. There was a Baptist chapel next door and we arrived one morning to find it had burnt to the ground. The fire fighters had been there all night hosing the hangar to make sure it didn't catch fire, and the car was inside…
"We did 350mph, but we were limited by what the tyres would do. We had a great tyre engineer from Goodyear and had developed a tyre using a machine that was used for the Space Shuttle to get to 450mph. We were going back. JCB's Tim Leverton told me to get the team together again – and then the economic crash [of 2008] happened and JCB laid off 900 workers. The data showed we could have done 395mph."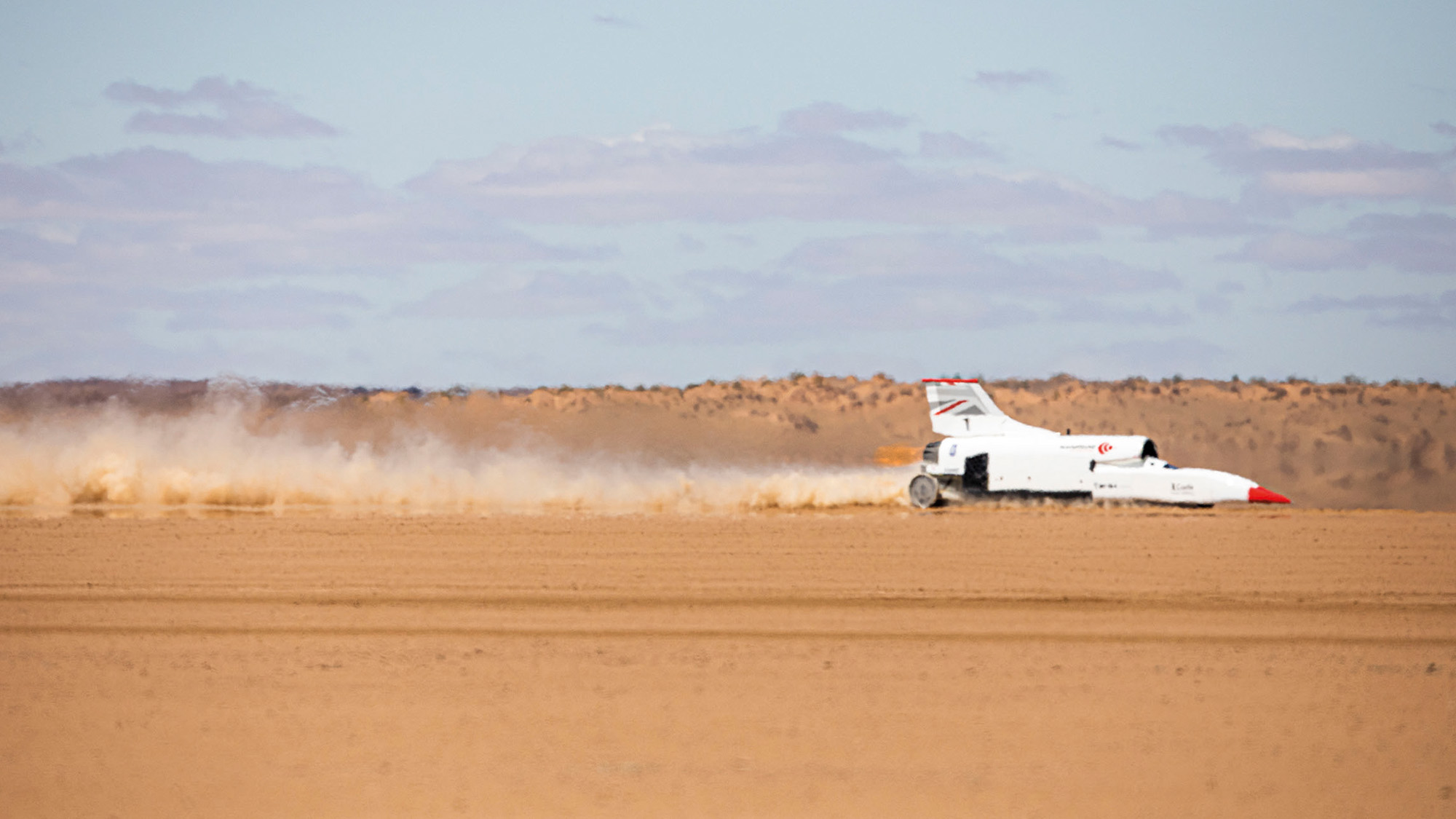 Piper relocated to Bristol and worked on Richard Noble's Bloodhound LSR project for two and a half years. "Richard couldn't get enough money to do it in the way I wanted, and I couldn't do it his way. We parted."
Piper Special Vehicles has kept him busy since, and now the Sprite will give him his umpteenth new lease of life. "This is the most personal project I've ever done," he says. "I'm so passionate about it – I hope you can feel that." We can.
After all he's been through, Piper has unwavering faith: the key chapter of his remarkable life might still lie ahead.