1984 French Grand Prix race report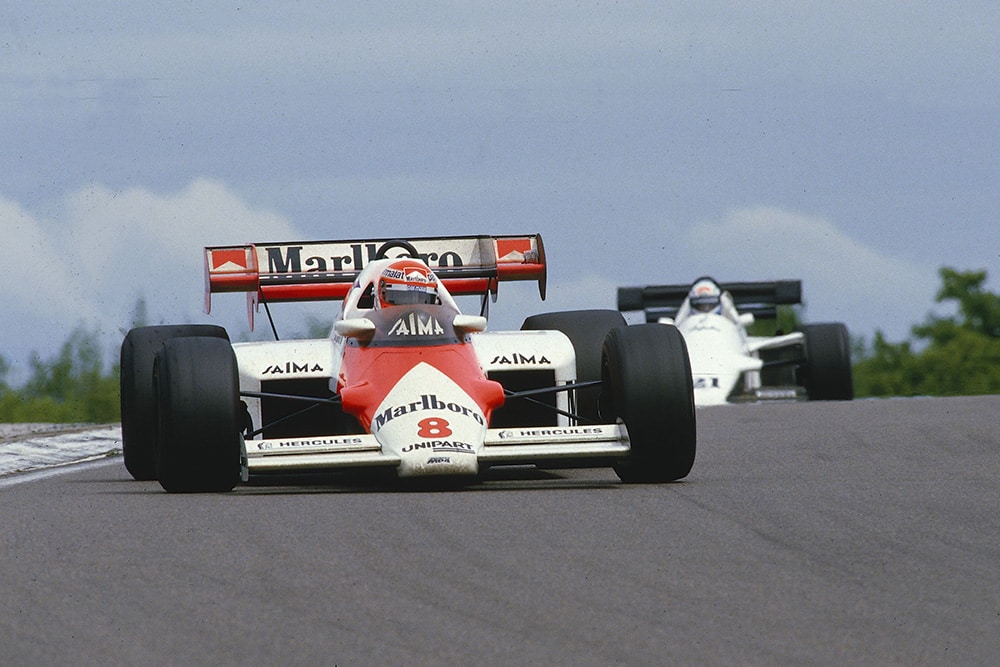 Dijon, May 20th 
Returning to the tortuous Dijon-Prenois circuit for the first time since 1981, this year's edition of the French Grand Prix saw Niki Lauda deny the factory Renault Elf team another victory on home soil by taking his McLaren MP4/2 to a confident and convincing victory in the 79 lap race. For the McLaren International team it was another remarkable demonstration of the latest John Barnard-designed chassis and its Porsche-built V6 turbocharged engine: the fourth such success out of five races run so far this season. For Lauda, who drove with just the right blend of aggression to enhance his otherwise distinctively smooth style, the race marked his second victory this year and his 21st since he first triumphed in a Championship Grand Prix at Jarama, almost 10 years ago to the week, at the wheel of a Ferrari 312B3.
Qualifying
Practice and qualifying at the French Grand Prix was ruined by the weather and those who had failed to produce their best on Friday were left floundering the following day as the heavens opened and most of the central France disappeared under a gloomy blanket of torrential rain. Obviously hoping for a good showing on home soil, particularly in view of the much-publicised fuel consumption problems which has bugged its progress so far this season, the Renault team provided the focal point of most people's attention.
Patrick Tambay also wanted to do particularly well after a series of disappointing outings, and he successfully took full opportunity of a gap in the traffic mid-way through the first qualifying session to throw pole position beyond the reach of his rivals with a 1 min 02.200 sec lap after which his RE50 suffered a major turbocharger failure which set light to the car's rear bodywork and left him stranded out on the circuit. On this occasion his English team-mate Derek Warwick seemed to be on the receiving end of the trouble, his regular race car suffering engine failure during Friday morning's untimed session which meant that he was consigned to the spare RE50 for the crucial dry timed qualifying session. Despite the cockpit not fitting him properly and the fact that he didn't really feel "in the swing of things", he recorded a 1 min 3.540 sec which was good enough for seventh overall.
Although it was to be McLaren who would challenge Renault once the race got under way, Team Lotus's Renault-engined 95Ts proved highly competitive during qualifying, Elio de Angelis setting what was the fastest time of 1 min 2.336 sec before Tambay pipped him for pole position. De Angelis was confident that he could wrest fastest time back from the Frenchman, but on his second set of qualifying tyres he found himself on the dusty outside line of a fast corner when he moved over to avoid Alboreto's slow Ferrari C4. De Angelis braked hard to avoid an incident, and any chance of improvement was lost.
The Lotus 95Ts both sported slightly revised rear aerofoils at Dijon, helping them to achieve impressively fast straight line speed figures through the timing trap by the start / finish line. Nigel Mansell demonstrated notably confident form and although a half-spin cost him what he thought might be a front row qualifying position, he finally ended up sixth on 1 min 3.200 sec and then impressed everybody by being comfortably fastest in the pouring rain on Saturday afternoon, demonstrating his bravery and the effectiveness of Goodyear's wet weather rubber at one and the same time.
World Champion Nelson Piquet is getting a little restless after a spate of turbocharger failures on his Brabham BT53's BMW engines during the first few races of the year and the Munich company has been working hard in conjunction with the KKK organisation (which supplies the turbos) to improve the situation. There was another revised turbocharger design for Dijon and although Piquet's BT53 had to have a quick engine change immediately prior to first qualifying, he nipped smartly round in min 2.806 sec to claim third position on the grid. The car was good, but not splendid, in his view. His team-mate Teo Fabi, who always seems to be cast in a very definite number two role, had suffered with a turbo failure in his car during the untimed session and was only allowed into Piquet's BT53 in the closing minutes of the first qualifying hour. Despite getting tangled up quite badly in traffic, the unobtrusive little Italian did a 1 min 6.370 sec on what amounted to his only quick flying lap. Quite good under the circumstances.
The McLaren International team appears with three cars as usual, Imola winner Prost going back into his original MP4/2-2 after the problems he had experienced during practice for the San Marino Grand Prix had been rectified. He managed to qualify a satisfied fourth at Dijon before his Porsche-built engine failed during his second run on soft Michelins. Team-mate Niki Lauda suffered similar failures with both his own and the spare car, winding up a very disappointed ninth quickest on 1m 4.419 sec. a batch of freshly prepared engines was flown in from Porsche's Weissach base in time to be fitted for the cars for race day: clearly, as it was to be seen, these fresh engines had done the trick!
While the McLarens both rolled round Dijon as if they were on rails, the aura of smoothness and security enhanced by the tidy driving styles of Prost and Lauda, the Willams FW09s twitched and lurched from lock to lock. Team leader Keijo Rosberg wasn't unduly impressed with the revised front suspension geometry available at this race and his effort at qualifying fourth on 1 min 2.908 sec was a reflection of his dauntless enthusiasm – not the car's handling characteristics. Whatever seemed to be changed on the FW09, the abiding characteristic appeared to be understeer, a time-consuming handling quirk on a circuit with as many fast corners as this. Jacques Laffite managed to qualify 12th, just behind the two Ferrari 126C4s of Michele Alboreto and René Arnoux.
The Maranello team appeared at Dijon with four cars, two sporting the latest specification engines (as described in Notes on the Cars from Imola) and revised front and rear suspension geometry, while the two spare cars had earlier exhaust systems and the original C4 suspension layout. Both drivers found that lack of grip hampered their performance out of the tighter corners and, although the Italian machines were quick on the straight, there was a predominant air of confused annoyance that the team hadn't been able to reproduce the Ferrari form demonstrated so convincingly at Zolder during the Belgian Grand Prix.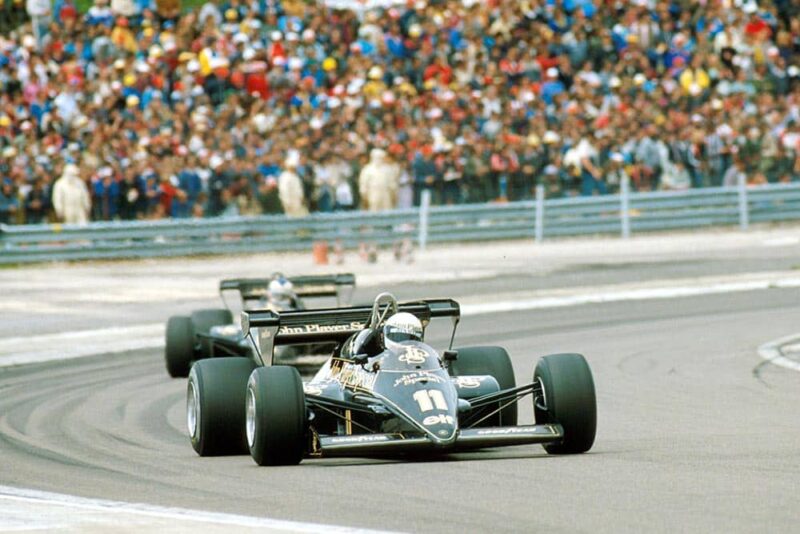 The second half of the grid held few surprises, although the new Toleman TG184 driven by Senna (now on Michelin tyres) did well to qualify 13th, a feat which humbled the Alfa Romeo drivers who both lined up behind the young Brazilian driver. Arrows fielded only one BMW-engined car, it being Boutsen's turn to drive it again and Ligier's sole runner was Andrea de Cesaris in 26th position. The Italian's dry weather qualifying time was disallowed after post-practice scutineering had revealed the JS23's on-board fire extinguisher bottle to be empty. The net result of this was that Ligier chose to withdraw Francois Hesnault, who had qualified very respectably in the middle of the grid for his first home Grand Prix in order that de Cesaris be allowed in as 26th qualifier. Most people thought this was a rather illogical course of action to take, particularly as Hesnault excelled in the pouring rain to be third fastest behind the Lotus twins in the second qualifying session.
Race
Race day dawned bright and sunny, but the weather turned sour and overcast by the time the grid formed up, but at least everybody managed to get away cleanly on the this occasion. Tambay's clutch slipped badly as he moved off and, for a second, it looked as though he would be engulfed by the pack. However, he just managed to squeeze out de Angelis and Piquet to get to the first corner in the lead and for the first few laps eased way from the Italian Lotus driver and his Team-mate Nigel Mansell who had made a splendid start.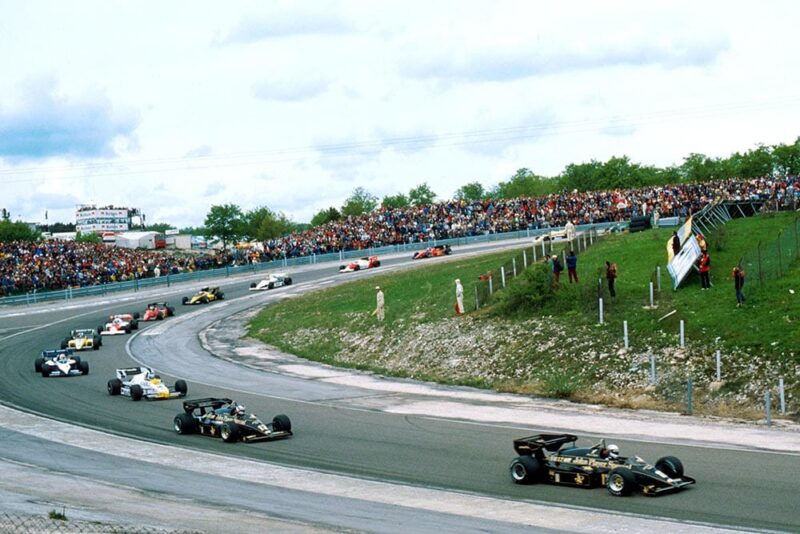 To the vociferous approval of the crowd, Tambay kept the Renault convincingly in the lead for the first half of the race, enjoying a relatively easy time when the Lotuses were immediately behind him but coming under more severe pressure as the McLarens of Prost and Lauda carved their way through the field into contention. Prost was the first to challenge Tambay, getting right up with him on lap 20 before stopping at the pits after the left front wheel began to work loose. A vibration possibly beginning to unlock the wheel securing nut. Prost was later to climb back to fourth place before stopping again with a similar problem, finally finishing seventh.
Lauda's challenge to the Renault's dominance was far more effective, the Austrian eventually nipping through to take the lead when fading brakes caused Tambay to run wide under taking for a tight left-hander. Both cars were destined to make routine stops for fresh tyres, Tambay pulling in on lap 44 and not losing second place. Lauda made his stop ten laps later and Tambay re-took the lead while the McLaren was in the pits, making it a straight race between the Frenchman and the Austrian to the finish. But the Renault was no match for the McLaren and Lauda hauled back Tambay's advantage, going into the lead for good on lap 63 and holding on ahead until the chequered flag.
Tambay's team-mate Derek Warwick was up to fourth place, challenging Mansell, when he tripped over Surer's Arrows while the two Englishmen were lapping the Cosworth-engined car. Warwick vaulted over the slower competitor and crashed quite heavily into the catch fencing, his legs being quite badly bruised as a broken suspension arm thrust its way through the Renault's footwell. Surer, largely innocent in this unfortunate matter, was also eliminated from the contest.
Mansell was thus able to run home a comfortable third, pursued across the line by René Arnoux, the Frenchman rather disappointed that his Ferrari's lack of grip had prevented him from contesting the leading positions. Team-mate Alboreto had briefly run ahead of him during the opening stages of the race, but a spin dropped him back behind Arnoux and he eventually retired with a broken engine.
Elio de Angelis, who took the spare Lotus 95T after suffering an engine failure in the race morning warm-up session, was the last unlapped runner in the fifth place while Rosberg's Williams understeered its way home sixth, its driver pretty unhappy about the outcome of the whole affair.
Others running at the finish included the gallant Prost, Laffite's Williams, Teo Fabi's Brabham BT53 (Piquet had suffered another spectacular turbocharger failure after running with the leaders early in the race), de Cesaris's Ligier, Boutsen's Arrows (which suffered turbo failure as it came up to take the chequered flag), Martin Brundle's Tyrrell (which had made an extra pit stop when the young Englishman mis-read a pit signal intended for somebody else!) Ghinzani's Osella and Jonathan Palmer's Hart engined RAM.
Both Alfa Romeo's failed to finish, Patrese succumbing to engine failure and Cheever spinning off after stopping for fresh tyres and a new rear aerofoil to be fitted (the first one flew apart on the main straight!), while turbocharger malfunctions also claimed the two Tolemans, Senna having performed very creditably up until the time of his retirement.
It was certainly the most exciting race of the season and one which indicated that the McLaren International team is going to be hard to beat in the contest for the Constructors' Championship. For Ferrari, Williams, Brabham, Renault and others there are quite clearly some serious technical lessons still to be learnt – A.H.
Results
French Grand Prix — Formula One — 79 laps — Dljon-Pranols — 3.800 kilometres per lap — 307.072 kilometres — Dull and Overcast 
1st : Niki Lauda ………………..(McLarenMP4/2-1) ……………………..1 hr 31 min 11.951 sec — 202.023 kph
2nd : Patrick Tambay ………..(Renault RE 50/5)……………………….. 1 hr 31 min 19.105 sec
3rd : Nigel Mansell ……………(Lotus95T/3) ……………………………….1 hr 31 min 35.920 sec.,
4th : René Arnoux …………….(Ferrari 126C4/073) ……………………..1 hr 31 min 55.657 sec
5th : Elio de Angelis …………..(Lotus 95T/4) ……………………………..1 hr 32 min 18.076 sec
6th : Keijo Rosberg …………….(Williams FW09/5) ……………………..1 lap behind
7th : Alain Prost …………………(McLaren MP4/2-2) ……………………1 lap behind
8th : Jacques Lafitte ……………(Williams FW09/3)………………………1 lap behind
9th : Teo Fabi …………………….(Brabham BT53/2) ……………………..1 lap behind
10th : Andrea de Cesaris ……..(Ligier JS23/4) ……………………………2 laps behind
11th : Thierry Boutsen ………..(ArrowsA7/2) …………………………….2 laps behind
12th : Martin Brundle …………(Tyrrell 012/3) ……………………………3 laps behind
13th : Piercarlo Ghinzani …….(Osella FA1F/02) …………………………5 laps behind
14th : Jonathan Palmer ………..(RAM 02/2) ……………………………7 laps behind
15th : Mauro Baldi ………………(Spirit 101/1B) ……..retired on lap 62 – blown engine
16th : Derek Warwick ………….(Renault RE50/4) ….retired on lap 54 — accident with Surer
17th : Marc Surer ………………..(Arrows A6/4) retired on lap 52 — accident with Warwick
18th : Eddie Cheever ……………(Alfa Romeo 184T/03)… retired on lap 52 — spun off
19th : Ayrton Senna ……………..(Toleman TGI84T/2) …retired on lap 36 – – turbo failure
20th : Michele Alboreto ………..(Ferrari 126C4/074) …retired on lap 34 –• engine failure
21st : Johnny Cecotto…………….(Toleman TG184/1) …retired on lap 23 — turbo failure
22nd : Riccardo Patrese …………(Alfa Romeo 184T/02) …retired on lap 16 – – engine failure
23rd : Nelson Piquet ……………..(Brabham BT53/5) …retired on lap 12 — turbo failure
24th : Stefan Bellof ……………….(Tyrrell 012/4)… retired on lap 11 — apparent transmission problem
25th : Manfred Winkelhock ……(ATSD7/1) ….retired on lap 6 – – clutch
26th : Philippe Alliot ……………..(RAM 02/1) …retired on lap 5 – – engine cut
Fastest lap : Alain Prost (McLaren MP4/2-2) on lap 59 in 1 min 05.257 sec — 214.432 kph
26 starters — 14 finishers
Piquant Prenois Pieces
Marlboro / TAG / McLaren / Porsche / Lauda / Prost / Barnard / Dennis / Mezger / Ojeh / Hercules / Michelin may be an International mouthful, but four wins out of five races cannot be ignored. It looks like all the ingredients in the International pie are spot on.
***
The Renault and Williams teams both use pits to cockpit radio contact. The dead hand of commercial interests hovered in the background. Certain flags might have been visible on TV screens had to be taken down "by order". Unless, of course, the right amount of money changed hands – the right hands, naturally.
***
Surprisingly, in view of the long uphill straight, fuel consumption was of no consequence and nobody had to "pussy-foot" and nobody ran out of petrol.