1994 Monaco Grand Prix: A weekend to be endured
Michael Schumacher, Benetton and Ford continued their domination in Monte-Carlo, but for everyone else the weekend couldn't finish soon enough.
A statistic that may have escaped your notice; in the fast seven Grands Prix, a Ford V8 engine has won every time. A year ago you would not have put a dollar on that in the casino at the Café de Paris in Monaco. Now it barely raises a murmur (least of all from Ford itself). How quickly times change in Formula One.
Michael Schumacher's total domination of qualifying and each of the 78 race laps of the Monaco GP served to underline the perfection of the Schumacher/Benetton/ Ford package at present. The German was in utterly confident mood throughout to secure the first pole position of his Fl career, and the first for his nation since Wolfgang von Trips lined his Ferrari 156 up in that position at Monza for the fateful Italian GP in 1961.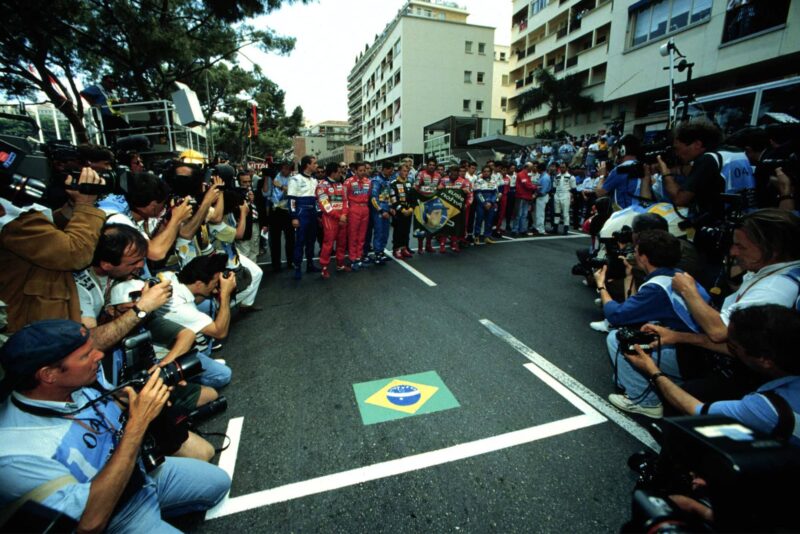 He stamped his authority right from the start on Thursday. even after switching to team-mate If Lehto's 8194 in the morning when his own car broke its engine, and he merely watched calmly on Saturday afternoon when Mika Hakkinen wound his McLaren Peugeot up in his own inimitable style to come within eight-hundredths of a second of his pole time. What happened next was telling. Hakkinen had used Ii of his 12 allotted laps and was therefore through for the day.
The Ferraris weren't going to be fast enough, even though a hard-pushing Gerhard Berger had lust dipped into the 1m 19s. Nobody else looked likely to do anything dramatic, especially as Martin Brundle in the other McLaren. second fastest in impressive style on Thursday. was having differential problems which had killed his MP4/9's balance.
Schumacher thus did not really have to venture out, but he did. He'd set his quick time using only four laps, and now there was no threat. But he still beat his own time on his first flying run, and then he simply staggered everyone by wiping another six tenths off that, to take pole by nearly a second. Ayrton Senna was naturally uppermost in many minds that weekend, and Schumacher's style was so reminiscent of the Brazilian's, The Benetton was tractable, smooth and quick, and its driver was aggressive, totally committed and at the very peak of his confidence.
It was quite a poignant moment, and so was the way that the drivers lined up on the grid before the start, to honour the fallen heroes of Imola. Out of respect to Senna and Roland Ratzenberger the front row of the grid had been left vacant, and each man had his national flag painted on the road surface. The drivers observed a minute's silence before climbing into their cars.
Such was their depth of feeling that even Niki Lauda's famous Parmalat cap was removed. As he did everything else in Monaco. Schumacher owned the start, and as he surged purposefully forward the problems hit those behind. The lights were red for but a fleeting second, and as Schumacher hit the throttle on the green Damon Hill also got a great start.
Hakkinen was second on the road, sweeping to his right in Schumacher's wake as Hill came down the left. Then Hakkinen moved back to the left a little, thanks to the ridiculous hour-glass shape of the track at Ste Devote. The McLaren's left rear wheel hit the Williams' right front; the McLaren spun across the Williams' bows before departing backwards up the escape road to instant retirement. The Williams crept as far as Casino Square before Hill pulled off on the slope down to Mirabeau, his steering broken.
Each blamed the other, and neither was amused, but it was just one of those things. Hakkinen would probably never have got close enough to challenge Schumacher, but you never know. McLaren at least still had Brundle in the pack. For Williams it was another disaster.
The team came to Monaco with only one car, desperately missing Senna both emotionally and practically. It spent all of qualifying seeking answer to the FWI 6's detestation of bumps, on a circuit where they are legion. It's been a long time since we saw a Williams looking quite such a clunker on a race track. Eventually Hill got things better to his liking and slapped in fourth fastest time, but this looked like a team in awful trouble. Ferrari, by contrast, showed promise. Berger was third on the grid but second as they went up to Massenet on that first lap, while Alesi had returned to qualify a frustrated fifth and was third now, heading the impressive Christian Fittipaldi and Brundle.
Footwork had been in confused state on Thursday, but both Fittipaldi and Gianni Morbidelli came on strong on Saturday to qualify sixth and seventh. As the Brazilian pushed hard after the Ferraris, however, Morbidelli was clambering from his FA I 5 as it lay crumpled against the barriers just prior to Ste Devote. He and Martini, who had qualified a brilliant ninth for Minardi, had touched on the right-hand side as Hakkinen and Hill got together further ahead on the left. Maybe Piero tapped the Footwork from behind, perhaps Gianni cut in too sharply on the Minardi. Whatever, the two Latins were not best pleased with one another, although their cars looked fondly into each other's front wings all race as they lay parked nose to nose.
None of this was ever going to be of any real concern to Schumacher, and by the end of that lap he had a huge lead 3.7s which he proceeded to extend majestically in precisely the sort of style that Senna demonstrated so often in Monaco. Quite clearly, nobody was going to get close. Berger had second apparently wrapped up in the early going as Alesi dropped away in third, to become the target of Fittipaldi. T
he Brazilian was driving beautifully and at one stage was right with lean, before dropping back to within a couple of seconds as his engine began to overheat and his tyres started going off. In his wake Brundle had made the most of the first corner melee to push up to fifth, and was running well.
Blundell was looking good in sixth, while Katayama had Alboreto, Comas and de Cesaris behind him and Herbert headed a tight gaggle comprising Barrichello, Beretta, Lehto, Panis and Bernard. Brabham led Lamy, Gachot and Belmond. Already the field was looking a trifle thin, not helped by the withdrawal of the Saubers after Karl Wendlinger's unhappy accident on Thursday at the chicane (see Diary). De Cesaris demoted Comas on lap seven, but already it had become apparent that this was not going to be a scintillating event.
Most of the real overtaking would be done in the pits. All of the teams had agreed on who would stop on what lap, rather than drawing a ballot as initially suggested by the FlA, and everyone had agreed to an 50mph speed limit there after the dramas of Imola. Lamy was fined for transgressing in qualifying, but nobody misbehaved in the race. Most likely. the arrangement will be permanent. Baindle was going to be the first one in, on lap 21, and that would prove a clever bit of thinking by Ron Dennis and his team Schumacher and Berger came in on lap 24.
Alesi, however, was planning only one stop and went right through to lap 34, the same as Fittipaldi, who was still pressing the red car from a distance. It was therefore not until half distance that this rather dull race began to take on a real pattern. By then Schumacher was still comfortably in the lead, but Berger was back to second and Brundle was up to third and looking strong after that great stop.
Alesi had recovered in fourth place, still just ahead of Fittipaldi, and Blundell was beginning to work his way back towards his sixth place after his own stop, de Cesaris and Alboreto having gone by when he was in the pits. The interest really centred on whether Brundle could do anything about Berger. who was I 3.2s ahead on lap 36. Bit by bit Martin was able to edge the gap down. The Briton had described Saturday as the most disappointing day of his life as he fell from the front row, but now he was driving with great confidence.
The gap was down to less than nine seconds when Fate stepped in to help even more on lap 42. Blundell had been driving well in the Tyrrell Yamaha and had duly regained sixth place when Alboreto and de Cesaris made their singleton stops. But on lap 42 engine failure brought him to an untimely halt as he went into Ste Devote, the corner that had twice claimed him in qualifying when he'd missed his braking. "We had a very good opportunity to score more points today, and the car was going really well. I don't know what happened with the engine, but the rear wheels locked up and I slid off." Disappointed was his middle name.
Katayama, meanwhile, had dropped back from seventh with a gearbox oil leak, and he had been running 13th on lap 39 whe the transmission packed up. A promising day for Tyrrell was over.
For Brundle, however, things were about to get better still. When Schumacher hit Blundeil's oil swath at Ste Devote he was almost caught out, just catching a slide that took him perilously close to disaster. "That was a big moment for me and I nearly went into the barrier," he admitted. "But it was all I had to complain about."
Berger was not so fortunate. "1 saw the yellow flag," he admitted, "but 1 didn't see the oil flag until I was already on the brakes and the car was spinning." The Ferrari slithered into the escape road before rejoining and Brundle was now right on Gerhard's tail. The Austrian kept Martin at bay until Casino Square, where the Briton pulled confidently alongside, on the outside, going into Mirabeau to take second place.
It was a very neat move, and while it wasn't one that Gerhard would have permitted without a fight a month ago, neither was it the sort that Brundle's confidence level would have permitted him to try back in Brazil. Bit by bit he began to leave the Ferrari behind as Berger tired of its oversteer and a pneumatic valve problem caused it to start overheating.
Schumacher was another matter, but you never knew what could happen, and Brundle pushed as hard as he could in a McLaren Peugeot whose temperatures were looking much better than they did at the start of the season after a lot of further development work. It was without question one of his finest F1 drives.
He lost second to Berger when he stopped again for fuel and tyres on lap 46, but when the Ferrari made its second stop five laps later the status quo was restored. Eight laps later still the level of Brundle's confidence was further highlighted when he went calmly diving down the inside of a gentlemanly Alboreto going into the chicane, having come from a long way back.
At this stage he was beginning to make some inroads into Schumacher's lead. From 37s on lap 57 it had shrunk to 25.2s by the 66th, the McLaren lapping regularly in the 1m 22s, Schumacher around 1m 26s. But then Michael gave indication that all was under control with a 1m 22.715s on his 67th lap, and just to show what he was capable of if necessary, he produced in a 1m 22.44s three laps later.
Alesi also had problems, and was clearly struggling to catch, let alone pass, de Cesaris after Andrea had hauled himself into fourth place during the stops. Furthermore. Alesi had entered into an argument with Brabham's Simtek at Loews and then, more damagingly, at the chicane, on lap 49. The Ferrari needed a second stop after all, for a new nose.
De Cesaris had also profited from the sad retirement of Fittipaldi who was set for a high finish until his Footwork stuck in sixth gear on lap 48. That indeed was a poor reward for an extremely mature performance. Rubens Barrichello had opted for a completely different set-up to de Cesaris on his Jordan, and as a result lacked straightline speed and was stuck in his group until his Hart engine cut out at his pit stop due to an electrical fault.
Steadily, other elements of that initial Comas, Herbert, Barrichello, Ber etta, Lehto, Panis dogfight began to break up. Comas had a long stop due to a faulty clutch, Herbert retired when his gearbox began changing itself down, and with Barrichello expiring Lehto came through to a gratifying seventh ahead of Beretta, who drove his best race since arriving in Fl in Brazil For JJ Monaco was a confidence-sapping event.
He was shattered when Schumacher immediately proved faster in the same car after borrowing the Finn's on Thursday morning, and he came dose to non-starting due to the pains in his neck. Imagine having a really bad headache and then driving over the sort of potholes that pass for roads in London, then imagine having to do that for 77 laps, and you get the picture. Like Alesi, whose injured neck was also painful, he did well to finish at all.
This wasn't a classic Monaco GP by any account, but for Brundle it was the best day of my Fl career,' and a strong representation to Ron Dennis who earlier this year told him that if he wanted a regular McLaren seat, he had to earn it. On Sunday's showing he went a long way towards doing that, even if Ron reportedly described McLaren's finishing position as 'best of the losers'.
For Schumacher it was another step closer to what is beginning to look like an inevitable championship crown, and the most satisfying of his four wins this year.
"This has been closer than the previous three this season and it was more difficult because you have to be careful on every single lap," he beamed. "That's what makes this victory so special." For Formula One the race itself, thankfully, was safe, but nobody was forgetting Wendlinger's plight. It was also a watershed, a public platform for Max Mosley to announce his intended proposals for radical reform, and for the teams to respond. But most of all, it was a weekend to be endured. A weekend when Formula One got on with the show without its king, and Michael Schumacher staked his claim as heir apparent. – D J T