Silverstone classic
Within the varied sphere of motor sport, few things used to conjure up such a delicious sense of intrigue as did the original European Formula 2 Championship. Approximately once a fortnight, the specialist weeklies would report on some of the brightest young stars in the racing firmament, with passing reference to a cluster of hopefuls who hadn't been quick enough to make the cut.
It was ever interesting to learn a little more about Jacques Laffite or Hans-Joachim Stuck, but who was Fausto Morello, how had he secured backing from Marlboro, where exactly was Ecuador… and why did the series always seem to attract more drivers than it could comfortably accommodate?
Such were the questions that European F2 raised in a curious teen's mind, but an ever-rotating cast was part of its charm – as were the cars themselves, which were loud, proportionally elegant and built by once-thriving companies that have mostly since disappeared (March, Matra, Lola, Chevron and Ralt, to name but a few).
Such diversity has long been extinct, as a result of regulations that oblige contemporary teams to use identical equipment and also limit the entry to a set number, so random non-qualifiers can no longer pop up unexpectedly. But there will be a taste of what life was like more than 40 years ago when the Historic Sports Car Club's F2 championship features at the Silverstone Classic (July 26-28), the first time in the event's 29-year history that there have been dedicated Formula 2 races. The series' popularity has mushroomed in recent seasons – the original target was to attract 40 cars (all built between 1967 and 1978, before ground-effect aerodynamics raised the performance bar), but the entry is already closer to 50.
The Masters FIA Historic F1 Championship (1966-85) has long been a Silverstone Classic staple and Classic F3 (1971-84) returns this season for the first time since 2014, so while modern F1, F2 and F3 are in action at Hockenheim during the German Grand Prix weekend, their bygone counterparts will simultaneously be active about 600 miles away, reflecting a time when single-seaters could be identified by more than simply their liveries.
On a slightly less nimble – but no less distinguished – level, Bentley's centenary is one of several notable anniversaries that will be commemorated at the Classic, with a pre-war sports car race featuring Aston Martins, Bugattis, Lagondas, MGs and, it is hoped, at least 30 Bentleys.
At the opposite end of the dimensional scale, the Mini's diamond jubilee also features. Although more than 5.3 million were manufactured during a production life that ran from 1959-2000 with only minor facelifts (and sales continued into the new millennium, with the final registration being logged in 2004), the Mini is a relatively rare sight on modern roads – although swarms can often be found at celebratory events, and the Silverstone Classic will be swamped with them, on and off the track.
Organisers hope to attract the biggest all-Mini grid ever seen – 50-plus cars – and British Racing Drivers' Club president Paddy Hopkirk, who shot to fame after he and Henry Liddon won the 1964 Monte Carlo Rally in a Mini, will be there. "When Alec Issigonis designed the car," he says, "I think that he envisaged it being used by district nurses rather than racing or rally drivers. I don't think he had any idea it would become a world-beater, but after winning the Monte – ahead of the might of Ford and Citroën – Life magazine flew over from America to interview me and I received a telegram from The Beatles. I still have it, framed in my loo at home…"
Steve Neal, father of enduring British Touring Car Championship racer Matt, was also a notable Mini exponent. "I'd previously raced an Austin A40, which was horrible," he says, "but there was something about a Mini. If you had one of those, you were cool.
"We'd put mustard in the radiator, because the head gasket was leaking"
"I recall one particular Silverstone race, in 1967. I was driving for Arden and we'd been working hard to develop an eight-port engine, which differed from those in the works cars but had been unreliable. We'd put mustard in the radiator, because the head gasket was leaking – in fact most things were leaking, so it was all a bit of a disaster. I was on green-spot Dunlops and factory driver John Rhodes had new CRX rubber, which gave him a bit of an advantage, but I had more power. How long the engine would last was another matter, but we had a great race-long dice and coming into Woodcote for the final time I'd pretty much run out of grip. He still had some and I could see him coming alongside, but I hung on to beat him by about the length of a bonnet."
Eighth overall and class victory was his.
The last of the major celebrations honours the Ford Capri's half-century. As with the Mini, there will be an exhibition area and a track parade, while Gordon Spice – one of the car's most successful racers in period – will present a special trophy to the highest-placed Capri driver in the Historic Touring Car Challenge.
"I never drove a Capri until I raced one," Spice says, "but it was the car that more or less rescued my career. I'd been competing in Formula 5000, without a great deal of success, and was starting to run out of money. Then a chap named Stan Robinson from Wisharts Garage in Crook, County Durham, offered me a seat in his production saloon Capri – and I never really looked back.
"They were such easy cars to drive and inspired so much confidence, because the handling was predictable and when you know what a car is going to do you can take bigger risks and go faster."
At the helm of a Capri, he won his class for five straight seasons in the British Saloon Car Championship from 1976-80 (although outright title success eluded him) and also shared victory with Teddy Pilette in the 1978 Spa 24 Hours, the last to be run on the full, original road circuit.
SILVERSTONE CLASSIC, July 26-28
Adult: three-day passes from £120; weekend passes from £110; Friday £45 per head; Saturday £69 p/h; Sunday £57 p/h. Family weekend (two adults, two children and camping) £338. Adult camping £49 p/h.
Children: aged up to five admitted free, but you must pre-order tickets (also applies to camping). Children aged 6-16 can attend for £6 per day or £12 for the weekend (camping £16.50 for this age group).
There are special packages for Mini and Capri owners who want to take part in displays and parades.
www.silverstoneclassic.com/ticket-info
---
Goodwood track day
Fast cars and flower power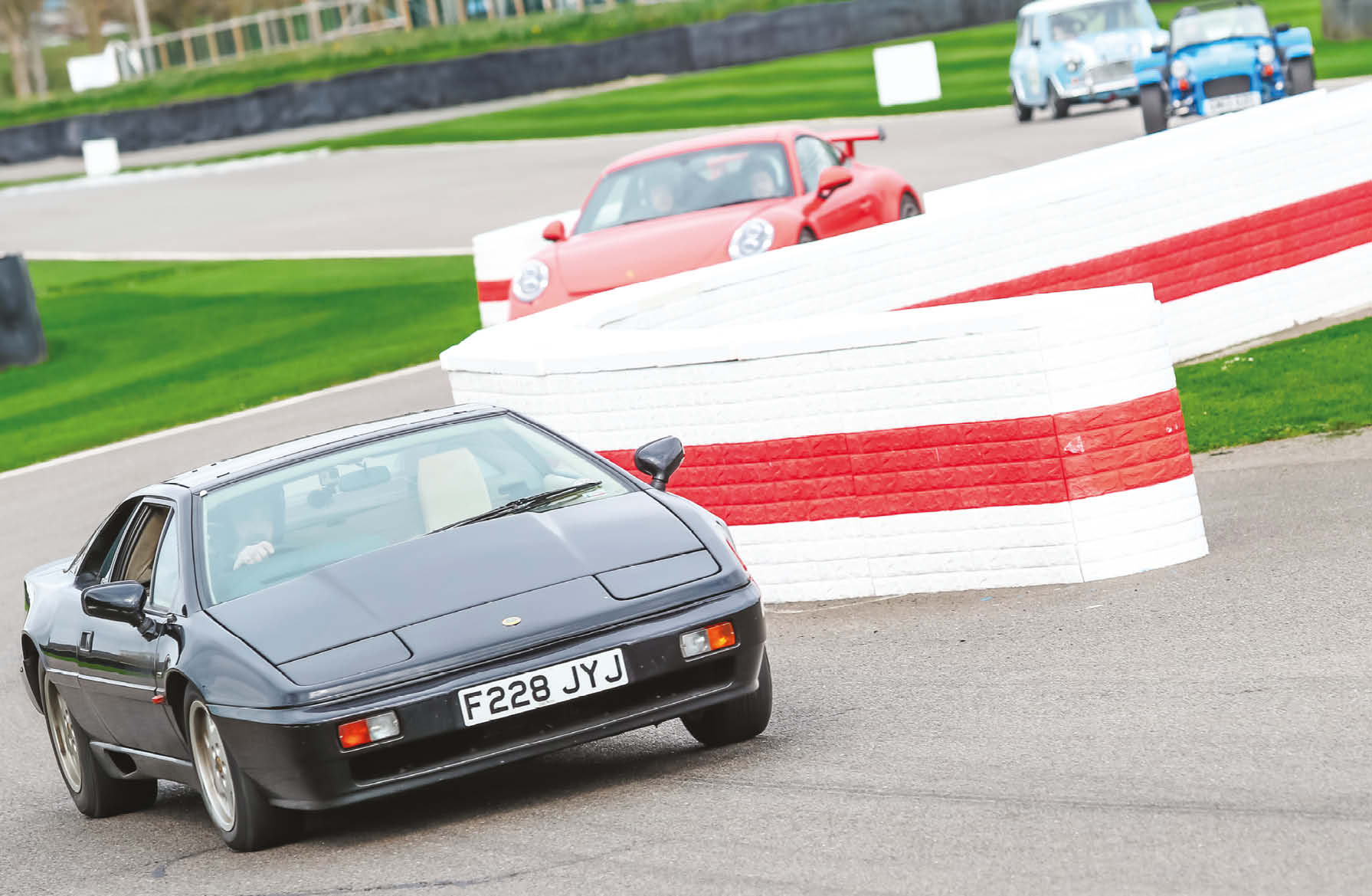 There are few finer places to be than Goodwood on a sunny day – or even one that's slightly overcast, come to that. Conditions did little to temper enthusiasm as drivers assembled for Motor Sport's second reader track day.
The event attracted a plethora of both modern and classic machinery, filtering between the daffodils that line one of Britain's most iconic circuits. More than 60 drivers turned out in about 40 different cars – the cast including everything from Minis up to fully blown GT machinery.
Among the modern contingent, one of the main attractions was the Cambridge & Counties Bank-backed Century Motorsport BMW M4 GT4 of Angus Fender and Andrew Gordon-Colebrooke, who will race the car in this year's British GT Championship. The rumbling 3-litre twin-turbo machine represents the latest wave of GT4 racers.
From the classic selection, a rare Maserati 250S was stunning, as was a replica Aston Martin DBR1. A raucous TVR Tuscan also stole some looks. Mixed up with the exotica (including a Lamborghini Huracán) were an Abarth 595, several Caterhams and even a humble VW Golf.
During the lunch break the banks echoed to the sound of a demo lap from a Benetton-liveried Toleman TG185, formerly raced by Teo Fabi and supplied by Heritage F1.
Guests also tucked into a full buffet lunch in the Jackie Stewart Pavilion building, while chatting to members of the Motor Sport staff.

We have more such events planned, so keep your eyes peeled throughout 2019 if you'd like to take part.
---
Thruxton motorsport celebration
Thruxton turns back the clock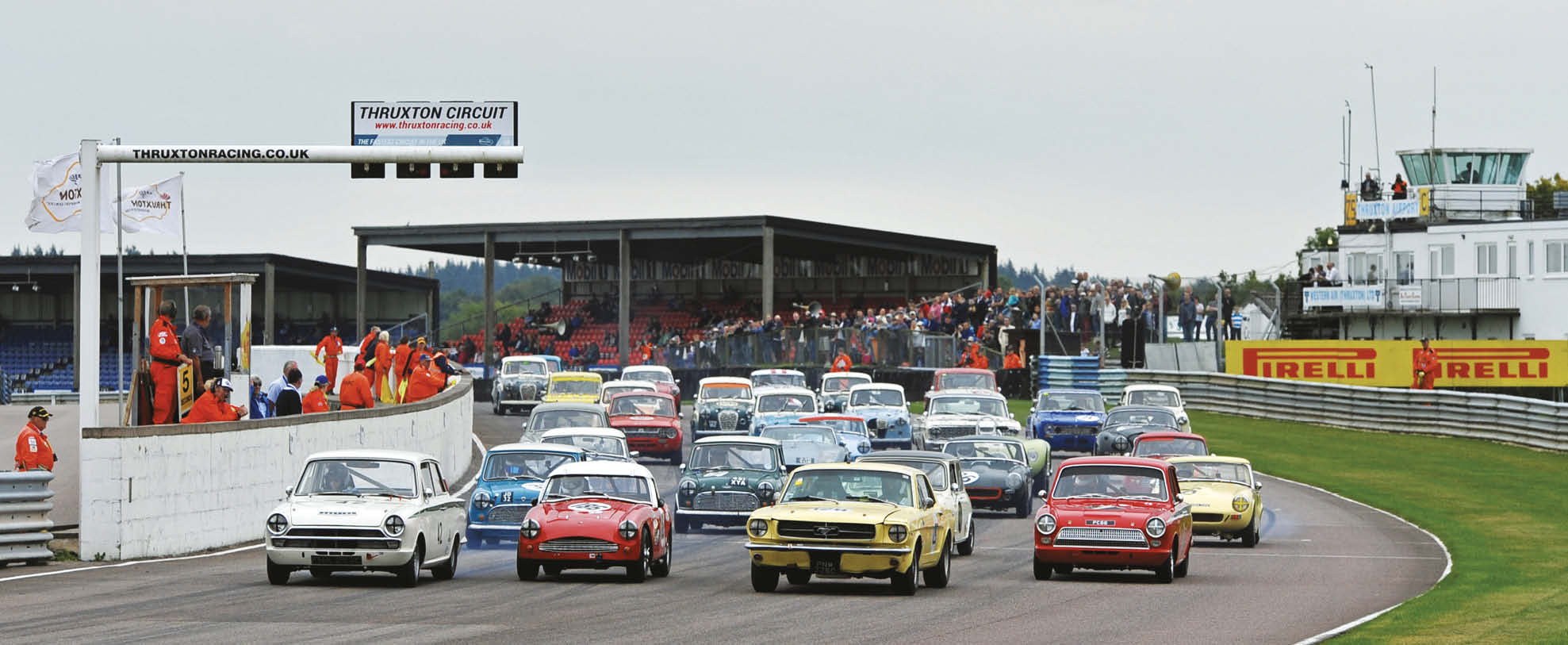 Ever since opening for racing in its current form, in 1968, Thruxton has been restricted to 12 days of racing per annum – and the accent has always been on making the most of the limited time available. This year's itinerary includes two British Touring Car Championship fixtures, British Superbikes and the new Thruxton Motorsport Celebration meeting.
Created in the slipstream of last year's successful 50th anniversary event, the Motorsport Celebration takes place on June 1-2 and features 15 races from established promoters Motor Racing Legends and the Historic Racing Drivers' Club, both of which have a tradition of supplying full grids.
Several of the scheduled races take the form of mini-enduros, with 40- or 45-minute events for 1958-66 touring cars, pre-66 under 2-litre touring cars, pre-55/late '50s sports cars and 1966-90 touring cars, while Formula Junior, pre-66 sports & GTs and the HRDC's new Alfa Romeo Challenge, for cars of the 1950s-70s, complete the programme.
Thruxton Group MD Bill Coombs, a regular front-runner on his occasional appearances in historic race meetings, says: "Last year was one to remember for Thruxton, with a host of events to mark our Golden Jubilee. It was by reminiscing about our illustrious history that we were inspired to launch the Motorsport Celebration. We're sure it will become a regional summer highlight."
The admission price includes paddock access. For complete ticket and timetable details, go to thruxtonracing.co.uk. And visit our website, motorsportmagazine.com, for details on how to obtain two complimentary Thruxton tickets when you take out a magazine subscription.
---
F1 Preview evening
Motor Sport live in London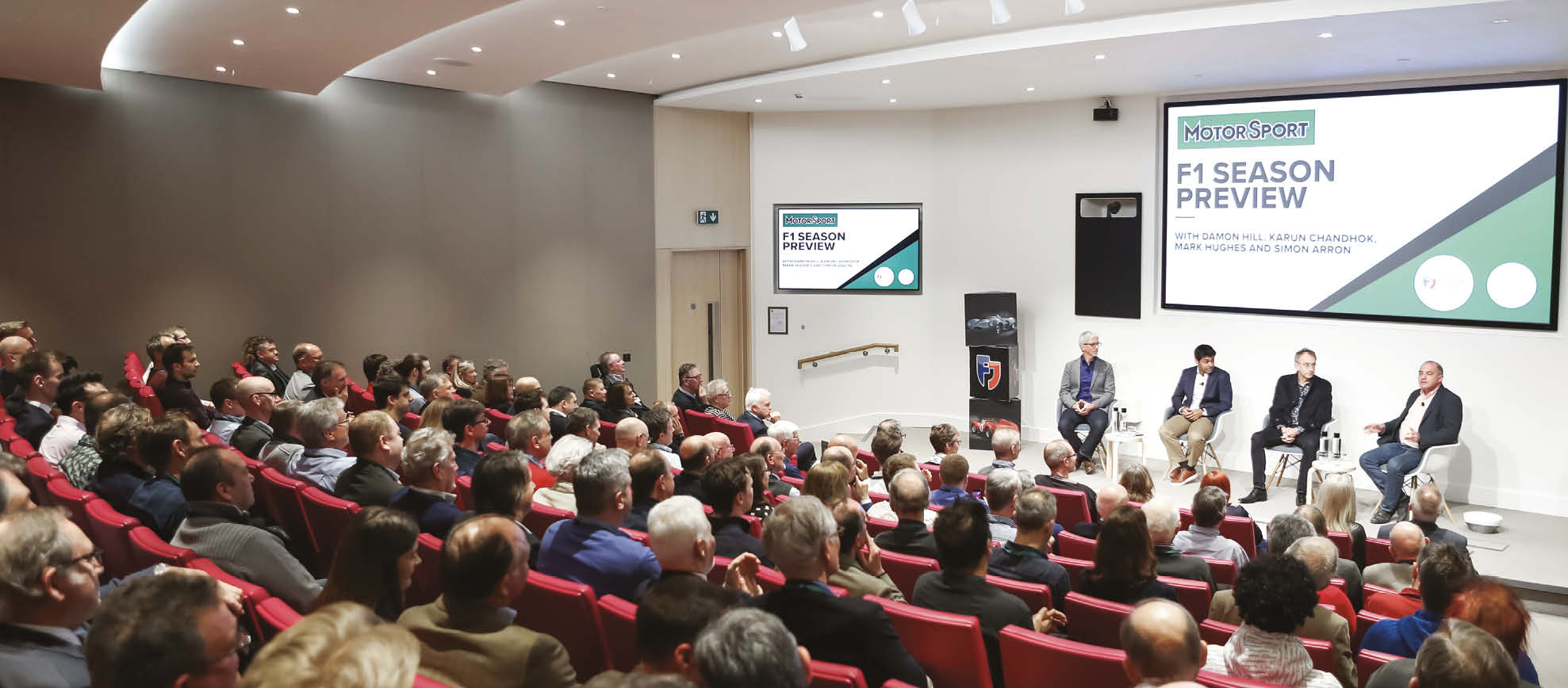 Just ahead of this year's opening world championship grand prix in Melbourne, Australia, Motor Sport hosted a special evening at the Institute of Engineering and Technology, in central London.
Run in conjunction with headline partner Footman James, a classic vehicle insurance specialist, and associate sponsor Classic & Sports Finance, it was a glimpse ahead to the 2019 Formula 1 campaign and pivoted around an informal – but informative – conversation between 1996 world champion Damon Hill, former Formula 1 driver Karun Chandhok and Motor Sport's grand prix editor Mark Hughes, with the magazine's features editor Simon Arron hosting. After more than an hour of discussion, there were opportunities for audience members to ask questions. All tickets sold out and Motor Sport would like to thank those who supported the event.

Its success means we will in future be looking to run other, similar ventures, details of which will be announced in the magazine and on motorsportmagazine.com