Being somewhat traditional and having grown up fascinated by Ferraris, I've come to know what I like about them. I like them to have two seats. If it's going to have a V8 engine it must be mounted behind the driver, just as a V12 must be up front. And I like Ferraris to have closed roofs. Convertible supercars exist only to help their occupants draw attention to themselves, a curious pastime of which I'm not a fan.
By rights, I should care little for this convertible 2+2 Ferrari Portofino with its front-mounted V8. All Ferraris have twin roles: to provide a certain sort of driving experience, and to illustrate the apparent success of the driver (though as I prove all too well, this rule is not entirely foolproof).
The Portofino replaces the old California T and is a genuinely new car, said to be both stiffer and lighter than the machine it replaces. Its twin-turbo 3.9-litre V8 is derived from that in the 488GTB and, while less powerful, still puts out 592bhp, enough to cannon it to 62mph in 3.5sec, despite the traction limitations of having the power generated at a different end of the car to the wheels that are required to transmit it to the Tarmac. And anyone who complains about the top speed being an entire mile per hour below 200mph really ought to re-evaluate their priorities in life.
The Portofino tries hard to get you onside from the very start. It's a fine-looking car. It's also easy to get in and see out. The heated seats are extremely comfortable and, while the major instrumentation is not exactly attractive, the electronic clocks do their job well. The minor controls are quite scattered and not in the least intuitive to operate, but it's easy enough.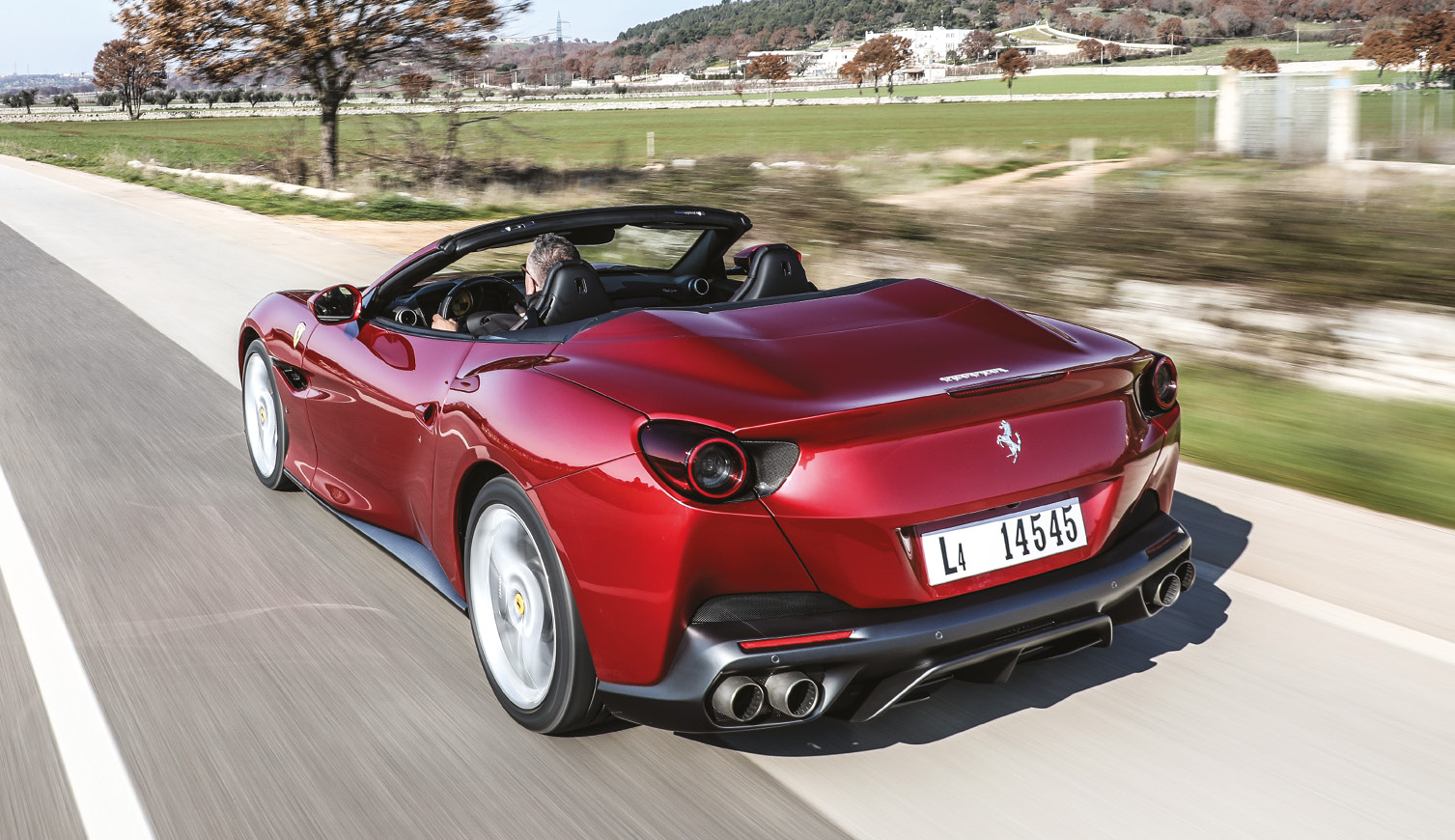 Of course, this is not a mass-produced luxury car, so if you were expecting instant clearing of a foggy windscreen, world-class navigation mapping or concert hall acoustics, you're going to be disappointed. But when I think back to the almost wilfully clunky Ferraris I drove in my early days as a hack, I marvel at how far the company has come and the efforts it has made to make its cars easier to use without rendering them more boring to drive. Even the folding roof works beautifully, rising and falling without you needing to slow if you're in town and, once raised, sealing you in so well anyone unaware of the Portofino's party trick would simply assume they were in a coupé.
But that's not the Portofino's big surprise. That comes when you drive it. It seems ridiculous to say I wasn't expecting much from a Ferrari with almost 600bhp, but the only other Ferrari to place a derivative of this engine in its nose – the GTC4 Lusso – left me cold. Not so the Portofino.
"Ferraris have traditionally forced you to accept compromise. The Portofino doesn't"
Its chassis is its real trump card, but I'll deal with the powertrain first. It's certainly fit for purpose, albeit a million miles from those magnificent normally aspirated V8s and V12s that would populate the vast majority of any book of great Ferrari engines. There is some low rpm lethargy and it doesn't rev as high as a McLaren motor, but once on song lag is vestigial and thrust prodigious. It's a shame that song couldn't be more tuneful. Others who heard it and the rifle cracks Ferrari arranges for it to make on full-throttle upshifts in Sport mode were much impressed by its sound, but there's no music to it and, given it's a twin-turbo V8 with a flat-plane crank, I'd have been amazed if there were. But despite the sometimes less than instant shifts of its seven-speed double-clutch transmission, few would say this powertrain did not get the job done.
Yet I liked the way it rode and handled far more. It still seems strange to be writing about a Ferrari where the engine plays a supporting role to the chassis, but that's where we are in 2019. For a start, on the broken country roads near where I live, it rides really well. Coupled with low levels of road and wind noise and those excellent seats, the Portofino's long-distance credentials are clear. Yes, the rear seats are nearly (but not completely) useless, and luggage capacity is very limited with the roof down, but for two people heading for the continent who'd never drop the top on the motorway anyway, it would be a very accomplished Grand Tourer.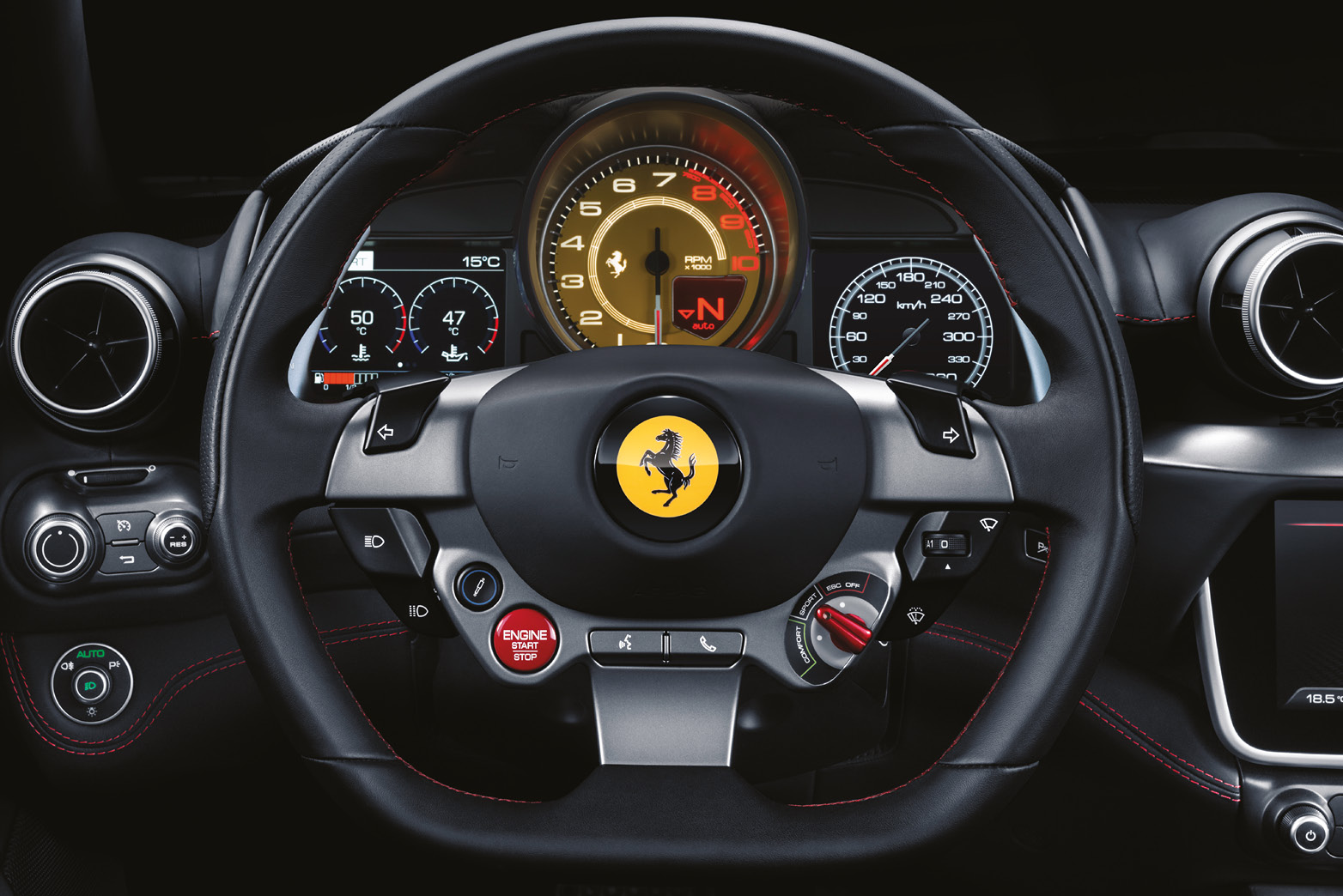 It handles accurately too, albeit not in a see-how-sideways it goes way (though it will if you must). Yes, I'd prefer more steering feel, but it has a less aggressive rack than mid-engined Ferraris and it can be driven with confidence in difficult conditions.
The Portofino struck me as being a very carefully planned and thoughtfully executed car, one that knows exactly who the target customer is, but which nevertheless exceeds expectations in most important respects. The more I drove it, the more I liked it.
The only thing I remain unsure about is whether it feels like a Ferrari. The Grand Touring Ferrari is almost as old a concept as Ferrari itself and this is its best in years. But it's so good at so many things regarded as hallmarks for other traditionally more luxurious brands – like ride and refinement – that they actually risk obscuring the brand identity of its creator.
Should this matter? Almost certainly not. To almost everyone, the fact that it looks so unmistakeably like a Ferrari will tick the credibility box. Any remaining doubters will likely be won over by its acceleration.
To me however, the Portofino does not have the character of a Ferrari – in part because it is such a rounded, nuanced performer. To me Ferraris have always had a wild side, have always been a challenge to drive fast, have always forced you to accept compromise as part of that character. And the Portofino doesn't. It's just a bloody good car, irrespectively of the badge on its front.
---
Ferrari Portofino
Price £166,241
Engine 3.9 litres, 8 cylinders
Power [email protected]
Weight 1664kg
Power to weight 356bhp per tonne
Transmission seven-speed double clutch, rear-wheel drive
0-60mph 3.5sec
Top speed 199mph
Economy 26.4mpg
CO2 245g/km
Verdict Disappointingly excellent