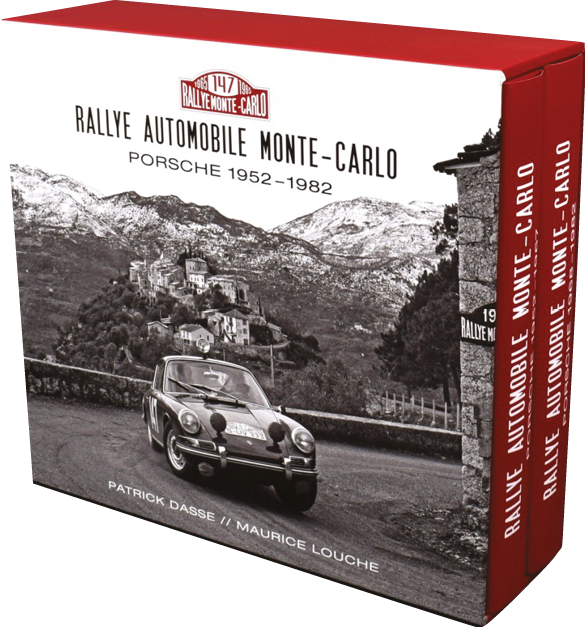 Rallye Automobile Monte Carlo Porsche 1952-1982
Patrick Dasse & Maurice Louche. Published by Dingwort €175.00 (£150). ISBN: 978-3-871-66-108-2
One marque, one event, two huge volumes stretching across 912 pages and embracing 883 photographs. Last year marked the 50th anniversary of versatile Vic Elford's Monte Carlo Rally victory in a Porsche 911… and this followed by way of weighty commemoration.
Porsche has a thorough rally pedigree, of course, its endeavours embracing everything from national championships to the WRC, via Dakar, but this eschews the bigger picture and focuses purely on what has traditionally been the first major European event of the season: Monte Carlo.
The tale commences in 1952, when period minnow Porsche was represented by seven 1.3-litre 356s (only one of which finished, in 45th). Given the scratchy nature of some 1950s photography, the images here are wonderfully crisp – a theme reprised through both volumes. The first is naturally mostly monochrome, but colour makes its bow from 1964. The photos, indeed, are the book's strength. If you have a particular interest in Porsches slithering around the Alps, then the trilingual text (French, English and German) might well hold your attention, but much of the imagery is absolutely gorgeous – particularly that from the mono era. And there are a few interlopers among the Stuttgart armada, such as a Citroën DS being pursued by a 911 around the Monaco hairpin in 1962…
Diversity is key here. There are a few close-up action shots that could have been taken almost anywhere, but for the most part we see context as well as competition, with engaging landscapes, service area activities (where there are folk smoking in the vicinity of refuelling, obviously) and portraiture.
I started out by thinking, 'How many people will be interested in this?' – then glanced up to notice that I still appeared to be in the office, engrossed in shots of sideways 911s, after official kicking-out time.
The price might be high, but that reflects the quality. In the publisher's own words, "We are delighted to be able to reproduce photographs from every Porsche team that has immortalised itself in the classification of the Monte Carlo Rally between the years of 1952 and 1982."
That's a much better slice of marketing spiel than you might imagine.
---
The Gentleman Driver
Available on Netflix
Netflix can be a goldmine of content, if you can drag yourself away from star attractions like The Crown, The Punisher or Orange is the New Black. Dig a little deeper and you'll find a decent smattering of motor racing content, with The Gentleman Driver being well worth a watch.
It follows four bronze-graded amateur drivers during the 2015/2016 FIA World Endurance Championship season – Ed Brown, Mike Guasch, Ricardo González and Paul Dalla Lana.
The 90-minute documentary delves into each driver's sporting and business life and explores how they manage multi-million-pound global companies while trying to race at world-championship level.
The access is brilliant, as are the level of insight and production values. It's also refreshing to see a WEC documentary that isn't dominated by Audi, Porsche and Toyota works teams. This proves that shining a light on the little guy brings some great stories to the surface. RL
---
Intermeccanica
Andrew McCredie. Published by Veloce, £45. ISBN 978-1-787112-53-7
The most cogent line in this book comes in Karl Ludvigsen's Foreword: "The cheapest investment in a car project is the fee of a competent designer". He's quite right – if you wouldn't be seen dead in one it just won't sell. That's one area where the Intermeccanica marque soared: its power came from humdrum Yankee V8s and they didn't win races, but they always looked a million dollars.
When Hungarian-born Frank Reisner set up a firm to build cars he based himself in Turin where he had access to top designers and carrozzerie, including styling hero Franco Scaglioni. The resulting Italia was a handsome brute, but I've never known the rest of the IM story. Here it is, showcasing a welter of Reisner projects, few successful but mostly attractive – and there were dozens of designs including amazing one-offs. Now IM is making electrics in Canada, but it's Reisner's past creativity that is illuminating. Well illustrated, with drawings and chassis listing. GC