Alonso's quest for perfection
All eyes are on Fernando Alonso, fresh off the plane from Bahrain having just tested the McLaren MCL34 Formula 1 car. Now he's sitting trackside at Paul Ricard with the buzz of the number 8 Toyota TS050 in the background, turning lap after lap in a private test.
In the 12 months previous, Alonso has entered 20 grands prix, six World Endurance Championship rounds – including being part of Toyota's victorious Le Mans 24 Hours crew – the 2019 Daytona 24 Hours (which he also won…) and driven the 2019 Dakar Rally-winning Toyota Hilux.
"It's been a very intense year," he says.
"I was looking back on the plane here at some of last year's calendar and I remember doing Suzuka, Austin, Fuji, Mexico, Brazil, China and Abu Dhabi in one hit. With one bag!
"That was a big challenge. Those kinds of things and those efforts summarise the last year for me; a lot of travelling, tests, racing and simulators: full dedication."
And one of the busiest drivers in world motor sport has no time to relax in France. Toyota, already trimming its WEC spending from previous years having run at 70 per cent of the budget of rivals Porsche and Audi, has rented out Paul Ricard at great expense – and a couple of hours of running have already been lost due to heavy rain and fog.
"I did Suzuka, Austin, Fuji, Mexico, Brazil, China and Abu Dhabi in one hit… with one bag!"
"When I jump into the car this afternoon we'll be in the middle of an endurance run, so there's no time to prepare or do some slow laps to adapt," explains Alonso. "I'll jump into the car in a pitstop so I need to remember how to get in, where the buttons are, how you switch the car on and then go.
"The biggest challenge here is that you don't drive efficiently enough. These cars require a very efficient driving style where you need to be very gentle with the brakes and regenerate a lot of recovery from the hybrid system, and you need to be very precise on the throttle because any partial throttle or any doubt on the corner exit will spend fuel that you will need on the straight. So you need to be quite digital, quite precise on the things you drive with no hesitation."
That's quite a difference to the F1 car, the 2019 McLaren MCL34, he says.
"When you jump in the F1 car it forgives you. There is grip, power and fuel that you can use every lap, no problem. While here there's only one way to drive; there's no room for inspiration or to change something; you need to drive how you should drive. If you are not doing that, you are slow because you don't recharge enough [battery]."
His boss at Toyota, technical director Pascal Vasselon, is beaming at the thought of Alonso's presence at the Toyota WEC squad. "I think he's enjoying it very much! It seems he's discovering dimensions of motor sport because he had been exclusively in F1 for a long time and now he's found that it's a lot of fun cherry-picking activities.
"Now he's in a winning circle so when he joins a series, he joins with a team that can win. And then he takes important wins like Daytona so I think he's enjoying it."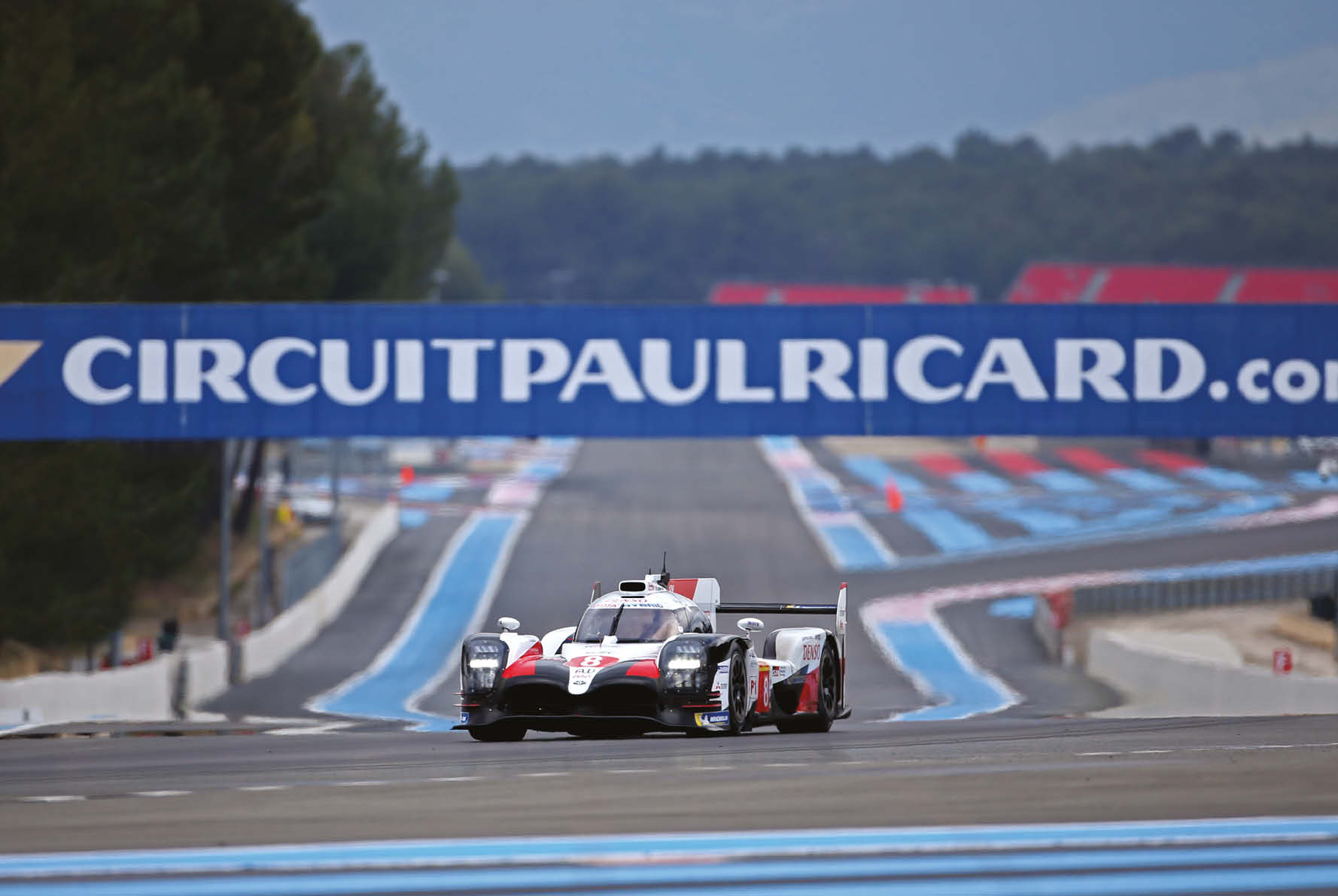 Alonso is aware that his numerous forays into various forms of motor sport may imply that he's just having a bit of fun after the torrid time he had in an uncompetitive McLaren during F1's hybrid era. It's quite the opposite, he stresses.
"Yeah, it's challenging," he says. "I said in Bahrain that when I test cars or whatever people normally say: 'we are happy that you are having fun now.' I am not having any fun. I am putting in a lot of effort to these changes and it requires study and preparation."
His team-mate Sébastien Buemi is equally busy, testing for Red Bull in Formula 1 and campaigning for Nissan e.DAMS in Formula E. Buemi agrees with the notion that this is a difficult undertaking compared to driving single-seaters.
"It [the TS050] is the most complex car I've ever driven," says the Swiss. "It's much more complex than F1 [where there are] many things you cannot do. Here you have traction control, four-wheel drive, boost, and the regulation is a lot more open so you can do a lot more. For a new driver to jump in that car, it takes a long time to understand the small details and during these endurance tests we basically create problems on purpose to see how we react and cope."
Toyota began creating problems during its endurance tests after a brace of disasters at the Le Mans 24 Hours in 2016 and 2017. In particular, that late failure when Kazuki Nakajima ground to a halt with just a lap to go in 2016 springs to mind.
As a result, Toyota simulates problems, much like NASA would do before a mission, in order to pre-empt any issues. Last year, Toyota even ran a car with a wheel missing, at a test in Aragón.
"That was me!" says driver of the number 7 car, Kamui Kobayashi.
"We've given him the chance to win again, and he's getting stronger"
"It's very strange. When you pass the pitlane, other guys are looking at you and you look like an idiot, taking one wheel off and then going on track – what do they think? They think you're an idiot! This is all the simulation that we need in case of a puncture and all the stuff. When you hear that, it sounds crazy but this is how much time we spend troubleshooting."
The drivers even quiz each other on the thick manual that comes with the car, revising the ins and outs of operation, just in case the radio fails.
"Normally with the radio active it's fine," says Alonso's team-mate Nakajima. "The engineer can guide us, but at Le Mans anything can happen and we can maybe lose the radio… from now until Le Mans we will read through the manuals and try to remember as much as we can. Normally the best scenario is not to have to use that kind of knowledge, but you never know and that's why we prepare. It's the most important thing for Le Mans."
Not only has this intense regime of practise helped Toyota get to winning ways, Vasselon says that Alonso feels thrilled to get back into a winning team. So much so that he is now reluctant to leave the podium.
"We have offered him the opportunity to win again," says the Toyota boss.
"This was really interesting and very genuine and fresh from him that in Spa last year when car number 8 won, Fernando told us that he was keen to stay on the podium for the whole night because he was so happy to be back on the podium! He has restarted that winning cycle and is becoming stronger and stronger as an endurance driver."
Now busier than ever, Alonso has the last leg of world motor sport's 'triple crown' to secure: the Indianapolis 500 in May, where he'll race a Chevrolet-engined Dallara in McLaren colours.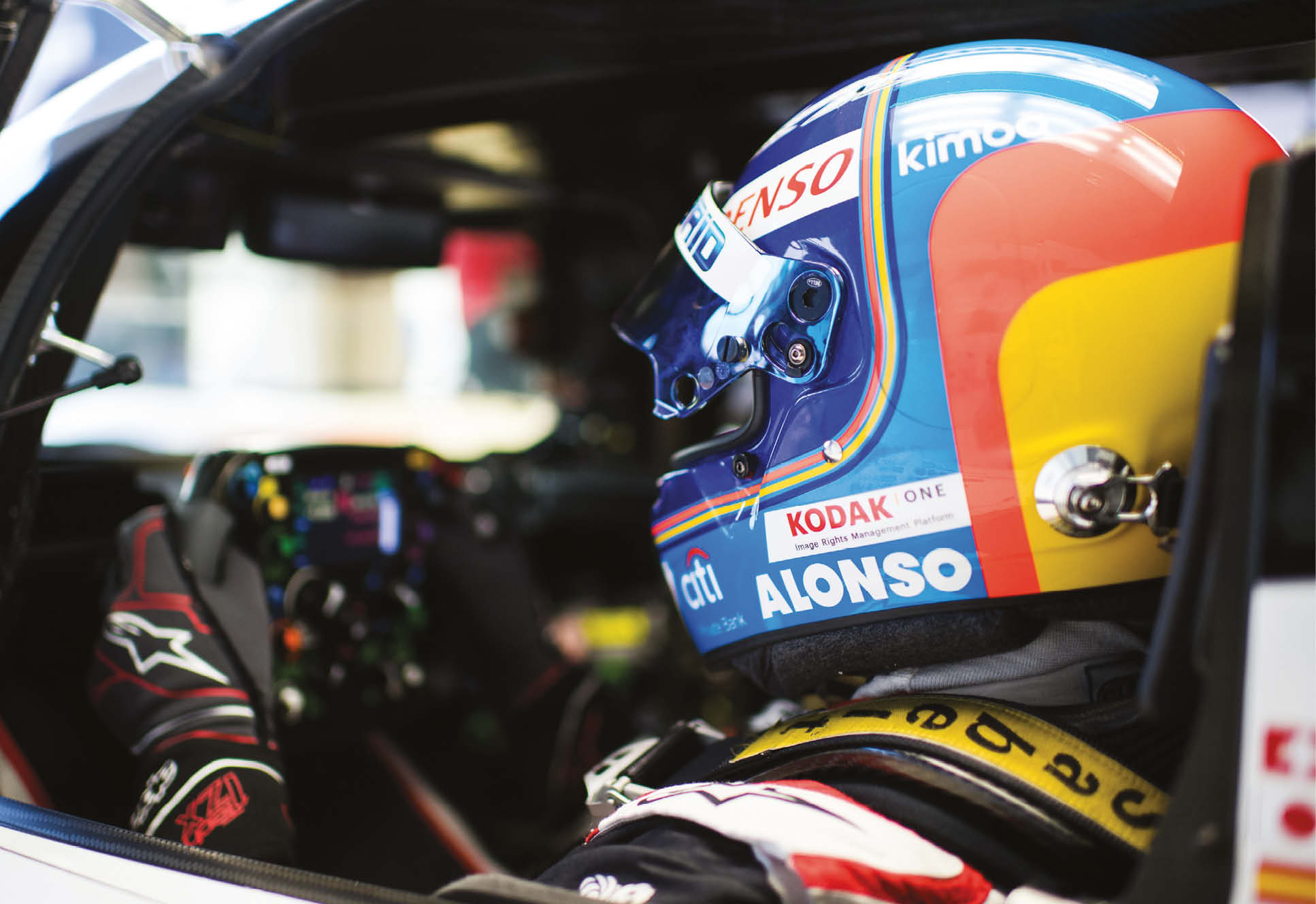 "My focus now is on these two races: the Indy 500 and Le Mans. In the future I will think about whatever opportunities may come, consider all of them and think of what to do in 2020 that is fun and some iconic events that are prestigious and interesting."
And with the addition of a karting school and his Formula Renault team – FA Racing Team – Alonso is busier than he's ever been during a normal grand prix season.
"It's very bad now, it's very busy," he adds. "In fact I'm thinking about going back to Formula 1 to relax a little bit! I've been very busy but I'm happy with everything, the karting school [included]. I quite like it. They [the students] are very open to listening. They are very scared of me so whatever you say – you can make a joke – like tell them to brake in a fast corner, they brake.
"You need to take care of the parents. You need to send them to the coffee shop and it's good fun apart from that. The children listen to everything and they're open to driving and they have the passion, they have the passion for motor sport. They dream of being in motor sport, it's what I had when I was a kid, so I'm happy to see that similar thing on the new drivers and hopefully we can help them. It's a real sense of satisfaction."
His next step after the Indianapolis 500? Probably another go at it, if he doesn't win "the only one that's missing on the list."
"I know how difficult and challenging it's going to be and it's a race that you need a lot of factors and luck going your way. There are 10 safety cars – yellows – in the last 50 laps and some of those will benefit you and some won't. You need to be in the right place at the right moment. What we can do is prepare as best we can.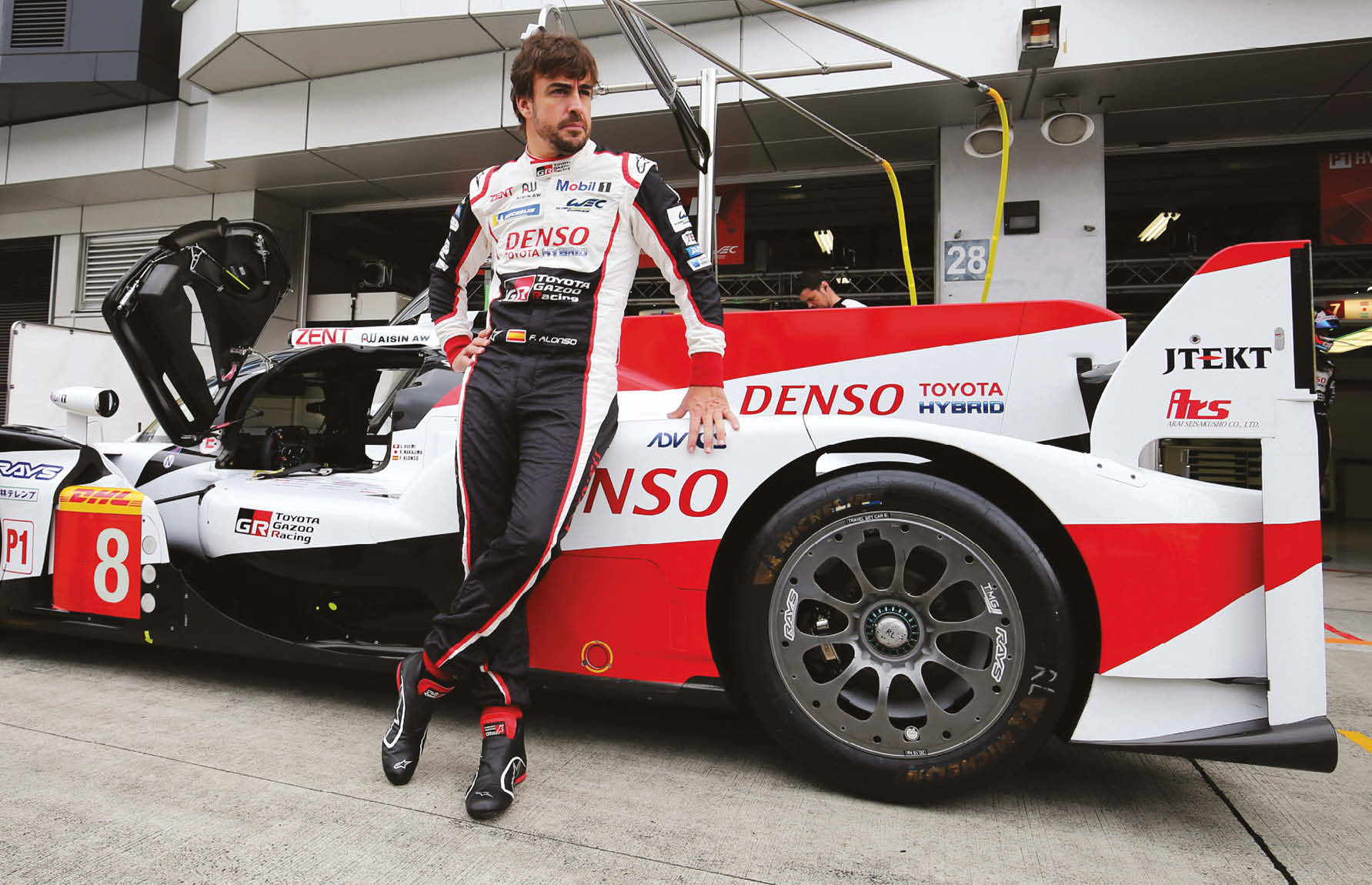 "As a team we are new and we aren't collaborating with Andretti [Autosport] or anything like before. This [2019 IndyCar] is fully McLaren [and assisted by British powerhouse Carlin] so we are new in many things and there are a lot of things to discover."
And after that, it won't be F1 – "unless McLaren wins some races before Abu Dhabi", he jokes – even though the team hasn't fully ruled out a return for Alonso.
Having tested the off-road Hilux, Alonso says that the Dakar Rally (taking place in Saudi Arabia in 2020) is also a tempting proposition for him in the future.
"Well Dakar was a very nice experience," he says. "I've been lucky enough to test different cars over the last couple of years and I tested MotoGP in the Honda days. So yeah, it was definitely very interesting to see what those cars could do in different terrains and altitudes and it was surprisingly fun to drive those cars.
"I think to make a commitment to rallying or Dakar has to be considered very carefully because one thing is to have a test and to have fun, and another thing is to be fast in those cars with zero experience. That's something I will evaluate in the next couple of months."
But it's really difficult to see Alonso retiring any time soon, particularly as he's moving from strength to strength in the world's most prestigious racing series. It's even more difficult to imagine Alonso retiring – he seems to be writing new chapters in his story every month – but the 37-year-old seems to be feeling it now.
"I'm not taking as much time as I thought… I thought I'd have more time for myself after quitting F1.
"But it's still not enough."
---
Fernando's diary
A recap of where Alonso has been since Le Mans last year, and how he did
16/6/18 Le Mans 24 Hours – 1st
24/6/18 F1 French GP – 16th
1/7/18 F1 Austrian GP – 8th
8/7/18 F1 British GP – 8th
22/7/18 F1 German GP – DNF
29/7/18 F1 Hungarian GP – 8th
19/8/18 WEC 6Hrs of Silverstone – DSQ
26/8/18 F1 Belgian GP – DNF
2/9/18 F1 Italian GP – DNF
5/9/18 IndyCar test at Barber
16/9/18 F1 Singapore GP – 7th
30/9/18 F1 Russian GP – 14th
7/10/18 F1 Japanese GP – 14th
14/10/18 WEC 6Hrs of Fuji – 2nd
21/10/18 F1 United States GP – DNF
28/10/18 F1 Mexican GP – DNF
11/11/18 F1 Brazilian GP – 17th
18/11/18 WEC 6Hrs of Shanghai – 2nd
25/11/18 F1 Abu Dhabi GP – 11th
26/11/18 NASCAR test at Bahrain
26/1/19 24 Hours of Daytona – 1st
15/3/19 WEC 1000M of Sebring – 1st
27/3/19 Dakar Toyota Hilux test
2/4/19 F1 Bahrain test
4/4/19 Paul Ricard WEC test
11/4/19 IndyCar test at Texas